Why is something that is normal, natural, and biological so awful and embarrassing to some, and even a barrier to thousands who menstruate from continuing with their education? It's time to start talking about periods…and, yes, that includes the environmental impact of period products. Anne Nicholls, a British woman who grew up in Kenya, now volunteers both in the UK and Kenya to raise awareness of these vital issues.
It also means championing the use of kinder, more natural materials, given that there is so much hidden plastic and chemicals in conventional menstrual products.
"Every month, those of us with periods expose our bodies to harsh chemicals, and bin or flush plastic due to the unhealthy, single use, disposable menstrual products we are sold," she tells OM. "This is not helped by a lack of impartial education and the taboos and stigma that still exist around menstruation."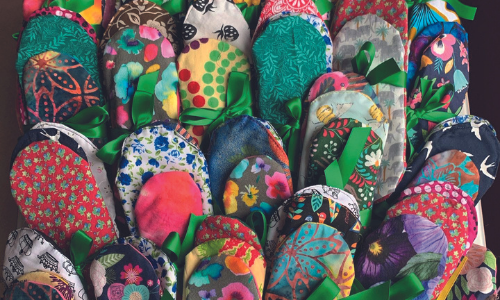 It is estimated that some conventional menstrual pads can contain up to 90% plastic, undisclosed harmful chemicals, fragrances, and gels – potentially damaging for your health and most certainly the environment. "It is very concerning that menstruators who use these products regularly are unaware the effect these products may have on their bodies and the environment."
There are now so many alternatives to single use period products to choose from: menstrual cups, washable pads, period pants, organic pads and tampons and even reusable tampon applicators.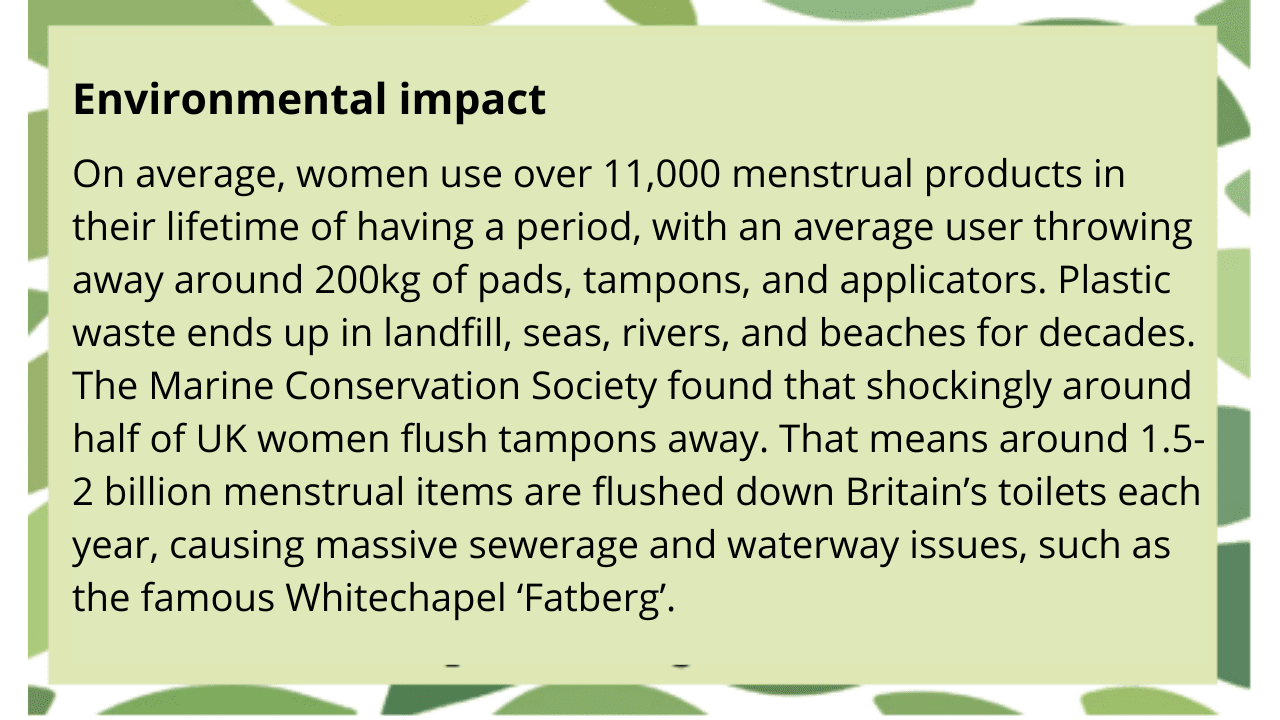 During one visit, she met Madhvi Dalal of PadMad Kenya, who was making reusable pads for local girls. It was there that her new mission really took hold…about the lack of access to period protection, and how this impacts directly on the education of menstruators. "What Madhvi said truly shocked me," says Nicholls. "I was 60 and horrified by my complete lack of knowledge on this subject."
What she discovered was that menstruators who cannot afford pads often do not go to school when they have their period missing several days of education each month, or even quit school altogether. The economic burden on many families is often a choice between period products and food.
"The gender gap is huge with 60% of girls leaving school – we want them to be able to continue with their education and follow their dreams."
If they can afford to buy pads, they are often cheap and nasty – stinging, itching and typically worn for too long. Protection is often made from some makeshift, unhygienic item causing rashes, irritations, and infections. Some find themselves having 'transactional' sex in exchange for pads and hygiene products. It means STIs, adolescent pregnancies and HIV are all too common.
Nicholls, a former teacher, grew up in Kenya spending her childhood and early adolescent years there. Several years ago, she returned to volunteer with The Amara Charitable Trust to work in schools. Nicholls immediately decided that she would support the charity's efforts and began raising money in the UK through donations and workshops.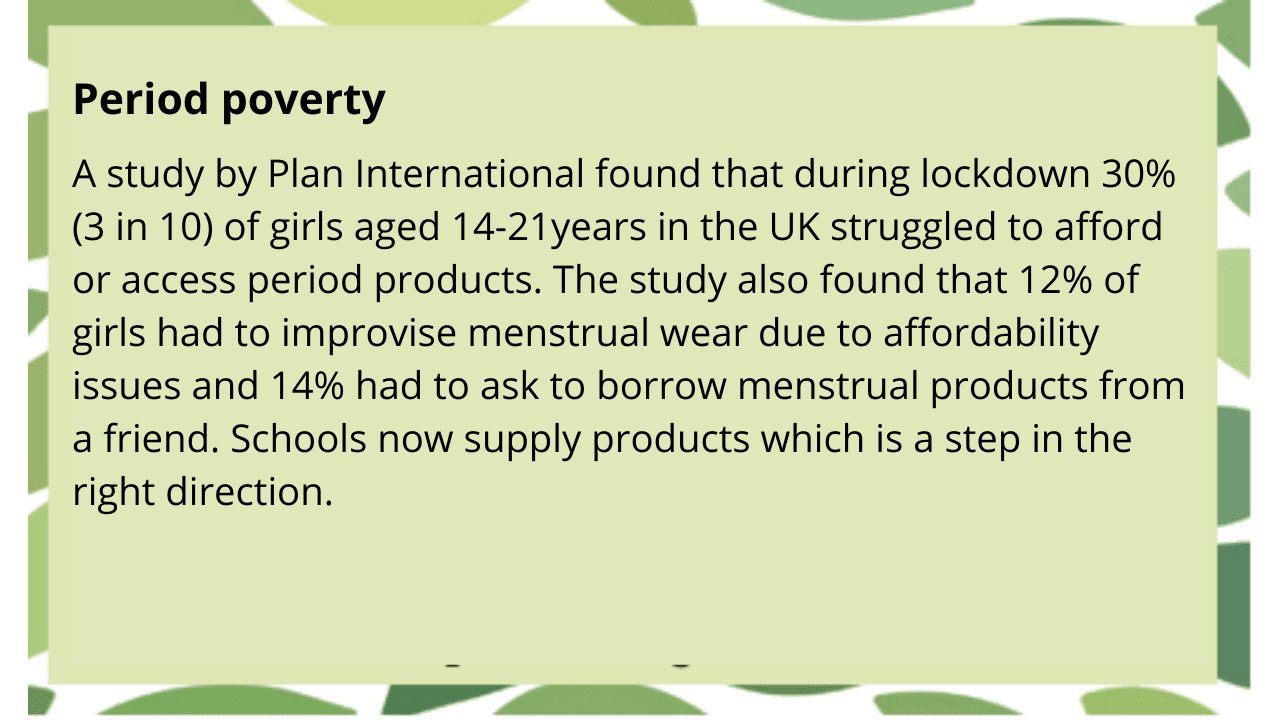 "Working in Kenya with the Amara Charitable Trust and PadMad we now provide quality menstrual and sexual health education together with a pad making workshop."
'Dignity bags' are given to each student containing a set of reusable pads, soaps, and new underwear. This allows the menstruator to continue with everyday life for 4 or 5 years, relieving not only the financial cost but the anxiety and embarrassment of leaking or being ridiculed.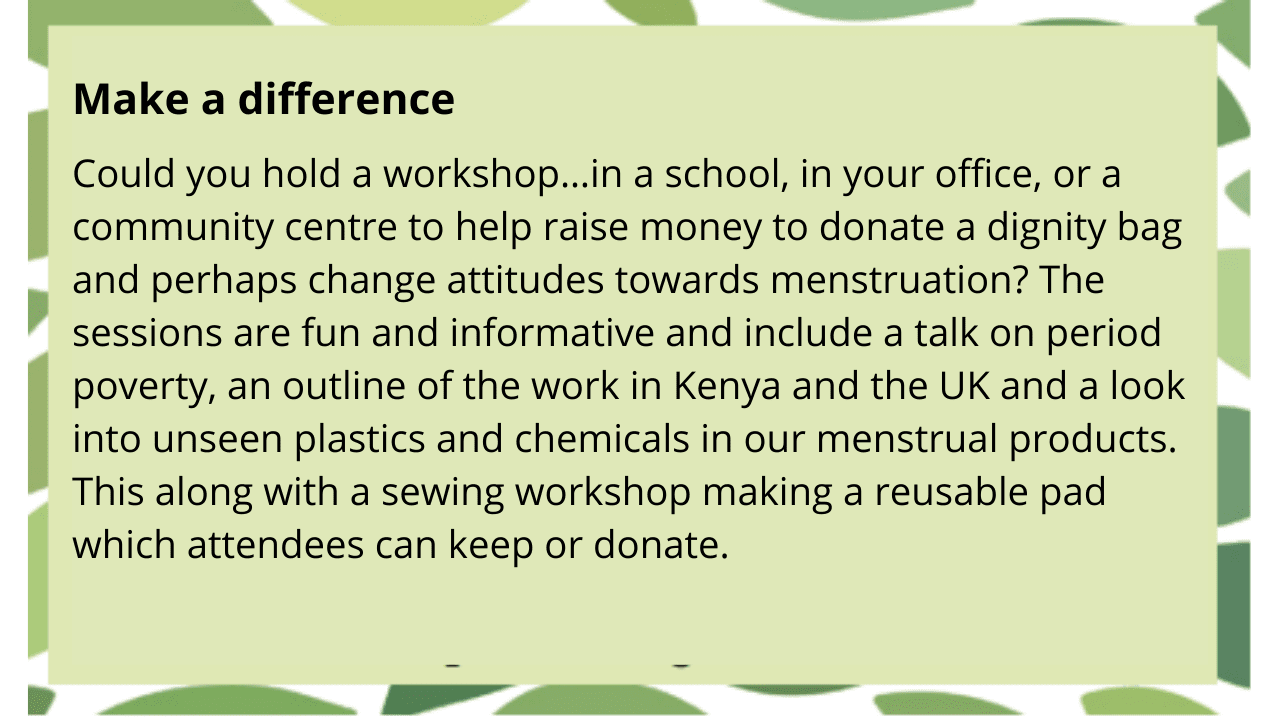 During the Covid-19 crisis, her work shifted more to the UK in the wake of the lockdowns. "At the beginning of the pandemic and unable to return to Kenya, I worked with local foodbanks in North London to supply them with reusable pads. They were in desperate need, not only for food but hygiene products too. The local community rallied with donations of toiletries and materials which we make into dignity bags containing reusable pads, new underwear, and soap. Families in the UK unable to afford food were finding it difficult to buy pads for themselves and their children.
Teachers were reporting absences and some girls were missing school on a regular basis." This dual focus, on the UK and Kenya, continues into the present day as efforts to impact period poverty and raise awareness of key environmental concerns gain momentum.
And she's keen to recruit the help of anyone who wants to get involved and make a difference. "For a donation of just £10 you could restore someone's dignity, continue their education uninterrupted and ultimately change a life," says Nicholls. "Any companies who could help with donations of cotton material, underwear or toiletries would be most welcome."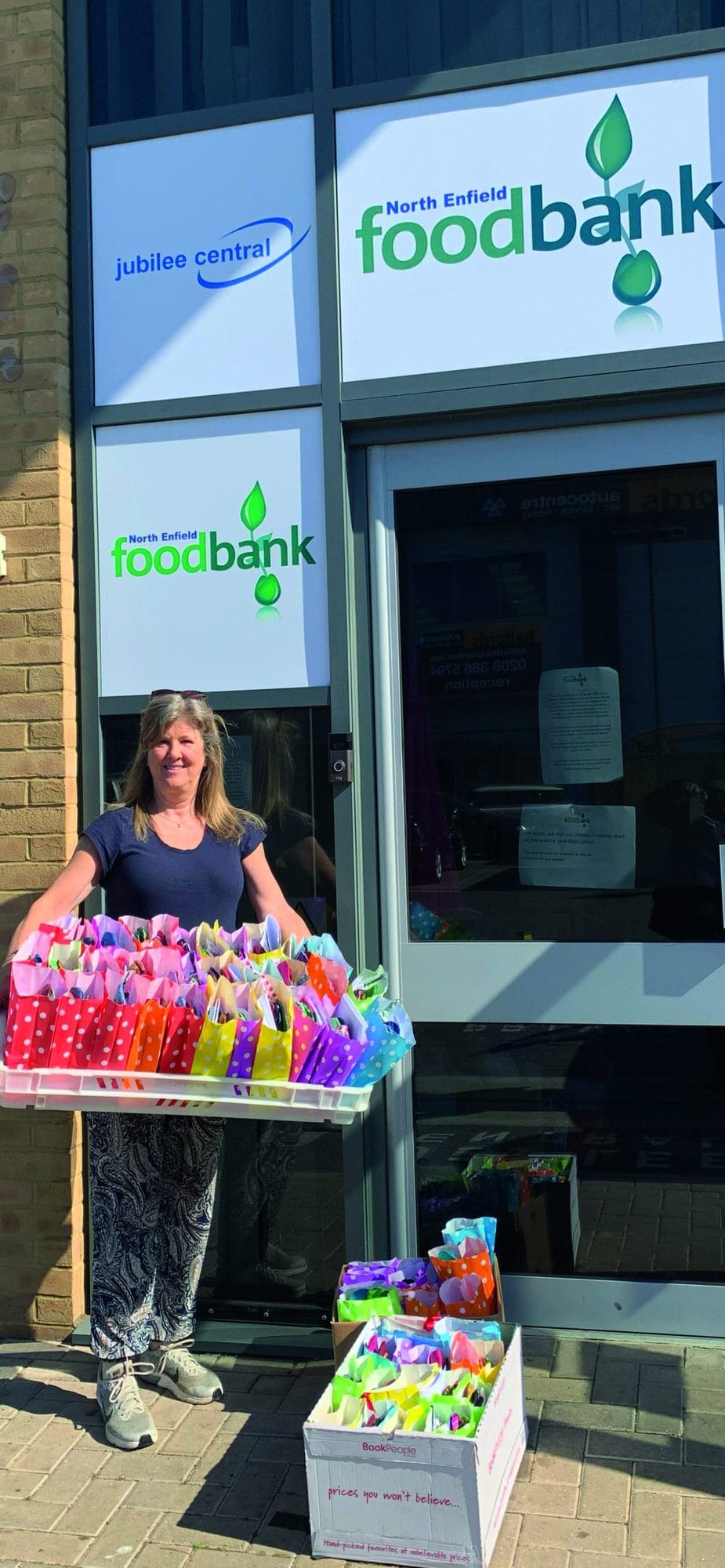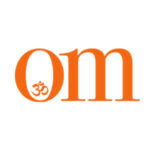 First published in November 2009, OM Yoga magazine has become the most popular yoga title in the UK. Available from all major supermarkets, independents and newsstands across the UK. Also available on all digital platforms.
If You Enjoyed This, Then You May Also Like...