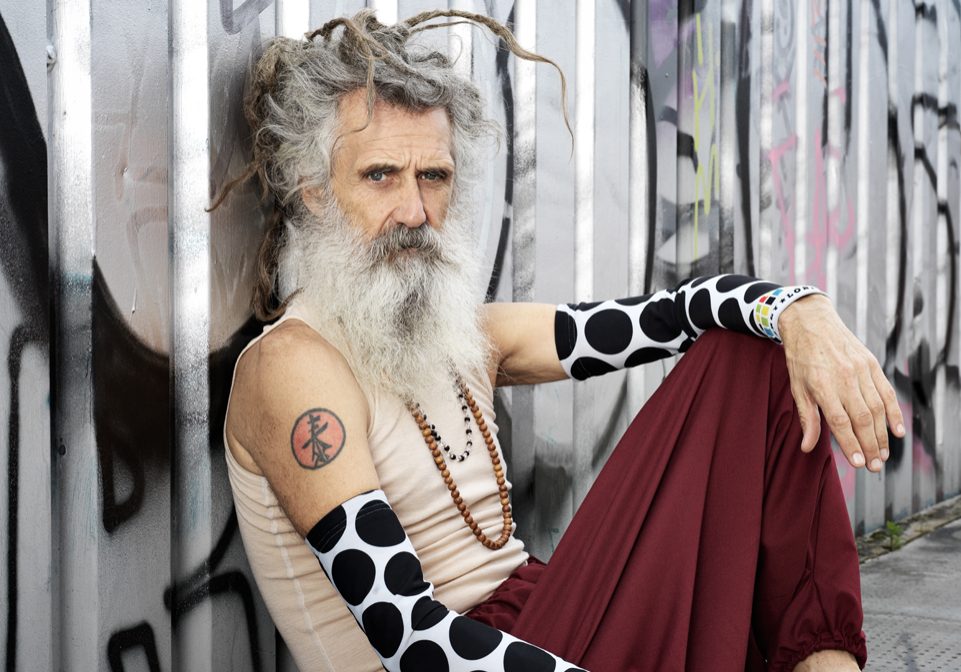 Stewart Gilchrist – authentic radical yogi
Made for these times: the authentic radical punky reggae yoga philosophy of Stewart Gilchrist
Back in the punk days that changed yogi Stewart Gilchrist's life (and mine), songs started with someone shouting "1 2 3 4" and off the band would hurtle.
After a couple of conversations with Gilchrist — so far — I feel like one of us should shout "1 2 3 4" before we launch into another joyous, rampaging exchange about life, yoga, politics and music rooted in warmth, kindness and respect.
Gilchrist was born in 1961 in Scotland. After school, he went to work for IBM, the computer giant. But, in 1976, the musical, stylistic and social explosion led by The Sex Pistols that became punk changed his attitude to life for good.
Two attributes of punk, hedonism and a socialist political sensibility, defined Gilchrist's life for the decade or so that followed.
Red Clydeside, the era of socialist political radicalism in Glasgow that lasted from 1910 to 1930 is in Gilchrist's history.
Aged 18, he was studying and working as a teaching assistant on courses covering Scottish Socialism and the Spanish Civil War at an Edinburgh working men's college. He also dived wholeheartedly into alcohol and drugs.
For a time, he was married to disgraced pop star Gary Glitter's manager, which led to him hanging out with major league rock and rollers of the day, including going to football matches with Rod Stewart.
The arrival of rave culture was as lifechanging for Gilchrist as punk had been.
It introduced him to the shamanic, ethnobotanic teachings of people like psychonaut Terence McKenna. The drugs became ecstasy and hallucinogens, but he also became more seriously interested in yoga.
Gilchrist's life wasn't all partying and psychedelic adventures, however. He worked for 10 years as a youth worker and teacher in the voluntary sector, then trained as a lawyer.
After seriously injuring his back, Gilchrist, with characteristic determination, embraced Ashtanga Mysore and began the serious practice of yoga and its philosophy. He is currently studying for an MA in Traditions of Yoga and Meditation at London's School of African and Oriental Studies (SOAS).
This profound respect for the traditions of yoga combines with Gilchrist's socialist beliefs and activism to form what he calls Authentic Radical Yoga.
Gilchrist is a Senior Registered Teacher with Yoga Alliance. He is the founder of the East London School of Yoga. His classes at triyoga Shoreditch and Indaba London are streamed online. He trains teachers and holds retreats and workshops in India and Sri Lanka.
We spoke via Zoom. With his grey dreadlocks piled on top of his head and bushy beard, Gilchrist looks like a Scottish saddhu. I've never taken one of his classes but if they're as inspiring as his conversation, they must be fantastic.
What follows is a version of our conversation edited for clarity.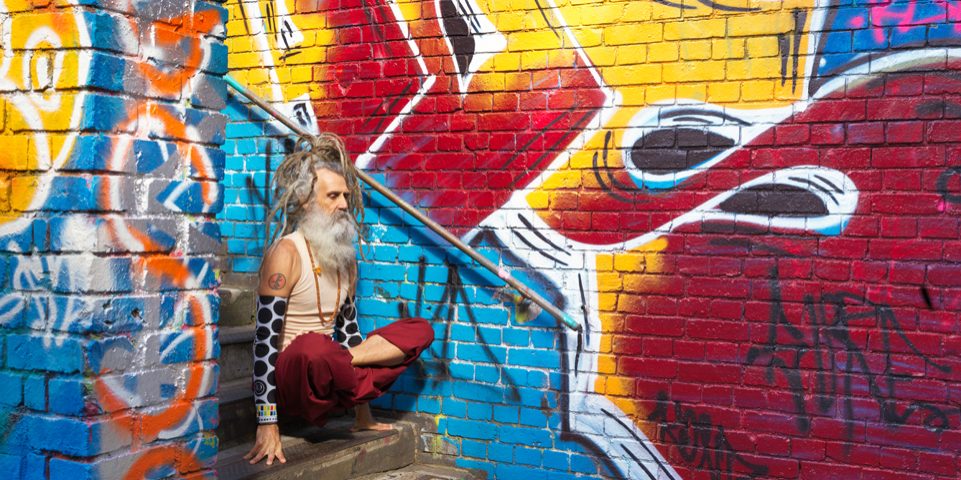 How do you feel about teaching online?
Online teaching has been a big success for me and the yoga world in general. It means the guru aspirant or practitioner relationship can be continued. I don't like the word student.
People who couldn't normally come to my classes in London, that maybe I've known and taught for a long time in different parts of the world, can practice with me. I can reach a lot of people.
The only difference is I can't adjust aspirants physically. But that is a big difference. Touch is very important for me.
Are you a fan of the online world?
I think social media is definitely harmful. Just ask the Rohingya in Myanmar. See how your children's personalities change because of their addiction to social media. Look at the teachers who take selfies of themselves in yoga poses at the end of a class.
There's also the politics behind huge online businesses like Amazon, Apple, Samsung or whoever.
At the moment, I'm doing five teachings on digital dharma, how social media and online culture relates to yoga. They have to because they're such a big part of our lives.
One of the big debates in the yoga world at the moment is about the relationship between yoga and politics. What are your thoughts on that?
Yoga is definitely politics. When I did my law degree, I had an American professor who said everything in your life is political, from the moment you wake up and brush your teeth in the morning. That resonated with me when I became a yoga teacher. Gandhi knew the Bhagavad Gita is political. Ramdev, the biggest yoga teacher in India, is political. The whole Patanjali movement in India is a Hindu political movement.
Do you teach this in your classes?
I do, all the time. I ask people: "Haven't you had enough of this sh*t?" It's time to change things. This has become really apparent with the rise of Extinction Rebellion and the concern for the climate. I tell people what I believe about our species' possible extinction in our classes. I'm constantly analysing how my teaching affects people in their everyday lives.
Today I finished my class with two or three definitions of yoga. I'm writing a book called '108 Definitions of Yoga, 108 Mandalas' with a great tattoo artist friend of mine called Tomas Tomas. He says: "Yoga is politics, politics is yoga." Isn't that great?
How is yoga politics? How is doing downward dog political?
If you believe everything is politics, yoga is politics by definition isn't it? More specifically, it's about being aware of the interdependence of the inner and outer worlds. This is what Mr Iyengar taught and it fascinates me.
When you experience the way everything inside and outside of your body is interdependent, you realise that whatever happens to you on the mat is going to affect your life off it and vice-versa.
Your classes are known to be challenging, to use a good yoga word. What are your thoughts on accessibility and yoga, which is a growing issue?
I promote a form of yoga that's quite dynamic and quite physically hard because, as yogis, we want to be able to serve other people well, with all our physical and mental strength. We should be sevaks, constantly in seva, or service, and we want to be able to do it to the best of our ability.
I want to serve. I've been flat on my back in a hospital bed for eight months without moving my spine. I've been almost paraplegic. I've been looked after and I never, ever want to be there again. This led me to understand that if my body is weak and unhealthy and people have to look after me all the time, I would never be able to practice yoga in the highest form, which is bhakti, loving devotion.
And if we overcome our laziness, we have kriya yoga: self-discipline, self-learning and self-realisation.
What if someone can't do physically strong yoga for health reasons?
Then your asana class is relative to that. You do what you can to the best of your ability. The most important, hardest, posture is savasana. And remember that your yoga practice will differ depending not just on your health but your time of life, the time of the year, the month and finally the day.
In these times of #metoo in yoga and the constant stream of revelations of male gurus abusing female students, what are your thoughts on the male female relationship in yoga?
I'm constantly aware of it. Men abuse their positions of power in education, business and politics and it's the same in yoga. Yoga is and was always a Brahmin, male cult. There was one man who tried to change this. When Vivekenanda was told by his guru to "cross the black waters", as Indians call crossing the sea, in the late 19th century he was also told that it would be women that would take yoga to the West, which is what happened. Women created modern yoga. But men still dominate society.
I have to stress that I'm asexual when I teach. I have no feelings one way or another. Yoga is open to everyone, all genders, sexualities and races, and excludes no-one. If it does, it's not yoga. Drug users can come to my classes. I was one and I'm glad no-one excluded me. Modern yoga teachers must stress that everyone's welcome to their classes.
You've taught Hollywood stars and you're one of the biggest names in yoga. How do you manage your success?
I stay true to my ontological anarchist faith. I serve the practitioners who study with me. I try to speak my mind without hurting people. I remember my teachers.
Where is yoga's place in the future do you think?
We must remember we have that ananda, bliss, inside us that we can access when we need to. Every day, when we wake up, we've won already. The big change I would like to see happen is more people who understand yoga living it off the mat as much as on it. It's our duty as good teachers to encourage practitioners to do their yoga off their mat, to serve.
Last question. I'm an old punk rocker too. What does punk mean to you now?
At the end of one of my classes, on the Queen's birthday, I played "God Save The Queen" by the Pistols. Six teachers complained. The studio said, "You can't play that, it's not yoga music."
I said, "I refute that completely. That song's got more soul, more spirit and means so much more to me than anyone you want to say is spiritual." I'm fantastically grateful for punk.
Find out more about Stewart Gilchrist, his beliefs, the causes he supports and classes you can be part of online at: eastlondonschoolofyoga.com
Images: Karen Yeomans (karenyeomans.com)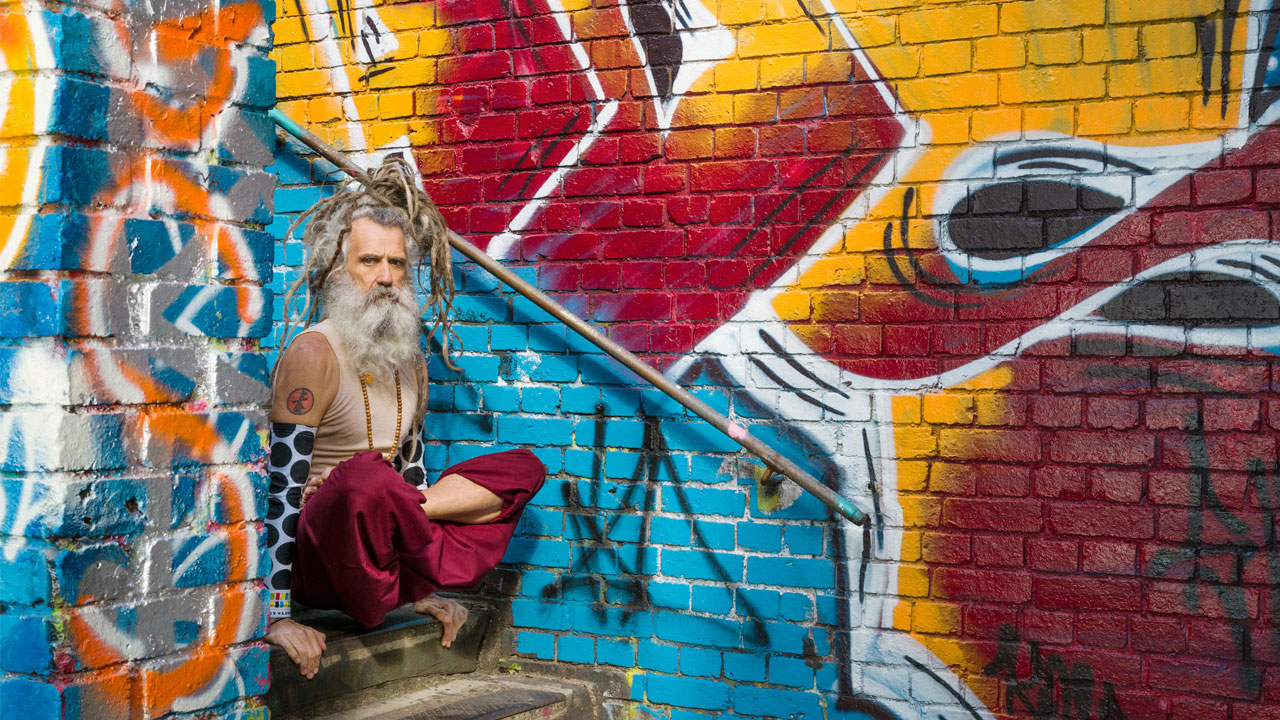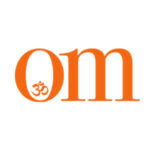 First published in November 2009, OM Yoga magazine has become the most popular yoga title in the UK. Available from all major supermarkets, independents and newsstands across the UK. Also available on all digital platforms.