Yoga Bones: A Comprehensive Guide to Managing Pain and Orthopedic Injuries through Yoga
£19.99
Hachette
In this book, occupational therapist and dancer Laura Stanton uses yoga as a roadmap to teach you how to manage your discomfort, increase strength, and decrease pain. Expertly organised by orthopedic conditions, each chapter includes a curated menu of therapeutic poses with descriptions, photographs, and illustrations. Yoga Bones also includes functional wellness sections designed to explore the emotional components of healing, providing a bridge between mainstream medical practices and mindful healing. A highly visual guide, the book has 200 images throughout its individually-designed yoga sequences to guide readers safely through orthopedic issues.
Yoga by the Stars - Practices & Meditations Inspired By The Zodiac
Jilly Shipway
$19.99
Llewellyn Worldwide Publishing Company
A month-by-month guide to using celestial wisdom in your yoga practice. Featuring poses, meditations, visualisations and breathing exercises, Yoga by the Stars invites you to journey through the wheel of the zodiac and discover how its symbolism inspires new and exciting yoga sequences. This hands-on book presents an extraordinary approach that connects the astrological signs to a yearlong cycle of yoga practice. Each month's zodiac sign helps you improve your wellness and gain insights into your life, regardless of your personal sign. A vital resource for expanding your awareness and enjoying the gifts of the zodiac. The author, Jilly Shipway, is a qualified British Wheel of Yoga teacher with over 25 years of teaching experience.
Perfectly Imperfect Mum
Sheena Tanna-Shah
£9.99
Book Guild Publishing
Perfectly Imperfect Mum: A Fun and Inspirational Guide for Busy Mums to Staying Mindful and Thriving Amid the Chaos is written by mindfulness coach, nutritionist and mum Sheena Tanna-Shah to help mums stay on track and embrace the fact that they can't be perfect all of the time, despite their very best intentions. The author shares her busy mum's guide to staying mindful and thriving amid the chaos of day-to-day family life. The book is structured around 20 everyday scenarios, with each scenario featuring a mindfulness and motivational tip, a nutritious yet simple recipe created to perfectly complement that particular scenario and a yoga pose or movement to help combat a particular situation. Find calm in the chaos!
The Little Monk Who Loved His Noodles
Julian Bound
£7.99
Bound Books
A picture story book for children exploring the Buddhist foundations of meditation, reincarnation, attachment, impermanence, karma and compassion. In a remote Tibetan monastery, a little novice monk endeavours to master meditation. Through gentle guidance he discovers how to calm his mind, yet his lessons do not end there as he encounters kindness and compassion within others. Beautifully illustrated with 15 colourful watercolour paintings and told with great sensitivity 'The Little Monk Who Loved His Noodles' is an enchanting tale presenting the essence of good morals and principles and is ideal for parent and child to read together. Ages: 5 to 10 years old. Also available as an ebook for £2.99.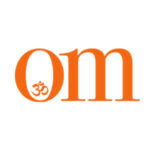 First published in November 2009, OM Yoga magazine has become the most popular yoga title in the UK. Available from all major supermarkets, independents and newsstands across the UK. Also available on all digital platforms.