Yoga and mindfulness sessions held by The Hannah Whitley Foundation are pioneering new trends in how we can integrate mind-body practices into dealing with grief
Research has shown that mind-body practices including yoga and meditation can help reduce symptoms of various conditions such as depression, anxiety, negative mood, fatigue and stress.
Mental health experts are also beginning to recognise the power the practices can have on people coping with grief, which used to be viewed as a largely psychological experience.
It used to be that therapists thought all you had to do was look at the mind; now they are realising that there's a complicated relationship going on between the body and the mind. Recent research has shown that a six-week yoga therapy program for grief and bereavement significantly improved participants' vitality (a measure of appetite, energy level, sleep, relaxation and body stiffness) and positive states (the ability to get good rest, concentrate and be intimate).
The theory of grief, too, as a five-stage process, including denial, anger and acceptance, is also shifting. Today, professionals are more likely to endorse the perspective that everyone experiences grief differently, notes Heather Stang, a yoga therapist and meditation instructor, and author of Mindfulness & Grief. "There's no right or wrong way for grieving, and there's no right or wrong way to practice yoga for grief," she says. "We have to not make grief a disease – it's not a disease. It's as natural as birth and death itself." She adds: "If the body is left out of grief, it becomes a very important source of expression of the pain, and it easily falls in deep dysfunction."
Mindfulness teacher Jo Bentley agrees: "Yoga can become a positive coping strategy. When we use mindfulness and movement to bring people back to their bodies, there can be a sense of being able to deal differently with what is hurting us, using the body not only as a radar but as a refuge."
Indeed, grief often presents itself physically: in stomach pain and fatigue for some, in headaches and a loss of appetite in others. Whatever we are holding emotionally, we also hold in our bodies,
says Bentley.
"That's one of the reasons why yoga and mindfulness — which has so many benefits, from lowering blood pressure to improving strength and balance – can be an effective way to manage the pain of grief. By really opening the heart, a person is able to express some of that vulnerability and let it out and be more present with it."
Here, Jo Bently, a yoga practitioner & MBCT/MBSR mindfulness teacher, shares some thoughts on yoga & teaching for those coping with grief
When holding a group where the majority of the participants are living with grief or facing the loss of a loved one, the emphasis must be on simple mindful movement and breathing practice. This would be very simple, guiding people to focus on the breath and reminding them to keep returning to the breath when difficult thoughts or emotions arise.
Grief is exhausting: people need to really honour that and rest their bodies and their minds.
Once we have the emotional temperature of the group, the class can then move onto yoga poses; ones that are recommended for grief. Yoga helps reduce the stress reaction, which quiets the mind and soothes the spirit. The physical sensation of stretching gives the mind somewhere to focus other than on intrusive thoughts about the past and future using the different limbs of yoga.
It is important to recognise that each person has their own unique reaction to loss; individuals are the experts on their own bodies. Any yoga pose that reduces physical and emotional suffering is a good yoga pose for grief, enabling focus and grounded-ness in the face of distress.
The mat is a place of space and freedom, and classes include an extended period of mindfulness meditation at the end, which is rarely found in a yoga class.
Grief and stress are stored in the body. Yoga provides us with a tool to release the emotional and physical tightness in our bodies caused by grief. It is a way to find peace and stability during a time when this is missing from our lives. The practice of yoga addresses self-care, it helps to integrate the experience of loss and supports feelings of connection and relationship with loved ones who have died.
Grief yoga does not require any previous yoga experience. The yoga practice, breathing techniques, and meditation taught within the class can help the bereaved develop tools they can use daily in their own homes.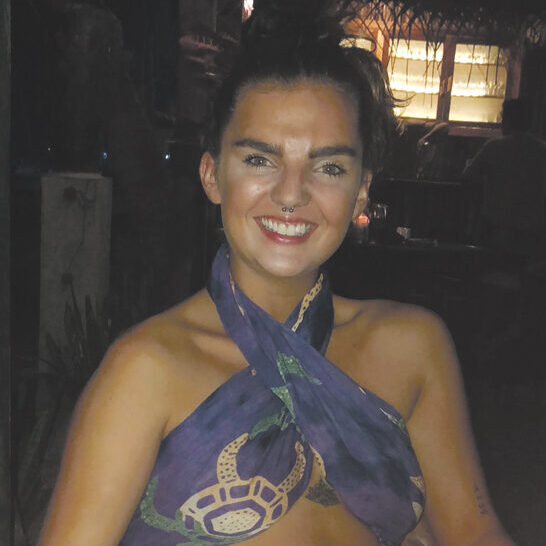 The Hannah Whitley Foundation
A keen yogini, Hannah Whitley was just 23-years-old when she set off for India in December 2018. Twelve days into her trip, Hannah was fatally injured in a road traffic accident in southern India. The Hannah Whitley Foundation was set up by Hannah's mum, Nicki Simmons, to provide yoga and meditation to those experiencing loss or grief, or suffering hardship, mental anguish or anxiety. To date, it has delivered classes to more than 9,000 people. The Foundation works closely with a local hospice and other groups supporting vulnerable people to deliver services at no cost.
To support the charity, email: nicola@thehannahwhitleyfoundation.org