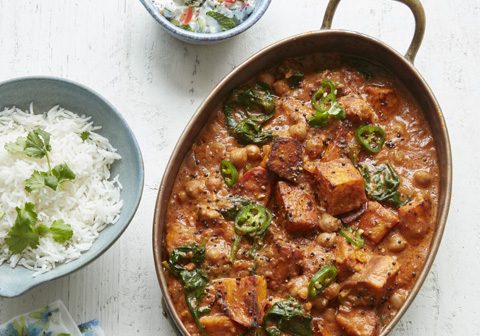 Chickpea and sweet potato curry
Rich and creamy, hearty and full of flavour. With extra coconut milk, it is perfect for delicate palates
3 tbsp coconut oil, melted

2 cloves garlic, peeled and sliced

1 large red onion, halved and sliced

2 green bird's eye chillies, sliced

2cm fresh ginger, peeled and grated

Handful of fresh coriander, leaves and stalks, finely chopped

400g (14 oz) tin chickpeas, drained and rinsed

200g (7 oz) tinned chopped tomatoes

2 400g (14 oz) tin coconut milk, shaken well before opening
Preheat the oven to 220°C / 425°F / Gas 5

In a bowl, mix the turmeric, paprika, garam masala, cinnamon, chilli powder and curry powder.

Peel the sweet potatoes then chop them into 2cm chunks. Place them on a baking tray with the salt, two tablespoons of the melted coconut oil and the spice blend. Roast in the preheated oven for 30 minutes until the sweet potato is cooked through and browned nicely; the spices will have toasted and been absorbed well. Cooking the potato this way helps to retain its integrity.

In a large saucepan over a medium heat, cook the cumin and mustard seeds in the remaining tablespoon of coconut oil for 1 minute until they release their fragrance and start to pop. Add the sliced garlic and onion to the pan and cook for 3 minutes until soft until soft and translucent.

Add the chillies, ginger, fresh coriander and chickpeas to the pan, then cook for just a minute, add the tomatoes, then cover and cook for 10 minutes.

Next add the coconut milk and the roasted sweet potatoes to the pot and stir well. Cook for a few minutes just to ensure any bite left in the potato is cooked out.

Stir in the spinach and cook until wilted, season with salt and pepper to taste, then serve the curry scattered with fresh coriander, alongside rice.
The My Muy Bueno Cookbook, Justine Murphy, Meze Publishing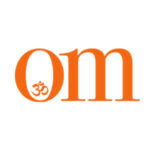 First published in November 2009, OM Yoga magazine has become the most popular yoga title in the UK. Available from all major supermarkets, independents and newsstands across the UK. Also available on all digital platforms.