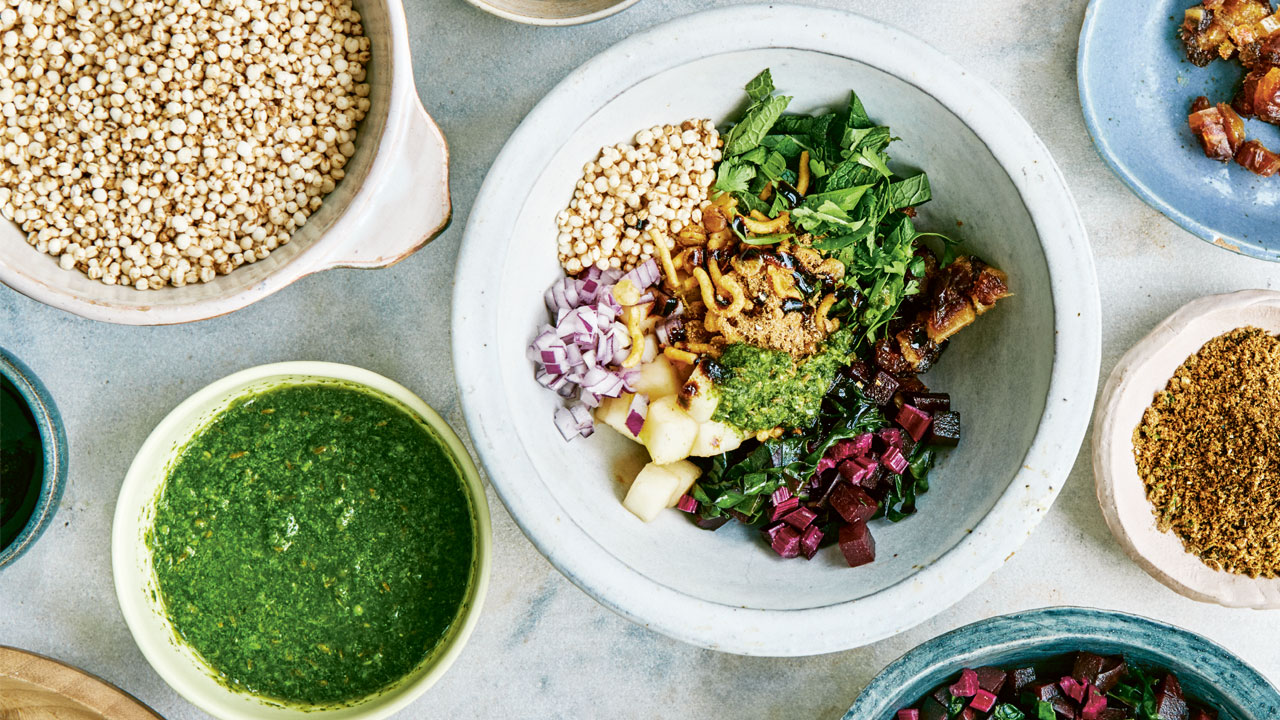 Beetroot and apple bhel puri
SERVES 4 AS A STARTER
'Bhel puri' is a traditional street snack from Mumbai made with puffed rice, vegetables, tamarind and coriander chutney. It is a fun and colourful snack to serve at a dinner party or communal table. All the ingredients are kept separate in their own bowls, for a nominated 'wallah' or server to mix a portion or two at a time fresh at the table, just like it is on the streets of Mumbai. Made like this, this dish has a unique texture and taste that is crunchy, spicy, sweet and sour, all at the same time — absolutely scrumptious. In this recipe,  beetroot and apple are used as a seasonal alternative to tomatoes, however, adapt the recipe to use whatever seasonal fruit and vegetables you have to hand

Splash of extra virgin olive oil, for frying

1 beetroot with leaves, roots finely diced, leaves shredded

20g mint, stalks finely chopped, leaves roughly chopped

35g fresh coriander, stalks finely chopped, leaves roughly chopped

1 green chilli, roughly chopped

1 garlic clove, finely chopped

2 tsp cumin seeds, toasted in a dry frying pan until fragrant

1 unwaxed lemon, zest and juice

1 dessert apple, diced into 2cm cubes

2 handfuls of a puffed grain (e.g. amaranth, millet, rice)

1 handful of sev or Bombay mix

1 red onion, finely chopped

4 tsp garam masala or chaat masala

50ml sweet tamarind paste
Heat a small saucepan with a lid over a medium heat with a little oil inside. Add the diced beetroot and cook for 5 minutes with the lid on, stirring occasionally. Add the shredded beetroot leaves and cook for a further minute until just wilted, then transfer into a small bowl.

To make the coriander chutney, blend half of the chopped herbs with 2 tablespoons water, the green chilli, garlic, toasted cumin and the lemon zest and juice and transfer to a bowl.

Prepare the rest of the ingredients and lay them out in separate little bowls on the dining table along with the beetroot and chutney.

To serve, mix a little of everything in a bowl, a couple of portions at a time, and serve in individual bowls or newspaper cones.
Eating for People, Pleasure & Planet by Tom Hunt is published by Kyle Books, £26.00, www.octopusbooks.co.uk, Photography: Jenny Zarin