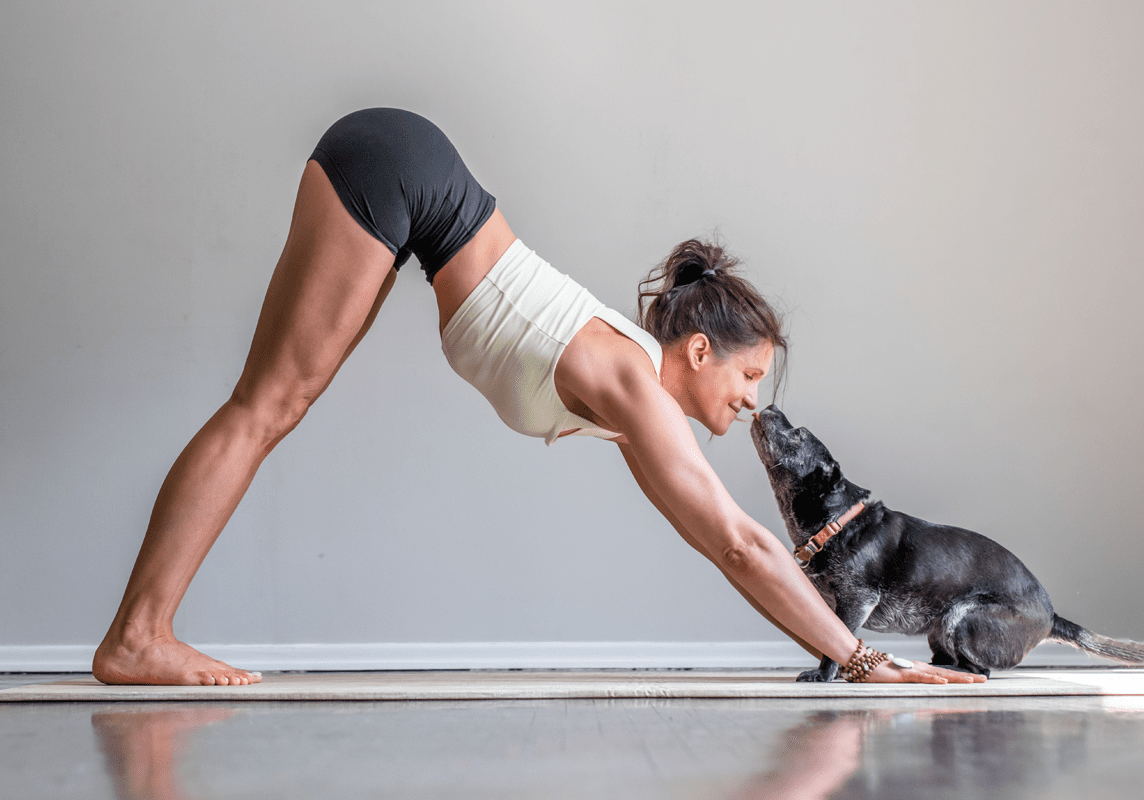 Pet rescue has become a big thing in the yoga community, with the ability to supercharge our capacity for love, kindness and transformation. Words and photography by Wanda Bogacka-Plucinski
Five years ago, while dropping off donations with my daughter Madeline, at Easel Animal Rescue in New Jersey, she asked if we could look at the animals. I agreed but had no intention of adopting since we already had two cats. That's when I met McGregor. He was in a cage, curled in a ball; there was urine wafting from his cage, as a result of wetting himself due to the extreme stress he felt. Hanging from the cage were syringes and medical instructions. It appeared that he was in very poor health but no one could really say what the problem was. I opened the cage and reached in to give him a few scratches behind his ears. When he lifted his head, I noticed a pair of pale blue eyes staring back at me. At first, I thought, oh what pretty blue eyes you have, McGregor. But quickly, I realised they were not blue, he was blind! That brief moment I had with him stole my heart. I ended up going home that day but couldn't get him out of my mind or heart. Secretly, the next day, before my husband got home from work, I took the cat carrier and drove back to the shelter. I didn't want to hear all the reasons why I shouldn't bring him home so I just got him. When I arrived, the ladies at the shelter asked, "Who are you here to adopt today?" I replied, "McGregor." The look of total shock and joy came over their faces and in unison they said, "McGregor is getting adopted?!" I replied with pride, "He sure is, he's going home with me!"
I won't sugar coat it, the first few months were hard; frequent vet visits, administering a variety of medications, bathing him, trying to coax him to use the little box, and eating his food. Getting him to better health while trying to earn his trust was difficult, requiring a lot of love, patience, and time. My husband often told me,"Don't be disappointed if he will never be like our other cats." But I didn't care. I just wanted him to feel safe and know that someone loves him unconditionally. During the first month, he often hid so I would lay on the floor speaking to him softly and stroking him until my body went numb. It was hard for him to feel safe because I had to administer medications and bathe him, which he didn't care for and cried the whole time through. Even with all of that, he was never aggressive, hissed, growled or scratched, ever! The reward of earning his love and trust changed me forever. Not only did he get better, health-wise, he became social, cuddled, played with a ball that had a bell in it, slept with me, and was extremely kind to my other two cats, even though one of them displayed jealousy and bullied him from time to time. He taught me what true love is; he taught me about forgiveness, patience and to look beyond the surface. Although I love all of my kitties, I believe McGregor was an angel disguised as a cat. I didn't know I needed McGregor in my life but sometimes, what you are looking for is not necessarily what you need, and what you need is not necessarily what you want.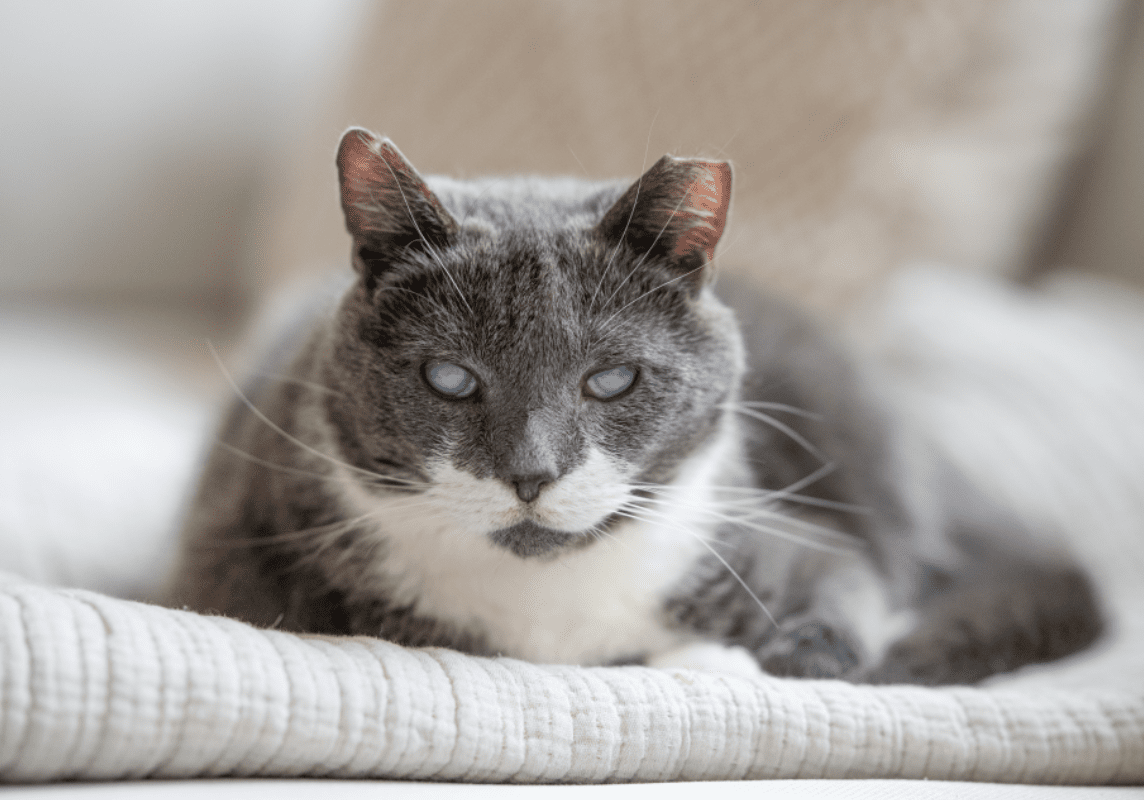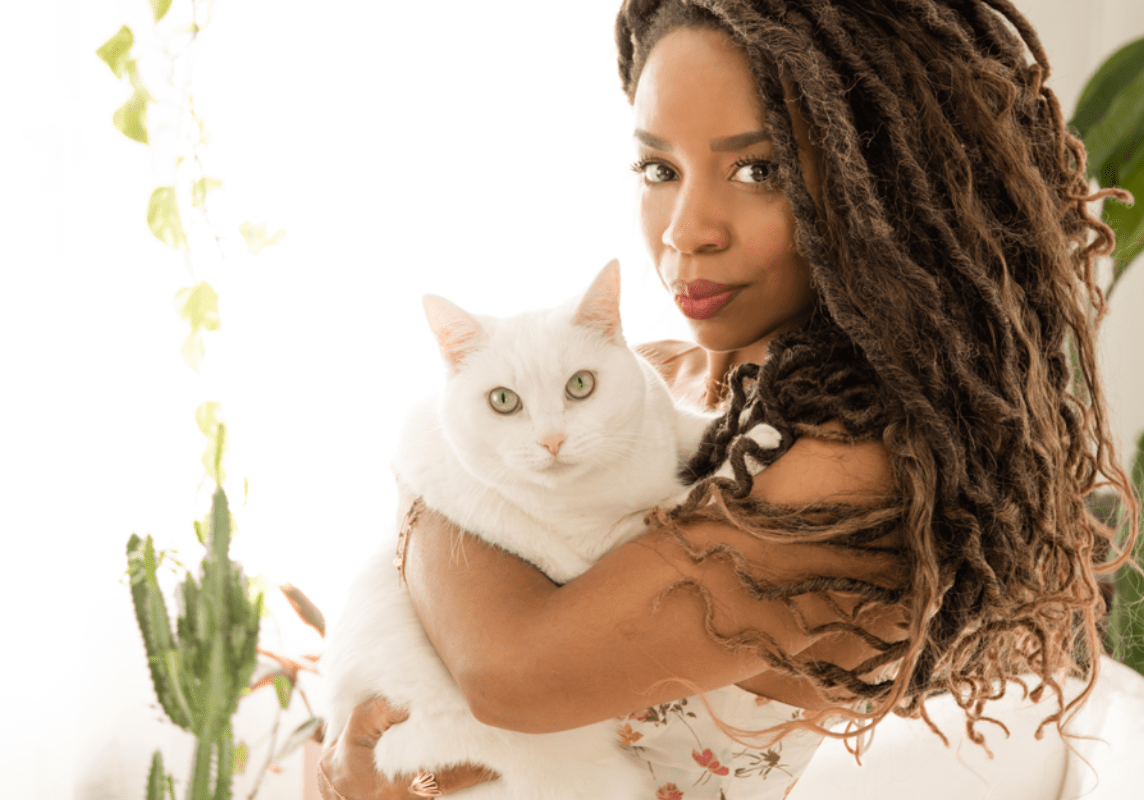 McGregor recently died of cancer but I will never forget him and his gentle, loving heart. He was the epitome of love and compassion. I feel privileged to have had him in my life even in the last moments of great suffering as I held him in my arms, telling him one last time how much he was loved.
There are so many extraordinary cats and dogs who deserve a loving home. The reward is so much more than just companionship. These animals, for the short time they are here, teach us how to grow into better human beings, make us laugh, reduce our stress and teach us how to live in the present moment. If you allow yourself to lead with your heart, don't get hung up on breed, age, personality or even health status, have the capacity to love and have the resources, adopt! So often I hear from people that have rescued an animal that it was the other way around, they feel rescued by their pets.
I've interviewed a few people here with such stories. I hope that they will inspire you to consider adoption, rescue or maybe fostering. With so much happening in the world today it's easy to overlook or look the other way when it comes to animals. But because they are such an important part of our lives, we should at the very least speak up for them. Now is an important time to do just that. You might recall, during the time of Covid, animal shelters all around the country, even the world, were emptied, with record high adoptions and foster care. Fast forward to today, the story couldn't be more different.
"Inflation is forcing more and more people to give up their pets, and that's resulted in a record number of cats and dogs in their care, cats outnumbering dogs four to one," said Dr. Georgia Arvanitis, vice president at the EASEL Animal Rescue League (easelnj.org)a no-kill animal shelter in New Jersey, USA. The problem is so bad right now that the shelter is running low on food for animals. "We have never been this low." Anything you can do is a big help. "For every cat and dog that left today, we have another one coming in," said Dr Arvanitis.
Increasingly, people are less willing to commit to adoption or even foster because they don't know what the future holds. Aside from inflation, more people are returning back to the office, with a hustle on the side, leaving little to no time to care for an animal this is especially true with dogs. As heartbreaking as this may sound, some are even making the drastic decision of surrendering their dog back to the shelter. "We are seeing pets being displaced from their homes, and pets potentially being turned loose by people to fend for themselves," commented one local law enforcement officer.
This article is dedicated to McGregor, Wanda Bogacka-Plucinski's amazing cat who died during the time she was writing this piece. Follow her on Instagram @wanda.photography
If you would like to help Easel Animal Rescue you can donate directly via the shelter's website: easelnj.org Or look in your local rescue shelters you can donate to, volunteer at, become a foster or adopt!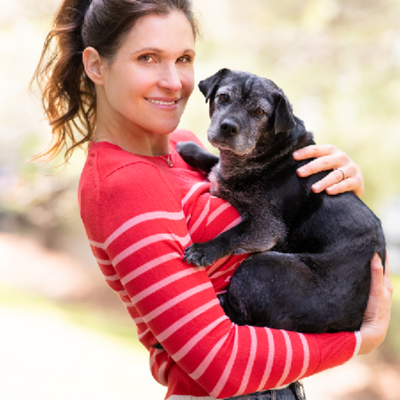 Yoga and pilates instructor, Riva G, found a new best friend in her rescue dog, Winnie, who has brought unconditional love to the whole family.
How old is Winnie, and where is she from?
Winnie is about eight or nine; we don't know her exact age because we rescued her from a shelter that didn't have her accurate birth information.
What made you consider adopting instead of buying a dog?
My family and I always wanted a rescue dog for a number of reasons, the main one being that there are so many loving dogs in need of a home. We rescued Winnie from what's known as a 'high-kill shelter' which means that sadly they euthanise many of the animals they take in if they aren't adopted within a certain time. Knowing what we saved her from is both heartening and harrowing.
Did a specific breed play a part in your decision to adopt?
The shelter told us that Winnie was a baby Black Labrador, which happened to be the same breed as my husband's first dog, so he was a bit nostalgic and excited about that. But at Winnie's first vet appointment, we found out that the shelter had given us a lot of wrong information... not only was she not a Black Lab, but she was a bit older than they told us too. But we wouldn't change a thing about her!
How has Winnie shaped your family's life?
Winnie makes us smile all the time. She has taught us the greatest lesson of all: unconditional love.
A common myth about shelter dogs is that they all have medical issues. Has Winnie had any health problems?
Thank goodness Winnie has been in good health since the day we rescued her. Her vet says she is expected to live a long, healthy, and active life.
Any tips on how to make the adoption process easier?
We rescued Winnie from a kill shelter. I would recommend to also look at these shelters.
For anyone on the fence about pet adoption, what would you say to them?
To be honest, before we rescued Winnie I would have never considered myself much of a 'dog person' (I mean, I always liked dogs, but never thought I'd be an owner). But bringing Winnie home and into our family was one of the best things we've ever done. She is so attentive, sweet, and loving. If I'd known back then what it was like, I definitely would have adopted sooner.
Find Riva G on IG @riva_g_
Yoga teacher and author Madeline Plucinska has been
featured in OM previously. Here, she explains why rescuing
was the right choice for her.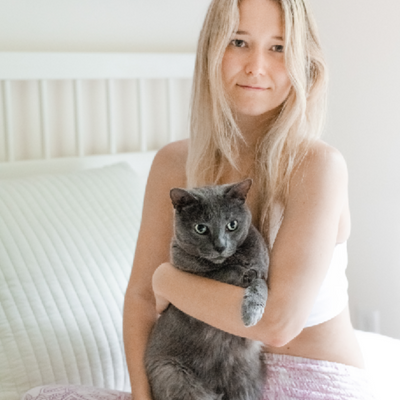 How old do you think Waylon and Kubus are and where are they from?
Both Waylon and Kubus were adopted from EASEL Animal Rescue. Waylon is about five and Kubus is 12.
What made you consider rescuing?
I've loved cats since I was a child and tried to convince my parents to adopt a cat when I was 10. My first cat, Fuzzy, was rescued from the streets and after he passed away, we decided to focus on adopting the cats that were least adoptable, the ones that no one wanted. So, rescue and adoptions are really the only option for me and my family, and taking it a step further, choosing those animals who may be forgotten like the seniors, the sick, blind, even the ones with personality issues.
How have Waylon and Kubus shaped your life?
The best way to describe it is that they add instant joy to my life. No matter what is happening, even under the most stressful circumstances they provide instant stress relief and unconditional love. They provide comfort and companionship. Our home would not be a 'home' without them. I can't imagine my life without them.
How is your relationship with Waylon and Kubus now versus when you first rescued them?
They are vastly different from the moment they came home and with time I learned a great deal more about their unique personalities. Waylon is a lover, loves everyone! He's full of energy and acts like a kitten all the time. Whereas Kubus has anxiety issues so he's very selective who he trusts or gives love to. His favourite is my mum, then me. He never leaves her side, not even for a minute. He's also a big cuddle bug.
Most people see their pets as part of their family. What does that mean to you?
I couldn't agree more. I see them for who they are, full of personalities, unique and absolutely part of our family. Honestly, I can't imagine my life without them.
Any tips on how to make a rescue process easier for families looking to save a cat?
I would recommend donating and volunteering at your local shelter any chance you have, following them on social media and encouraging others to do the same. Even if you volunteer a handful of times a year, that's something. This will give you an inside view of what life is like for the animals, meet and interact with them and the people who work there.
For anyone on the fence about pet rescue, adoption or even fostering, what would you say to them?
Follow your heart and never let anyone discourage or sway you from rescuing or adopting no matter how scary it may seem. But be realistic and make sure you are ready. If you are not ready to adopt, consider fostering for a few weeks or months and see how that feels. Fostering also saves lives! Remember, the best breed is the rescue breed and knowing that there are so many needy animals may seem overwhelming and hopeless. But instead of thinking your one act won't make a difference, know that it makes a huge difference to the one you are choosing to love and take home with you. It matters to them.
Find Madeline Plucinska on IG @madeline.plucinska and read more about her yoga journey in the June 2021 issue of OM Yoga.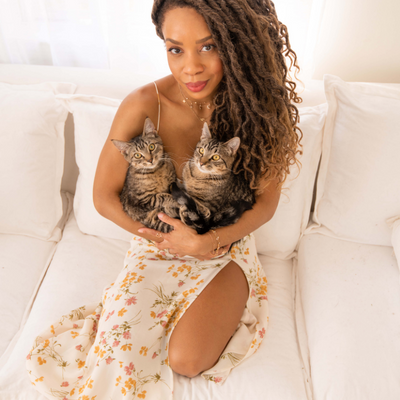 You may have seen Phyllicia Bonanno in OM magazine before, in fact, she's appeared on our front cover. The yoga teacher loves cats, so much so, in fact, that she now has three, and she's no stranger to rescuing them.
How many cats you rescued over the years and how many do you have now?
I have rescued eight, I currently have three; Jasmine, Tia and Tamara.
How old do you think your cats are?
Jasmin is nine years old, and Tia and Tamara are both two.
What made you consider rescuing, fostering and eventually keeping these three amazing kitties?
All of the cats I have ever had in my family have been adopted or rescued. Jasmin was adopted from a family member who was relocating and could no longer care for her. When I initially met Jasmin my intention was to just foster her for a bit while I looked for a new home for her. However, once I met her I fell in love and ended up keeping her. Tia and Tamara were from a litter of four kittens. We were feeding an outdoor cat that one day brought over her kittens to the door to also get fed. We eventually trapped and released the mother, and then a few months later decided to take the mother in as well. We kept Tia and Tamara and gave the two other kittens to a close friend that fell in love with them right away.
How have they shaped your life?
They have shaped my life by always being there for me. Plus, I love how they each have such unique personalities. They each add to my life in a different way.
How is your relationship with each of them now vs when you first rescued them?
Jasmin has always been attached to me from the start. She is literally my spirit animal. We are so much alike personality-wise; she is quite the sassy diva... just like me!
Any initial health problems that needed medical attention?
After having Tia for a month, she fell off the second floor bannister and broke her leg. I had to rush her to the emergency room to get her the needed attention.
Any health problems since then?
Nope. They are as healthy as can be!
Most people see their pets as part of the family. What does that mean to you?
They are my family, love of my life, soulmates, best friends – all of it. They are my everything.
From your experience, can you offer any tips on how to make the rescue process easier for families looking to save a cat or even adopt one from their local shelter?
Just give yourself time to interact and see their personality is a match for you and your family. Every animals is different just like people.
For anyone on the fence about pet rescue, what would you say to them?
Take your time in the decision but I highly recommend it.
Find Phyllicia Bonanno on IG @phyllicia.bonanno. Phyllicia appeared on the cover of the August 2019 issue of OM, and she celebrated our 100th issue with us in September 2019!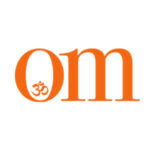 First published in November 2009, OM Yoga magazine has become the most popular yoga title in the UK. Available from all major supermarkets, independents and newsstands across the UK. Also available on all digital platforms.