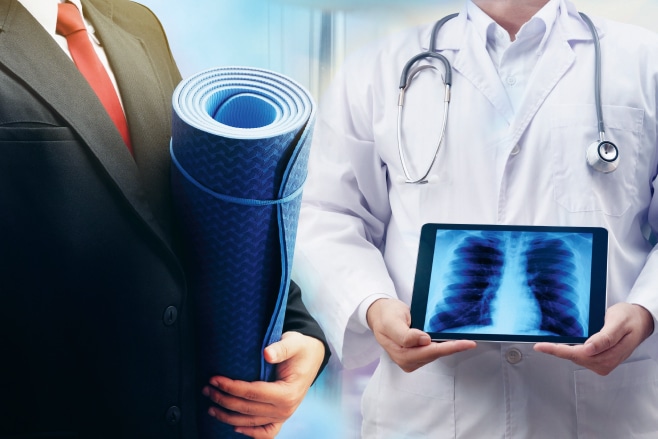 Yoga in the NHS: a major yoga and healthcare event, YIHA2019, takes place in London next month
Next month in OM, watch out for a special report on Yoga in the NHS. We'll be covering this complex and wide-ranging topic to coincide with a major London event that will attract top medical and yoga professionals as well as senior healthcare industry executives.
The Yoga in Healthcare conference – YIHA2019 – takes place in London in February and will address key issues surrounding the use and take-up of yoga in the National Health Service.
The event takes place on February 15-17, 2019 at The University of Westminster.
It's a fascinating topic and one that could hold huge implications both for the health industry itself and for the many thousands of yoga teachers up and down the country.
In the UK, health standards guidelines already recommend yoga for lower back pain, while Public Health England's (PHE) multi-million-pound staff wellbeing scheme also includes yoga.
PHE is an agency of the Department of Health and Social Care set up to improve the nation's health and wellbeing.
Potentially, yoga could become even more deeply integrated into the health system.
The London event is being organised by the Yoga in Health Care Alliance (YIHA), a social enterprise that wants to enable the NHS to provide yoga to its patients.
It believes that the British health system could be transformed through the integration of yoga.
"We are at the vanguard," says YIHA director Heather Mason, "and at YIHA2019 we will map how yoga can become an integral part of the NHS."
Key speakers at the London conference will include Duncan Selbie, PHE's chief executive, Lord Stone of Blackheath, whose focus areas include health services and medicine, and Dr Michael Dixon, a former chair of the NHS Alliance, and considered to be one of the UK's most influential clinical leaders.
YIHA2019
Yoga in Healthcare conference
15-17 February 2019
The University of Westminster, London
Tickets: £245
Visit: yogainhealthcarealliance.com/YIHA2019
If you enjoyed this, then you may also like...
About Om Magazine