OM asked a few yoga teachers around the UK how they were coping in the current climate where studios are closed and fear is everywhere - what does yoga in lockdown mean?
Yoga teacher Hannah Stewart started delivering online classes after the studios closed.
"Firstly, I think during this time, there's a lot of thought on how to stay positive. Being positive is over rated and it's frankly impossible at all times. Being productive, however, is entirely possible.
In the space of four days, every gym, studio, private client, retreat and workshop got cancelled. People were scared, devastated…so much fear and uncertainty. As a yoga teacher it forced me very quickly into thinking how I could still deliver a practice, which was needed more than ever, whilst keeping us all safe, and while earning anything!
If you've never filmed a class before, or in fact spoken in front of a camera, it can be really daunting. In a class environment the feedback you get from the class determines the pace, the direction and the theme.
Talking to a camera, where you can't see or interact with anyone will be the ultimate test of your teaching skills. Hands on assists and adjustments are a major topic, and relied on too heavily in some yoga styles. No people = no assists.
For me, it has been a fantastic opportunity to work on the art of teaching. Communication skills, effective cueing; your voice is the only thing the students have. If you're a teacher that relies on performance and being  watched, it's not so easy for students who are at home trying to follow you on their phone screen.
You become clearer in your intention, you can still generate that sense of community by bringing your classes into their homes.
I've watched whole families practice together as a result of this, or mum or dad can still escape for their hour of sanity.
Fortunately, the studio where I teach, Liberty Wellbeing, was able to make this switch overnight thanks to quick thinking and a desire to keep their teachers in jobs!
We know it's temporary, but it's made me reassess how much I need to lug equipment around to teach in remote places. and we've easily converted our Yoga Reloaded yoga teacher training to online thanks to Zoom!"
Lucy Sidwick bought chickens for her garden before lockdown and spent time building her very own henhouse… Cluckington Palace
"There is so much wrong in the world. War, hunger, capitalism: it's all still there! A pandemic sweeping the world does so much to bring everyone down en masse. I am lucky to live in the countryside. I am lucky to look outside and see green fields  and hear birdsong (even more so now the background noise of cars has gone!). When we were told we were going into isolation after returning from a trip to Lisbon we decided to get chickens and in one day built 'Cluckington Palace'. These 10 little hens we rescued after only a few days have helped in so many different ways. We get up and go to sleep in line with the sun; getting our circadian rhythms in check has so many mental and physical benefits, allowing the body to release hormones at the right time for optimal health. Caring for these little beings also gives you a sense of worth. And it doesn't have to be animals: plants are exactly the same, given time, love and care they will flourish. The same goes for growing  herbs and food, especially at a time when food panics are on the rise, it's nice to know that you have a source on your windowsill. For a sense of Zen, get green fingered!"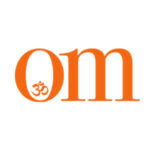 First published in November 2009, OM Yoga magazine has become the most popular yoga title in the UK. Available from all major supermarkets, independents and newsstands across the UK. Also available on all digital platforms.