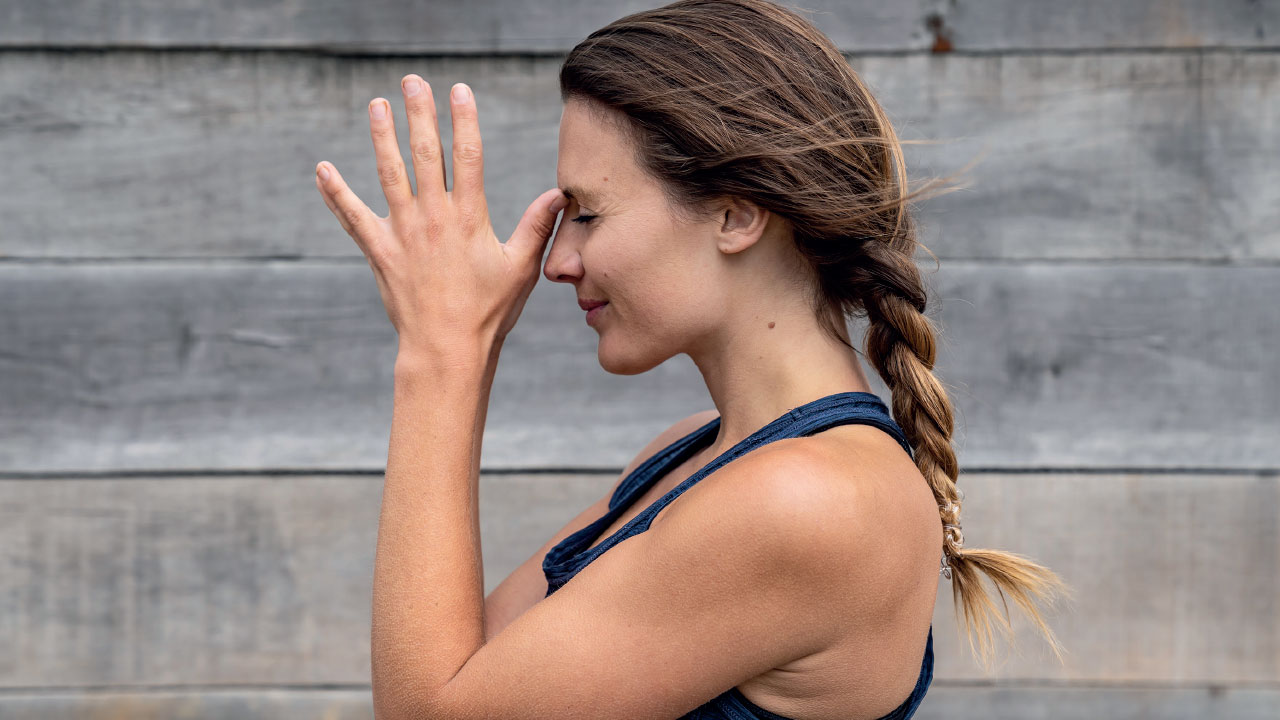 India Pearson describes her journey from a yoga mat in London to the great open yoga studio outdoors, supplied by Mother Nature, where nourishment for body, mind and soul is always freely available
When somebody provokes your anger, the only reason you get angry is because you're holding on to how you think something is supposed to be. You're denying how it is. Then you see it's the expectations of your own mind that are creating your own hell. When you get frustrated because something isn't the way you thought it would be, examine the way you thought, not just the thing that frustrates you. You'll see that a lot of your emotional suffering is created by your models of how you think the universe should be and your inability to allow it to be as it is." — Ram Dass
This quote takes me back to my early 20's, I was fresh out of university, living in London, and auditioning for performing jobs. I had done a dance degree, so felt I 'should' work in the industry I had trained in and believed London was the place to make that happen. I chose to study at Chichester University because it was close to the sea and as a child it had always been a dream of mine to live close to the coast.
But somewhere along the way I had completely lost sight of what fuelled my soul and began listening to outside voices, society's pressures and my own preconceived expectations of what you 'should do' as a university graduate.
It didn't take long for busy city life and the unforgiving pressures that can be felt in the performance industry to have a negative effect on my mind and body. I remember my skin looked grey, my mood was down and I was frustrated by life because I wasn't getting anything back from the tick box 'model' I had followed.
At this point my anxiety had reached an all-time high; I couldn't control my breathing, it was short, and constantly in my chest. I remember speaking to a friend about it and she recommended I try yoga. So the very next day I took myself off to a class at my local studio.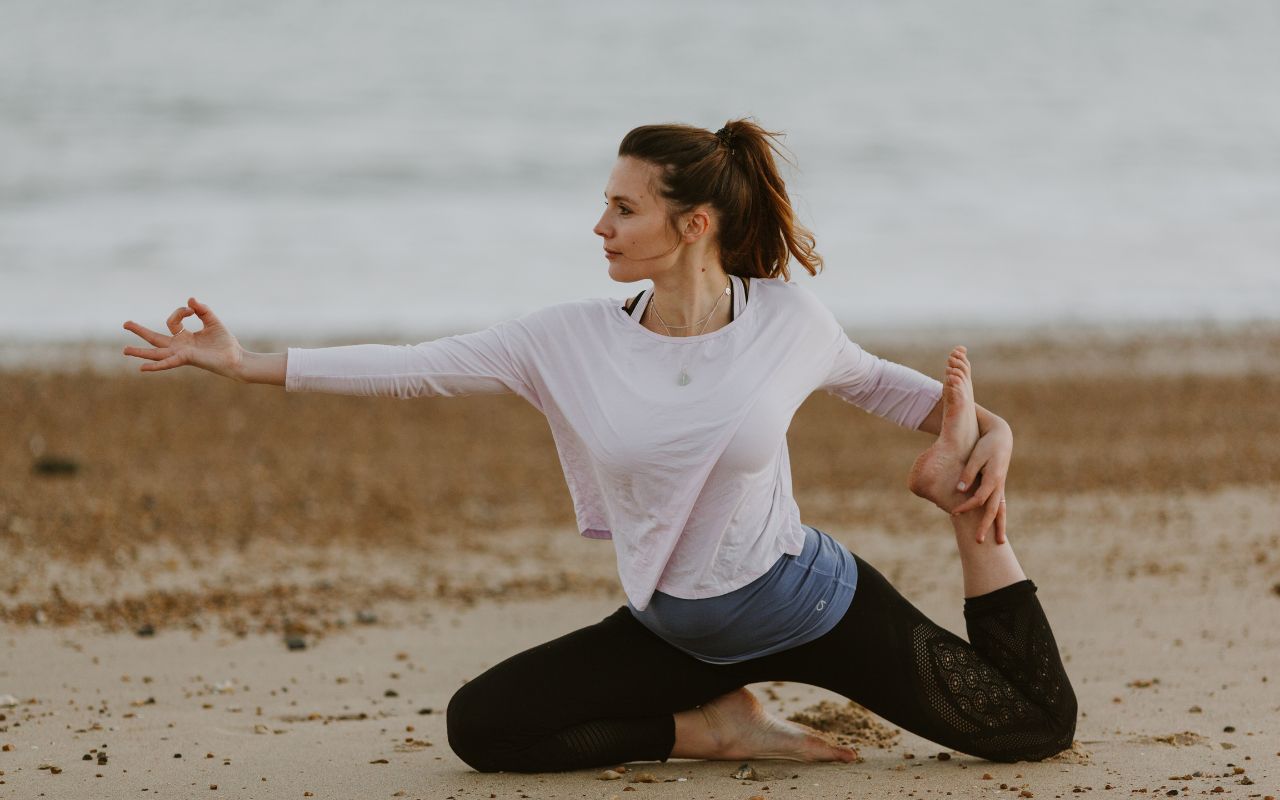 I wasn't totally new to yoga; as a dancer I had always viewed the few classes I had gone to purely for exercise to help improve and maintain my strength, flexibility and balance. The thought that someone might do yoga to help with mental wellbeing had never crossed my mind, but I was willing to give it a go.
The class began with us sitting on the mat, my legs crossed and I followed the teacher's direction, asking us to place one hand on the heart and one hand on the stomach. She asked us to listen to the rise and fall of our breath and visualise the waves as they build with the inhale, and fall to the shore line with the exhale. This visualisation took me back to my childhood: my breath was mimicking the
sound of the sea and I was transported back being about eight years old, jumping in the waves on holiday in Cornwall feeling such joy and contentment. The teacher soon took us out of the meditation and into asana practice but that feeling of heart-warming joy stuck with me and as I left the yoga class I knew I had to revisit a place that gave me such joy as a child — the ocean was calling my soul and I had to follow it.
I already had friends living on the Kent coast that I could flat share with so within a month of that yoga class, I handed in my notice on my London flat, packed up my Fiat 500 and headed down to the seaside town of Folkestone with one focus: to follow what was fuelling my soul, instead of what felt expected.
I continued to do yoga, but my practice grew and developed as I did. I found myself spending more and more time outdoors and in nature, incorporating meditation into my daily walks along the seafront, rolling my yoga mat out on the beach, and playing around with yoga poses on my paddleboard.
Practicing yoga in nature was giving me a place where I could move with the grace and power that I enjoyed as a dancer, but without any judgement, a similar feeling that I had as an eight-year-old child jumping in the waves. I had found my soul's home again.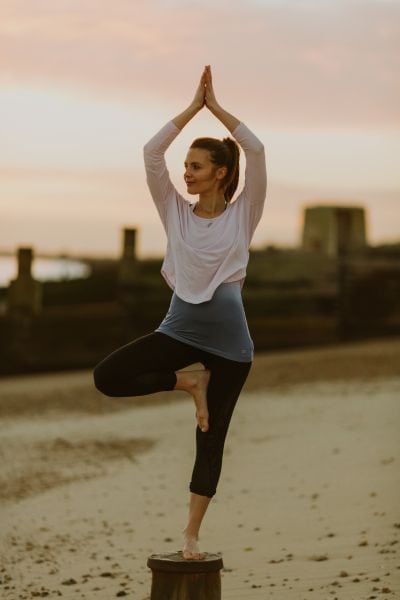 I have now been teaching yoga for seven years and Mother Nature is still very much at the heart of my classes. During the spring and summer I teach outside as much as I can, both on land and water. Teaching SUP Yoga (yoga on a stand-up paddleboard) is a real passion project of mine as it fuels my soul in the most unique way. You are so focused on staying on the board, becoming aware of your breath, your body, the sounds of nature around you, that during your time on the board, nothing else matters.
After all my outdoor yoga classes I encourage my students to spend a couple of minutes litter picking to give back to our great earth and thank her for giving us the most beautiful yoga studio we could ever ask for!
Nowadays, as a mum to my one-year-old daughter, listening to my soul and connecting to nature has been more important than ever. Each time I step on the mat I'm reminded of where I started and where I am now. I still start my classes the same way I started that pinnacle class in London that brought me where I am today — placing one hand on my belly, one hand on my heart, taking a deep breath and listening in to what my soul is saying.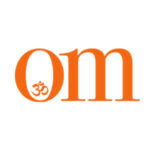 First published in November 2009, OM Yoga magazine has become the most popular yoga title in the UK. Available from all major supermarkets, independents and newsstands across the UK. Also available on all digital platforms.