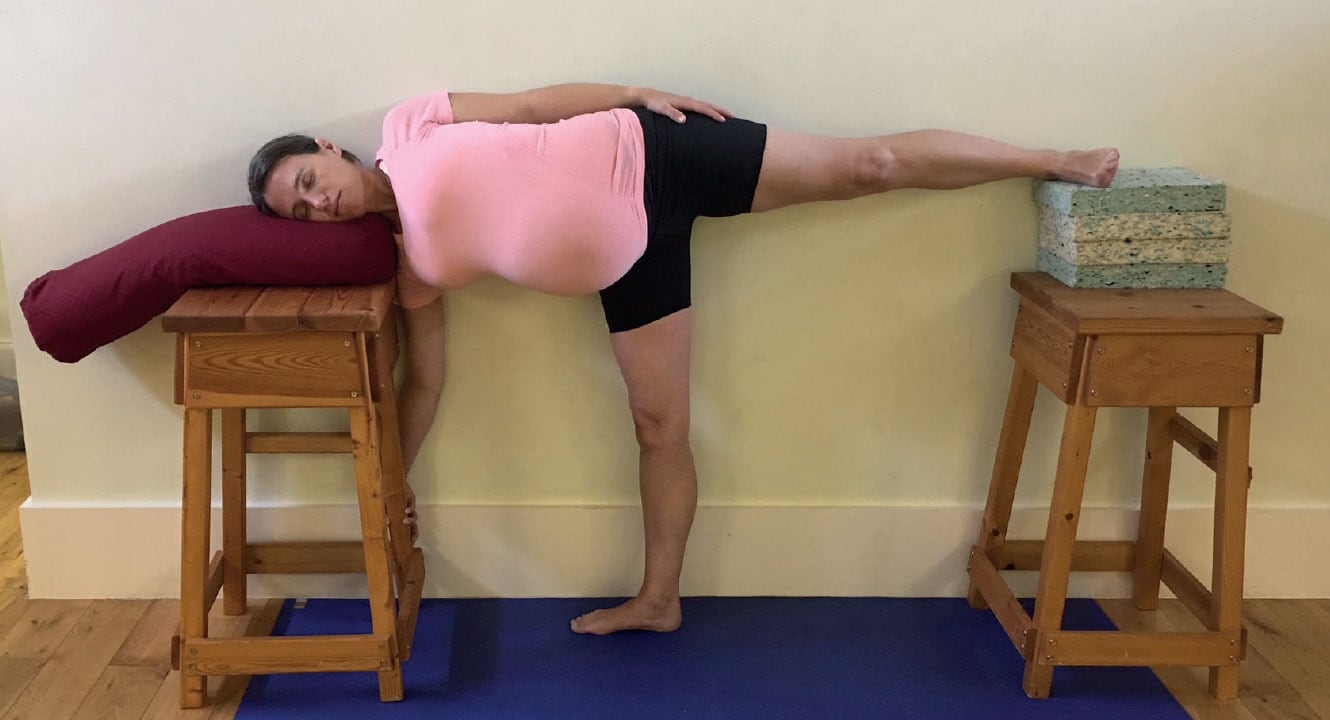 The do's and don'ts of yoga during pregnancy. By Sarah Delfas
Many women turn to yoga for the first time when they become pregnant. Perhaps they feel a need to prepare their bodies for the changes ahead, culminating in the marathon of childbirth. Or perhaps, instinctively, they are drawn to a less aggressive and more sensitive, inward-drawing practice.
Yoga, when practiced correctly, can be a huge benefit both to mother-to-be and her unborn child. BKS Iyengar's work has given Iyengar yoga teachers very clear guidelines on how to work with pregnant women, the focus being, first and foremost, that there is no injury to the foetus and no pressure on the abdomen. This requires a more sensitive approach to yoga practice during pregnancy. For newer students, this is where a properly qualified teacher is essential. Students may ask for a list of asanas to practice during pregnancy. These lists exist but as often in Iyengar yoga, it is how these asanas are practiced and supported that matters.
A pregnant woman walking into an Iyengar yoga pregnancy class is likely to find not only plenty of bolsters and blankets but firmer blocks and other types of props on hand to facilitate a safe asana practice. Ardha Chandrasana (half-moon asana), for example, in a regular class is an asana you would normally associate with the effort and challenge of balancing on one arm and one leg (see photo). In a pregnancy class, a student may enjoy this asana by working against a trestle or a wall with the help of a chair for the back foot, support for the arm and maybe even the head (see photo).
The struggle of the balance is removed, the body is well supported (even the head may be rested) and the focus turns to the space created in the abdomen, a welcome extra benefit being the relief of backache. Other asana are similarly adapted to cater for the growing foetus and the needs of both baby and mother.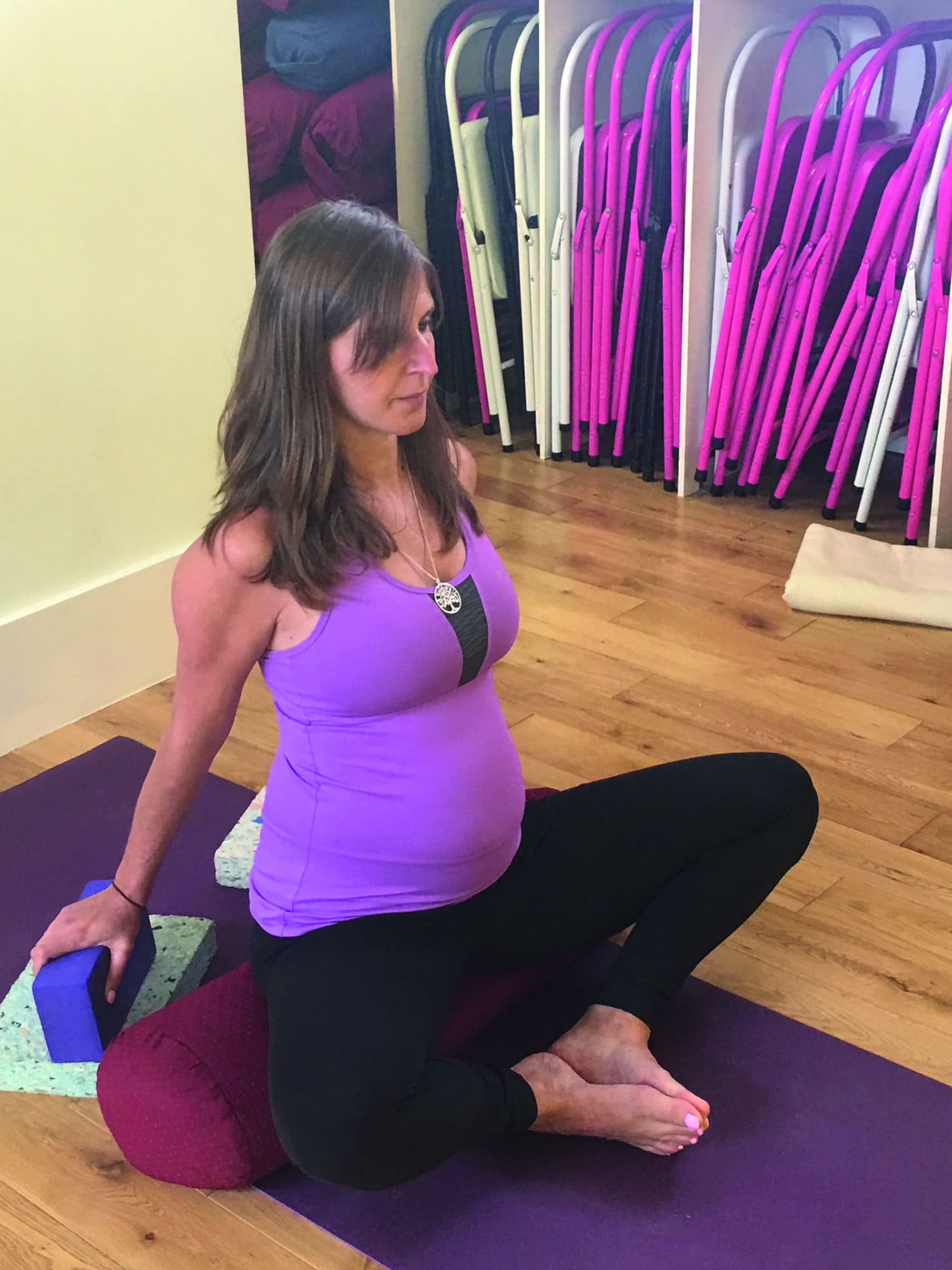 Not surprisingly this deep understanding of the needs of the pregnant mother and child combined with a sensitive and nurturing approach brings a special atmosphere to Iyengar yoga pregnancy classes. While Iyengar yoga teachers are known for their rigour and detailed instructions, discipline and focus, pregnancy classes have their own ambience.
The softness of bolsters, the welcome support of props, the increasing softness of the pregnant mother's tissues and the impending tenderness of motherhood, together with the strong desire of the teacher to nurture students through this important time of excitement, and perhaps anxiety, all bring a warmth and joy to the room.
Experiences and problems are likely to be shared and discussed and solutions found where possible through the yoga practice. The book, 'Iyengar Yoga for Motherhood - Safe Practice for Expectant and New Mothers' by Geeta Iyengar (daughter of BKS Iyengar), Rita Keller and Kerstin Khattab, published in 2010, is an excellent guide (in addition to your yoga teacher) for anyone wanting to practice yoga safely in pregnancy and beyond.
A yoga practice can be adapted to suit all stages of motherhood. The work of Geeta Iyengar has taught us how to use yoga through the month to help regulate the menstrual cycle and assist with balancing hormones.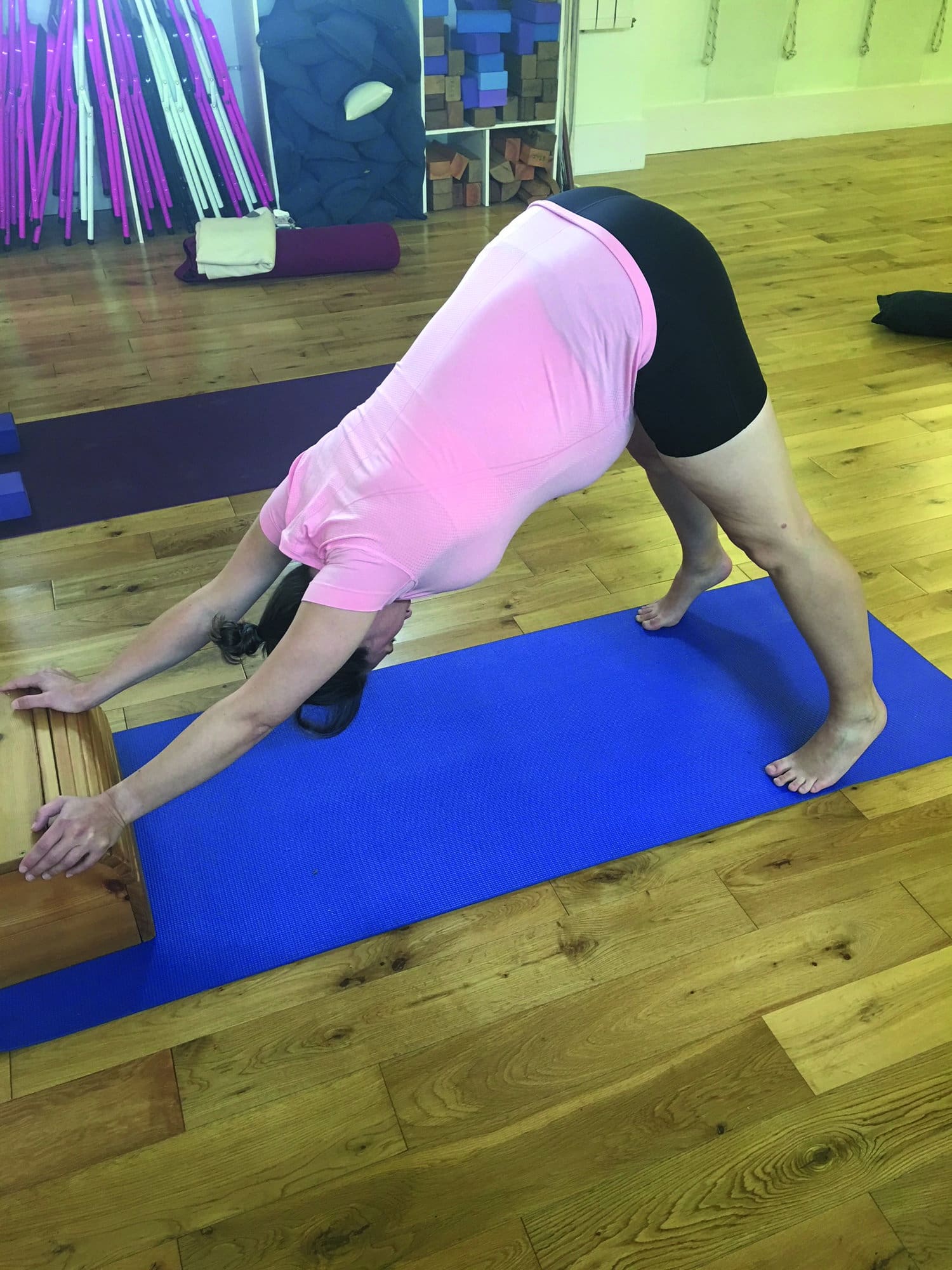 Getting this right is important prior to conception, as is optimising the health of the mother-to-be with a regular yoga practice so that she is in a good state to be carrying a baby through pregnancy. Practicing yoga correctly through pregnancy can help with giving birth and Geeta Iyengar also gives clear guidelines and advice for the postnatal period when the body is recovering from the pregnancy and birth and the tissues are still soft. And then there is all that lifting and carrying that continues as the tiny baby grows into a hefty toddler!
What better preparation for that than a good standing asana practice, ideally established prior to conception, so that you have strong legs to look after your back? Starting yoga before becoming pregnant has other advantages in that students are familiar with the asanas rather than embarking on a double learning curve. Experienced yoga students can even continue to practice asanas like Sirsasana (headstand), for example, with assistance, late into the pregnancy, whereas this would not be advised for someone starting as a beginner during pregnancy.
Different women have different needs and conditions during pregnancy, so it is not appropriate to give a quick list of what to practice. Rather, here are few do's and don'ts to guide you on your way to a healthy pregnancy yoga practice:
1. DO find a well-qualified and experienced pregnancy yoga teacher: search for an Iyengar yoga teacher near you at: iyengaryoga.org.uk
2. DO listen to your body, accept that you may not have your normal stamina and try and embrace and accommodate the changes rather than push through them. It could be that at some point in the early months you are even too exhausted for much more than Savasana. This is fine, just talk to your teacher who will advise you how to practice.
3. DO seek advice from a senior teacher for any complications in pregnancy, ideally an Iyengar yoga therapy teacher.
4. DO take particular care from weeks 11-16 when miscarriages are most likely to occur.
5. DO NOT jump in and out of asanas at any point during your pregnancy.
6. DO NOT do anything that hardens, squashes or restricts the abdomen.
7. DO NOT practice standing asanas during your pregnancy if there is a history of miscarriage. Again, seek advice from a senior teacher. Iyengar yoga teachers are given clear guidance on when they can teach pregnant women. Newly qualified teachers may only teach students who have been attending their classes prior to pregnancy and who have no complications. A teacher needs to be qualified at Level 2 to teach specific antenatal classes and at Level 3, with therapy, to teach multiple births and abnormal pregnancy cases. Such is the importance given by BKS and Geeta Iyengar to giving the correct care to mother and unborn baby in pregnancy, albeit one of life's most natural conditions.
Sarah Delfas is a Level 3 Iyengar yoga teacher and mentor, member of the IY(UK) Children, Young Adults and Families Committee and mother of four children, based in mid-Sussex.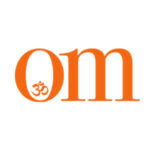 First published in November 2009, OM Yoga magazine has become the most popular yoga title in the UK. Available from all major supermarkets, independents and newsstands across the UK. Also available on all digital platforms.