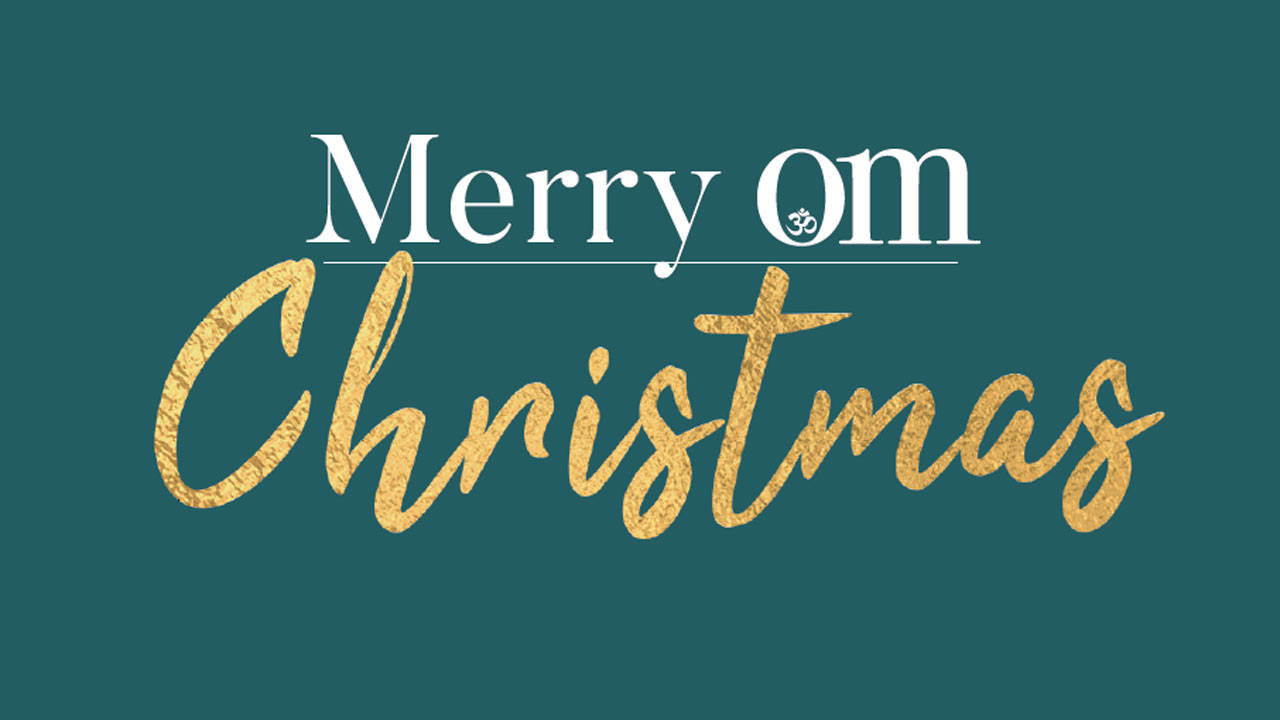 Yoga Christmas Gifts
It's that most wonderful time of the year.
Share your love of yoga with those you love in the
Christmas gifts you choose for them this year.

We've compiled a selection of eco-friendly yoga-inspired
pressies inside to give you some ideas and inspiration.

Merry OM Christmas.
34 Yoga Christmas Gifts and ideas for 2020
A beautiful Om symbol wall hanging, designed and made in the UK. Made of wood, it includes a hanging string with two wooden beads. Alternatively, it can be stuck to a wall using double-sided tape. It makes a lovely addition to your home, yoga studio or to give as a gift to someone who practices meditation, mindfulness or yoga. Also available with the word 'Namaste'.
£8.50
antdesigngifts.co.uk
Chakra Balancing Bath Bomb Set
A beautiful selection of seven hand-made chakra bath bombs. Help to balance the mind and body. Each bath bomb has been designed to help relax, stimulate or brighten your mood. Individually fragranced with organic oil blends carefully chosen to relate to each chakra in the body. The perfect gift for anyone who needs some time out to chill and re-centre, or who just loves relaxing in a luxurious bath.
£35
auraorganicscosmetics.co.uk

Tickets for BWY Sangha: For the love of yoga (April 23-25, 2021)
BWY Sangha is simply a celebration of everything there is to love about yoga. With more than 100 different classes and 50 renowned teachers all wrapped up in three days at a four-star hotel, what's not to love? The classes offer a wide variety of styles of yoga from Feldenkrais to Kirtan, Accessible Ashtanga to Yoga Nidra and everything in between. Tickets include all classes, meals and accommodation for the whole event. In fact, the only money you'll need is if you get tempted by the enticing array of shops in the Market Place or would like to join others for a drink in the bar. Full Covid refund assurance.
£335 full weekend ticket
£530 full weekend ticket for two (sharing room)
£100 Friday ticket
£115 Saturday ticket
£100 Sunday ticket
bwysangha.com (quote ref: Omgift)
108 asana yoga sequencing cards make practicing yoga from the comfort of your own home simple. This easy-to-follow sequencing system gives you the freedom to step on your mat when it suits you and practice exactly what you need, as often as you like. They take the guesswork out of what pose to practice to give you the 'feel good factor' of yoga and its many benefits. All 108 cards have alignment cues to help you navigate the pose, a levels guide to pick poses relevant to you, anatomy coding to understand what muscles you are using, and the Sanskrit/ English pose names. They are a perfect gift for the yogi in your life or a 'to me, from me' present!
€32
yogaru.ie
Full-length high-waisted leggings made of velvet look fabric. Like other Dragonfly leggings, there's no waistband so they do not cut in anywhere. The velvet material makes the leggings look fashionable. Dragonfly embroidery, perfect design, premium quality clothing. Made in the EU. The material complies with Standard 100 by OEKO-TEX.
£39
DragonflyBrand.com
Yogipod bolsters are made from fabric hand block printed in Jaipur by a small cluster of skilled artisans and filled with supportive organic buckwheat hulls. Designed to look just as good on your sofa as they do supporting you on your yoga mat, they're also perfect for chilled winter boxset sessions. Available in a range of prints and colours including the warming coral pink of the home of block printing, Jaipur. Embracing the handmade nature of block printing and promoting slow consumption, Yogipod is as sustainable as possible and a tree is planted for every order.
£50
yogipod.co.uk
Shower without soaps, shower gels, using only water. Hypoallergic, antiseptic, no skin irritation personal hygiene and beauty cloths for men, women and children, ideal for use after a workout. Remove makeup without cosmetics. No more cracking knuckles and dry hands. Renew, rejuvenate and exfoliate skin cells.
gaudiumretreats.co.uk
OM Yoga Magazine Subscription
The gift of yoga for 6 or 12 issues. Print issue delivered to the door + online access to current and back issues.  yoga christmas gifts
£47 - for 12 issues
£24 - for 6 issues 
UK Only