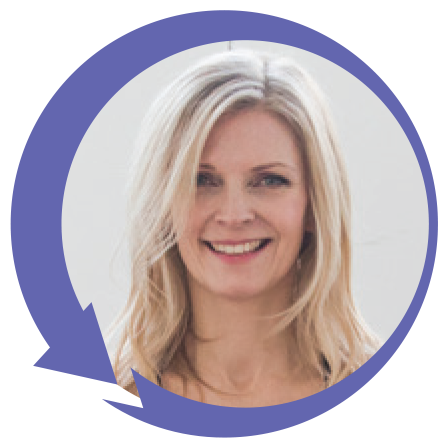 A 360º overview of...
Shoulder Pressing Pose (Bhujapidasana)
Shoulder Pressing Pose, or Bhujapidasana, is a pose that will help to improve balance, elevate your mood and build strength
Shoulder Pressing Pose has many similarities to Firefly Pose, except your knees are bent and your ankles are crossed.
The benefits of this pose:
Strengthens your arms, shoulders, wrists, hands, abdomen and legs.

Increases your hip flexibility.

Lifts your mood and increases your confidence.
Cautions and modifications:
Avoid Bhujapidasana if you have a shoulder, arm, wrist or lower back injury or issue.

Try placing your hands on yoga bricks.
Try Elephant's Trunk Pose (Eka Hasta Bhujasana) by stretching out one leg straight forwards.
Prepare your hips and lower back muscles in Tortoise Pose.

Prepare your back in Standing Forward Bend.

Strengthen your arms and wrists in Chaturanga Dandasana.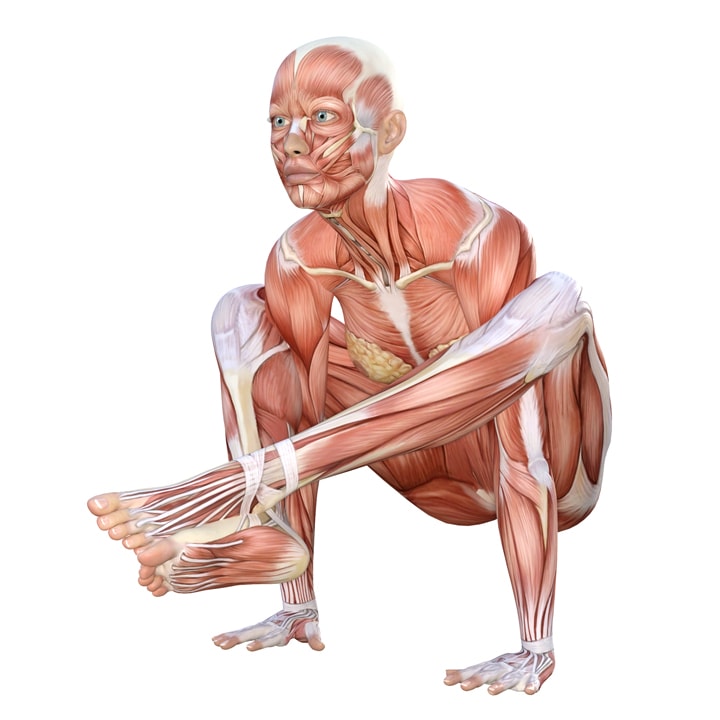 Stand with your feet a little more than hip width apart.

Bend your legs and lean forwards.

Reach your arms back between your legs.

Place the palms of your hands outside your feet.

Rest the backs of your thighs as high as possible on your upper arms.

Keep leaning forwards and cross your left foot over your right foot.

On an exhalation, press your hands onto the ground and lift your feet.

Lift your upper body and straighten your arms.
Your dristi (focal point) is at the tip of your nose or at a fixed point straight ahead of you. Keep your gaze soft.
Maintain your foundation in your hands and keep them flat on your mat.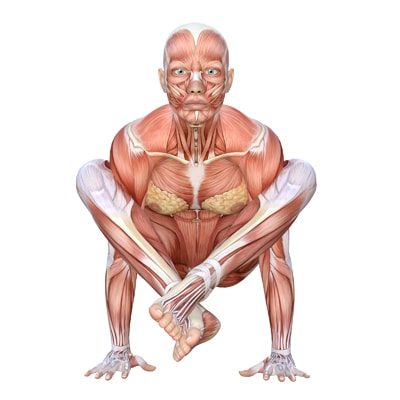 To lock your feet, activate the tibialis anterior muscles to bring the tops of your feet towards your shins.
Lift your body upwards by using your triceps to straighten your elbows.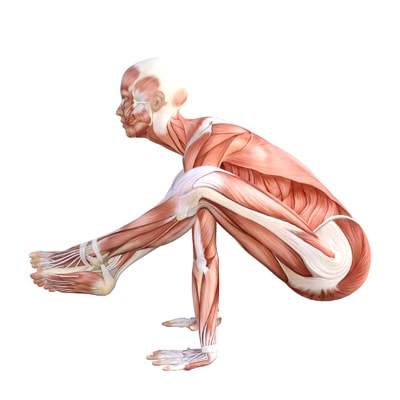 BROADEN ACROSS YOUR CHEST AND UPPER BACK
Broaden across your collarbones.

Activate your serratus anterior to protract your shoulder blades away from the midline.
Flex your upper body and hips in order to stretch the erector spinae and quadratus lumborum muscles of your back.
Squeeze your legs towards each other.

Lift your legs vertically.
Balance in the pose for 5-10 steady breaths.
Uncross your feet and return to a standing position.

Repeat with your right foot crossed over your left foot.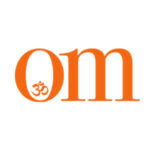 First published in November 2009, OM Yoga magazine has become the most popular yoga title in the UK. Available from all major supermarkets, independents and newsstands across the UK. Also available on all digital platforms.