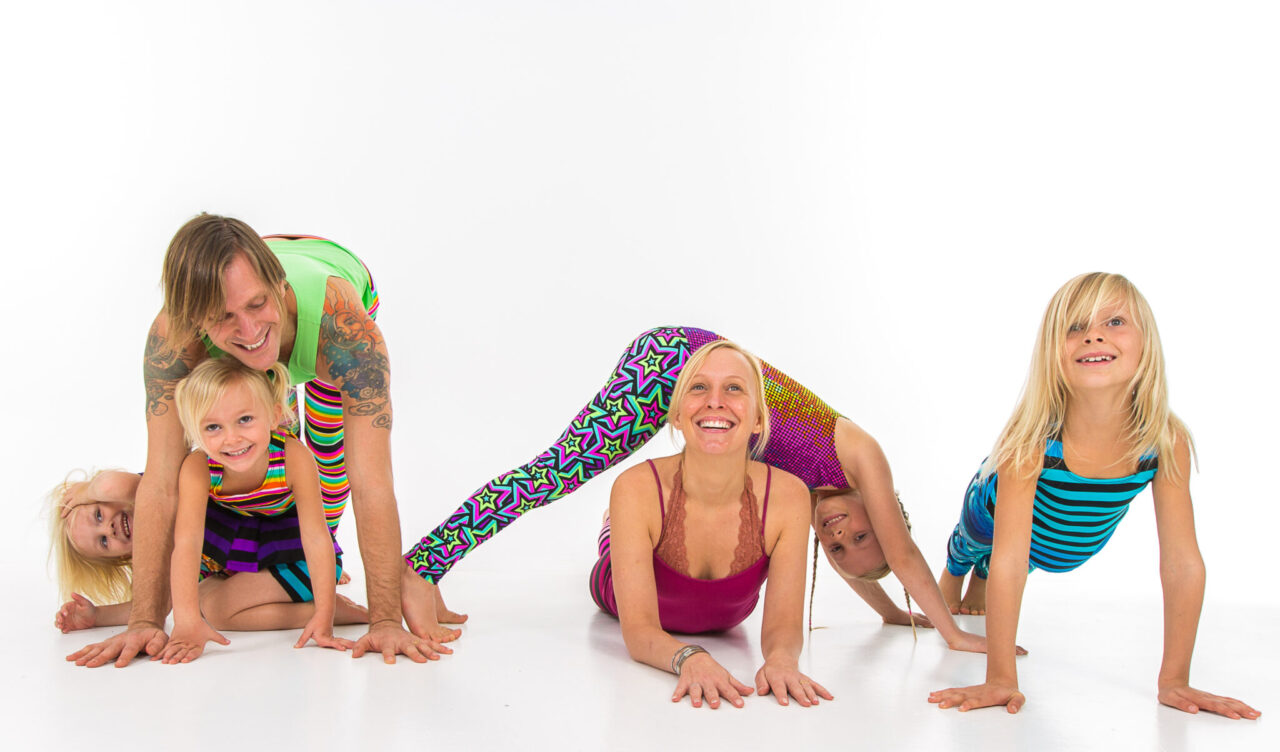 Where can I teach kids yoga?
Ideas and inspiration for teachers on where to hold kids yoga classes. By Gopala Amir Yaffir
Yoga for children has countless benefits. Here are just some of those amazing benefits: it improves strength and flexibility; it increases self-confidence and builds a positive self-image; increases emotional resilience; nourishes creativity; teaches self-acceptance and self-love; builds coordination and balance; expands self-awareness and awareness of others; develops self-discipline and self-control; builds concentration; increases awareness of breathing and deepens the breath; teaches how to relax and reduce stress and, ultimately, how to find inner peace.
By sharing yoga for children in a variety of places, you can bring this amazing practice to those who otherwise might not have discovered it. By bringing yoga to more children, we can help to create a future generation which is more peaceful and more kind, making the world a better place, one child at a time.
So where can you teach kids yoga? Here are some of the best places and ideas as to where you can teach yoga to children:
Teaching kids yoga in daycare centres
It is super fun to teach yoga to toddlers! It is yoga playtime! Sing and laugh a lot and don't take anything too seriously. With lots of animal poses and some simple games, a 30-45 minutes class is enough; when you see that they are losing focus, start winding things down.
Teaching kids yoga in kindergartens and preschools
Using their wild imagination, take these children on a magical yoga journey with transportation poses (cars, helicopters, airplanes, boats), nature poses (trees, rocks, waves, mountains), animal poses of all kinds (dogs, cats, elephants, monkeys) and even food poses and playground poses.
Slow it all down at the end with some guided imagery so they leave the class all peaceful and calm for their teachers and parents to be impressed by.
Teaching kids yoga in primary schools and high schools
Schools are some of the best places to teach yoga in. It is a great service to the children and a much-needed one, but also a great job opportunity as classes at schools will tend to happen weekly for the whole year, and even many many years to come.
Crafting meaningful classes (often to match, or complement what they are learning at school) we can teach the children life lessons and wisdom.
Do it without long lectures, but more through sharing circles, inspiring poems, movement and social interaction. Let the yoga poses and sequences come in as symbols and analogies of your class topic. All of this while you encourage this more stationary generation to move around a lot, playing and stretching and strengthening through yoga poses.
Teaching kids yoga in community centres
Yoga and its benefits are well known now worldwide, and community centres are a great place to make it all available to a wide-ranged audience. You can offer kids yoga to different age groups or even family yoga for parents and children to attend together. Yoga can be a great social activity, a healthy and positive way to spend quality time together.
Teaching kids yoga in yoga centres
Yoga centres are of course great candidates for yoga for children. All the yoga mums will jump at the opportunity to give their children some education in what they know from their own experience is so beneficial. At a yoga centre you can focus on the more peaceful elements of the practice, letting the space itself help you create the right atmosphere and induce a calming effect on the children.
Teaching kids yoga in gyms
What mum and dad don't want to stay fit? The issue is finding the time to do it. Kids yoga comes to the rescue! That's how it works: you take care of the kids teaching them yoga in a fun and engaging way, while the parents get to do their workout. At the gym, you can keep your kids yoga a bit more upbeat and focus on staying mobile and on lots of strengthening.
Teaching kids yoga in hospitals 
Children who are experiencing illness or are recovering from surgery and even children who are facing a frightening and uncertain future can benefit on all levels from yoga. On the physical level, yoga helps children in hospital to stay more mobile. On the emotional level, yoga is uplifting and mood enhancing. There is even research that shows that yoga can help with pain relief. But yoga in the hospital will not look like yoga in the gym. You may need to adjust the practice to be done on a chair or in bed, or even sometimes gently move children who are fatigued or less mobile into yoga poses by actually adjusting them into the pose hands on. If moving through yoga poses is too difficult, you can still practice yogic breathing, relaxation techniques, mindfulness and more. Yoga can benefit anyone, but you have to fit the practice to each individual.
Teaching kids yoga in summer camps and day camps
Summer camps and day camps are always in search of fun activities to keep the children busy. Yoga is perfect for this, and also a great way for the camp's organisers to market their offerings to parents. Focusing on making yoga social with lots of yoga games, breathing games and mindfulness games, helps the kids experience community while playing and stretching in pairs and groups. It is also fun in these settings to create a yoga performance of some sort to show the whole camp and even parents at a talent show or camp graduation. Yay!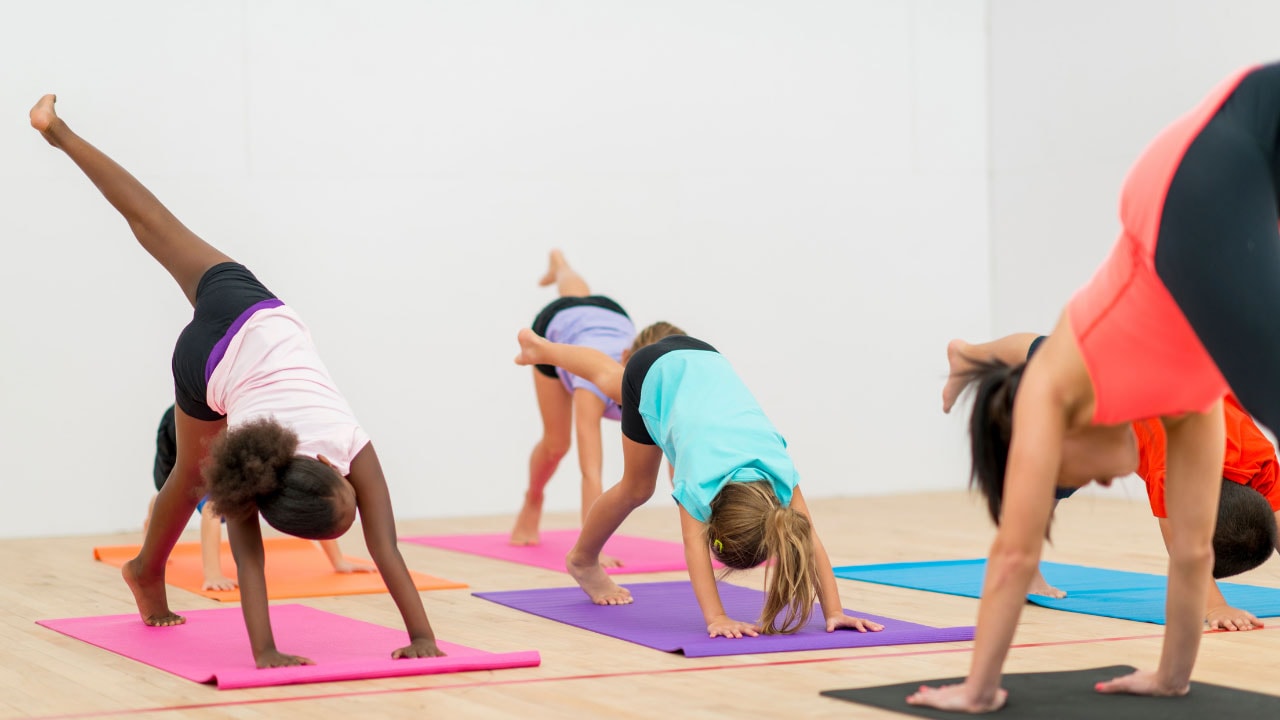 Teaching kids yoga in libraries and bookstores 
This is one of my favourites: I call it yoga story time! Each week, you pick a different book and enjoy yoga story time with the children. Choose books that have lots of animals and objects in them, and do yoga poses of all of those each time you meet them throughout the story. At the end, you can ask the kids what animals or objects they remember meeting in the story and do the poses all over again. Finish with relaxation, breathing or guided imagery, ideally related somehow to the story you have read.
Teaching kids yoga in churches or other religious institutions
When teaching at a religious institution, use relevant elements from that tradition. People always understand you best when you speak in their language. They feel comfortable with what is familiar to them. If teaching at a Jewish Community Centre, for example, you can use themes from Jewish holidays. You get the idea.
Teaching kids yoga in toy stores, children's hair salons or spas
This is a fantastic way for you and the store owner to do some amazing cross-marketing. They get to promote an event that will bring customers to their shop, and you get exposure to new audiences that may be interested in continuing to practice kids yoga with you.
Teaching kids yoga in health centres
In ancient China, people used to pay their doctor while they were healthy, and not pay when they were sick. This makes a lot of sense. We would all be better be spending our time and money on activities that keep us healthy rather than on treating diseases when we are out of balance. Yoga is so good for us, and it has the potential to keep us vital and healthy. This is all research-based, and many countries provide health insurance rebates for those that practice yoga. Team up with your local health centre to offer this fabulous service.
Teaching kids yoga in hotels and retreats
Families on holiday tend to have more time for yoga, and offering kids and family yoga classes can be a profitable venture for you. You can either offer the classes on a regular basis, daily or weekly, or you can leave your 'yoga menu' at the hotel or resort and be on-call for private sessions. If you live in the right place, you can even offer a mindfulness meditation walk at sunrise on the beach or anywhere else in nature, and a sunset yoga session to help wind down the kids after an active day. If the resort has a kids' club, you can also try to be a a part of that.
Teaching kids yoga at birthdays parties
In many places, there is a kind of competition between the parents on who can run the most amazing birthday party for their children. So yes, it needs to be grand! I like meeting or at least talking over the phone with the birthday boy or girl to find out what are their favorite things are. Try to build the theme of your class around that, and of course celebrate the birthday boy or girl at every opportunity throughout your class. Make it extra fun and super social. Use any other talent you may have such as drama, music, dancing, magic, balloon shape making and more. Come dressed up for the theme if appropriate! If you collaborate with other performers to make it even more splendorous, or if you bring food, you can charge more of course.
Teaching kids yoga in pyjama parties
The idea here is that parents can drop off their kids with you for a yoga pyjama party while they go out on a date. So cool! All the kids can come in their pyjamas, you do some sleepy time yoga with them, maybe have a pizza, watch an appropriate movie with some popcorn. Younger children can fall asleep, or you can tell stories or do guided imagery while they lie down and close their eyes.
When the parents come and pick them up they are either asleep or very calm and all ready for bed.
Yoga date night
This is an event to create with another yoga teacher.
Have two parallel classes, one for children and one for parents. The parents' class can even be a partner yoga class or a candlelit romantic yoga session. The children will do yoga with you, while the parents will enjoy some special quality time together in their own yoga class. Perfect!
Teaching kids yoga in private classes
This is a fantastic opportunity to create tailor-made classes for the unique needs of the child.
They may need to work on fitness or weight loss, to enhance their skills for concentration and learning, or to process an emotional trauma…every child is unique. Leave some time here for discussion and feedback, listen a lot and be there for that child through their journey. You can also give them some yoga homework to practice in the days between your sessions.
Teaching kids yoga to children in need
It costs money to practice yoga, and that makes it not accessible to everyone.
It is a good thing, and it feels good, to take the time to volunteer and offer yoga to children and families that may not be able to afford it. Teaching yoga at shelters, to youth at risk, native communities, charity events and more, are all opportunities to give the gift of yoga to children who may need it the most.
Teaching kids yoga at your own home or centre
It is expensive to hire a space for yoga, and it is a good idea to start in a way that makes it possible for you financially.
If you have an appropriate space, make it inviting and call first on all of your friends and relatives to come and join your first classes. You will gain experience quickly, and your family and friends will spread the word about your awesome classes wherever they go. You will soon outgrow your own space!
Now that you know where you can teach kids yoga, here are a few tips to help you make it a reality:
Calling and emailing these places is great, but usually, if you appear in person and they see you face to face, you have a better chance of establishing a class there. First impressions are extremely important, so come dressed nicely and with your materials well organised.
When you choose to teach in a place, take the location into consideration. Remember that parents will not travel far with their children, so try to choose a place which is close to residential neighbourhoods and that is easily accessible.
It will be easier (and more appealing) for parents if there is close, abundant, and cheap parking and if there aren't a lot of stairs to climb to get to the building or classroom.
If it's a well-known place, it will have more advertising power to promote your classes.
Offer a free or reduced rate trial class, this is the best way to get your foot in the door. It is also a good way to accumulate some experience in teaching and get more exposure in your community, as most places will not refuse a free class. Sometimes you will need to teach a hundred free trial classes in order to have 10 or 20 weekly ongoing classes, but it's worth it.
After you have enough ongoing classes set, you might want to consider not giving free trial classes but do half-price instead.
Expect that not everything you try will work out. Never despair; those who persist, with the help of lots of creativity, succeed.
Good luck and remember to have fun while you do it all!
If You Enjoyed This, Then You May Also Like...