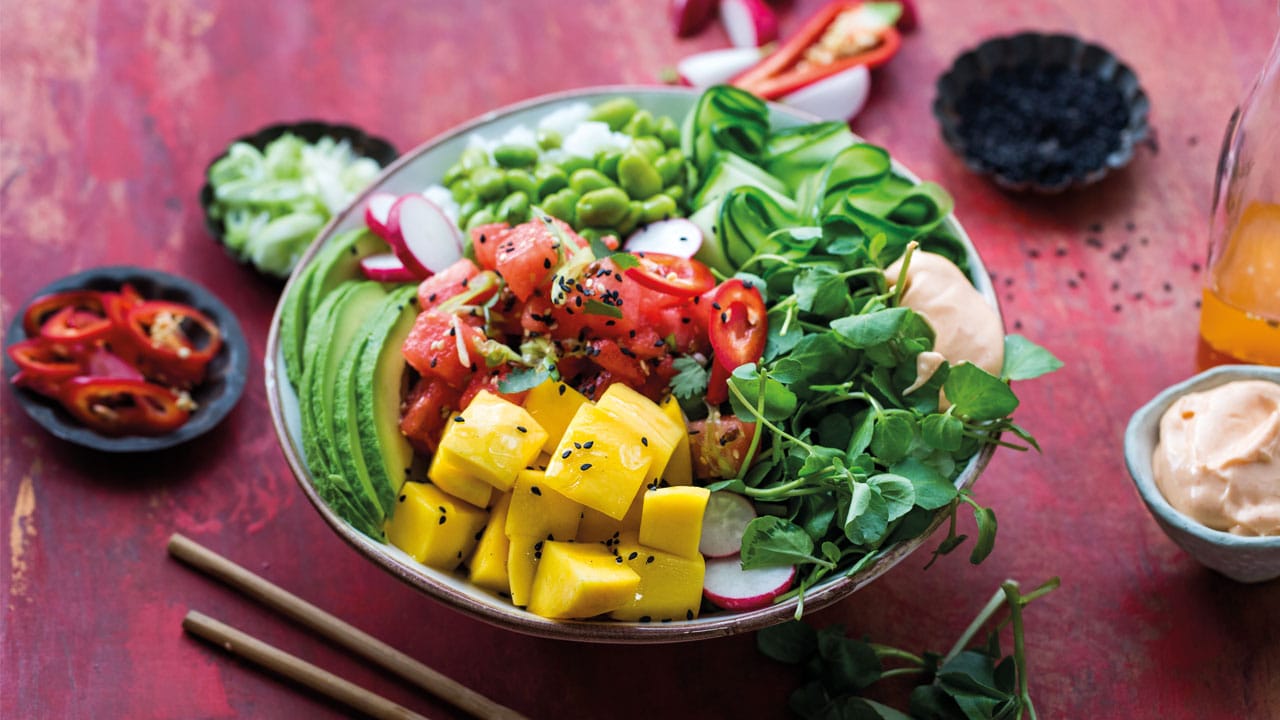 Watercress and Watermelon Poké Bowl
The distinctive peppery kick that makes watercress so special is down to the compound PEITC, which has been scientifically proven help prevent certain cancers, and to aid post-exercise recovery by preventing DNA damage.
1 85g (3oz) bag watercress

100ml (3.3 fl oz) vegan ponzu (available from thewasabicompany.co.uk)

2 spring onions, finely sliced

2 tbsp fresh ginger, finely chopped

2 tbsp sesame seeds, toasted

200g (7oz) cooked white rice (sushi rice is best but long grain or basmati are also fine)

1 mango, peeled and diced

1 avocado, peeled and sliced

150g (5.3 oz) shelled edamame beans

6 radishes, thinly sliced
Pinch of crumbled nori seaweed

Fresh coriander, chopped,

1 red chilli, finely sliced

Pickled ginger (to taste)
Use a sharp knife to cut the watermelon into 1cm thick slices. Cut away the rind and dice the watermelon flesh, removing any pips. You will need about 4 cups' worth of watermelon, the rest can be kept aside for another use. Place the diced watermelon into a bowl.

In a separate bowl, combine the ponzu, sesame oil, spring onions, ginger, sesame seeds and chilli flakes. Pour over the watermelon and toss gently to coat. Cover and leave in the fridge to marinate for one hour.

Use a peeler to prepare thin ribbons of cucumber, peeling down the entire length. Roll up the ribbons to create cucumber rolls, then set aside. Combine the mayo and sriracha in a small bowl and set aside. Now you are ready to assemble your poké bowl!

Take four bowls and begin by adding in the rice as a base. Top with the cucumber rolls, mango, avocado, and edamame beans, radishes and then add a quarter of the marinated watermelon to each bowl. Drizzle over any marinade left to add flavour to the entire dish.

Top each bowl with a dollop of sriracha mayo, then scatter over the crumbled nori, fresh coriander, crushed peanuts, black sesame seeds, and red chilli. Serve with a dish of pickled ginger for everyone to help themselves to.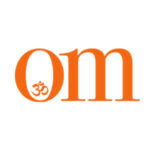 First published in November 2009, OM Yoga magazine has become the most popular yoga title in the UK. Available from all major supermarkets, independents and newsstands across the UK. Also available on all digital platforms.