A nut loaf is for life, not just for Christmas, writes Victoria Jackson, as she prepares for another veggie Christmas.
"Christmas is coming, the geese are getting fat…" As I get ready for Christmas celebrations, the familiar words of the nursery rhyme from my childhood run round in my head. "Please spare a penny for the old man's hat…" it goes on. The idea of offering charity at Christmas time might be well worth remembering, but I'm having a bit more difficulty with fattening up the geese now that I'm vegetarian!
Veggie Christmas
Vegetarianism has sneaked up on me over a few years, with last year being my full veggie Christmas debut. I'll be honest, it wasn't as easy as I anticipated. It required quite a lot of letting go of expectations and traditions — not just by me but also by my family. And they were full of questions. Just what do vegetarians eat at Christmas? How do we get two meals ready at the same time? Is Christmas pudding OK? What do you mean, not all cheeses are vegetarian? Safe to say, it was a learning experience all round as we figured out what changes were needed and what could stay the same. But no-one starved and it still felt like Christmas.
And that's how it is with all traditions maybe. Traditions are there to connect us with our community, with our past, and offer a feeling of continuity and meaning. But when something significant changes and the tradition is no longer meaningful, it's time to let it go. In a relatively trivial way, this is true of my Christmas menu now, as turkey gives way to nut loaf and terrine is replaced by mushroom pâté. Perhaps these will become a feature of my new traditions, and the time will come when I no longer remember how it all used to be.
And maybe the nut loaf is for life, not just for a veggie Christmas — symbolically, at least! I mean, the changes that seem tricky to negotiate around Christmas time are just one aspect of broader changes that arise from a regular yoga practice. I notice patterns of thought and behaviour that no longer feel quite right (like what I choose to eat) and I come to realise that there are so many new possibilities. I could begin to do things differently, rather than live with habits that don't seem beneficial any more.
But it's evolution, not revolution; changes take the time they will. And some things about Christmas, of course, stay reassuringly the same. Opening presents in our pyjamas, daft jokes in the Christmas crackers and those paper hats we love to hate, a post-lunch walk to aid digestion no matter what the weather and an evening spent immersed in new books or watching festive fare on the telly. Peace and goodwill (especially to the geese!). Om shanti.
Victoria Jackson lives and teaches in Oxford. She is registered with Yoga Alliance Professionals as a vinyasa yoga teacher. Read more of Victoria's OM Lite columns.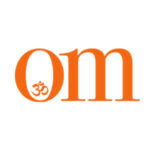 First published in November 2009, OM Yoga magazine has become the most popular yoga title in the UK. Available from all major supermarkets, independents and newsstands across the UK. Also available on all digital platforms.
If You Enjoyed This, Then You May Also Like...