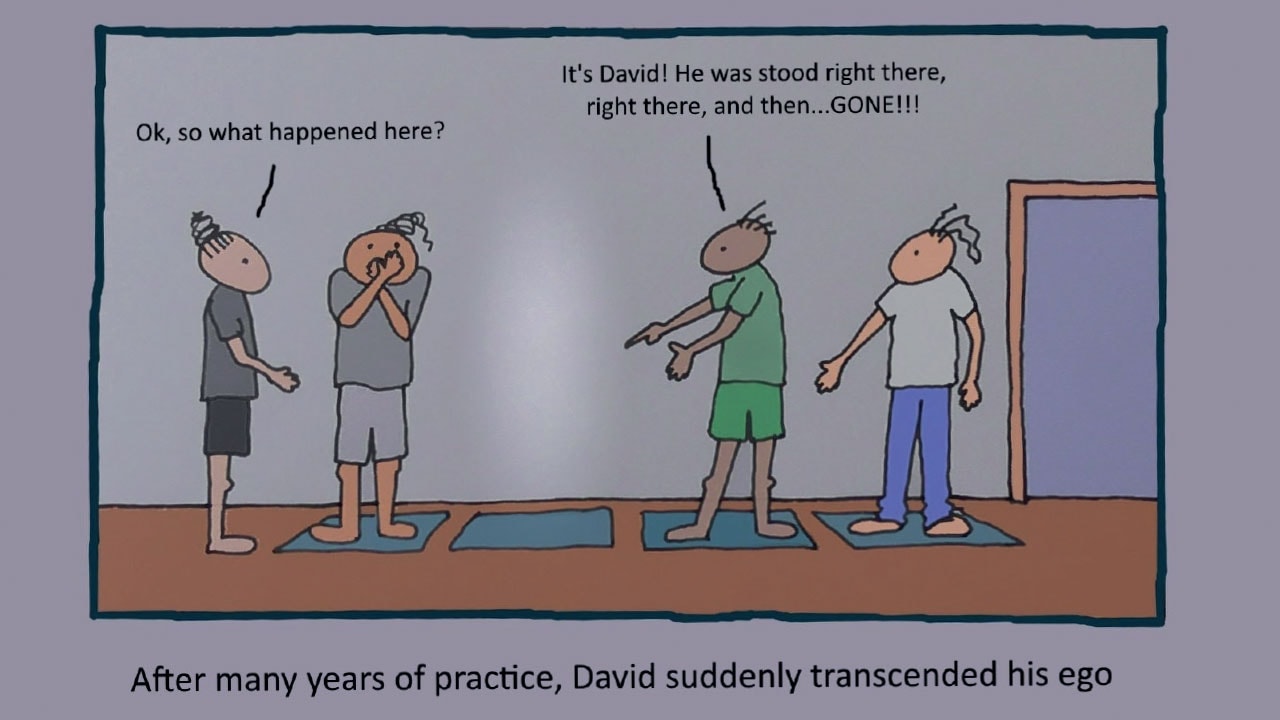 Yoga teacher Mike Nevitt is the cartoonist behind a new book, The Lighter Side of Yoga, which portrays a more humorous side to the practice. As a student of over 30 years, there's no one better qualified to break the myth that yoga is dull or devoid of laughs. In fact, it's quite the opposite, reckons Nevitt
Mike Nevitt is a dedicated yoga and meditation practitioner and also a talented artist. He's also recently published a book, The Lighter Side of Yoga, which is selling across North America and is no available in the UK. It brings out a lighter side to a practice that, to many, can still seem unfathomable or overly serious. Here, he outlines his own yoga journey and what the new book is all about:
It all began 30 years ago
"I started practicing yoga for the same reasons so many others do, to find some kind of balance and calm in my life. I was unemployed and had very little money so my first yoga book was a small inexpensiv publication called The Calm Technique by Paul Wilson. The book advised me to sit on a straight-backed chair and simple observe my breath for five minutes each day. I committed to this simple practice daily for two weeks and I definitely felt a big difference and improvement in my mental state. I didn't know it then but following the guidance in that little book was the beginning of a 30-year journey that continues to this day.
I've practiced many physical disciplines ranging from karate and fencing to jazz dance and judo but it wasn't until early 1994 at the age of 29 that I settled down into the dedicated study and practice of yoga and meditation. The second yoga book I invested in was Light on Yoga by the late yoga master B.K.S. Iyengar. It contained some of the most impressive photos of yoga I had ever seen. One photo that stood out from all the others to me was the great master sitting in the position called Kandasana. He looked like a yoga god, and with his feet pulled effortlessly up to his chest, exuded the power and mystery of yoga that I found so attractive.
From the book I learned that Mr Iyengar would often practice for up to 10 hours per day and had millions of students worldwide. Reading that, something clicked in me and I realised that my way out of my current unfavourable situation was simply to become a grand master like B.K.S. Iyengar. I had no money but I did have all the time in the world, and so my quest began. Though I didn't make it to 10 hours a day practice and didn't become a grand master, I did practice regularly up to four hours a day and attended four classes per week and every seminar and workshop I could afford.
Very quickly, I became a well-known teacher in the UK holding workshops all over the country and receiving increasing requests from abroad. The practice of yoga and meditation lifted me truly out of the dark and hopeless place I was in; it gave me an anchor and a direction and I met many wonderful and amazing people. For that, I am truly grateful."
"I've always taken my practice and relationship to yoga very seriously and more than one student has commented on my committed, controlled, and serious approach to the subject. In hindsight, I can see that they were probably hinting that I could lighten up a little! I always dreamed of one day writing a unique, serious and ground-breaking best-selling yoga book, so it is somewhat ironic that my first yoga book is humorous cartoon satire!
The Lighter Side of Yoga is the culmination of my 30 years of observation and experiences as a full-time student and teacher in the world of yoga and meditation. Over the years, and especially beyond 2010, I gradually became more and more disillusioned with the yoga world and what was happening within it.
Due to an explosive trend of teacher training programmes being offered by almost every yoga studio, there was soon a saturation of new teachers everywhere and this was accompanied by the appearance of online companies offering free exposure to studios and teachers in exchange for half-price deals and other incentives. I felt the authenticity and depth of yoga was disappearing."
It's my wish that The Lighter Side of Yoga will make people laugh, induce a reflective smile, and also offer a gentle reminder to all of us involved in yoga and meditation not to take ourselves too seriously.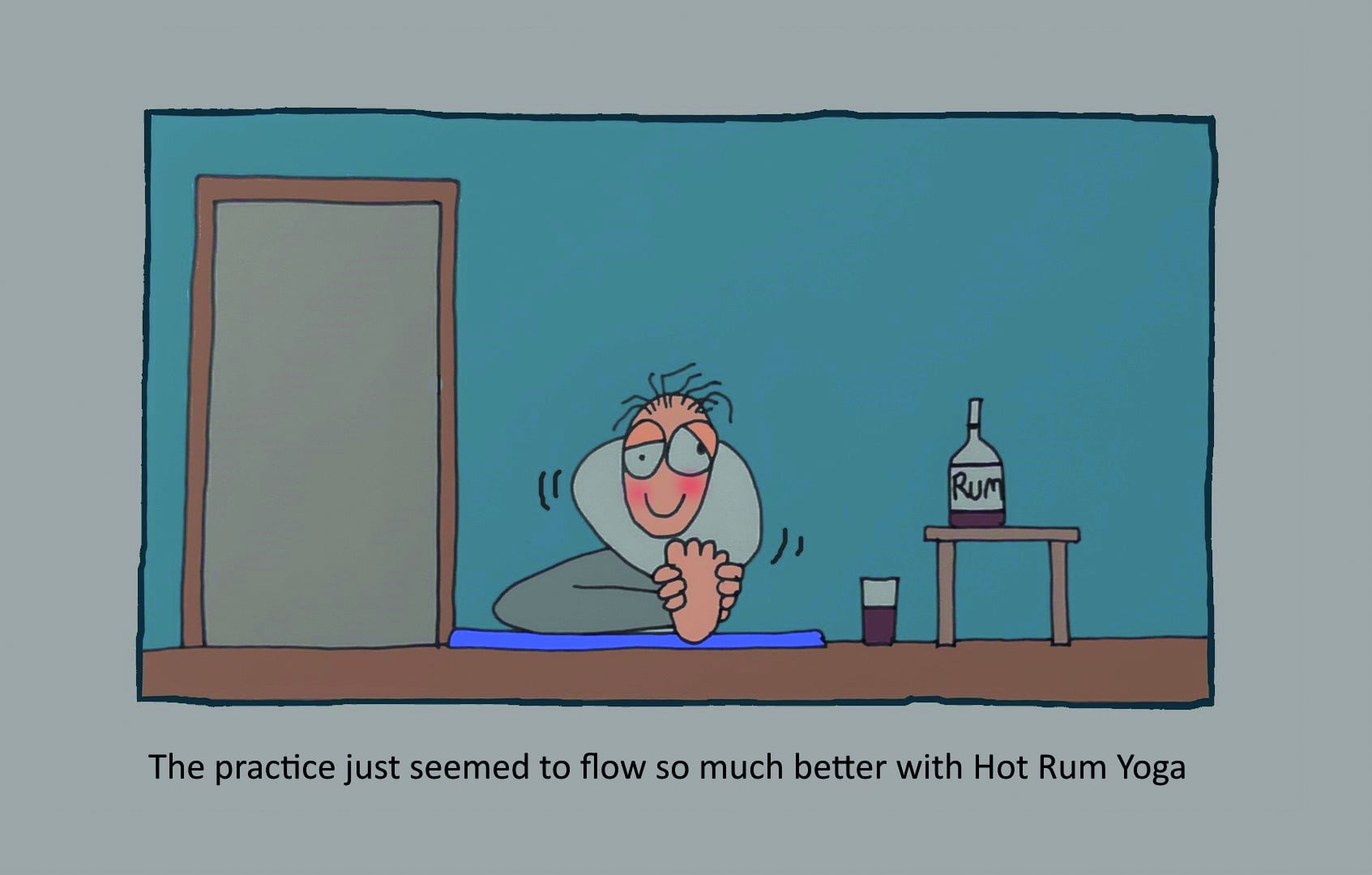 "One day in 2017, I did a cartoon scribble of a student disturbing everyone in a relaxation session by answering a call on their mobile phone, an event which actually happened during a workshop I was leading in London back in the 90s. I posted the cartoon online and it got a huge number of likes and comments and I suddenly realised that I had hundreds of these cartoons inside me just bursting to get out!
Some of the cartoons in the book are complete fiction, some are from real situations and events and others are inspired by 'what if?' scenarios — like the cartoon in which Peter goes nuts in the silent meditation and sings an Elvis number out loud! Many of the characters in the book are actually me at various stages throughout my 30-year journey as a teacher and student.
I've been (and still am) Cosmic Johnny— I've been the arrogant one, the greedy one, the humble one, the lonely one, the spiritual one, the smart arse and the lazy one. I've even contemplated breaking out loud with an Elvis number in the many formal meditation sessions I've attended! Though many are me, I suspect and hope that readers might also see themselves in at least a few of the cartoons.
It's my wish that The Lighter Side of Yoga will make people laugh, induce a reflective smile, and also offer a gentle reminder to all of us involved in yoga and meditation not to take ourselves too seriously. I hope to offer from a light and humorous perspective some insight into what it can actually be like to be a yoga teacher or student and highlight that no matter how advanced we become (whatever that means) we are all just human beings with flaws and failings working our way through this wonderful practice we call yoga."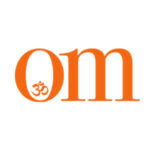 First published in November 2009, OM Yoga magazine has become the most popular yoga title in the UK. Available from all major supermarkets, independents and newsstands across the UK. Also available on all digital platforms.