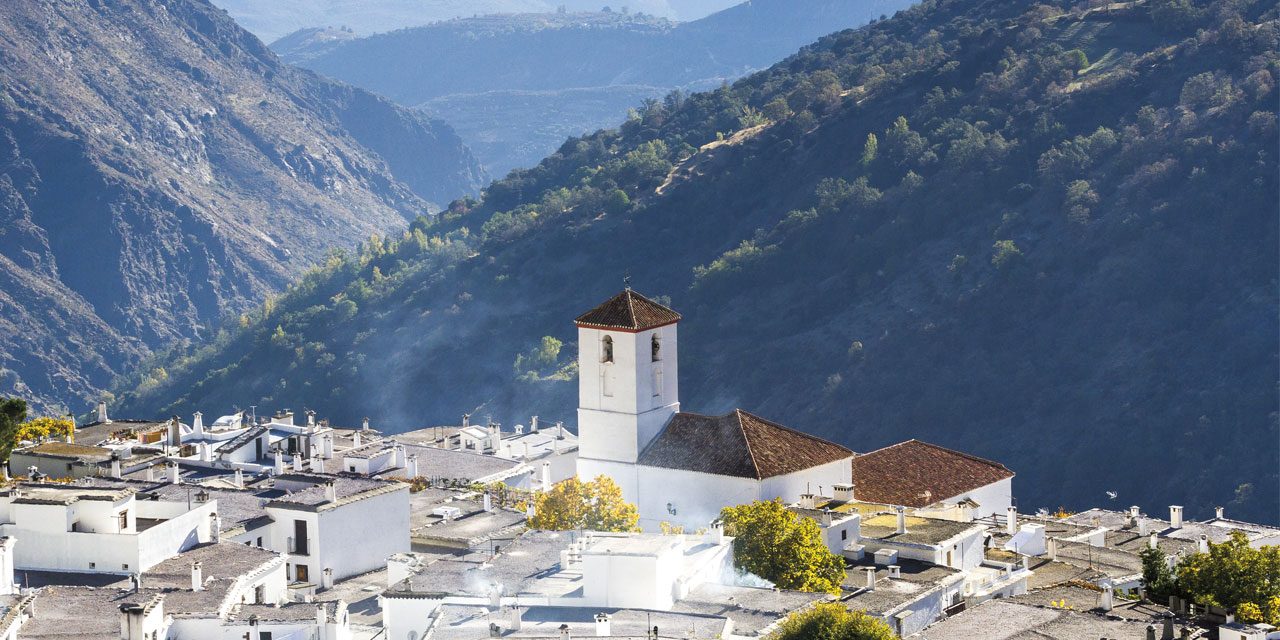 Claudia Brown takes a trip to popular yoga retreat Kaliyoga in sunny southern Spain
Anyone who has even the vaguest interest in yoga retreats will have heard of Kaliyoga, nestled in the mountains of Orgiva in the Alpujarra region, in the foothills of the magnificent Sierra Nevada mountain range in southern Spain.
Flying into Malaga, I was collected by private transfer and had a lovely 90-minute chat with Julie, my driver, who gave me lots of interesting details about Orgiva and the surrounding area. I was then welcomed at the retreat like an old friend by Jane, manager of day to-day operations at Kaliyoga, with a hug and a delicious pumpkin soup and salad.
I was shown to my room (named Shakti), complete with a yoga princess four-poster bed and aqua blue dressing table and chest of drawers, with earplugs, incense and water at my bedside. Everything was clean and fresh, and once unpacked, I walked down to the yoga shala, taking in the smell of fresh orange blossom and the amazing vistas and lush greenery of the mountains. The shala itself is a beautiful space, offering breathtaking views for the twice-daily practice and supplying me with a dristi of an orange hanging on a tree. Just perfect.
Yoga for health
It was an international crowd on the retreat I attended. A total of 14 people from across much of Europe: Germany, Sweden, the UK, Ireland, as well as Israel. There are lots of different retreats to experience at Kaliyoga, such as walking and yoga, the menopause, a detox body cleanse week, among others. 
The one I was on, Lean and Clean, focused on yoga and a gut-healthy diet of steamed, superfoods and gourmet raw food for total wellbeing. So, for six nights, I was to be eating a portion-controlled, mainly raw, vegan diet.
The first yoga session with our teacher, Lelly, was such a treat; her voice like a big hug, easing out the strains of the 5am start and travelling. Her sessions through the week were always themed (open, intimacy, grounding), encouraging self inquiry and designed to help you to listen to your body. The classes were a great mix of pranayama, gentle stretches, more challenging vinyasa flows, tutorials and plenty of yin offerings.
Our days would start at 8.30am with a guided meditation with Arantza, followed by two hours with Lelly. She initially trained at the Sivananda school in India and has also studied Dynamic Yoga Method with Godfrey Devereux and Insight Yoga and yin yoga with Sarah Powers. Arantza is a graduate of Sivananda Yoga Vedanta Centre in Kerala and also studied yoga with BKS Iyengar and Dynamic Yoga with Godfrey Devereux.
More than yoga
It's not just yoga on offer at Kaliyoga though. There are a number of mapped-out walks should you want to take in the fresh air and explore. Or inside, there is a small library with a great selection of books, and comfy sofas to sink in to around the log fire. And the treatments are pretty special too. These are wide-ranging and specialised including Thai yoga massage, sound therapy, quantum therapy, Thai reflexology, nutritional therapy, cranial sacral kinesiology, and mind-body energy healing with acupuncture.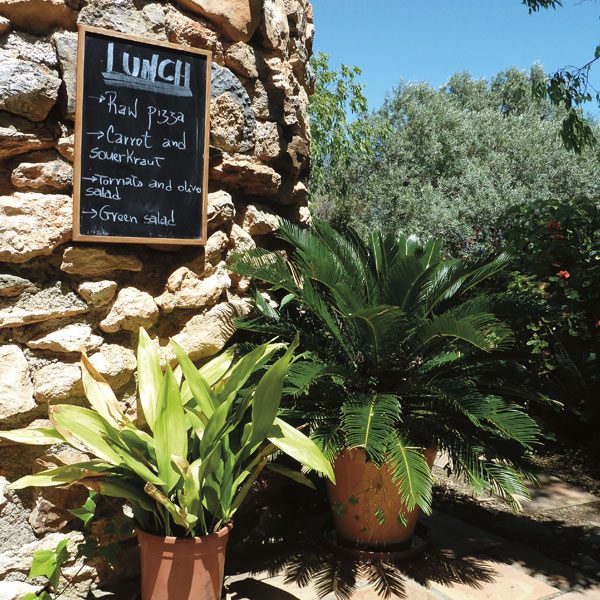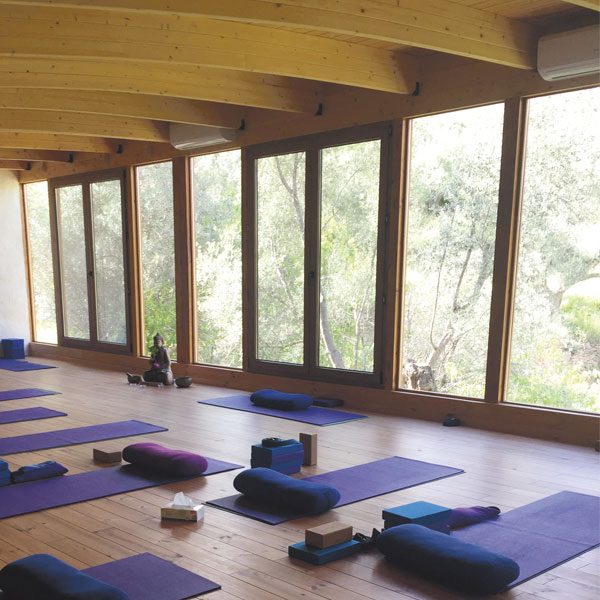 Lots of guests opted for the Swedish massage with Lesley and the bio magnetic therapy with Celia; I was lucky enough to experience both, but there really is something for everyone. Naturally, food and nutrition are very high on the agenda too. During the week, there was a talk by nutritionist Rebecca and also Amanda the chef talked to us about her methodologies behind all the fantastic food she was making for us. I took part in a raw food workshop with Amanda that was good fun and informative. We even prepared the meal for that evening: falafel and salad and then a raw lemon and mango cheesecake (amazing!). We were also introduced to the dehydrator, spiraliser and all kinds of goodies in the fermenting corner: kombucha, kimchi and sauerkraut. The food journey for me was really interesting, mentally and physically. I was only hungry once. You are asked your food dislikes so you will be catered for individually if necessary. Fruit and nuts are available at all times. Half way through the week I did request an egg, and was delivered a boiled egg at the next meal! The Kaliyoga folks listen and deliver every time.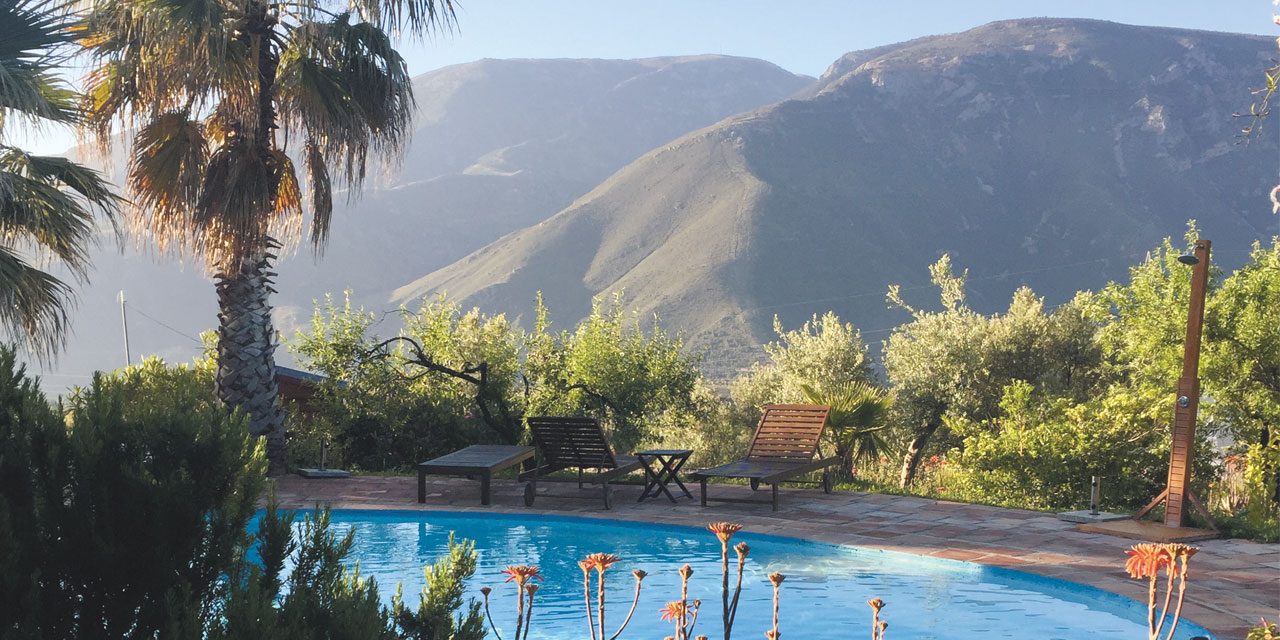 THE PLACE FOR YOGA
There is plenty of yoga here for everyone. For beginners, Kaliyoga is perfect for its quality of teaching. There's also plenty to learn for the advanced practitioner too, with talk of sutras and yogic philosophy interwoven into classes. The lengthy morning yoga and meditation sessions (of 30 minutes meditation with Arantza, then two hours with Lelly) give you the time to deepen and immerse yourself into the practice (such as meditation, pranayama, asana and yoga nidra). Later in the afternoon, there is a more restorative or yin practice for 90 minutes. For yoga teachers, it's likewise a great way to enjoy a restorative, nurturing week away from home and to learn new teaching points and get ideas for class plans. Plus you get to meet some really fascinating, likeminded and lovely people too.
Healthy food choices
I learned a few things on my way though. If you had shown me the food and portion sizes beforehand I would have thought: 'No way, I'll be hungry! 'Or 'What no coffee?'…however the reality was very different. For me, it was a true voyage of delicious discovery.
Breakfast was always a smoothie, accompanied by a shot, usually containing turmeric or ginger. We were also presented with options such as sprouted raw granola with homemade almond milk, chia porridge, hazelnut chocolate cups, nut and date fudge (heaven!), raw pancakes with papaya and raspberry.
Lunch and supper options (such as courgette with garlic mushrooms, raw coconut curry, Spanish lentil masala) were equally amazing. And definitely don't forget the desserts: raw chocolate and orange cake garnished with a divine smelling orange blossom flower, raw carrot cake or lemon and mango raw cheesecake.
Also, each night before supper, there would be a selection of tapas such as nuts, olives and crackers with different flavours of homemade kombucha. I have never found a kombucha that I liked until my visit to Kaliyoga, so that was a big win on its own for me. In fact, I'd say that Amanda the chef is well worth the visit alone, with her humour, warmth, knowledge and willingness to share her culinary secrets.
Hugs and blankets
On the final day of the retreat, the sun was blazing and there was not a cloud in the sky. I was struck by the beauty of the yoga room once again and the perfect view it offers for yoga practice – the gorgeous hills, sun, blue sky, lush gardens, trees and plants, the gentle breeze coming through the windows. Pure bliss.
I got to experience the yin and yang of Kaliyoga: the sunshine and the rain, the clouds and the bright blue sky; factor 30 for sunbathing together with the need for a log fire and cosy blankets. Kaliyoga gives you the chance to live out a true yoga lifestyle. It is the ultimate release from everyday life; the only thing you have to do is think about the time for your next yoga session or treatment. Your bed is made for you, there is delicious and abundant food on the table. You can be you and be there just for yourself.
For me, this place embodies yoga: yoking the mind, the body and the breath. A union of nurturing, restoring, replenishing, nourishing. Just heaven. And then there are the people that make it all possible. The warmth and kindness of all the staff make Kaliyoga like a big, safe, warm and comforting hug.
To find out more about Kaliyoga and to book, visit: kaliyoga.com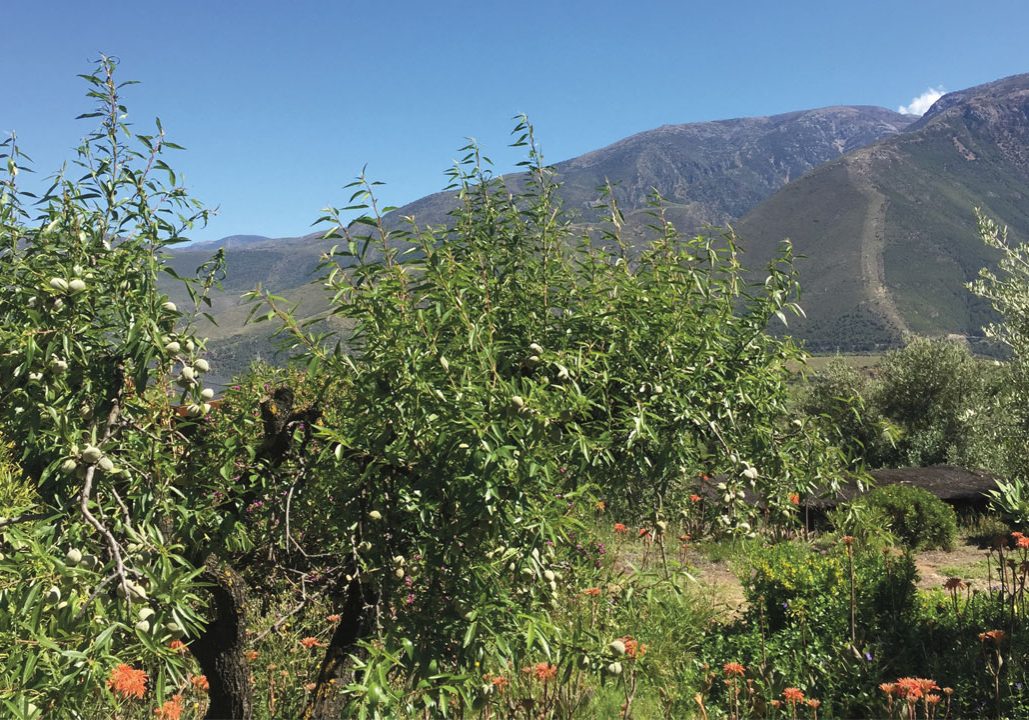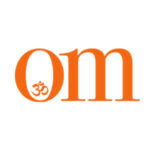 First published in November 2009, OM Yoga magazine has become the most popular yoga title in the UK. Available from all major supermarkets, independents and newsstands across the UK. Also available on all digital platforms.