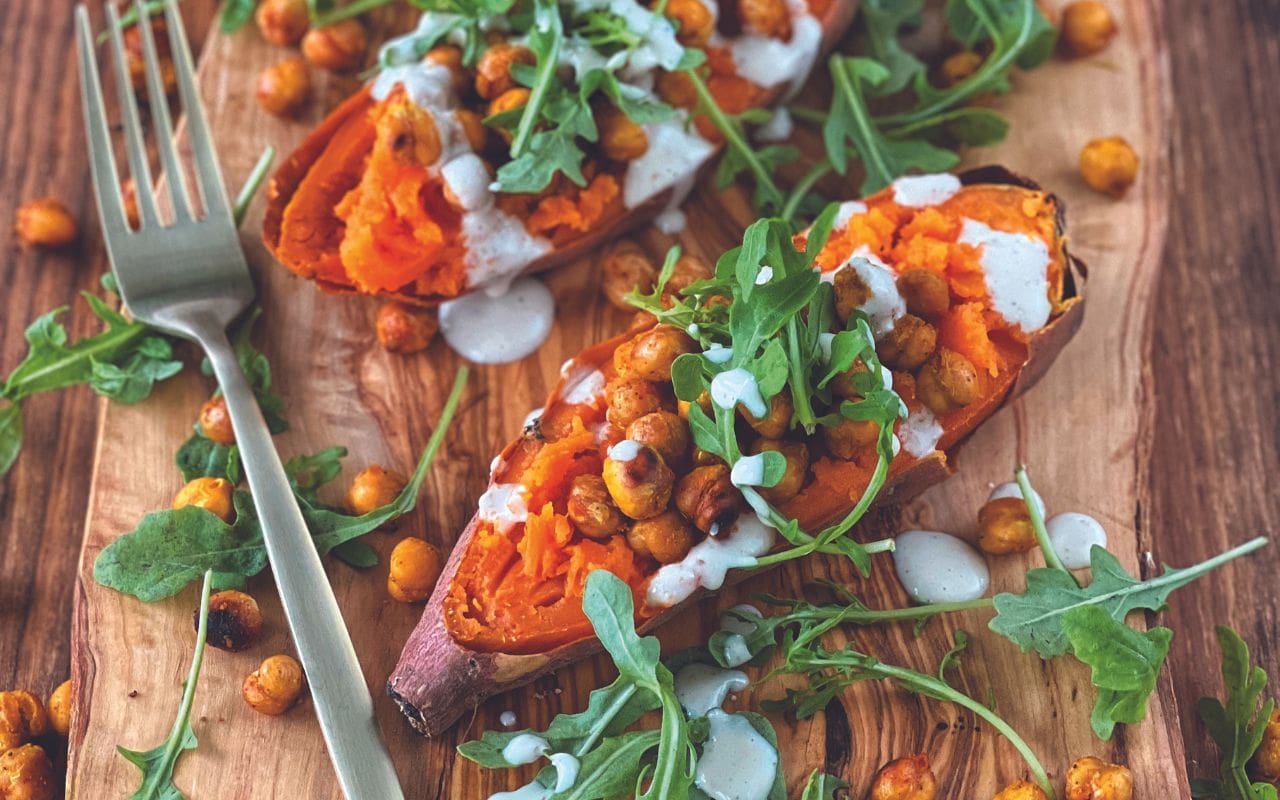 Sweet Potato with Curry-Roasted Chickpeas
This simple combination of sweet potato topped with curry-roasted chickpeas and drizzled with vegan Caesar dressing is absolutely delicious – the flavours just pop in your mouth!
20g (1 cup) packed arugula (rocket)

½ cup Curry-Roasted Chickpeas (recipe follows)

¼ cup Caesar Dressing (recipe follows)
Preheat the oven to 220°C/425°F/Gas 7. Prick the top of the potato with a fork, place on a baking sheet, and roast for 40 to 50 minutes, until you can easily pierce it with a knife.

Slice the potato in half lengthwise and top each half evenly with the arugula, chickpeas, and dressing.
1 (400g/15oz) can chickpeas, drained and rinsed

¼ tsp sea salt, plus more as needed

Avocado oil cooking spray
Preheat the oven or air fryer to 220°C/425°F/Gas 7. If roasting in the oven, line a rimmed baking sheet with parchment paper.

In a medium bowl, season the chickpeas with the curry powder, garlic powder, onion powder, and salt.

Spread the chickpeas over the prepared baking sheet or in the basket of the air fryer and lightly spray with avocado oil. Cook for 10 to 13 minutes, until the chickpeas are golden and crispy. Taste and adjust the seasoning with more salt, if needed. Serve hot or at room temperature as a snack or salad topping.

Store leftovers in an airtight container at room temperature for up to 2 days.
240ml (1 cup) plain, unsweetened plant-based milk (see note)

70g (½ cup) raw unsalted cashews

1 tbsp whole-grain mustard or Dijon mustard

1 tsp capers in brine, plus 2 tsp of their brine

¾ tsp sea salt, plus more as needed

½ tsp garlic powder or minced fresh garlic

⅛ tsp vegan Worcestershire sauce

⅛ tsp freshly ground black pepper, plus more as needed
In a blender, combine the milk, cashews, lemon juice, mustard, capers, caper brine, salt, garlic powder, onion powder, and Worcestershire sauce. Blend until smooth and creamy. Mix in the pepper, taste, and adjust the seasonings if needed.

Store in an airtight container in the refrigerator for up to 5 days.
NOTE: A thicker plant-based milk is what makes this dressing thick and creamy. If you can't find a thicker milk, use your favourite plain, unsweetened plant-based milk and add an extra 35g (¼ cup) cashews to thicken (this will only change the calories per tablespoon by about 5 calories). If you want an even thicker dressing, use less milk.
Excerpted from Plantifully Lean. Copyright 2023, Kiki Nelson. Reproduced by permission of Simon Element, an imprint of Simon & Schuster. All rights reserved.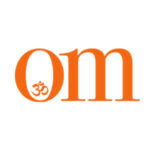 First published in November 2009, OM Yoga magazine has become the most popular yoga title in the UK. Available from all major supermarkets, independents and newsstands across the UK. Also available on all digital platforms.