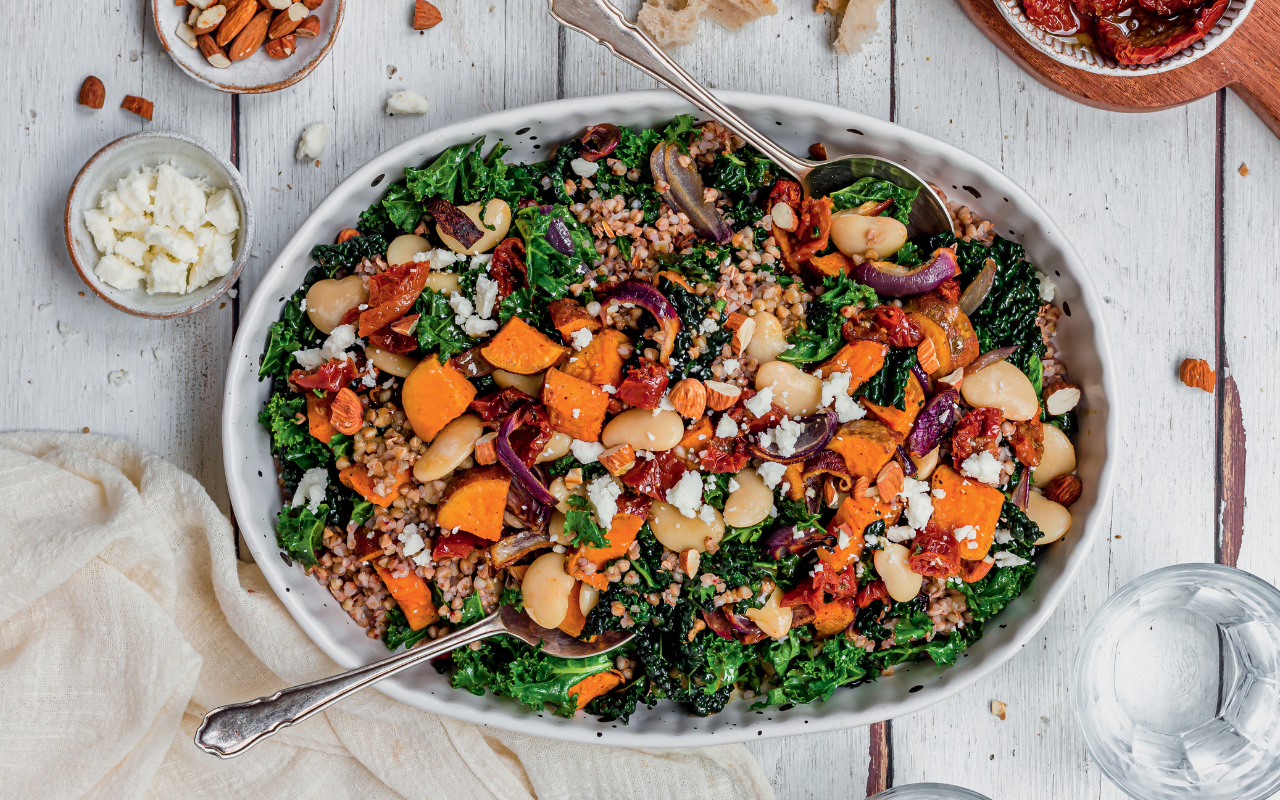 Sweer Potato, Kale and Sun-Dried Tomato Salad
SERVES 4 AS A MAIN, OR 6 AS A SIDE
This meal-worthy salad has everything you need: whole grains, lots of colourful vegetables, a creamy dressing, a nice crunch on top and tons of flavour. Even kale haters might come around; the trick is to massage the kale first to take away the bitterness and toughness of the leaves.
2 medium sweet potatoes (trimmed: 1.1lb, or 500g)

Salt and pepper, to taste
90g (3.1 oz) buckwheat or other grain

100g (3.5 oz) shredded kale

1 can butter beans (drained: 240g/8.5 oz)

120g (4.2 oz) chopped sun-dried tomatoes

56g (1.9 oz) crumbled vegan feta cheese

2 tbsp chopped almonds or seeds
3 tbsp extra-virgin olive oil

1½ tbsp (25ml) balsamic vinegar

1½ tbsp (25ml) lemon juice

2 tsp (10ml) maple syrup or vegan honey

Salt and pepper, to taste
Preheat the oven to 180°C/350°F/Gas 4. Line a large baking tray with parchment paper. Chop the sweet potatoes into 1-inch (2½- cm) chunks and slice the red onions into thick slices. Add to a large bowl and toss with the olive oil, garlic granules, chile flakes, salt, and pepper. Transfer to the baking tray and roast for 40 to 45 minutes, until tender and crisp. Stir the tray well halfway through. Allow to cool slightly.

Cook the buckwheat according to package instructions. Allow to cool briefly while you prepare the rest of the salad.

Add all the vinaigrette ingredients with some salt and pepper to a glass jar with a lid. Seal the lid and shake the jar to mix the ingredients together.

Add the kale to the same large bowl (no need to rinse it out). Add 1 tablespoon (15 ml) of the vinaigrette. Massage the kale with your hands for 1 minute to wilt the leaves; they will turn vibrant green.

To the kale, add the cooked buckwheat, butter beans, most of the sun-dried tomatoes, and the roasted sweet potatoes and red onions. Pour over most of the dressing and toss well.

Serve in a large bowl or four smaller bowls topped with the remaining sun-dried tomatoes. Sprinkle over the feta cheese, almonds, and the extra dressing.

Eat right away, or cover well and keep in a sealed container in the fridge for 2 to 3 days.
Serving suggestions and variations: 
If you don't like butter beans, swap these for other beans, such as cannellini or navy beans, or try chickpeas, too.
Recipe from Nourishing Vegan Every Day by Amy Lanza, £19.99 Fair Winds Press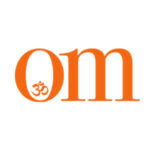 First published in November 2009, OM Yoga magazine has become the most popular yoga title in the UK. Available from all major supermarkets, independents and newsstands across the UK. Also available on all digital platforms.