Originally from Kerala, in south-western India, Suthesh Sukumaran is now sharing authentic yoga and ayurvedic teachings from his Simpli Yoga studio base in Kinross, Scotland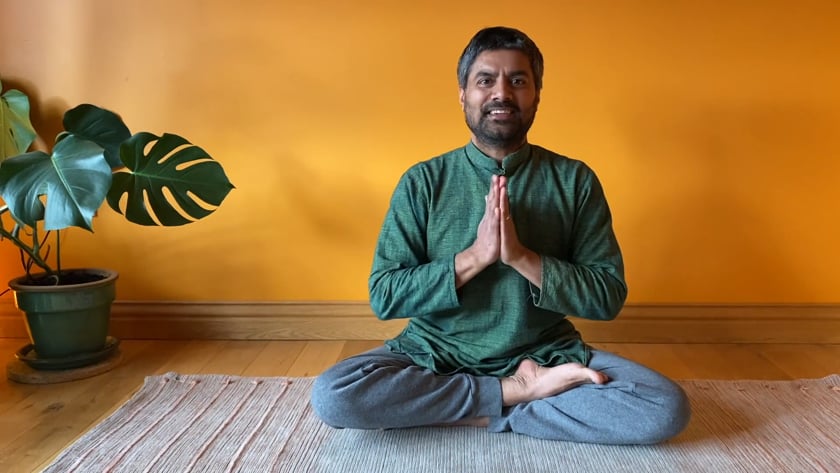 What's the one thing OM readers need to know about you?
I do my best to follow the yogic principles as defined by the Yamas, Niyamas etc. in all areas of my life. This includes non-violence to all, including ourselves, non-greed, honest living and regularly doing purifying cleanses.
My spiritual journey started when I was a teenager and progressed through holy centres and ashrams throughout my homeland of India.
How would you describe your teaching style?
In my classes I enjoy using the traditional style taught by my Masters including Maniyettan, Sri Sri Ravishankar and Jeggi Vasudev. I also like to include some modern influences to mix it up and keep classes fresh — it all depends on how I'm feeling and the energy of the group.
What can students expect at your classes?
Each class is different but it's always a motivating session that will uplift spirits as well as give students a mind and body balanced workout with a combination which includes asana, pranayama and meditation. I use sound meditations to help others find their inner peace, increase their vibration and help them advance on their spiritual path.
What was your initial inspiration to get into yoga?
Growing up in Kerala as a Hindu I was immersed in the culture of yoga. I have memories of my grandfather singing Sanskrit Bhajans to me at the age of five. However, it wasn't until I was a teenager that I began my formal training with one of my first Masters — Maniyettan was and continues to be a huge influence on my life.
What does yoga mean to you personally?
Yoga is what I have dedicated my life to as service to my Masters in India. Yoga brings me fulfilment, satisfaction and happiness. My ambitions as a teacher are to share the physical benefits of participating in yoga sessions, and importantly also to share the mindfulness rewards that derive from practicing yoga.
The most powerful of these is a sense of being fulfilled and satisfied with a simple but meaningful life. I encourage others to be fully present in their day, enjoying the simple tasks that keep us healthy in mind and body, like preparing fresh food daily. In my life so far, this has taken me on a journey from Kerala through Dubai to Kinross, Scotland, where I founded Simpli Yoga with my wife Sarah.
I am proud to be an international ambassador for Indian yogic life skills. This year is Simpli Yoga's 10th anniversary.
What has yoga brought to your life?
For my mind, body and spirit, yoga has brought a meaningful life where I can help others to overcome the challenges we are faced with, to maintain their health and wellbeing, and for those who are ready, it connects me to others on a spiritual path.
How have you handled the pandemic and lockdowns?
I've focused all my energy into offering online sessions to support people through this time of change and have been using lots of breathing techniques to help them strengthen their respiratory system. I have enjoyed spending more time with my son in our garden, planting vegetables, gathering fruits and making fresh produce and meals from them. It's been nice having time to prepare more traditional South Indian meals at home.
What are your future plans?
Going forward, I will combine online with my public classes, events and retreats as I love to have the presence of people and the energy that brings.
Any good life hacks for the rest of us?
To utilise our time wisely for self-inner development. Practicing Ujjayi breath is one of the yogic techniques that will help you to do that as not only does it strengthen our lungs and help to balance blood pressure, but it also brings the individual's attention inward. During a time when we are having to process a lot of information and choices, I feel that it's important to take time to listen to your own inner voice.
What advice would you give to someone wishing to deepen their meditation and spiritual practice?
Be very careful to eat pure freshly prepared vegetarian meals. This will increase your Prana and deepen your experience. For your meditation practice, avoid eating 4-5 hours beforehand; early morning is best on an empty stomach.
Suthesh Sukumaran is a naturopath, reiki master and yoga and ayurvedic therapist based in Kinross, Scotland, where he co-founded Simpli Yoga with his wife, Sarah.
Find out more at: simpliyoga.com or on Facebook @Simpli-Yoga-Scotland
Favourite yoga book?
A Textbook of Swasthavritta. This book promotes a healthy ayurvedic lifestyle with daily practices and yoga.
Favourite yoga quote?
Accept people as they are" and also "Accept the situation as it is" — see the positives for all and how you can gently make the best of it.
Go-to health drink?
Fresh young coconut water
If you had to take a yoga class, as a student, with any teacher ever, from any time or place, who would it be with and why?
Swami Sivananda Paramahamsa because I love the spiritual aspects of the Tantric yogic life he conveys.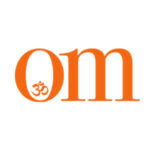 First published in November 2009, OM Yoga magazine has become the most popular yoga title in the UK. Available from all major supermarkets, independents and newsstands across the UK. Also available on all digital platforms.