Meditation and mindfulness are not things ordinarily associated with the military…but Ollie Ollerton and Jason Fox, both former Special Forces soldiers, are no ordinary men
You may have seen Matthew 'Ollie' Ollerton and Jason Fox, or 'Foxy', on your TV screens in recent years.
Both former Special Forces operatives, the pair are best-known as Directing Staff on Channel 4's popular SAS: Who Dares Wins show, now in its fifth season.
The hit show, which subjects civilian 'recruits' to a gruelling series of tasks in extreme environments, is notorious for testing physical and psychological resilience in line with Special Forces selection.
Since then, Ollerton has gone on to tour the country as a public speaker sharing his experiences and insight on topics such as mental toughness, as well as releasing a best-selling book.
He's also nurtured his successful Break Point business, which offers training and events to help ordinary people achieve extraordinary things using Special Forces skills and life hacks. It's all underpinned by the belief that the general public deserve to know that they too can be stronger, fitter, healthier and more capable than they ever thought possible.
Foxy meanwhile has returned to our screens with another successful show of his own, Inside the Real Narcos, now on Netflix, which explores Latin America's shadowy drugs industry. He's also had his own best-selling book, Battle Scars, in which he chronicles his fight with PTSD, and has just been commissioned for a new Channel 4 show, Return To Afghanistan With Jason Fox.
This will see him undertake a deeply personal journey back to a country where he once fought on the front line as an elite soldier.
So what's all this got to do with yoga? In their books, Fox and Ollerton, both good friends, open up about a whole range of subjects that link into the world of wellness, including good mental health.
During his PTSD healing, for instance, Foxy credits mindfulness and simple walks through the woods and being out in nature as key to his recovery.
Deep breathing is another tool used by the elite military to still the mind in times of utter chaos.
Ollerton is a firm believer in meditation and visualisation too, things that he now practices each and every day.
The two men are currently working together on a new mind-body fitness app, Battle Ready 360, launched in January, which aims to provide users with access to their elite training and military mindset.
As well as workouts and nutrition to boost overall fitness, it includes a strong focus on improving the mind to boost resilience and instil greater self-belief.
All users complete a detailed online behavioural profile, called Prism, to get a better insight into who they are and how they think. Through this understanding, it's possible to take steps to think and perform better and upgrade the mind as well as the body.
"The stigma of mental health and the ability to open up and talk about it is slowly being addressed but there is still work to be done," says Foxy. "In the Special Forces we learned our limits and how to work around them, and a lot of that comes from the mind. But it's not a simple task to face your weaknesses, which is why Battle Ready 360 is designed to be an all-encompassing solution programme that caters to the needs of each individual user. Health and wellness are, after all, deeply personal."
When OM caught up with Ollerton, he was more than happy to chat about the power of meditation. His typical day starts at 5am each morning for a 20-minute visualisation that's designed to keep him focused on his goals. "It was self-taught from a number of things that I'd seen people doing," he says.
About five years ago, in an attempt to get his life back on track after leaving the military and fighting alcohol and other addictions, he used meditation to steer his way to a better future.
"Meditation for me is more a focused attention, so basically a way of clearing everything else in my head to gain some clarity of thought and to focus on the things I want in life."
He believes it's important to set the right intention if you're to achieve your goals. "Our subconscious is a goal-driving machine: you will get what you think about. So, if you think about the negative, you'll get the negative; if you think about the positive, you'll get the positive."
He also shares a keen interest in exploring other alternative techniques and therapies, recently attending an ayahuasca retreat in Costa Rica with veterans suffering from PTSD. "I just feel that as humans we should really invest in ourselves; and the people that don't, I feel sorry for them."  That includes an ongoing interest in yoga, something that he is keen to explore more in the future. Many yoga moves are already embedded in some of Ollerton's workout routines.
Mindfulness is another area that comes up frequently, especially for Foxy. In his book, Battle Scars, he goes into some detail about his recovery journey from PTSD and how mindfulness played its part. This included regular walks through the forest, alongside a therapist, to appreciate the natural surroundings and find a greater sense of peace and calm.
Here's one extract from the book: "As we walked, I definitely felt calmer; I became immersed in a sense of stillness. I heard the rustling leaves and branches above, the tweeting birds perched in the treetops.  A dog barked somewhere along the trail, and every now and then my thoughts were punctuated by the sound of quickening footsteps somewhere behind us, a runner panting their apologies for disturbing our tranquil mood as they swept past — but the interruptions didn't matter. It felt good to live in the now. I felt good. A brief sense of peace descended upon me for the first time in ages. I felt connected to myself in the woods."
Breathing is another topic that crops up, featuring in Ollerton's public speaking tour. It's a key trick used in the military also to soothe frayed nerves during times of high tension.
"Breathing is such an important factor with everything we do; even in the Special Forces they teach breathing now," says Ollerton. That includes the popular Box Breathing technique. "So when you're in a highly-pressured situation, your breathing becomes erratic and then cortisol increases, and that's why people become confused. The way to deal with that — and I've actually used this in a combat situation — is to ensure you've got that regular breathing pattern that lowers cortisol, that allows clarity of thought to make the right decisions."
You can't rely on emotion during high-stress events, he adds, which is why deep breathing can be such a vital tool to restore a cool head. "Breathing allows you to recalibrate, to lower those cortisol levels, that means getting rid of all the stuff that doesn't matter, and to focus on the stuff that does, and then once you've got the clarity of thought, you then deliver the action."
Despite all they've been through, not only in dealing with combat stress, but also in facing depression and crippling anxiety, both Foxy and Ollerton are positive, self-motivating individuals as you'd expect from former elite soldiers. They're now keen to encourage these traits in the people they work with, people from all walks of life.
For Ollerton, that means an early start in the morning, in order to set a positive direction for the day ahead. After getting up at 5am, he heads downstairs for a 20-minute guided meditation to focus on what he wants, not just for that day, but in life in general.
"I take myself to the day," he says. "If you live your life on the snooze button, your life and the decisions you make in life will also be on the snooze button. So it's really important for me to take myself to the day in a positive sense. When we wake up in the morning our brains are flooded with negativity. We don't want to get out of bed, so negative thoughts start flowing very quickly, and if you choose to align with that you get more of the same; it sets you up for a crap day. So it's really important that as soon as you get out of bed, as soon as you stand up, you start thinking positively."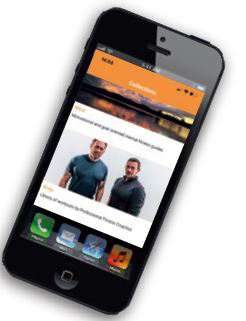 Battle Ready 360: the new app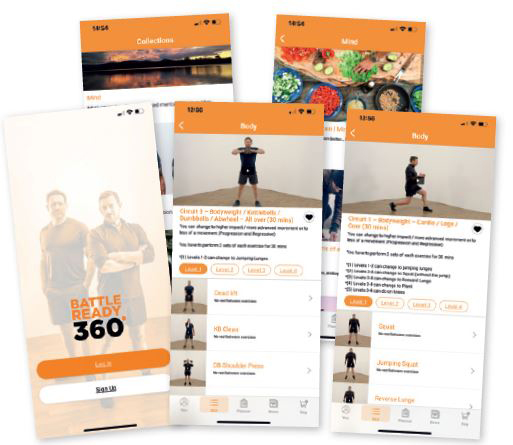 Battle Ready 360 is the new all-encompassing health and wellness fitness programme from Ollerton and Fox. Supported by an elite team of experts, who have a passion to live life better and help others do the same, the app gives users access to Ollie and Foxy's elite training and military mindset.
Training plans and videos delivered by the pair are complemented by meal plans, recipes, blog content and motivational snippets, tailored to individual users' goals. The app is available to download on iPhone and Android and offers a free seven-day trial.  Ollerton says it gives people the tools to be the best version of themselves.  "Whatever the goal — or struggle, battle or fight — it is only by channelling the power of the mind that we're able to hit our physical peak. This passion to live better lives has fuelled this platform and we are confident that by empowering our members with the tools that we have learned in our years of service, that we can help people grow and change their lives for the better, whatever that entails for the individual."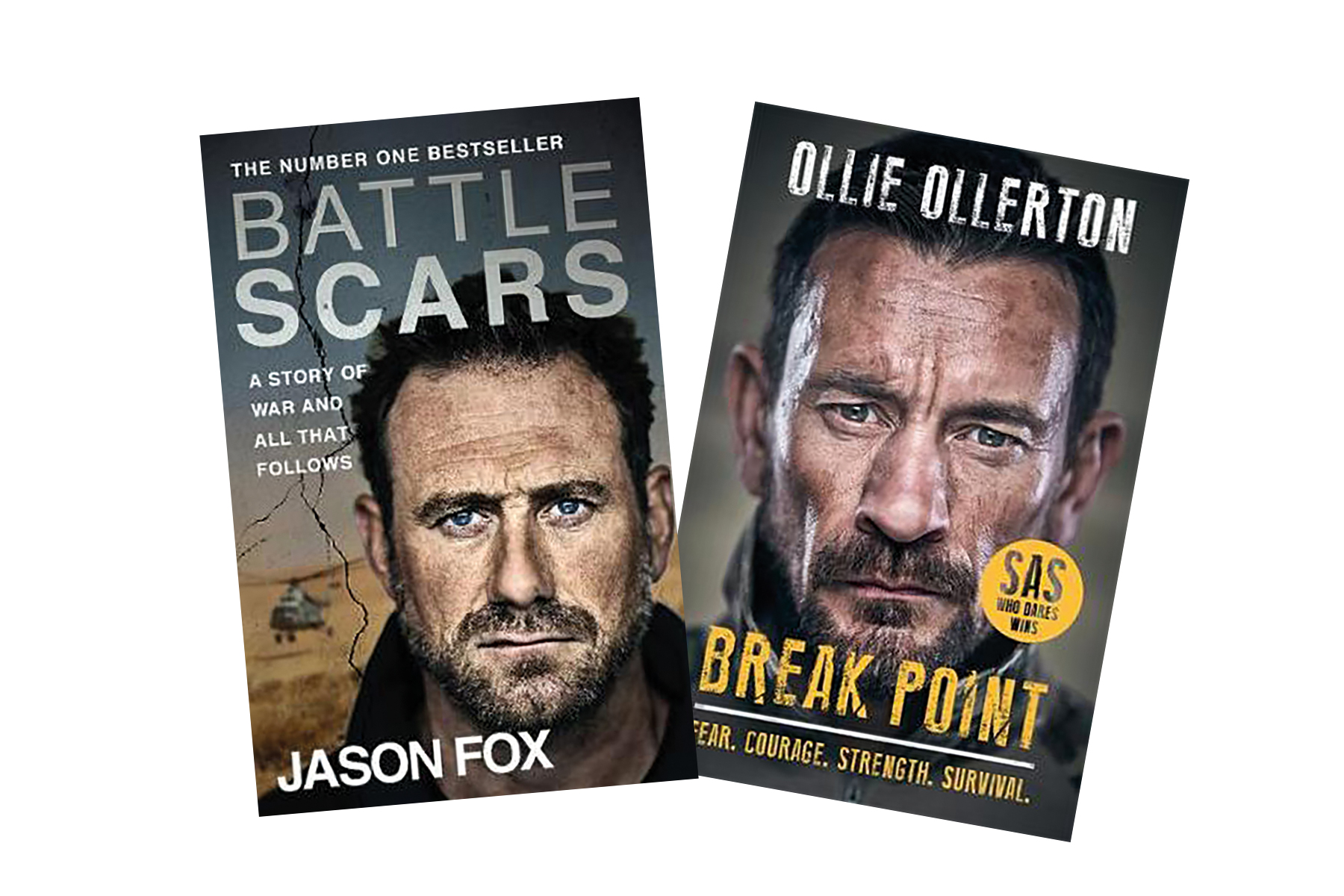 Break Point by Ollie Ollerton
Blink Publishing, 2019
Battle Scars: A Story Of War
And All That Follows by Jason Fox
Bantam Press, 2018