Introducing the Sam Rao Yoga Teacher Training School. By Sam Rao
Here at the Sam Rao Yoga Teacher Training School, we have a saying: "If you want to become a yoga teacher, become the best yoga teacher you can be!"
We offer a complete package for anyone looking to become a world-class yoga teacher. We take the responsibility of training our teachers to the highest standard, making sure they confidently pass their 10 weekends with flying colours to gain their 250 hours yoga teacher certificate. And we are very proud of our 100% pass rate!
We treat everyone that joins our school as an individual and pride ourselves in nurturing each trainee in the ways that best suit their needs, encouraging them to develop their own style of teaching to take out into their communities. We are now in our 11th year and have attained the Yoga Alliance Professional's highest Trainer Pro status. We have over 100 qualified teachers who are all now building their successful yoga businesses — from local weekly classes to popular international retreats.
Our main focus is to develop each teacher to be skilled and confident enough to expertly teach their own classes, and we encourage all of trainees to start teaching as soon as they begin the course. We therefore provide a warm, inclusive environment where teachers can practice building their new skills in a safe space, building their confidence and self-belief. We work closely with our trainees, addressing any fears or limiting beliefs they may have and creating goals for achievement and success.
Our YTT covers five main categories:
Anatomy & Physiology sessions cover the whole body broken down into manageable sections, where we discuss ailments in each particular part of the body, and the postures that can be used to help them. We are renowned for our attention to detail in this section, and we use a special software (Visualbody 2022) to project details of the human body in order to enhance our trainees' visualisation and learning.
Teaching Practice covers extensive examination of all yoga asanas and their benefits. We learn how to effectively teach and modify each asana for the requirements of all the types of students that teachers will encounter — to make the practice attainable to a wide range of bodies and ages.
Methodology of Yoga. Each trainee will take part in class planning and leading a group to deliver a class on in-person training day. We develop business plans with all our trainers, covering all of the steps they need to create the yoga business that each trainee desires. This section includes tips on marketing and accounting and a step-by-step guide as to what steps to take to create a yoga retreat
business or other larger yoga events.
Personal Practice. Trainees are encouraged to maintain a regular practice and embrace all styles of yoga.
Philosophy and History of Yoga. We study the Sutras and other ancient texts and also the lineage of our programme going back to
BKS Iyengar and the origins of Hatha Yoga.
There are no written papers or exams, everyone teaches and learns from their practice. Each trainee will give a final presentation to the rest of the group based on their yoga journey.
The venue for the in-person training is located in the heart of Hampshire, at beautiful Highfield Park, Heckfield, a stately home once owned by the Duke of Wellington. The estate provides a wonderful opportunity to practice yoga outdoors, or in the fully air-conditioned rooms. Accommodation for trainees coming from long distances can also be provided at a discounted rate at Highfield Park. All potential teacher trainees are welcome to attend a taster day at the school completely free of charge.
Sam Rao is the founder of the Sam Rao Yoga Teacher Training School (samraoyoga.com)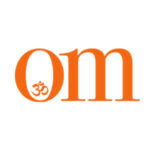 First published in November 2009, OM Yoga magazine has become the most popular yoga title in the UK. Available from all major supermarkets, independents and newsstands across the UK. Also available on all digital platforms.