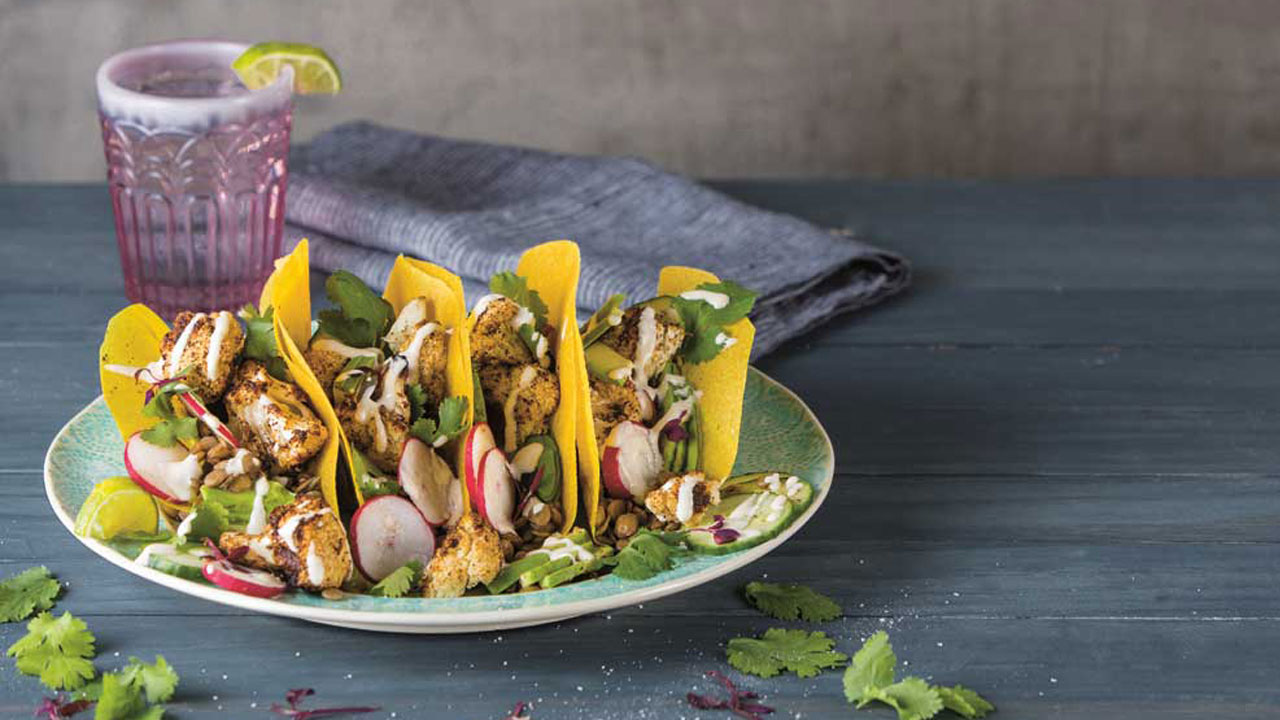 Roasted Cauliflower & Lentil Tacos
Nothing says holiday like tacos. They're versatile, playful, and always satisfying – especially when they're grain-free, stuffed with plant-based goodness, and topped with a refreshing lime tahini sauce. Mucho más, mis amigos, mucho más.
1 large head of cauliflower, chopped into florets

3 tbsp avocado or grapeseed oil

2 tsp chilli powder (omit for Pitta)

2 tsp ground cumin (omit for Pitta)

2 garlic cloves, crushed (omit or replace with ½ fennel bulb for Pitta)

8 grain-free tortillas or grain-free chapattis (see below)
Preheat the oven to 230°C (450°F/Gas 8). In a large bowl, toss the cauliflower florets with 2 tablespoons of the oil, the garlic powder, 1 teaspoon each of the chilli powder and cumin, 1⁄4 teaspoon of the salt, and the sumac, if using, until well coated. Spread in a single layer on a baking sheet and roast for 25–30 minutes, until beginning to brown. Remove from the oven and set aside.

In a medium saucepan, heat the remaining oil over a medium–high heat. Add the onion and garlic and sauté for 5 minutes, until the onion begins to brown.

Add the cooked lentils and remaining cumin, chilli powder, and salt. Cook for 8–10 minutes, allowing the lentils to absorb the flavours. Taste and adjust seasoning as needed. Set aside.

To make the sauce, in a small bowl, whisk together the tahini and lime juice. Add the water and salt and continue to whisk until it has reached a thick consistency.

To assemble, fill each tortilla with a scoop of lentils followed by some of the cauliflower florets. Top with the avocado slices, drizzle generously with the lime tahini sauce, and garnish with the cucumber, coriander, and radish.

Transfer to a baking sheet, drizzle with a little olive oil and sprinkle with sea salt. Bake in the oven for 40 minutes, or until golden and puffy.

Serve cut into slices, hot, warm or cold, cut into slices.
Grain-Free Chapatti
Chapatti is a type of unleavened flatbread eaten with almost every Indian meal. unlike naan, it is thin and pancake-like, cooked on a tawa, or flat griddle, in the home, while naan is cooked in a tandoor, or clay naan .This chapatti is made with nutrient-dense, low-glycaemic coconut flour and arrowroot starch instead of wheat flour, making it a much healthier option.
60g (2oz) arrowroot starch

240ml (8fl oz) full-fat coconut milk or water

1 tsp apple cider vinegar

¼ tsp freshly ground black pepper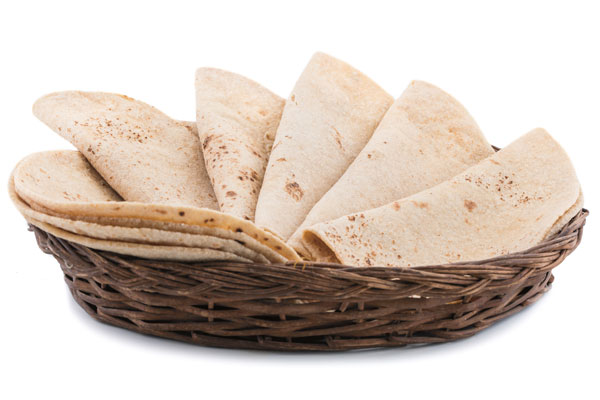 In a small bowl, mix together the coconut flour, arrowroot starch, coconut milk, vinegar, salt, and pepper, until well combined. Allow to sit for 10 minutes.

In a medium frying pan, heat the coconut oil over a medium–high heat. Once hot, spoon 60ml (2fl oz) of the batter into the pan and use the back of the spoon to spread it into a circle.

Cook for 3–4 minutes, until bubbles begin to appear on the surface and the edges begin to brown. Flip and cook for another 2–3 minutes.

Repeat with the remaining batter, transferring the chapatti to a plate lined with kitchen paper as they are cooked. Serve with raita, chutney, or curry. These taste best fresh so I recommend eating them immediately.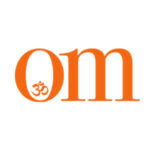 First published in November 2009, OM Yoga magazine has become the most popular yoga title in the UK. Available from all major supermarkets, independents and newsstands across the UK. Also available on all digital platforms.