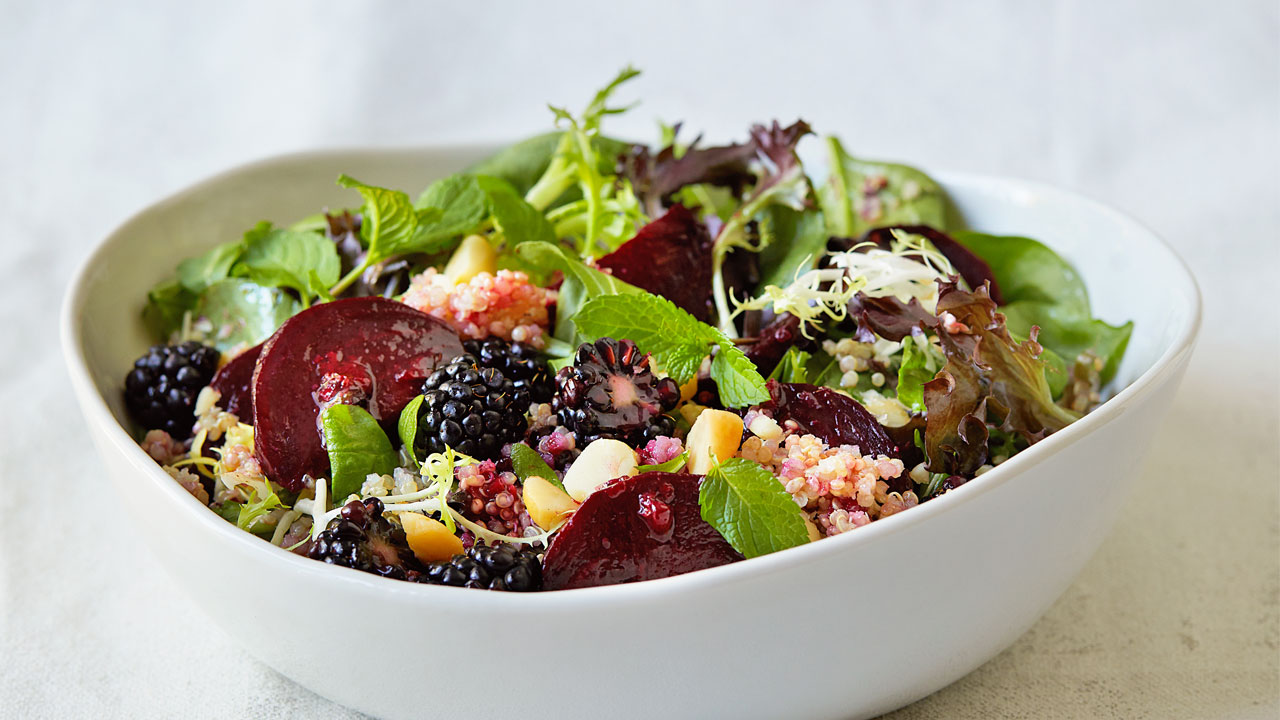 Roasted Beet Salad with Blackberry Vinaigrette
SERVES 4
While you can just as easily use other types of berries in this recipe, the tartness of blackberries complements the beets especially well. If you're looking to save time, you can buy cooked beets instead of making them yourself (vacuum packed cooked beets will offer better flavour than jarred beets).
8 small beets*, trimmed and peeled

4 tbsp olive oil, divided

220g (7.7 oz) blackberries, divided

140g (5 oz) baby spring greens mix

2 tbsp minced fresh mint, plus a few leaves for garnish

30g (1 oz) roasted macadamia nuts, chopped
Preheat the oven to 220°C/425°F/Gas 7.

Halve the beets and then cut them into ½-inch-thick wedges. Place the beets in a mixing bowl and toss the wedges with 1 tablespoon of the olive oil and a good pinch of salt. Transfer the beets to a baking sheet and roast them for 25–30 minutes, or until the beets are tender, tossing them once or twice while they're cooking. Remove the beets from the oven and place them in a bowl to cool.
While the beets are in the oven, mix together the quinoa and the water in a medium saucepan and bring the mixture to a light boil over medium-high heat. Reduce the heat to low and gently simmer the mixture, uncovered and without stirring, until all the water has evaporated, about 15 minutes. Remove the pan from the heat and let the quinoa stand for 5 minutes. Fluff the quinoa with a fork, and then transfer it to a bowl. Let the quinoa cool to room temperature before adding it to the salad.

To make the dressing, place half the blackberries in a small bowl and mash them thoroughly with a fork. Use an extra-fine grater to zest the lemon over the bowl, then cut the lemon in half and squeeze 1 tablespoon of the lemon juice into the bowl. Add the remaining 3 tablespoons of olive oil, as well as ½ teaspoon salt, and mix well.

To serve, place the greens in a large bowl. Add the mint, cooked quinoa, and as much dressing as desired (add a little at a time), and toss well. Slice the remaining blackberries in half and scatter them over the salad. Top with the roasted beets and macadamia nuts, and garnish with a couple extra mint leaves.
*If only large beets are available, you'll only need 4-5 for the recipe.
BRAIN BOOST: Add 3 tablespoons of dried goji berries to the salad garnishes.
FOOD FOR THOUGHT: BEETS
Thanks to plentiful levels of folate, vitamin B6, vitamin K, magnesium, potassium, valuable antioxidants, fibre, and much more, beets are a gold-star brain food. They can even reverse the effects of ageing on your brain by encouraging healthy blood flow, tissue oxygenation, and neuroplasticity. (And when coupled with exercise, the root's beneficial effects are enhanced even more!)
Smart Plants by Julie Morris. Extracts supplied with permission by Sterling