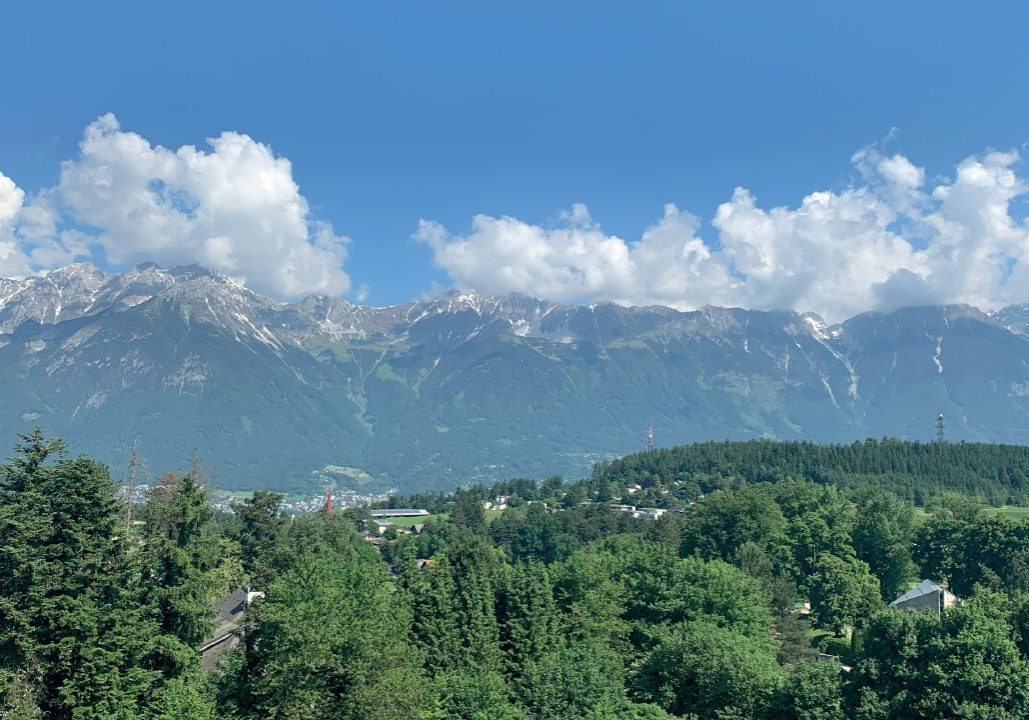 Radiance Awaits at Park Igls, Austria
If you're looking for the ultimate healthy living experience, then head to Park Igls, a multi-award winning sanctuary of wellness and medical spa in the dreamy Austrian Alps. By Claudia Brown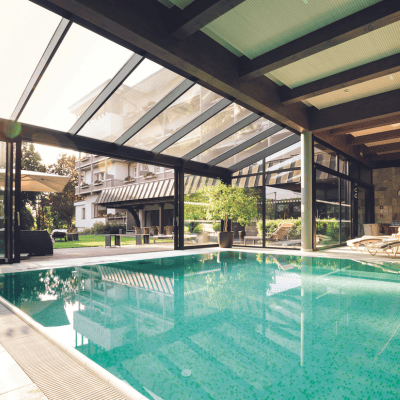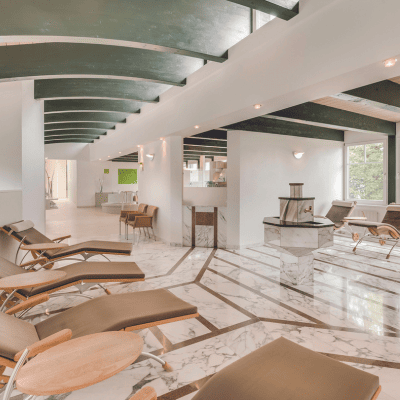 When you are offered a trip to Austria, the answer is always 'yes'! When it is to stay at Park Igls, then the answer is 'hell yes'! Set in Igls in the Austrian Alps, a small village nestling in the forests and mountains just 10 minutes outside of Innsbruck, Park Igls is a truly luxurious health retreat, where yoga is very much part of the appeal. But there's so much more too.
Health retreats and holidays at Park Igls are based around Modern Mayr principles combining conventional and complementary medicine, therapies and exercise with fabulous Modern Mayr cuisine — also exclusive to the retreat. Thirty years ago, medical physician Dr Peter Gartner pioneered the concept by adding exercise and self-discovery to the the classic FX Mayr cure's four guiding principles: cleansing, rest, education, and substitution (supplements). One of the most important foundations is the delicious, high-energy diet alongside a well-designed exercise programme and your chosen treatment plan.
Austrian doctor and scientist Franz Xavier Mayr, with whom Dr Gartner trained, based his approach on the fact that most common lifestyle diseases originate in the digestive system and developed a holistic medical health maintenance concept — a comprehensive programme for restoring digestive health in which fat, protein, carbohydrates and toxic deposits are dissolved and excreted.
Park Igls is essentially a three-part hybrid model consisting of a private hospital, a beautiful spa and a luxurious hotel. Like a traditional holiday hotel, you can go on trips to the theatre or to various tourist attractions, hire bikes and you get a free bus pass to take you into beautiful Innsbruck, with the bus stop right outside the hotel. The medical department is a small, attractive hospital and depending on which door you go through, you could be getting your blood tests taken, an IV drip, a massage, or your medical appointment and examination with your doctor. And in the spa, you are relaxing in beautiful surroundings with stylish lounge areas, a luxury indoor pool, a steam room and a variety of saunas to choose from, as well as every complementary therapy and massage you can think of.
Space to Relax
I arrived on Saturday, and was given a schedule for the next two days as well as a brochure containing a selection of talks, walks, trips, workshops, classes and lectures available for all guests, plus a booklet on the Mayr method, and then shown to my suite…which I could have happily lived in! Glorious views of the Alps and a balcony with table and chairs, a small dining area, a well-appointed living room, the bedroom (again with a door to the balcony), and a pillow menu which included my favourite memory foam pillows. It also had two bathrooms (more on that later).
My first full day was divine, a lavender compress on my chest while I bobbed about on a heated water bed with alpine views through the window — yes, that was my first nap at 10.30am! Then followed a massage and reflexology treatment with Verena, whose magic hands found all the knots and bumps, followed by another two-hour nap in the afternoon. Relaxing work is tiring!
Every day you visit the Bath Department for your Kneippen – contrast bathing, dipping your feet in warm water for five minutes and then doing five brisk laps of the freezing cold foot bath, and then repeating this sequence twice more. Afterwards, loungers with the amazing views are available and the staff will offer a hot abdominal wrap. Other treatments on offer here range from colon hydrotherapy, a variety of compresses and body wraps. I thoroughly enjoyed my daily morning Kneippen, especially the icy cold stroll. There is also an outdoor Kneippen option which I also loved — very cooling!
Attention to Detail
Medical appointments began on Monday and Tuesday, which was when the schedule also felt busy so it did feel less like a holiday. The good thing was that some of the appointments were for shiatsu, a private yoga session, or a forest walk.
Various packages are available such as Detox, De-stress, Physio Fit, Fit after Covid, Immune Boost. I chose the Menopause Fit package which included extra blood tests for all my hormones, three medical appointments, two shiatsu sessions, two personal training sessions, two therapy sessions, a herbal workshop, a lavender chest compress as well as provisions for all guests such as the kneippen, talks, workshops and classes. I also had some extra private yoga sessions with Ursula and Daniela, held in the gym with the lovely views of the gardens and the Alps outside.
Highlights of my stay included a herbal workshop with Alexandra, which was tailored towards making products and using herbs as potions, lotions or teas to ease menopause symptoms. I came back to my room to a lovely tea tray, again part of the menopause package, with an early morning active through the day tea containing pomegranate seeds, lady's mantle, passion flower, bitter orange blossom and yarrow.
The relaxing evening tea was equally impressive, made of pomegranate seeds, lemon balm leaves, hops, valerian, lavender flowers, along with a herbal sachet to massage into my hands to release the essential oils in it, as well as their scent, along with a QR code for some recorded meditations to listen to.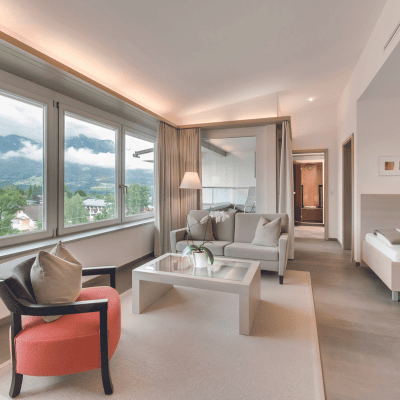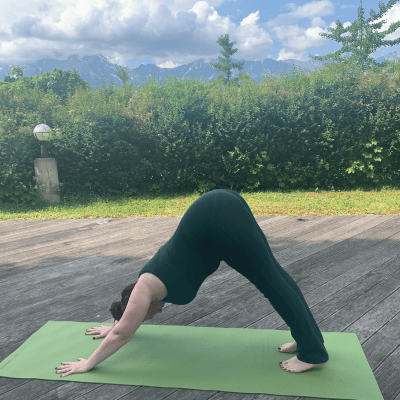 When I retired to my room that evening, I opened the window and in the main lounge area there was a jazz concert, so I got to listen to the sounds drifting up to my balcony.
The harp relaxation evening with Maria was similarly blissful. This was like a sound bath but with a harp rather than gongs. Other highlights include the shiatsu treatments with Christine, the sleep lecture by Dr Melanie Robertson and the beautiful forest walk led by physiotherapist Miriam who was an ex luge Olympian! On my last morning, I did some yoga on the balcony of the very well-appointed gym on the top floor, with panoramic views, sunshine and gentle breeze. Simply breathtaking.
The Food
The package you are on and the discussion with the doctor at your first appointment will dictate the food stage you are assigned. You are given a table in the restaurant that is yours for your entire stay, so you can leave any medicines and supplements there.
Dietary stages start at 0, which is fasting, and go up to 7, the Mayr energy diet, which was the holy grail for the outstanding cuisine on offer. I began on Stage 3; breakfast was a large bowl of sheep's milk yoghurt (literally the best thing in the world which I will now continue to eat for the rest of my life), malt coffee, which was surprisingly good (no caffeine), a Mayr bread roll and a protein supplement; choose from an egg scrambled, fried or boiled, sheep or goat cheese, a variety of sliced meats, trout fillet or spread.
For the rest of morning, base broth is available around the hotel, then onto lunch, soup, another Mayr bread roll and another portion of protein. Dinner would then be a different soup, one or two slices of crispbread crackers and another protein supplement.
I ate a lot of sheep's milk yoghurt and scrambled egg. The Mayr bread roll I do vaguely recall reading about once I tried it – imagine a brown roll that has just gone a bit stale; bit dry, bit chewy, it's made that way to encourage saliva production. You also eat with a teaspoon (like a child!) to encourage smaller mouthfuls and to make it easier to chew properly and liquefy the food in your mouth before you swallow it. This technique is an important part of the Mayr method, and it quickly made me realise that I eat too fast, I don't chew my food properly, and I put far too much food in my mouth!
Every soup I had was delicious. Seriously, I need to raise my soup game! Twice a day, favourites included pumpkin (described as Halloween by my lovely waitress when she couldn't remember the word for pumpkin), carrot, a lime and ginger collaboration and a porcini consommé with little truffle-flavoured hearts floating in it.
I was upgraded to Stage 4 after three days so I had more options for breakfast including a variety of porridges. Lunch included a main course which was either vegetarian or meat-based, and could easily have been featured in a Michelin star restaurant. After a few more days I went on to 7, the Mayr energy diet, and I really whooped when I got to my table (apparently this does not happen often). Salad, soup, main course and, wait for it — a dessert. Truly, it was glorious and heavenly. I also got real coffee, and the offer of fruit, jam and butter at breakfast. But the coffee backfired on me; I had my first hot flush of the week so I'm now coming to terms with the decaff life for a while. Strangely, I never missed chocolate but I did miss fruit a lot, as it is considered too harsh for the digestive system during the reset.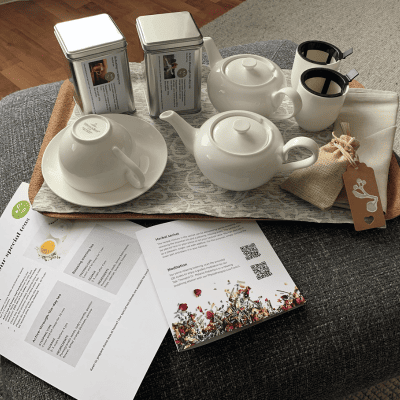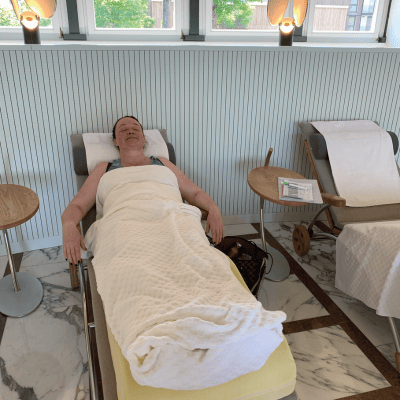 Bitter Water
Another important part of the detoxification process of the Mayr Method is the bitter water. The day I took the bitter water will forever be burnt into my memory. You are supposed to take this every morning when you get up and it promotes detoxification via the liver, gallbladder and gut. It is Epsom salts, which I had never used before. You are warned that you will have three or four generally liquid bowel movements per day. But really this is not adequate preparation for what was to come for me. The only words I will use are 'explosive' and 'mentally traumatic', and my doctor decided that this treatment was too strong for my system. I was prescribed a more gentle powder which I was advised to use at night and would 'make things move' by morning. Well, it turns out that laxatives are just not for me! It also explains the two bathrooms in my suite – one for bathing and in my case one for your bowel movements, especially important if there are two people sharing a room!
The Medical Bit
The medical assessments and treatments you access are based on the package you are on, but you can book extra tests if you would like to. After my first medical appointment with Dr Irene, I had a Bioimpedance assessment which measured my muscle mass, fat mass and water, about 35 blood tests, height, weight, blood pressure and abdominal assessment, again something unique to the Mayr method. You also have your photo taken, and another just before your final medical appointment.
At a midweek check-in with Dr Irene to see how I was getting on, I was upgraded to a '4' for meals much to my delight, meaning I would also get a main course at lunch time. She also went through my blood test results which were all good apart from I was very low on vitamin D so a supplement was quickly prescribed.
My final appointment on the day before I left, I discovered I'd lost 3.5 pounds in five days. I was also upgraded to a '7', the Mayr energy diet, which meant all food and real coffee! All my other measurements and readings had also decreased so I was literally a gold star student. I was given a folder with all my results in, and also a plan for me for the next week once I got home, along with recipes, advice and general guidance.
During my stay I also learnt quite a lot. I need to be more open to a wider variety of herbal teas, and I don't need to eat as much as I do — I need to chew more and eat less. I also need to eat more vegetables and less rubbish. I need to take rest seriously. (FYI: an afternoon on the sofa watching Netflix is not rest.)
Park Igls is a really classy place. Everything works seamlessly, all the staff know your name and can't do enough to help you. I was on my own for a week but I never felt alone. Even as I left, I was given a packed lunch and asked to choose a leaving gift from branded items such as a towel, a bumbag, or beeswax wraps. I'm now the proud owner of a snazzy bumbag.
Yoga week and other themed programmes
Park Igls runs a number of specialist programmes including a Yoga Week, Menopause Fit, Immune Booster and various Detoxes. The next yoga week (in English) at Park Igls takes place on 3-10 September 2023, which includes a medical examination, four yoga classes, a 1-2-1 yoga session, three full-body massages, three detox compresses and use of all the facilities and other activities, classes, lectures and events. Cost: €2,074, excluding accommodation (from €186 per person per day).
Menopause Fit
The Menopause Fit programme is dedicated to improving the unpleasant impact this natural process can have on quality of life. Park Igls' menopause specialists advise on ways to mitigate adverse effects, and help to develop coping strategies that are easily sustainable at home. Everyone is assessed individually and itineraries include medical checks, specialised blood tests, relevant treatments, therapy and exercise sessions incorporating hormone yoga training and relaxation and meditation techniques. All this is combined with a personalised diet programme, created using the organic Modern Mayr Cuisine, which helps to support positive outcomes. The price is €2758 per person.
For information on this and other tailored breaks visit: park-igls.at/en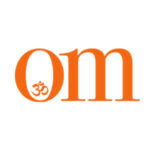 First published in November 2009, OM Yoga magazine has become the most popular yoga title in the UK. Available from all major supermarkets, independents and newsstands across the UK. Also available on all digital platforms.