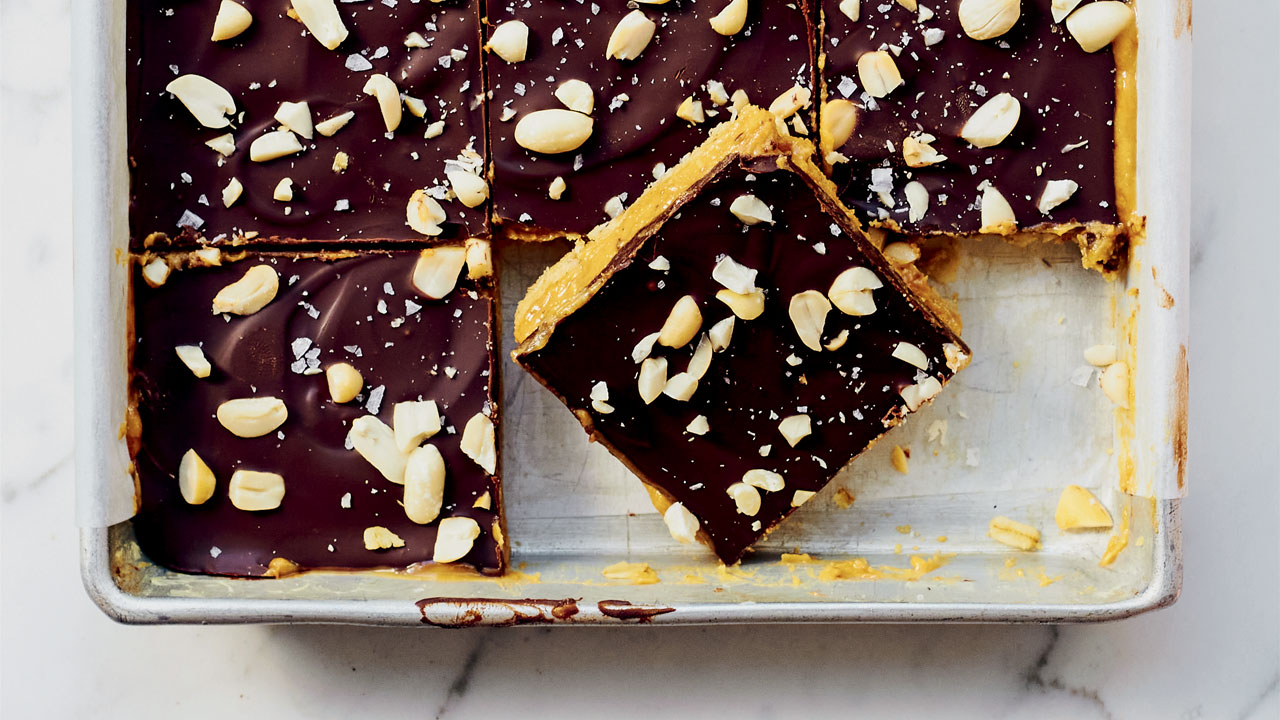 Peanut Butter Millionaire's Shortbread
This take on the classic slice is rich, on a budget. If you can't stretch to sea salt flakes, then just add a pinch of regular salt to the peanut butter filling instead, or coarsely grind some cheaper rock salt and sprinkle it on top in place of the sea salt flakes. This is best served from the refrigerator, where it will stay perfectly fudgy for up to 5 days.
50 g (2 oz) ground almonds

2 tbsp golden syrup or maple syrup

20 g (¾ oz) vegan margarine
20g (¾ oz) unsalted peanuts

50g (2 oz) coconut oil, melted

2 tbsp golden syrup or maple syrup

175g (6 oz) smooth peanut butter

100g (3½ oz) 70% cocoa vegan dark chocolate sea salt flakes (optional, see recipe introduction)
Line a 20 x 20 cm (8 x 8 inch) cake tin with non-stick baking paper in 2 strips, overlapping in a '+' shape.

Put the oats in a dry frying pan and place over a medium-high heat. Cook, stirring constantly, until they turn a shade darker and smell toasted. Tip into a bowl. Repeat with the ground almonds, then tip them into the bowl with the oats. Finally, toast the unsalted peanuts for the topping in the same way, then roughly chop them.

To make the 'shortbread', melt together the syrup and margarine in a small saucepan. Add the toasted oats and ground almonds and stir well to combine. Press this mixture evenly into the prepared tin and refrigerate while you complete the next stage.

For the topping, whisk together the melted coconut oil, syrup and peanut butter. Pour over the prepared base and allow to set in the refrigerator for 1 hour.

Melt the chocolate in a microwave in 30 second bursts or in a heatproof bowl over a pan of just-boiled water (don't let the bowl touch the water).

Pour the chocolate over the peanut butter layer, smoothing out with the back of a spoon to get it into all the corners. Top with the chopped toasted peanuts and a sprinkle of sea salt flakes, if using.

Refrigerate until the chocolate has set, then cut into 9 squares with a sharp knife. Store in the refrigerator.
Recipe from Broke Vegan by Saskia Sidey published by Hamlyn 31 December 2020 £12.99 Hardback (octopusbooks.co.uk). Photo credit: Jo Sidey
Mauris vitae ultricies leo integer. Mauris pellentesque pulvinar pellentesque habitant. Egestas dui id ornare arcu odio ut sem. Volutpat commodo sed egestas egestas fringilla phasellus faucibus scelerisque.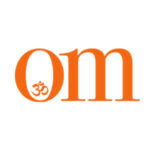 First published in November 2009, OM Yoga magazine has become the most popular yoga title in the UK. Available from all major supermarkets, independents and newsstands across the UK. Also available on all digital platforms.