Palmaïa, The House of AïA
A progressive, all-inclusive wellbeing retreat in Mexico that wants you to reconnect with your true self once more
Life-changing experiences come as standard at Palmaïa, The House of AïA, a luxury wellness retreat located in Playa del Carmen, Mexico.
This is a place that is incredible for all sorts of reasons: its jungle spa, oceanfront swim-up suites, gourmet restaurants overseen by chefs who have trained in Michelin-starred restaurants from around the world.
But then there's the unique wellness side.
There's a saying here that no one visits without trying something new, something extraordinary.
In most traditional holiday resorts that would probably mean paragliding or surfing lessons.
Here, it means a deep dive into your mind, body and soul.
It's in this space, where we brush up against our inner comfort zones, that can bring about the most profound lessons and transformations.
The thinking behind the ongoing search for new holistic therapies stems from a desire to provide guests with unique, real and innovative experiences.
And Palmaïa does it very well indeed.
Yes, you'll find plenty of yoga, meditation, tai chi, and other things you may have come across before, like sound healing, cacao ceremonies and gratitude rituals.
But you'll also be exposed to more esoteric practices, from soul readings and shamanic talks to biomagnetism therapy.
It's a community of soul seekers working together to deliver a new, improved version of you.
In charge of seeking out new teachers, healers and guides is the resort's artistic product director, Javier Priori, who has done an astounding job in amassing such a pool of talent under one roof.
Many guests return to experience the inner awakening that is the result of this powerful coming together of so much creative and intuitive expertise; it's impressive to behold.
Of course, that's not the only reason people want to visit Palmaïa.
This all-inclusive resort offers a level of seclusion more associated with far-flung island resorts together with an
atmosphere of tranquility that you might expect on a classic yoga retreat.
Located about an hour's drive from Cancún, on the Yucatán Peninsula, and facing out to the turquoise waters of the Caribbean Sea, it offers everything you'd expect from a high-end, luxury destination.
Occupying a beachfront enclave, reaching into the Mayan jungle interior, you'll enjoy a pristine white sandy beach, stunning ocean views, infinity pools and elegantly designed suites and amenities.
These facilities include a wide selection of fine dining options, offering cuisines from around the world with a  Mexican influence, as well as cool cafes, and the El Caminante taco truck and chic beachfront bar.
There is a strong emphasis on plant-based cooking and incorporating natural, local whole foods into the  enu, though if you're not a vegan there are still lots of options.
The intent is to show guests how delicious plant-based food can be, to explore new recipes and flavours, but again there are always alternatives available.
You'll also be able to gulp healthy smoothies and juices to your heart's content, before, during or after your
morning yoga session, or as you lay flat out on the beach in one of the shaded cabanas after a dip in the sea.
Inside, all of Palmaïa's 234 ocean-front suites offer an enlightened space utilising natural materials, with private terraces, cavernous baths, and lots of nice, homely touches.
Then there's Atlantis: the spa in the jungle, hidden among the trees, an exotic retreat within a retreat where you can take a cleansing plunge in the cenote, a gorgeous, naturally-occurring pool, or enjoy a once-in-a-lifetime treatment.
Many of these are based around rituals and ancient ceremonies steeped in Mexican heritage, such as the  Temazcal, which involves sitting in a traditional sweat lodge.
If life and the world around us are nothing but energy, then this is the place to restore and replenish your inherent vibrancy, vitality and vigour.
Just being enveloped within the healing canopy of the jungle spa is enough to rekindle the spirit; the aliveness of the rainforest all around is palpable.
It's hard to say what a typical day might look like at Palmaïa as there are so many options, including what must be one of the most comprehensive personal growth programmes offered at any resort, anywhere in the world.
Start your day with guided pranayama by the beach, then head off for a yoga class to get the prana energy flowing.
Enjoy a delicious smoothie or get some nourishment afterwards at the beachside cafe, Su Casa, or take a dip in one of the pools or in the inviting, crystal-clear waters of the Caribbean.
For families, Palmaïa also operates a Waldorf-inspired, children's activities programme designed to stimulate young minds.
Then hit the spa for ayurvedic treatments, steam room sessions or just a relaxing massage.
There's also a beauty salon connected to the spa, where parents can get some extra pampering during their precious alone time.
In the afternoon, explore more of the diverse wellness classes on offer.
If soul readings and shamanic healings are a bit too far out of your comfort zone, then there are still plenty of other options, from art classes to dance therapy.
Or book onto a nutrition course, where you can learn how to make your own sauerkraut, kimchi and other healthy dishes, skills that will last a lifetime.
Most of this wellness smorgasbord is included though some private classes may be extra, such as treatments in the spa. Later on, start your evening with a drink at the boho-esque Eolo bar on the beach listening to the jungle beats by visiting sound artists, and gaze at the fire pit as its flames keep the light burning well into the night.
Then dine out at one of the swish restaurants, which include Lek (Mexican), Ume (Asian) and Mar de Olivio
(Mediterranean), where you'll feast on the finest ingredients, whether you want to stick to your healthy eating plans or indulge for the night.
One of the great things Palmaïa does so well is the way it effortlessly blends in touches of local culture and cuisine with all that might be expected of an international-style resort.
That's evident from the plush rooms and suites to the food on your plate, and in the way the buildings almost 'disappear' from the beach holiday frontage into the jungle backdrop behind; you can literally see the vines trying to reclaim their territory.
Sustainability and nature are embedded into the ethos here and that includes working to support traditional Mayan communities nearby, sourcing local products from artisans, such as all-natural, skin-kind insect repellant.
It's also possible to tour the area to see the Mayan ruins nearby — this a land with an incredible history dating back thousands of years — and visit some of the artisan producers to purchase honey, salsa and other items.
It's a nice touch, that feeling of 'giving back' to the local community, which continues to live in harmony within the challenging jungle landscape.
This is a resort that takes the idea of reconnection seriously, whether that's your own personal growth story, and 'finding yourself' once more, or embracing the natural world around you, in this case the Mayan heritage and surroundings.
You'll also spot the wildlife around you at the resort, the occasional sereque wandering about, or even the odd iguana lazing in the sun on a yoga platform as you get your stretch on.
So here's a conundrum for you, one that will test your self-love limits, especially if you're a keen environmentalist.
Since we ourselves are a part of nature, how can we genuinely claim to support the natural world, our environment, if we are not at peace, if we are not content, within ourselves?
One cannot love nature if one does not love oneself.
So do the planet a favour and find some love for yourself — a trip to Palmaïa might be all it takes to get you started.
Among a large roster of incredible teachers and guides – everything from yoga instructors to nutritionists and 'soul readers' – here are a few of the stars that shine their light at Palmaïa: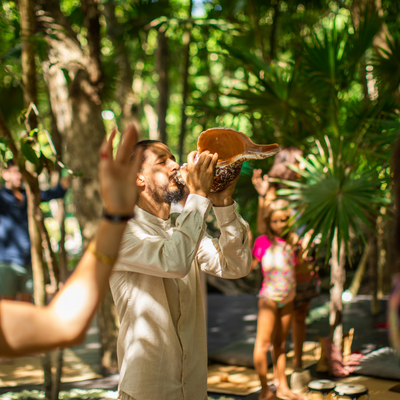 Nazarene from birth, he did not cut his hair until age seven and traveled through distant deserts, developing  contact with nature's elements and opening his world to search. Reflexology, palmistry, astrology and mythology shaped his foundation of knowledge to becoming a shaman.
Self-taught musician and magician, René teaches seminars and retreats on sound healing and harmonic singing, as well as performing concerts, therapies, and sound journeys. He has created a unique therapy, based on the symbiosis of being in nature, to create a sonic alchemy.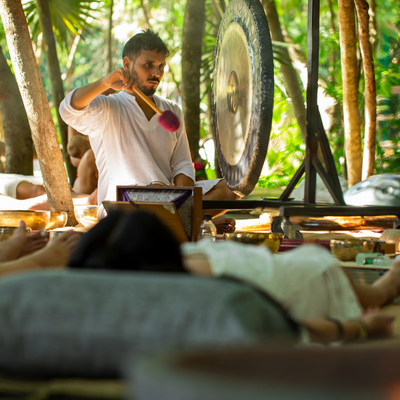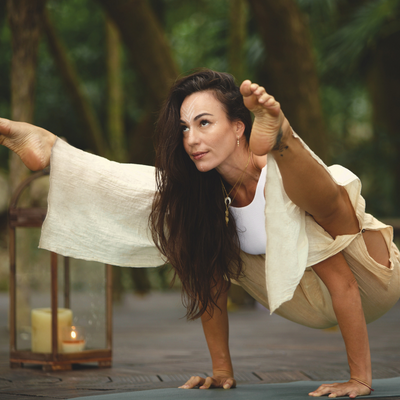 Susana Retana: Yoga Instructor
Guardian of lunar wisdom, yoga teacher and practitioner for 13 years, rites of passage companion, guide of circles and processes of the human experience. She is honoured to be able to share spaces of loving containment to go through these processes of the human experience.
Discover the incredible world of Palmaïa, the House of AïA for yourself online. Visit: thehouseofaia.com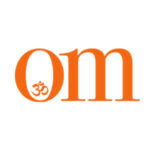 First published in November 2009, OM Yoga magazine has become the most popular yoga title in the UK. Available from all major supermarkets, independents and newsstands across the UK. Also available on all digital platforms.