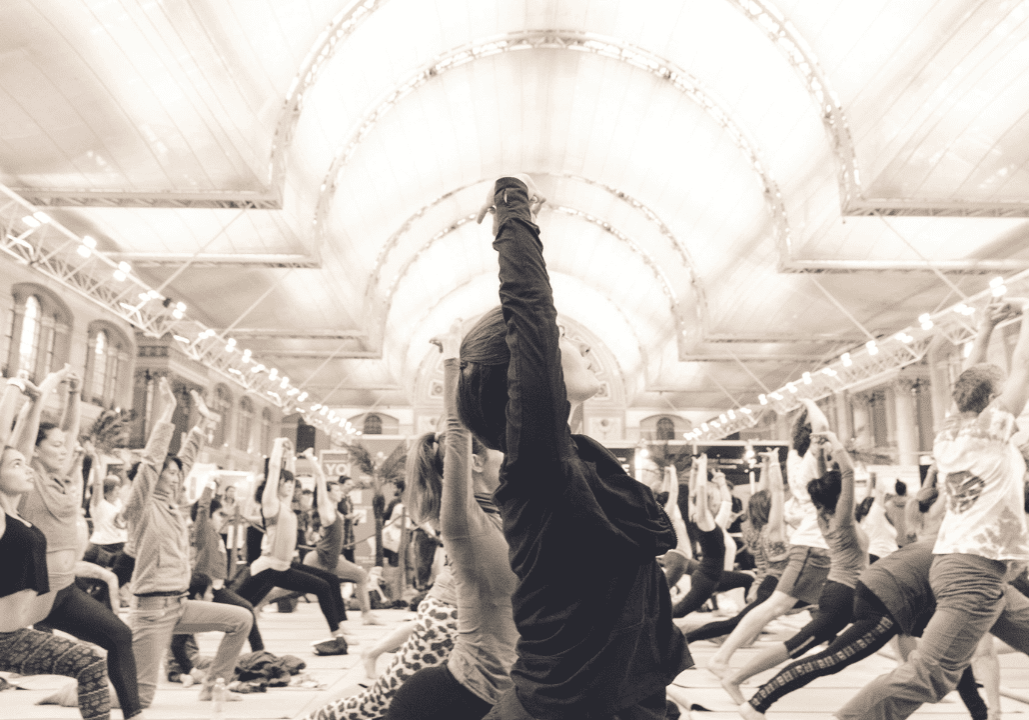 The OM Yoga Show is back! After a gap of three years, Europe's largest yoga gathering returns to London's iconic Alexandra Palace this month. It's time to reconnect with your yoga tribe — book your tickets now!
14 15 16 October, 2022 Alexandra Palace London – to BOOK
Over 120 free open classes
25 workshops with top presenters
25 free children's yoga classes
Meditation area
25 lectures with top presenters
Full schedule of all classes available online at: omyogashow.com
The OM Yoga Show is the perfect opportunity to practice with some of the top yoga teachers from around the world and go a little more in-depth than the taster sessions on offer. This year we have teachers flying in from Australia, Costa Rica, Ireland and Italy!
If you want to try out a new style or are new to yoga, then open classes are the place for you. Across the weekend we have over 120 free taster sessions on offer covering styles such as Ashtanga, Vinyasa, Yin, Meditation, Iyengar and so many more. Check out the full schedule and you're bound to find a class to suit you. Remember to bring your own mat!
There is so much more to yoga then asanas and this is where the lecture area comes in. Sit down and hear from some top experts on areas such as yoga philosophy and meridian lines. All lectures are free to attend too so get to as many as you can to soak up the yoga knowledge.
At the OM Yoga Show we are really passionate about inspiring the next generation of yogis so we have a dedicated area set up with classes taking place all weekend for children of all ages. This really is a great weekend for the whole family.
Take a few minutes and sit and relax at one of over 30 meditation sessions in the Meditation Area run by Brahma Kumaris. Leave feeling refreshed and calm ready for your next yoga session.
Mind Body Soul Experience
We are very fortunate to have the Mind Body Soul Experience taking place alongside the OM Yoga Show and entry to that is included in your ticket. In this show you will find everything you need to calm your mind, relax your body and nourish your soul.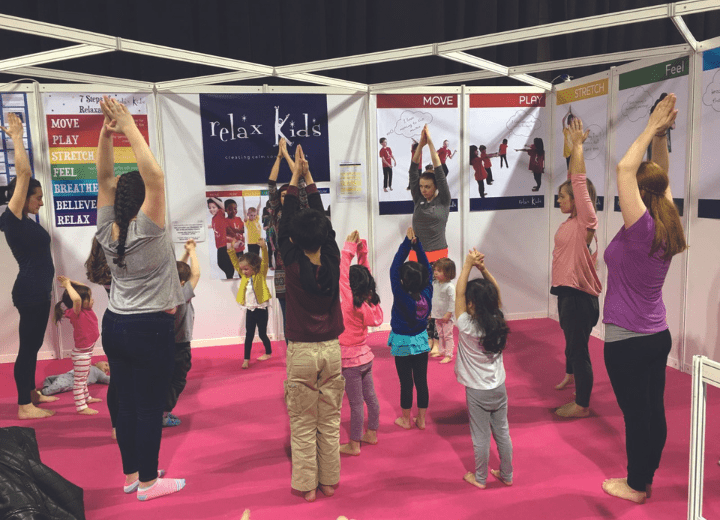 We'll be serving healthy and nutritious meals, snacks and drinks throughout the weekend, plus visit BIG JUICE to try one of their delicious smoothies or juices.
We have some of the greatest teachers from around the world leading masterclasses this year!
Sarah Highfield
Carolyn Cowan
Claire Missingham
Yogi Ashokananda
Donna Noble
Adam Husler
Roberto Milletti
David Sye
Over 200 stalls offering a wide range of products and services including yoga mats, retreats, clothing, jewellery, yoga props, teacher training and nutrition.
25 in-depth masterclasses with top yoga teachers
Sacred Yoga Movement + Sound Vinyasa, Kriya + Mantra
Find your strength, motivation, stillness + peace by experiencing sacred movement with one of the UK's most experienced and long-standing teachers of vinyasa yoga, who has taught at the Yoga Show for the past 15 years, and has been teaching world-wide since 1999. Open to everyone!
Saturday 15th October – 10.30-12.00 – £18
The dance offering is a highly inclusive, joyful journey through the elements and chakras using accessible asana, breath, mindfulness, mantra, visualisation and soulful music. We have babies, wheel chair users, athletes and my grandma joining in. As an old school raver, no other dance offering has ever really touched the sides in terms of euphoria and connection.
Saturday 15th October – 14.00-15.30 – £12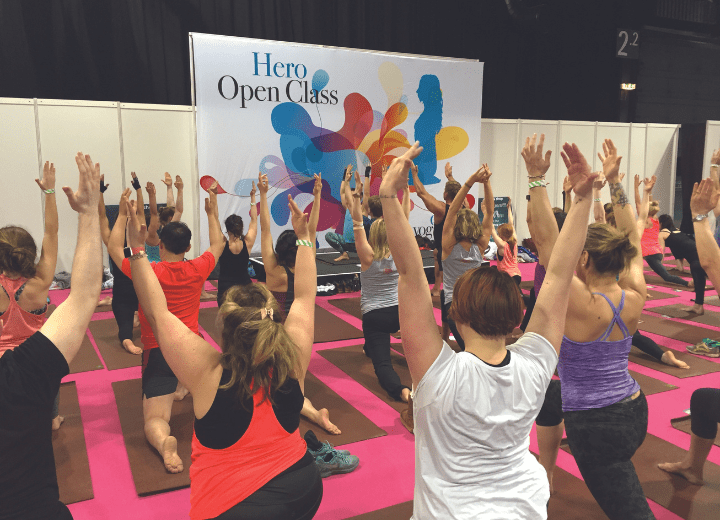 Zen Warrior 'Unmind Your Mind'
Zen Warrior's practice blends elements of zen, functional yoga, and martial arts. This powerful practice guides us towards fluid mind. Once learned, "ZW" permits you to recharge and renew your body and mind, increase your life force, self-confidence and personal power in a very short period of time. "ZW" does something special, it calms your mind, allowing you to live a fulfilling life in the midst of turmoil.
Sunday 16th October – 13.30-15.00 – £12
Yoga to Lengthen and Strengthen
International yoga teacher and two-time OM cover model, Sarah Highfield of Yogagise Yoga, will lead a one-hour workshop at the show: 'Yoga to Lengthen and Strengthen'. This workshop is suitable for all levels and ages, and focuses on lengthening and strengthening your whole body in equal measure, from tip to toe.
Friday 14th October – 11.30-12.30 – £10
Let's celebrate the body we are in with this Body Positive vinyasa-focused practice. This class is accessible and inclusive for everyone - all shapes, ethnicities, sizes, abilities and genders are welcome. Everybody is a yogaBODY!
Saturday 15th October – 11.45-13.15 – £12
Face Yoga with Danielle Collins
Join world leading Face Yoga expert and best selling author Danielle Collins for a Face Yoga class which combines facial exercises, facial massage, acupressure and wellness techniques to naturally lift and smooth the skin and calm the mind.
Feel and Heal with Himalayan Singing Bowl with Dipesh Munakarmi
Introduction to the Himalayan Singing Bowl and how it use for personal healing. Join Dipesh Munakarmi to feel and heal with the vibration of the bowl. Plus Q&A session.
Yoga for Health and Long Life with Dr Kiki Morriss
Harness the power of yoga to support your health and longevity by joining this focused practice of yoga poses, pranayama and meditation techniques. Clear explanations of the benefits of each practice will be given.
Finding Calm with Paula Hines
Join OM regular columnist Paula Hines for a relaxing floor-based class to help you restore your equilibrium, featuring practices from her new book, Rest + Calm
Spiritual Stand Up Comedy - A Healing Journey Through Laughter with Rach Cox
This interactive, embodied and accessible show takes you on a raw and raucous journey exploring the healing power of laughter, the perspective and space laughter provides us with in order that we process and let go of that which no longer serves us.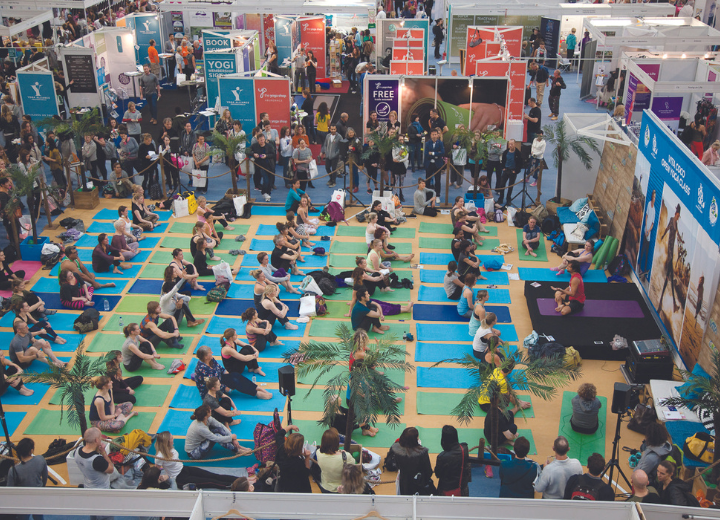 Kirtan of the Heart with Nik Parmar
Explore the beauty of the Heart Chakra with soothing kirtans of Unconditional Love. The Heart 'Anahata' Chakra is known to reveal the mystical pathway of Unconditional Love known as 'Prema' in Sanskrit. We will be meditating on mantras with hand mudras and singing ~ dancing to kirtans of love 'Prema Sankirtana.'
25 inspiring lectures covering topics such as yoga philosophy and meridian lines
The Future of Teaching Yoga Online: Evolve and Grow Your Online Offering
Online yoga is evolving fast, with even more growth predicted over the next five years. This lecture discusses the future of online yoga, getting started and building a thriving online offering!
Infradian Yoga - The Importance of Cyclical Living for Women
Olivia will discuss how we can change our yoga practice to benefit our cycles and why this is important. Learn the basics of Infradian Yoga and create a practice that works in harmony with your hormones.
Inspiring the next generation of yogis with over 25 free kids classes
Myga partnered up with Victoria Tso from the Inner Child Yoga School to introduce Myga's newest family member, Miss Molly Myga, the cuddly Moo-ditating Cow! In this playful class we will enjoy yoga games, practice our poses and bring our attention to our breath.
Magical Jungle Yoga Adventure
LouisaYoga will take you, and any grown-ups you have with you, on a magical yoga adventure to the jungle. Yoga poses, breathing exercises, relaxation, and lots of fun! See you on the mat!
An interactive class creating a fun but grounding practice, bringing focus to our breath, moving the body and ending with a relaxation.
MIND BODY SOUL EXPERIENCE HIGHLIGHTS!
Gain free entry into Mind Body Soul Experience with your OM Yoga Show ticket and catch one of over 40 talks such as Stress-Free Living with Jean-Marc, Archangel Alchemy with Alexandra Wenman and Healing is for Everyone with Anna McKerrow.
Manifestation Masterclass with Mystic Sisters - Barbra May & Maria Lodetoft
Join Mystic Sisters as they dive into the conversations about manifesting using energy and natural frequency.
The Anxiety Antidote: Understanding your anxious thoughts, feelings and how to deal with them with Kamran Bedi
In this workshop anxiety and well-being practitioner Kamran Bedi will discuss how anxiety is formed through our thoughts and experiences, the impact it can have on our lives and our behaviour, and also offer insights into practical ways we can work with our mind and emotions to feel less anxious.
Your Resurrection Is Now with Lydia Kimmerling
In this talk Lydia is going to wake you up to what really living your life means. Born from a moment shared between two best friends - one who wanted to die and the other whose vision for living was so strong, it kept her alive. Life is happening now, but are you truly living?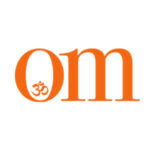 First published in November 2009, OM Yoga magazine has become the most popular yoga title in the UK. Available from all major supermarkets, independents and newsstands across the UK. Also available on all digital platforms.