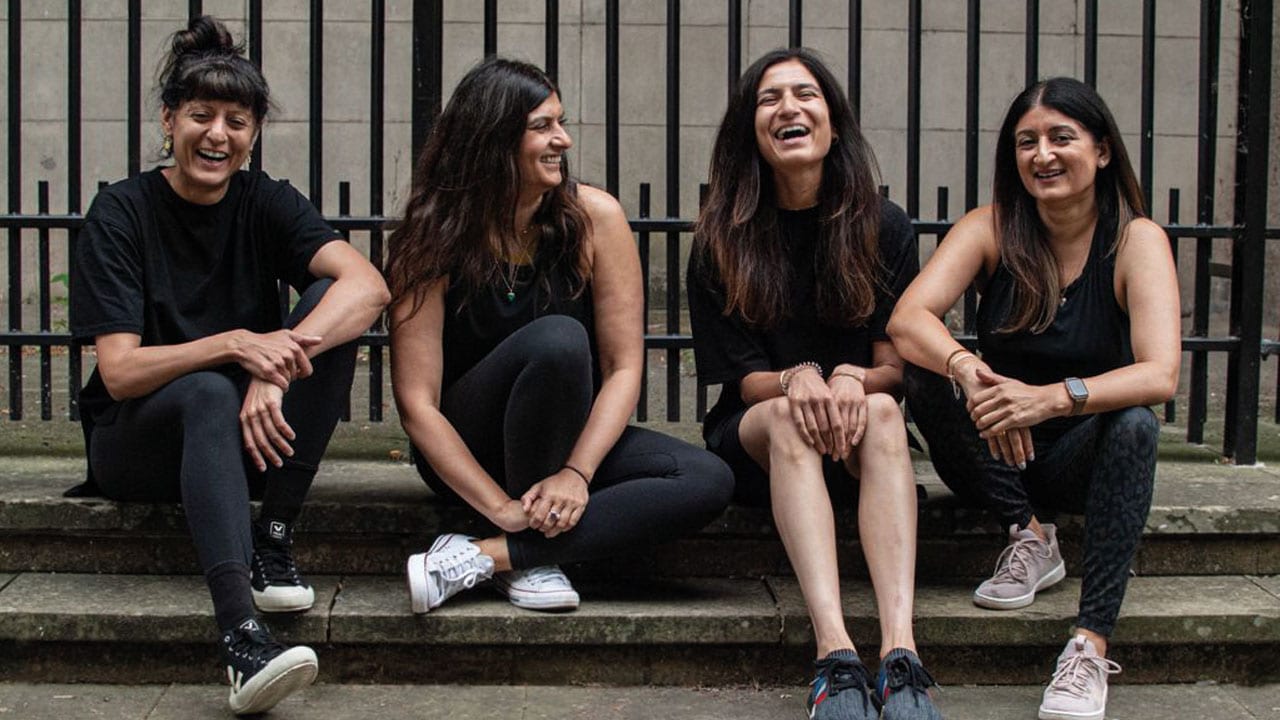 OM meets...
The Devi Sisters
The Devi sisters, all qualified yoga teachers, were born and raised in Britain within a first generation Indian family. Here, they talk to OM about their own individual yoga experiences
Meet the Devi sisters, raised in a first generation Indian family of six siblings (five girls and one boy). All the four girls featured here — Kam, Sunita, Raman and Kiran — are qualified yoga instructors. A true Indian yoga family. But first, let's start at the beginning. The Devi girls (and siblings, Angie and Sunny) were brought up in a small mining town in the West Midlands in the 1970s and 1980s, born to Indian parents from the north of India who came to the UK in the late 1960s.
"Our parents maintained their culture and traditions to the best they could and we have all been raised in a home that was loving and kind," says Kam. "We come from a working class family and had very little when growing up, sharing clothes, colouring books and Barbie dolls. Our parents would burn incense daily, have the morning prayers on at 5:30am and then the evening prayers at around 6:30pm; we grew up with chanting, mantra and a sense of spirituality."
All went to university and found their own paths and had careers in education, training, teaching and mentoring. Fast forward to today, and the girls are living in different parts of the country, and at different stages in their lives…yet somehow all found a deep connection to yoga, which bonds them together in addition to their strong family ties.
"We have all practiced yoga for many years and then, organically, each one of us trained in our chosen style of yoga, not all at the same time, but roughly within a couple of years of one another," adds Sunita. "It's a bit surreal really, we didn't plan this! It was an organic process, almost like something we were meant to do, when the time was right…and here we are now!"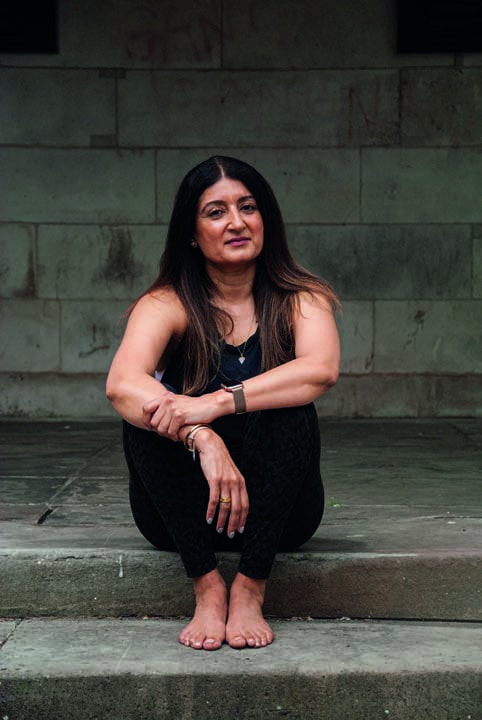 How did you first get into yoga?
I have always been into movement, exercise and the gym from my late teens. I got into yoga 15 years ago after having my second son. I initially found hot yoga because I had heard how it could help you lose weight and I was desperate to tone up and shape my body. I was hooked from the first class. The experience of moving the body in a heated room was extraordinary. It made me feel great and I became a regular client at the yoga studio.
What does yoga mean to you?
Initially, I used yoga for its physical benefits and found that practicing consistently not only did wonders for my body, but also for my mental health. My personal life wasn't great at the time and I was just about coping. This struggle in my personal life was intense and I found yoga to be an escape from the norm. I was able to distract myself away and release my emotions in a heated room as I moved my body from one shape to another. Yoga taught me to love myself, my body, and I found that I was not only building physical strength and stamina, but also becoming more aware of myself. Yoga taught me to find patience, tolerance, self-compassion and kindness to myself. The postures challenge the body and the mind and I found myself tuning inward and listening to my internal dialogue…deep, right? Yeah, I know, it's a journey, I tell you! As I have aged I have found that the physical practice is still present but I am drawn more to the spiritual aspect (something ingrained in me from birth as my parents had daily prayers on in the home, morning and evening, and still do today).
Meditation, chanting and using mantras now help me emotionally and mentally.
Yoga is my go-to self-soothing, empowering tool kit, and I turn to it daily to stretch, strengthen body and mind.
Some days I move on my mat, some days I just meditate. I practice vinyasa flow-based yoga, and hot yoga fairly regularly. I practice yin yoga when I need something restorative.
Yoga has taught me to live in the present moment, not to hold onto the past and not to look too much into the future, but to enjoy the here and now.
What's your teaching style?
My ethos is that anybody can do yoga, and you can do yoga anywhere, you just have to be willing or willing to try.
My style is nurturing, grounding and inclusive and I aim that each person in my class leaves feeling nourished and gets out of their practice what they intended to.
I teach a range of styles mainly hatha, hot yoga, yin yoga, and vinyasa flow.
Every day is a new experience, a new journey on the yoga mat; each body that arrives on the mat will be there for their own personal reasons I respect and honour this and in my classes there are always options to do as much or as little as one wants.
My sisters, they inspire me, they are my favourite teachers! To be honest, I am inspired by many teachers; any teacher who is passionate and authentic when they bring the essence of yoga and give you an experience. I'm not a big fan of when yoga turns into acrobatics, and as a student I prefer a mix of meditation, pranayama, and movement.
I like to be around people and things that uplift and inspire me, and I aim to give that same energy back. In a world where you can be anything, be kind — famous words by Gandhi. Life's too short for drama.
What's your take on the yoga world today?
I think it's amazing that yoga has such a following and people are using yoga as tool to support their lifestyle. I'm not too keen on seeing yoga just represented by a stereotype, seeing skinny people, in skimpy clothing, representing yoga. This isn't a true reflection of what yoga is and I think advertising needs to reflect this and make people feel that yoga is accessible to them also.
I'm passionate about yoga being inclusive, diverse, accessible and representing yoga in a culturally appropriate way. But that's a topic for another day!
Find Kam on Instagram @kammy72 @kam.wellbeingcoach or visit: kambolawellbeing.com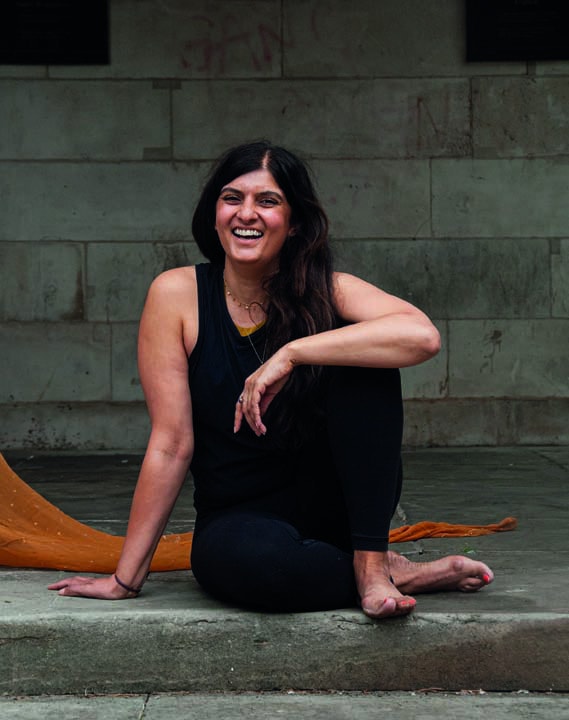 How and why did you first get into yoga?
Ahh always a question I find hard, mainly because I don't remember…it's such a part of my daily life and the 'how' I can't really tell you as it was over 25 years ago! The 'why' over the years is always changing. Today, my 'why' is that yoga brings me into a space of peace; the practice always brings me into a feeling of calm within. When I am in a place of feeling centred I am ready to take on the world. When I practice yoga it's like I'm getting my internal home in order so I can give my external home (the world) the best version of me.
What does yoga bring to your life?
The teachings/practices of yoga are beautiful and sacred. I feel like we have been given this wonderful gift…this gift that keeps giving. Every time I am off-centre yoga brings me back to myself. The noise outside can be very loud and you can lose yourself in all the shouting, but for me, the practice brings me back to me, to Sunita, and then I can handle the noise from a space of compassion and love.
What sort of yoga do you practice?
I practice being a good human being every day to myself and all those around me. I don't always get it right…I find that Instagram doesn't bring out the best of me!
On the mat, I love the asana practices that allow me to move in a fluid and soft way; where I move from one pose to the next in an effortless way. I don't want my practice to be like a bootcamp class (I can go to a bootcamp class for that); I like a practice where I can calm my nervous system and be fully present. It's so hard to be fully present, right? I also love mantras, and the repetition of mantra, so that it sticks within and lands. My favourite part of practice is to sit with my eyes closed, just letting myself be.
What is your teaching style?
My sisters, of course! Anyone who has a voice and who speaks up for the underrepresented voices is an inspiration to me. Anyone that uplifts and inspires others to be the best they can is an inspiration to me. Anyone that wants to change the world and make it a better place is an inspiration for me.
Most inspirational yoga teachers?
That everyone is welcomed with open arms. I try my best to be inclusive through my words and actions so that everyone feels like they are welcomed into the space. I want everyone that comes to practice a class to feel empowered on the mat so that when they leave they can take on the world.
What do you think of the yoga world in 2022?
Hmm, where do I start? Okay, for me, we cannot ignore how yoga in the western world is watered down — for example, I have no words for beer yoga! It's made palatable for the western world. We are moving away from the teaching and the authenticity of the practices, to just showcasing the physical practice…and, even then, we only see the poses that sell, like handstand (a handstand in a bikini is a winner for the 'gram!). Yes, show that side of yoga, however, it's only 20% — how about showing the other 80%?
What are your plans going forward?
My intention is to continue studying the teachings of yoga, aside from the physical, and to share these teachings to my community. I think as yoga teachers we have been handed a gift and to share this gift with others is a real honour. We want to keep the authenticity of the practices so that this gift continues giving over many decades to come.
Find Sunita on Instagram @sunitadg or visit: sunitadeviyoga.co.uk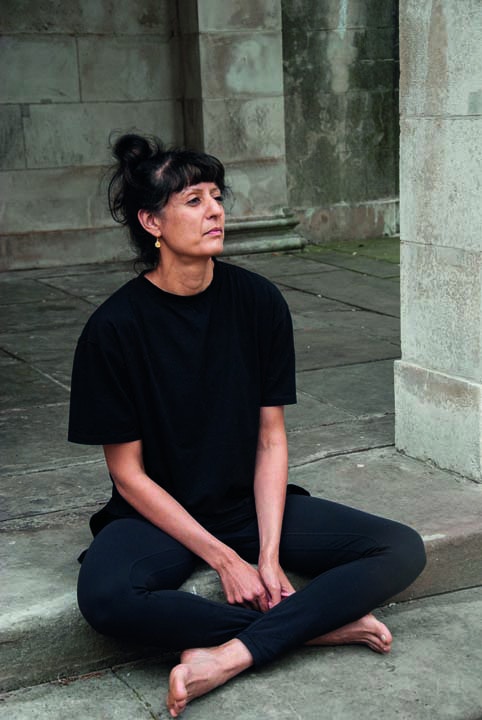 Why did you first get into yoga?
I guess from a young age I have been searching for a bigger purpose and our existence on this earth has to be more than eat, sleep and work. It's the teachings of yoga that remind me of this. So I guess, unconsciously, from a young age, seeing the bigger picture in all aspects of my life gave me purpose and drive to lead a life that's purposeful and meaningful. Yoga connects me to that.
Also, initially, when I first got into the practice, it was because I was a runner and needed to do something else that complemented that. Also, at that time in my life, I was done with partying and wanted to focus more on my wellbeing.
What does yoga mean to you personally?
Yoga for me is about connecting to all aspects of my life, whether that be in my relationships, my feelings, my physical body, and being able to really look at myself and how my actions can have a positive effect on the world and others around me. It brings me to a place where I understand myself more and to be accepting of the things around me and to see things from a different perspective. Not everything in life is black or white.
What sort of yoga do you practice?
I practice anything that brings me a sense of peace in my mind and that helps me to not get caught up in the thousands of thoughts we have in a day. That could mean me getting on my mat, going for a run, listening to music. Since the pandemic started one thing that really settles my mind is japa meditation. It brings my focus back, and brings grounding and stability to my life.
What's your favourite yoga style?
I have to say Jivamukti as that's what I teach, a method I fell in love with 10 years ago where the ethos is a path of enlightenment for compassion for all beings. The teachings remind us not to feel separate from one another, but to see ourselves in others.
Who inspires you the most?
I'm inspired by many humans who have the empathy and compassion to free others from suffering. The teacher that really inspired me is a Jivamukti teacher called Yogeswari who has dedicated her life to the method and lives and breathes the teachings. She has done some great things in Cambodia by setting up the Azahar Foundation which brings yoga into the community. I'm also inspired by the teachings of the Bhagavad Gita as it's something we can all relate to in this world we live in: the constant battle we all face in our everyday lives but to see the bigger picture about our existence. We are all born with a purpose and the great adventure of our human existence is to find it.
How do you view the modern yoga world?
It makes me smile that we are so lucky to have access to this great discipline and teachings and how so many people want to take part in it. Also, how the current situation we are in is making people fight for what they believe in, and to have a voice, and to go beyond the fear of our old ways of thinking…and that, within itself, is liberating. But I feel we still have a way to go. The more we keep to the essence of what yoga is the more we will see things with a clearer perspective. The great thing about yoga is that it's universal and it's for everyone and for everybody and every community…and we should honour the traditions of this practice by paying homage to where it came from.
Find Raman at Yoga Sweat in Birmingham or Aldridge or on Instagram @raman.g.devi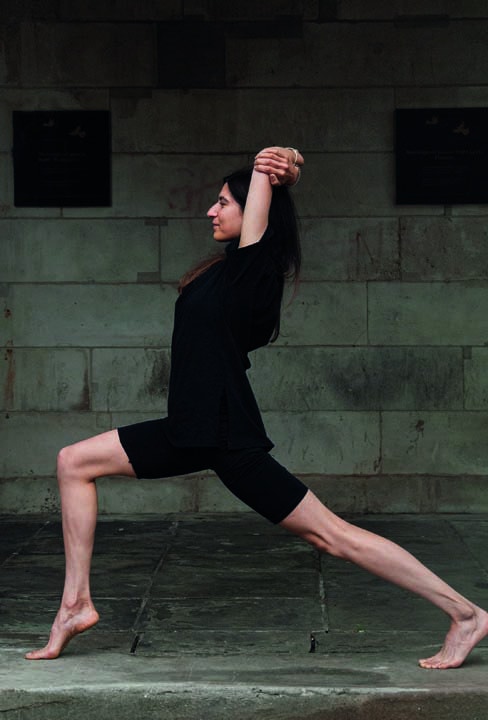 How did you first get into yoga?
This is going to sound mega cheesy! But just after finishing university, I went through heartache…I remember packing my room to move back home, my degree came to an end, and the guy who I fell in love with ended it too! I remember coming home on the train in such turmoil and sadness. I don't know why but something inside of me started googling yoga to heal. I read articles on how yoga transformed so many people's lives so I became curious. And so I found a studio, which was the only one in my city at the time, and signed up to their introductory offer! That's where my yoga and healing journey began! I've never looked back since!
What does yoga mean to you?
Yoga is so much more than what happens on the mat. It's actually how we are off the mat, how we treat ourselves and other beings. It's how we live our lives and how we coexist with the world. I don't do yoga to get better at yoga, I do yoga to get better at life.
What yoga do you practice?
I love a vinyasa practice, syncing breath and movement — it's so meditative for me. But I've explored so many practices and I'm open to all styles. I love my older sister Kam's yin class…so relaxing, it's like you have fallen off a cloud! So dreamy and great for mobility and fascia release; I think a yin class really complements a vinyasa practice. I also take my sister Raman's Jivamukti class because I learn so much philosophy and walk away feeling uplifted and liberated. I guess it's the perks of having a family of yoga teachers! During the pandemic I explored online classes that inspired my creativity again, with my sister Sunita's mandala class…I love a mandala flow and how the class perfectly intertwines with the elements earth, water, air and fire. Every class you take you come away with something different. We learn so much from each other.
There are so many great people out there doing great things, but the ones that have impacted me directly have been my sisters. During the pandemic I got to take classes with them online and it was the first time I really got to see them shine their light fully. They're strong, empowering and uplifting and I'm so proud of each and every single one of them for sharing these ancient practices to their communities and to better people's lives. I've learnt so much from them and they inspire me every single day.
Find Kiran on Instagram @iamkiriii or visit: kirandeviyoga.com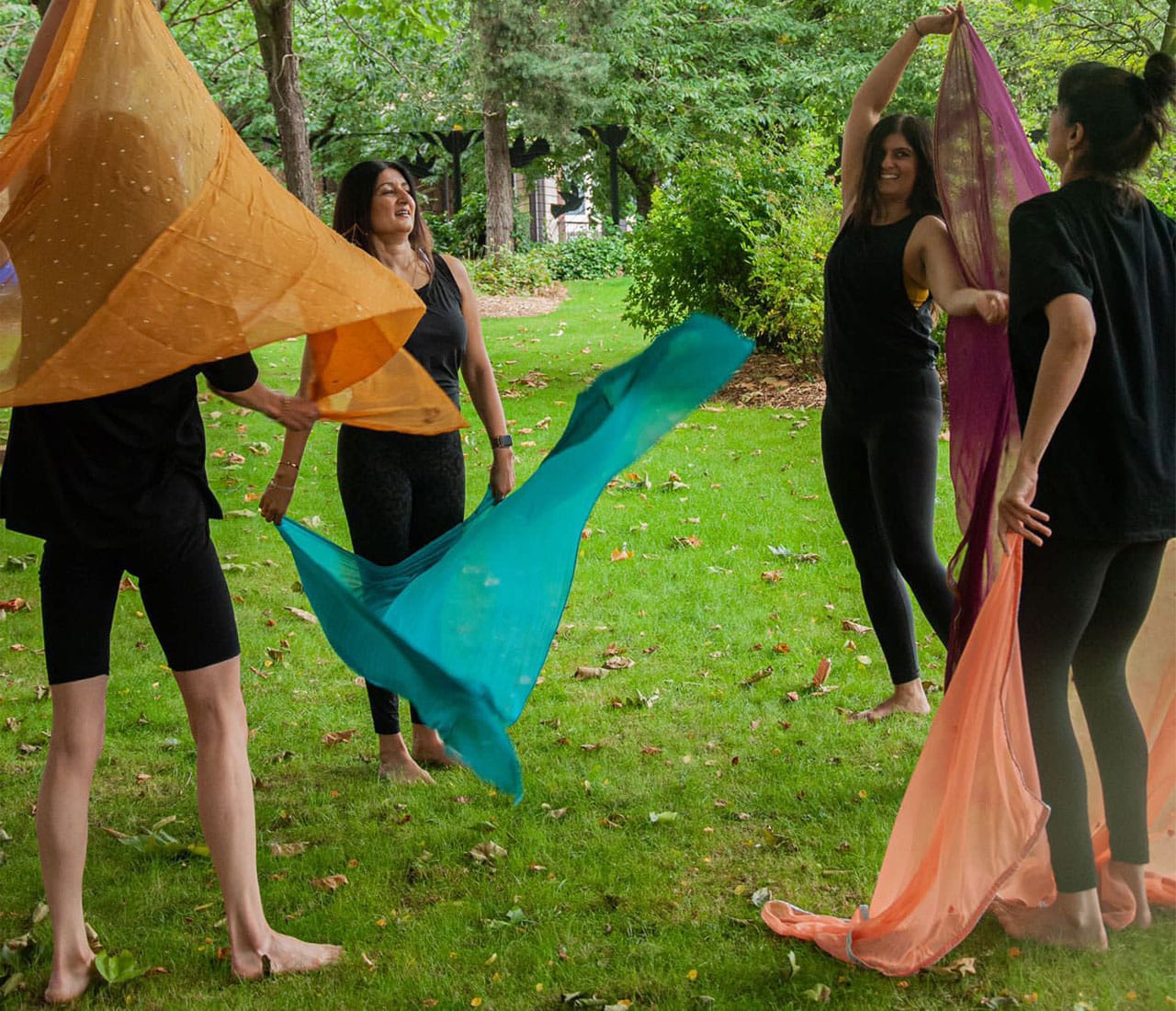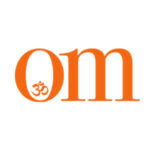 First published in November 2009, OM Yoga magazine has become the most popular yoga title in the UK. Available from all major supermarkets, independents and newsstands across the UK. Also available on all digital platforms.