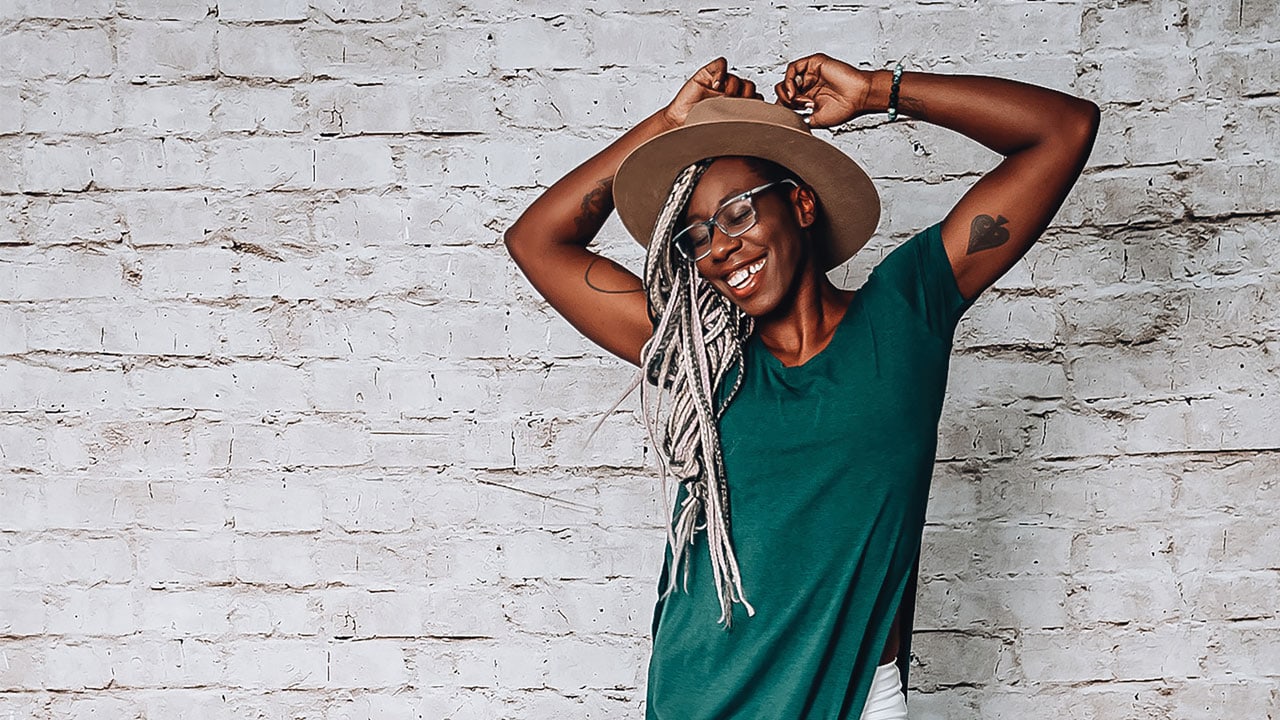 This month's OM cover star is yoga teacher and speaker, Ro Nwosu, from Canada. She brings together a unique combination of high-energy athleticism and focused mindfulness for a happier, healthier life. Here, she tells OM how her journey into yoga began
How did you first get into yoga?
I first got into yoga after my son was born. I was living in a new town, middle of the winter, had postpartum depression and couldn't really keep focused. It was hard for me to eat, sleep, take care of myself and even speak most days. I literally just sat in a recliner and never moved unless it was absolutely necessary. Late one night when I was feeding my son, clicking through the TV channels, I stumbled upon a yoga class that was playing on television The voice was soothing and the information was interesting so I decided to sit through the entire class, and tried the breath work portion. It was probably the first time I slept a solid six hours and I noticed that my son had slept the entire night for the first time too. The next day, same time, I checked the programme out again but this time I had a chance to practice with the class…and then my practice just continued. I became more curious about yoga, more curious about pranayama, meditation and lessons. From there, after practicing for almost a year, I took a mini training and then was teaching to friends and then went on to a 200-hour training in my area.
What inspired you in those early days?
Feeling is what inspired me. Each time I practiced there was a sense of calm, I felt like I could move my thoughts into order, breathe a bit better and I became more present as a new mother. What kept inspiring me was proprioception. I started to become more in tune with myself. I was more present in my walks, how I interacted with my child felt easier even though things hadn't changed much, I felt more confident and was able to walk out and engage within my new community.
What does yoga give you personally?
Personally, yoga gives me questions to where I need to find the answers. I learn more about what I can do as a human emotionally, mentally and physically, and through that questioning I explore and find answers on exactly how, what, where and why I am able to move further, feel deeper and more. Yoga gives me strength, it gives me the opportunity to play, not take everything too seriously, it gives me an energetic boost, a creative boost and from time to time it gives me the ability to see that rest is power.
Any favourite teachers or studios?
I'm a fan of Amanda Koh from Singapore, Allison Donnelly from Arnprior, Tracee Stanley, Faith Hunter and Mark Robberds. As for studios, I love Yoga Flourish in Perth, Australia, Yogatown, Soulspeak and Pure Yoga in Ottawa, Ontario.
Also White Pine in Pembroke, Ontario, Union 108 in Arnprior, Ontario and Urban Asanas in Brooklyn, NY.
How would you describe your own teaching style?
My teaching style is energetic, accessible. I do my best to provide my students with a fun atmosphere where they can take themselves seriously but also recognise that laughter, dance, breath work and brain work can be fun.
Yoga career highs so far?
Career highs is a good question. I'm pretty blessed to be able to practice and I think of that as a high in itself. Some of my career highs are teaching workshops and classes in Singapore and Perth, Australia, opening up my own studio and becoming a Lululemon Ambassador.
What are your plans going forward?
Going forward, my plans are to continue teaching, more so from the online space at the moment with the world's climate, and then hopefully to travel, train and teach more around the world. I miss my friends and family across the ocean.
Any advice for new yoga teachers starting out?
Take your time. Your own practice is important and it doesn't always have to consist of the physical. Nourish yourself with knowledge and rest. Create practices and teach what resonates with you while remembering the tradition of yoga. Finding your voice takes time and, like anything, it needs to grow.
What do you know now that you wish you'd known when you started out?
Oh wow, well, I wish I knew more about being an independent yoga teacher. It always seemed as if studios groomed teachers to become teachers for their own studios instead of preparing them to teach for other spaces or on their own accord. I think it's important to provide new teachers with all the information. To take chances and get out of my comfort zone. It took me some time to realise that immersing myself in different modalities and lineages and to explore them more fully is what would help me find my way.
Any tips for students new to yoga?
Start small. Yoga is more than just an hour; it can be 10 minutes, it can be 20 minutes. Incorporate yoga in small pieces throughout your day and sooner or later you'll realise that your practice can evolve in ways that you never imagined.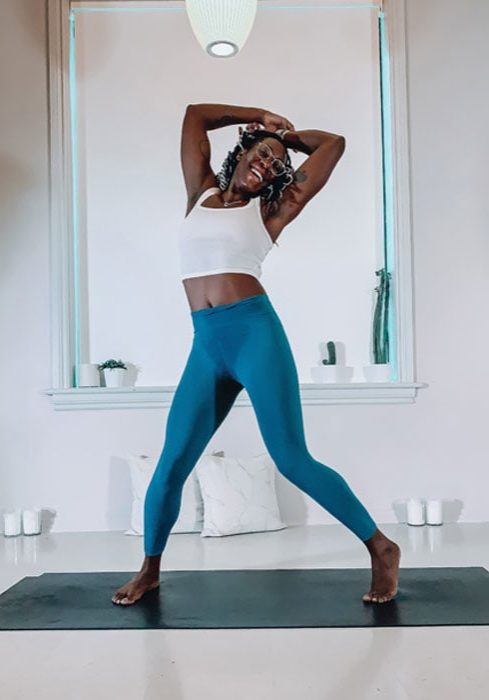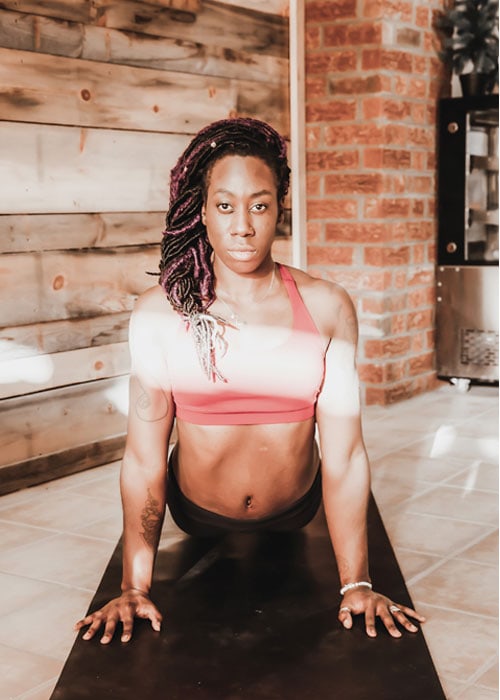 What do you say to people who feel they can't do yoga because they're too old or too inflexible?
I say you are enough, period. I've found that the students who I've taught for some time now tell me that they don't feel like they're good enough or in shape enough to practice and my response is always 'you're enough'. Yoga isn't about flexibility, it's not about being in shape, It's not about losing weight; it's about learning more about your body, enjoying what your body and brain can do and knowing that you are capable of so much. The other features are by-products, not the main.
What do you do when you¹re not doing yoga?
I tend to my plants, I dance, I'm really into film and being outdoors. All of these I incorporate with being a mum and doing my best to learn new things with my child and road trips are also a big one.
Any tips for incorporating yoga into ordinary activities?
My favourite time to incorporate yoga is when I'm either in the kitchen or watching my favourite show. I throw on some music while cooking or doing the dishes and stretch my way through, placing dishes into a cupboard or a side bend to grab spices, being present and reminding myself to plant my feet, shoulder roll while moving vegetables in the pan. When watching a show or a movie, I love using restorative postures or foundational postures and the couch becomes a prop. There are many ways to incorporate yoga, even just through breath work before beginning on my laptop to send an email, after I brush my teeth and even when folding laundry.
What are your thoughts on diversity in yoga?
I think it's a subject that's very broad and I wouldn't be able to cover half of what I would want to speak about! Humans want to see themselves represented in the yoga space. They deserve to see themselves represented in the yoga space. It goes beyond diversity and inclusion. It comes down to if we are providing a space for humans to move, grow and be a part of a community, then all humans are welcome to do just that. Unconsciously, we don't notice that yoga spaces lack diversity and it's important that we remember the root of yoga, the traditions and teachings of yoga and that it was shared with others and therefore we have a duty to share it respectfully with others. You can't teach humans to create space and then close that space off to others.
Always move in ways that you love: it may not be yoga, it could be something else. Once you find it, continue…there's a reason it makes you happy, or smile, or content, or it provides you space to feel what you need.
Ro Nwosu is a yoga teacher based in Canada and the owner of Movement Yoga and Fitness Studio in Renfrew, Ontario (movement-yoga-and-fitness-studio.business.site).
Find her on Instagram @wildroga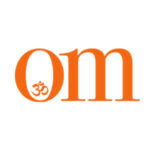 First published in November 2009, OM Yoga magazine has become the most popular yoga title in the UK. Available from all major supermarkets, independents and newsstands across the UK. Also available on all digital platforms.