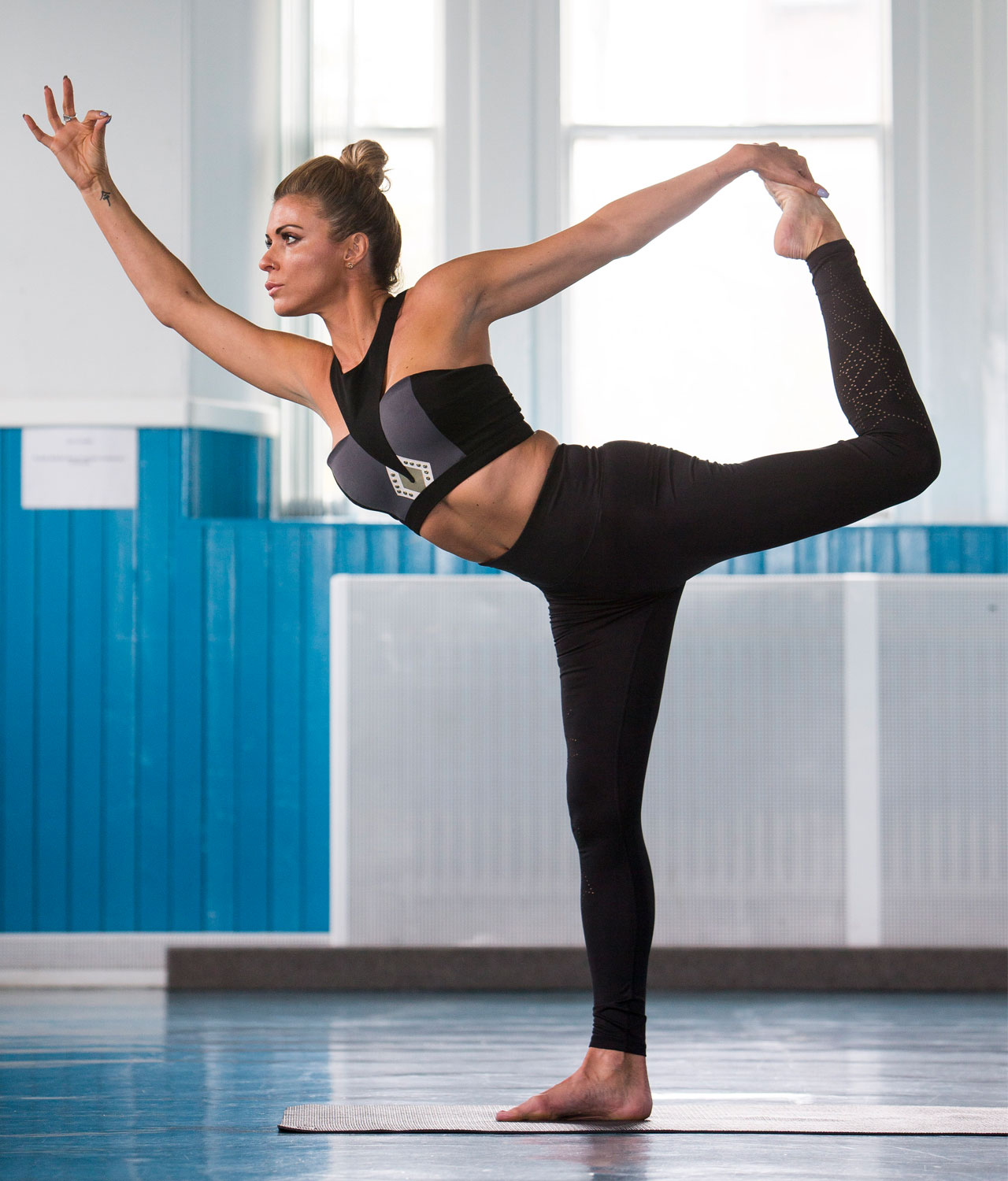 Louisa Craig, based in Aberdeen, is an experienced yoga teacher trainer, and the face behind LouisaYoga of LKY Yoga School. She tells OM how the unexpected events of 2020 have shaped her life and her yoga business for the better
I was working for an oil company in my early 20s (a long time ago!) and was a stressed-out single parent suffering from insomnia. One of my colleagues (who is now in her 80s and still an avid yogi) recommended I come along to the weekly lunchtime yoga class she attended. I loved it and had a great night's sleep afterwards.
I remember initially feeling vulnerable and self-conscious (and I try to remember this with new students, so I can help make them feel more comfortable). I also remember being surprised at finding downward-facing dog and shoulder-stand (and savasana) difficult despite being a gymnast at school and a break-dancer in the 80s.
I was the naughty one, always getting into trouble for giggling at the back; again. I try to remember this when I have new people starting as I now understand the giggling was my way of dealing with the awkwardness I felt and how it helped me process and release my emotions.
As I progressed each week I felt my body getting stronger, more flexible, my mind becoming calmer; my digestion and skin improved, and I felt a deeper connection to myself, the relationships in my life, and the universe. I was hooked!
What does yoga give you personally?
Yoga gives me space and freedom, in my breath, my body, my life; something we all need right now. It allows me to be fully myself and be okay with who that is at that exact moment. It allows me to be present.
Yoga is more than the asana (as most of us are now aware) and I incorporate spiritual scriptures into my life always. I tell my trainees that you can't learn how to swim by reading a swimming manual, and this is how it is with yoga; it's 99% practice, 1% theory.
I embody what I teach and incorporate yogic philosophy into my daily life. Yoga allows me to see where I'm at, gives me self-awareness, which, in turn allows me to make better choices in life.
Any favourite yoga teachers?
Vinyasa Krama and Tantric Hatha Yoga is a huge influence, and I sometimes incorporate Kundalini kriyas depending on the energy of the day, or bhav (theme / feeling). I teach moonology masterclasses, which involves chandra namaskar, pranayama, mantras and mudras, and I work with deities, goddesses, meditation and rituals.
I also teach children's yoga, teen yoga, pregnancy yoga, yoga for mental health, and Yin Yoga.
In all cases, I allow my students and trainees to embrace the true essence of who they are, to connect to their 'inner teacher', and to come out of their heads and into their hearts. Helping my students meet and accept themselves and teaching them how to apply yogic techniques to weave into their lives which allows them to shine, is one of my greatest joys.
Rod Stryker's teachings are a huge influence on me. I first met him around 15 years ago and his practices felt so natural to me. I have since trained with him many times and continue to follow his teachings and trainings (online for now).
I've also trained with Seane Corn; I love her authenticity and her fierce devotion. I trained as an Ashtanga Yoga teacher in 2003 with David Swenson and his humour and spark for life inspired me to be authentically myself.
Yogic philosophy is a huge passion of mine and I thoroughly enjoyed delving deeper into the sutras with Edwin Bryant, and Tantric philosophy with Carlos Pomeda. Vidya Heisel of Frog Lotus Yoga helped me set my foundations as a teacher.
My own graduates and trainees also continually inspire me with their passion and dedication.
Describe your own teaching style?
Eclectic! I have trained with many different teachers from various lineages and this has helped me figure out what my body and mind need to practice on any given day (sarvanga sadhana).
Major life lessons along the way?
I would say that one of the hardest times in my yoga career, but also one of the most lifechanging and positive ones, was when we were hit by lockdown restrictions in March. The day before lockdown I had one of the last operations at Aberdeen Royal Infirmary; I had been told by a surgeon that I probably had serious melanoma and that he would discuss life expectancy with me once results of my op came back. It was a bit crazy as I was also in the middle of a 200hrs teacher training.
So, as everyone was coming to terms with Covid, I was coming to terms with my mortality (and couldn't practice asana due to the stitches across my shoulder). I decided to meditate on the klesha (obstacle of enlightenment) abhinivesha (fear of death), especially as this was the energy of the collective consciousness at the time.
I really let go and found that by having everything to lose I had nothing to lose (life is such a paradox!). A few weeks passed, and my surgeon called to say my biopsy results were clear and apologised for being so certain that I was terminally ill. My doctor (who is also my yoga student) had already called me with the news earlier that day.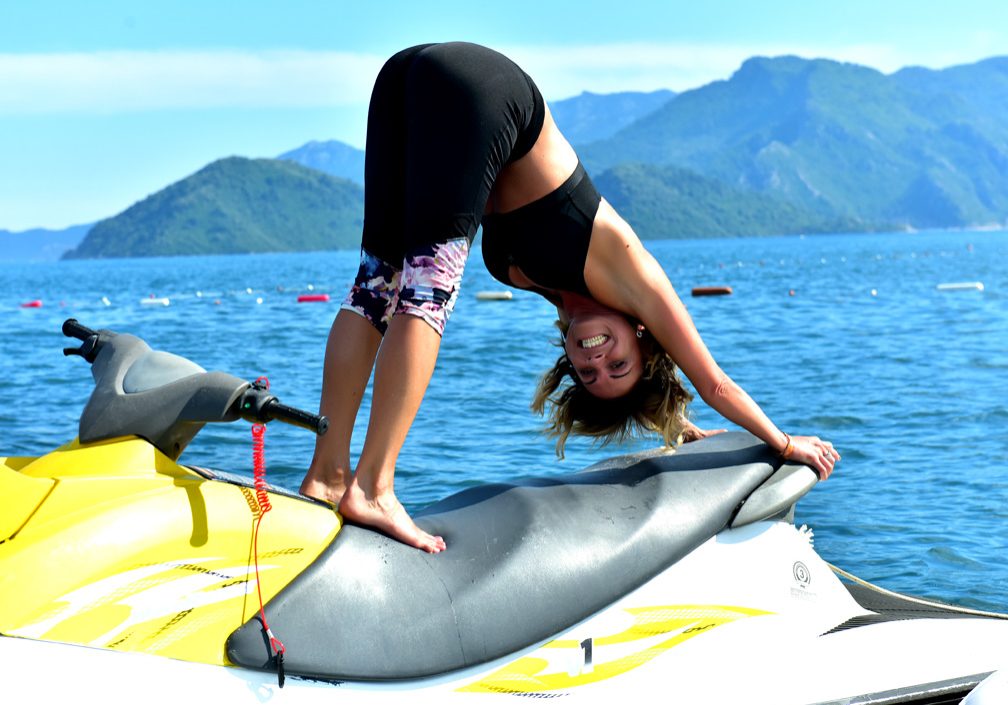 What about online yoga teacher training?
After the experiences above, I realised I had to steer my YTT trainees somewhere. I realised I was 'attached' to teaching yoga in 'real life' and 'averse' to online yoga. After much contemplation, I came to the realisation that we in the West had originally adapted yoga to suit our lives. We created sun salutations and the standing postures. If you look back at the history of yoga, most of the asana practices are seated. The yoga we practice in the West is a mix of Indian body building and Swedish gymnastics! Covid isn't going anywhere soon (unfortunately) so it was time to adapt our yoga, let go of our attachments and aversions, and head into the unknown.
I gave my trainees the option to opt out and come back to me if / when we train in 'real life' again, or to keep going into unchartered waters. It was incredibly hard work adapting the course to go online, and I had to introduce much more teaching methodology (and remove the 'adjusting' part). It was a case of doing things differently and being clear and concise. I had to really up my game to be able to hold their space.
We found that we could still feel the energy of the practice and connect with each other (although differently). It was a huge learning curve.
Since then I have gone on to run many online yoga trainings and continue to do so. If you had told me this a year ago I would not have believed you! By working with the kleshas, having faith, and communicating with each other we made something that seemed impossible, work.
Online yoga is not going anywhere for the foreseeable future and I'm glad I stepped out of my own way and embraced the unknown.
What are your plans going forward?
To have my 500hrs YTT graduates be part of the evolution of LKY Yoga School. I don't want to be running a yoga school on my own. I want to form a 'real' yoga community and be able to give more to my future trainees by allowing my LKY Yoga School teacher trainers to share their talents and passions.
My Yogic Mythology & Moonology 40hrs training has had so much interest that I've had to set up a separate LKY Moon Group as well. I want to continue with my Moon and Astrology studies so I can share more with my trainees, and I want to get more eclectic trainings out there, such as my priestess work with goddesses.
One of my favourite things as a teacher is taking what some people deem 'weird stuff' and making it seem more normal, accessible and fun, without losing the essence of what it is.
My yoga for mental health teacher training is also something I am passionate about because of the current world situation. So hopefully we can get more teachers out there with an understanding of mental health and how to support people who are struggling.
Any great life hacks for the rest of us?
Let go of judgement (of yourself and others) and become curious instead. Sit in the eye of the storm instead of allowing it to take you and observe. Make the decision not to identify with your emotions and try to become more anchored in your higher mind so you do not 'react' and instead choose to act accordingly or not act at all. This is skill in action.
Accept your inner teacher, your totality and your darkness's. This is what makes you, you. We don't learn anything or evolve by pushing away our shadows.
Every night I write down five things I'm grateful for that day and place it under my pillow. Ending the day on good vibes is always a winner, and it makes the next day more fun looking for more things to add to your gratitude list.
I am delighted to be able to offer online 300hrs yoga teacher training (to allow teachers to become 500hrs certified) in modular form, which allows my trainees to train in what they're passionate about and specialise (and they can take up to two years in their own time to complete). I don't want to churn out generic 500hrs yoga teachers. Each module is accredited and can be done as a separate training in itself.
Louisa Craig is an experienced yoga teacher trainer and the face behind LouisaYoga of LKY Yoga School (louisayoga.co.uk)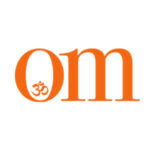 First published in November 2009, OM Yoga magazine has become the most popular yoga title in the UK. Available from all major supermarkets, independents and newsstands across the UK. Also available on all digital platforms.