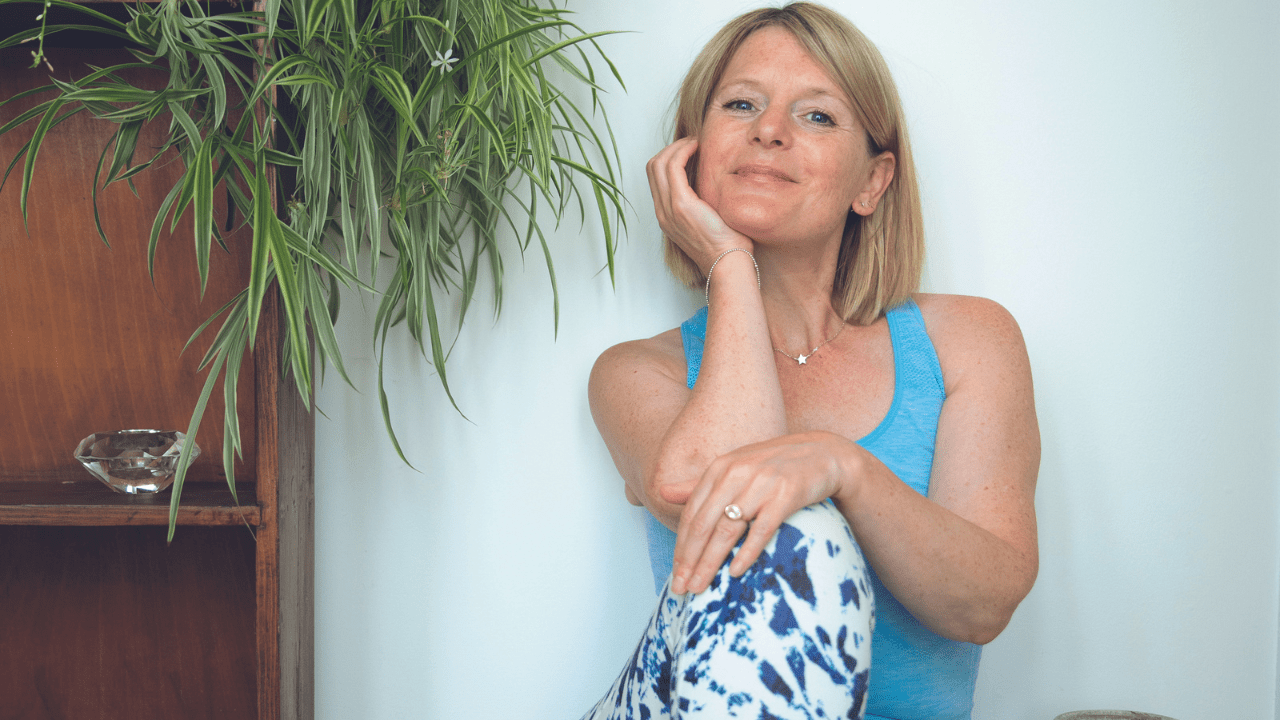 Featured on our cover this month, Liz Underwood blends somatics, rhythmic movements, restorative yoga and yoga nidra into her classes, courses and retreats. But, she tells OM, any movement is better than none at all!
How did you first get into yoga?
It was back in the mid 90s and it was actually my hairdresser who introduced me to yoga. We just got talking about what we'd been up to when she told me how much she was enjoying practicing some yoga videos by Barbara Currie — so that's how I began, practicing with Barbara at home! I then went on to find a local class but soon fell out of practicing for a while…though it clearly stayed with me, as I came to a crossroads in my working life, frustrated at always being passed over for promotion (I can see now how that was all part of divine intervention as I was meant for a different path!). I was asked by my boyfriend at that time: "What do you want to do?" And instinctively I replied: "I want to become a yoga teacher." That's when I began studying and practicing more. I'm so grateful for the practice of yoga as it brought me to learn and study somatics, which is my main focus now, both in my personal practice and in what I teach.
Who inspired you in those early days?
Barbara Currie! She must have been in her mid-fifties when I started to practice, and she is as inspirational now as she was to me then. Also my local yoga teachers, Sally Worth and Val Norris, who are/were very dedicated to their students and personal practice. I studied my BWY foundation course with Sally and took private lessons with Val. In 2005, I went on to to take my teacher training at the Nosara Yoga Institute in Costa Rica and this is where I first experienced a somatics class and also a style of yoga called Self Awakening Yoga (S.A.Y) with Amber Stapleton & Don Stapleton Ph.D (Brahmanand). I don't have a natural bendy body, so many of the classic yoga postures did not come easily, so the S.A.Y practice truly resonated with me. This sensory-led, explorative way of moving is when I began to feel more connected to my body and to myself. Don helped me to realise that yoga asana did not need to be pigeonholed into the classic yoga postures that are widely taught. So, when I started training in somatics in 2016, I felt I'd come full circle and that the S.A.Y has helped influence my teaching of somatics.
As a newly qualified teacher I was so enthusiastic about teaching and sharing Self Awakening Yoga. I was still building my confidence when I initially shared it with my students and it wasn't well received as they wanted to practice classic yoga postures. I lost my confidence in teaching it and had lost touch with it. When I began my training in somatics, I was reminded again of S.A.Y. I carried on teaching Hatha and deepened my learning of bio-mechanics in an attempt to understand why I (and my students) found some of the postures so challenging, which is what led towards specialising in somatics.
If I could go back and give my younger, newly-qualified self any advice it would be to stay faithful to what resonated mostly with me, instead of teaching what was popular, which is why I ended up stopping teaching for a while, as I burned myself out.
What does yoga give you personally?
The practice of somatics is now my equivalent to a physical yoga practice. I use this practice to help me stay supple and relaxed. I practice with the enquiring, explorative way Don Stapleton taught me. I become completely absorbed within the practice, so it becomes my mindfulness and meditation practice all in one. It's my anchor when I'm feeling overwhelmed, it's my go-to for releasing tension and pain, it keeps my body moving well and it's the time in my day when everything else falls away.
Any favourite teachers or studios?
I think one of my favourite places has to be the yoga shala at Nosara. I will never forget my first class there, vinyasa with an incredible playlist, at 6 am in downward facing dog to The Black Eyed Peas' song, Where Is the Love? I'm upside down, looking up and to see the howler monkeys looking down at me! Just brilliant!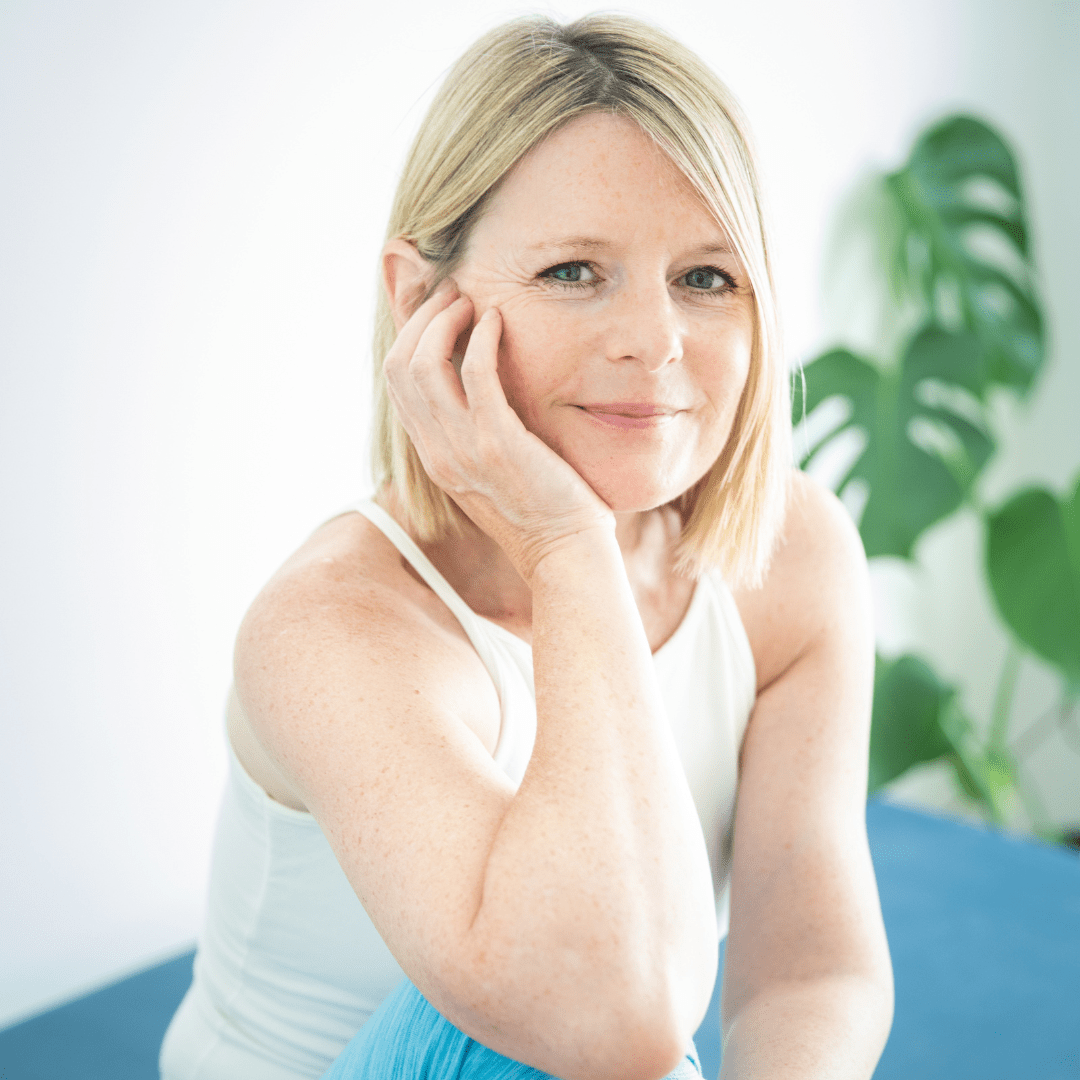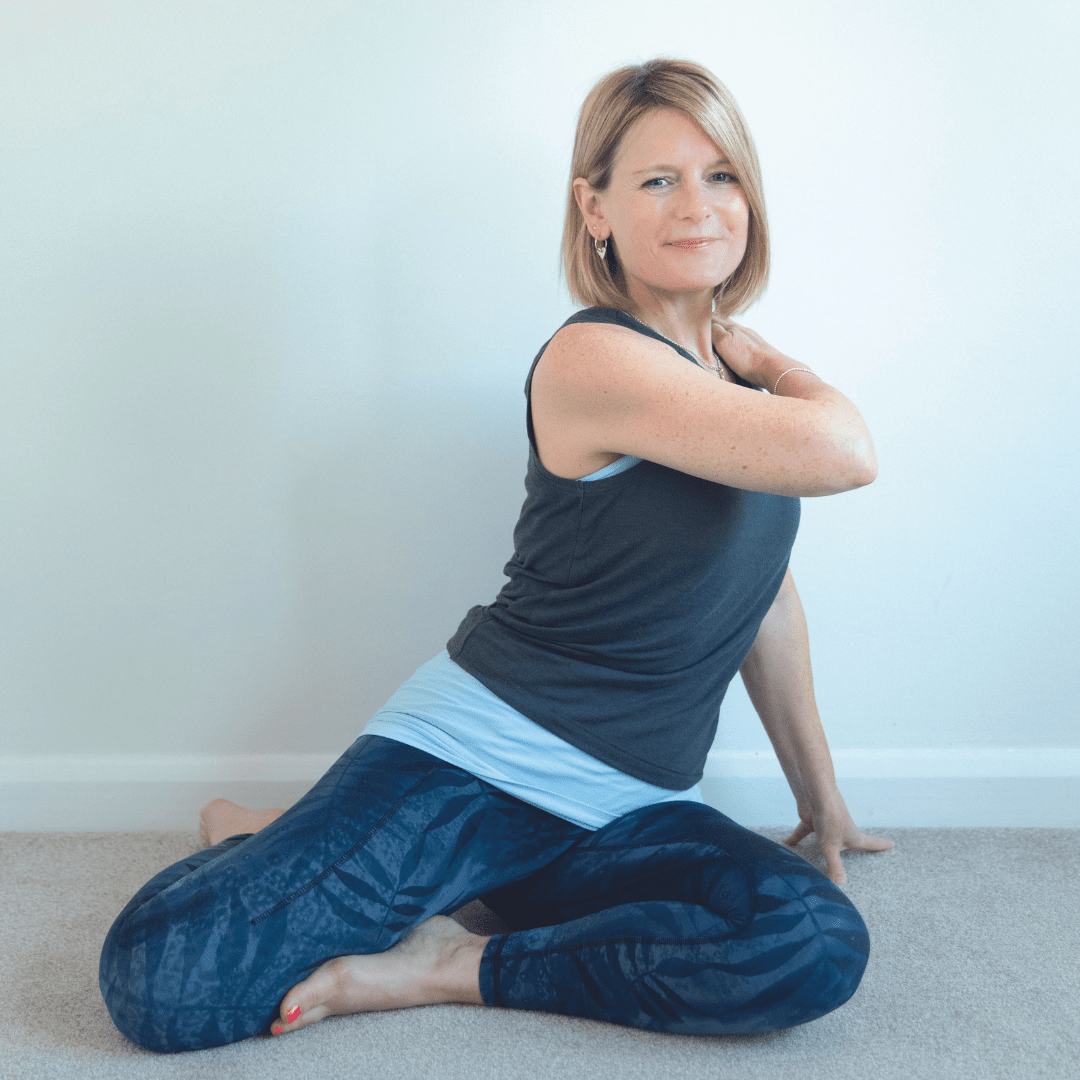 How would you describe your own teaching style?
Inclusive, nurturing exploratory and educational; weekly, I teach purely somatics classes. I blend somatics, rhythmic movements, restorative yoga and yoga nidra into my workshops and retreats. The focus is on reducing pain and improving tension and suppleness with nervous system regulation to help students to feel more comfortable, relaxed and free, with a sense of coming back home to themselves.
What's the vibe like where you teach?
I teach online, with the occasional in-person workshop and retreat. Across Zoom I try to create a calming vibe. It's important to me that I create a sense of community by making myself available before and after class. I learn so much from my students' feedback and enjoy holding the space for them.
Yoga career highs so far?
Teaching at last year's OM Yoga Show! But also taking the bold step of specialising in Somatics and moving away from teaching the classic hatha poses. It means so much to me to share somatics, the work of Thomas Hanna — once I experienced it, I just had to teach and share it.
What are your plans going forward?
I'm so excited about this as I will be training in chakra dance this year. I love dancing and find chakra dancing
liberating and empowering, similar to the principles in somatics. My plan is to bring this into my retreats and workshops. Once I've taught students how to free up their movements with somatics, let's take it further to feel fully embodied and alive!
Any tips for students new to yoga?
I really think it depends on where you are starting out from and what kind of movement you already do or don't do. What personality or dosha type are you? What are you looking for? Try and do some research first and try lots of styles until you feel you've come home to yourself (if that's one of the reasons you want to practice) and you truly feel you benefit from it.
What do you say to people who feel they shouldn't do yoga because they're not in shape, too old or too inflexible?
Try somatics! All movement is better than none at all, so long as there is no forcing or that doesn't create or increase pain. And, as a somatics teacher who knows how somatics deepens your yoga practice, I'm bound to say start with somatics as it really frees up your whole body. In particular, the muscles that attach the pelvis to the ribs; once these move with freedom, it makes yoga postures much more accessible. It's like a beginner's practice to a beginner's yoga course…almost like, pre-yoga! And I would also add to what I said above and to ask yourself what are you looking to get out of yoga, as we know there is so much more to it beyond asana.
What do you do when you're not doing yoga?
I'm a simple soul, so when I'm not practicing and teaching somatics I love walking and getting into my garden and being in nature. I love bird watching too. I'm also involved in organising a local group of like-minded souls who are passionate about all things health and wellbeing as a way forward in terms of independence and autonomy for our health; it came about as a result of the pandemic. We come together throughout the year and create non-profit wellbeing days where we share skills and enjoy an environment that is safe and supportive of all views on approaches to health. The other weekend we explored yoga, astrology and plant medicine. The aim
of the group, going forward, is to expand it to the wider community and into retreats.I really think it depends on where you are starting out from and what kind of movement you already do or don't do. What personality or dosha type are you? What are you looking for? Try and do some research first and try lots of styles until you feel you've come home to yourself (if that's one of the reasons you want to practice) and you truly feel you benefit from it.
Any tips for incorporating yoga into ordinary life?
Nurture an awareness of your body and posture when you are absorbed in what you are doing. Students and clients that come to me learn how their muscles become tight due to their habitual ways of moving (or not moving) — sitting at a computer is a big one, as is head down when scrolling. Using this as an example, you might experience neck and shoulder tension, but what's also happening is the abdominal and chest muscles are getting tighter too, affecting your breathing, digestion, blood pressure. So recognise and be aware of how long you sit for or repeat the same movements and tasks, because other areas of your body are getting tighter too, which can lead to pain and dysfunction. So change things up and move!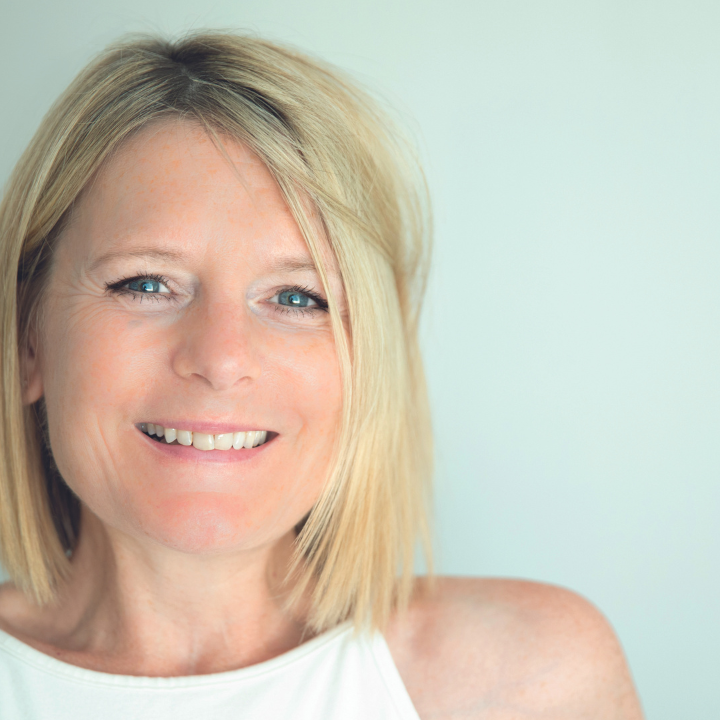 Favourite yoga book
The Yamas and Niyamas by Deborah Adele
Go-to health drink
Being the vata person that I am, I love cinnamon tea.
Favourite/most inspiring quote
From Deborah Adele's book, the chapter on the Niyama Ishvara Pranidhana: Surrender. "Ishvara Pranidhana, the jewel of surrender, presupposes that there is a divine force at work in our lives. Ultimately, this guideline invites us to surrender our egos, open our hearts and accept the higher purpose of our being." It helps me to hold the line and have faith when I lose my footing in life.
Favourite yoga pose
A supine variation of cat/cow in somatics is called Arch and Flatten. The building block of all good movement is a freely-moving pelvis and fluid spine and connecting that to the head. To create more freedom in this movement, in somatics we release the tension in the back and belly and chest using the technique of pandiculation. It's so simple and effective and releases muscle tension like nothing else I've experienced.
If you could take a class as a student with any teacher from anywhere and from any period of time (now or in the distant past) who would it be with and why?
Thomas Hanna hands down. He was the founder of clinical somatics and was a yogi too; he was interested in and researched movement. He passionately believed that human beings can be physically free and have autonomy over their lives. When I listen to him, and look at rare footage and photographs of him, I can sense his integrity, strength and passion and it would have been incredible to have learned from him in person.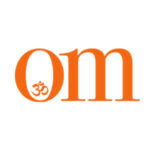 First published in November 2009, OM Yoga magazine has become the most popular yoga title in the UK. Available from all major supermarkets, independents and newsstands across the UK. Also available on all digital platforms.