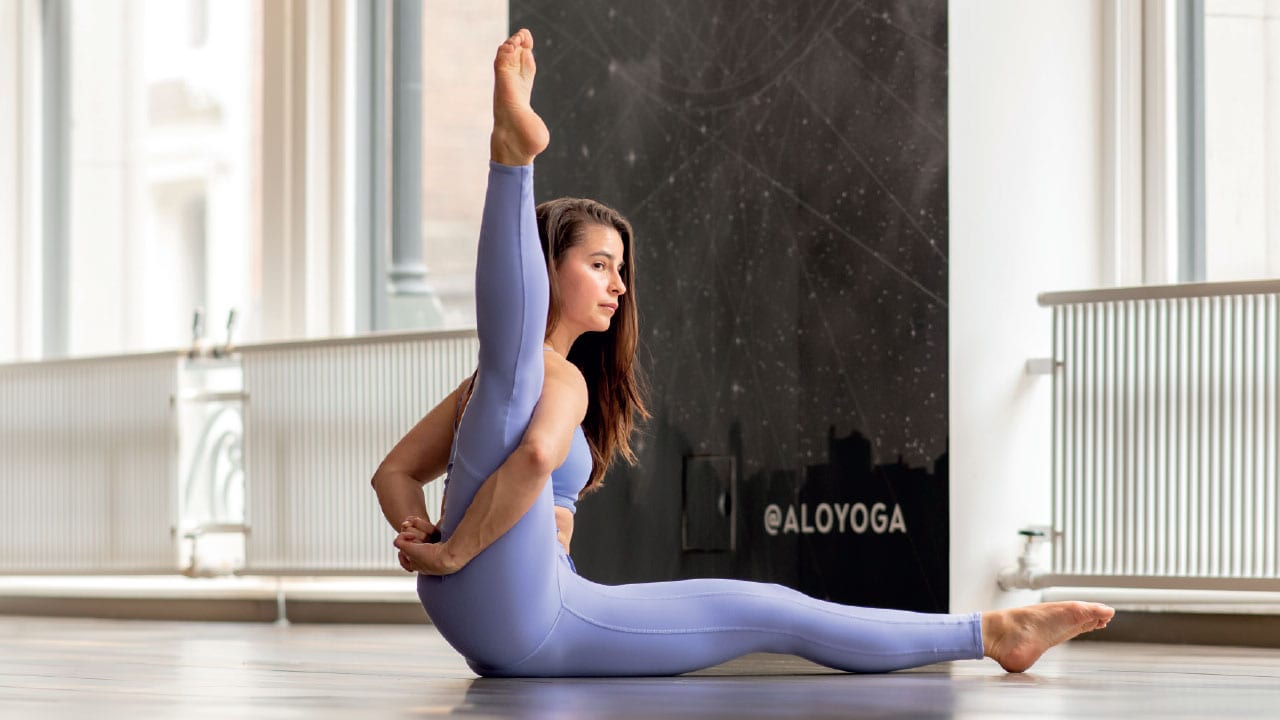 Meet this month's cover star, Ivana Horecny, originally from Slovakia and now living the dream in California. Here, she tells OM that despite a love of Scorpion pose and other advanced asana, the most important thing yoga has taught her is simply be aware of the breath in order to find greater ease in stressful situations.
Words and photos by Wanda Bogacka-Plucinski
Ivana Horecny was born in Slovakia, but after traveling the world and living in multiple countries, from Sweden to Portugal, she now calls San Diego, California her home. She's a yoga teacher, a student of yoga herself, a full-time working woman, world traveler, adventure seeker and dog mum!
Although she can play hard like one of the guys, she's also very much a girly girl, who loves fashion and the softer things in life. What you might find refreshing about her is that she's unapologetically direct with a wicked sense of humour! She sat down with OM to talk all things about yoga and wellness.
How did you first get into yoga and why?
I returned to the US from living in Sweden while completing my masters for two years and had a difficult time adjusting to being back. I was labeled with 'adjustment disorder' aka 'reverse culture shock' (you know we have labels for everything nowadays). I was struggling with some depression and intermittent anxiety and one of my closest friends looked at me one day and said: "You need to do something for yourself. All you do is work or sit at home depressed. There's a yoga studio five minutes from your house, go try it out, I think you'll like it". And she was right! My whole life I've always been involved in sports or some form of physical art form, be it gymnastics or martial arts. Having not moved my body in two years had started to take a toll on me psychologically and I knew I had to get back into something that forced my body to move.
How has yoga changed your life?
It definitely helped to alleviate the depression and anxiety in the early days. As I progressed through my practice, I realised that it's constantly inspiring me and there's no end goal. It's an endless art/practice that always takes you to new places and presents new challenges. Most importantly, it has given me a sense of community. I have met some of my most favourite people in this world through this practice.
What made you decide to move from Slovakia to the US?
Simply put: Communism. I was born in Slovakia but have lived on the east coast of the US most of my life, since the age of five. In 2021, I moved to Portugal and today I call San Diego, California home. I felt and craved a drastic change, a change in location and scenery, career, a change in my overall environment. Portugal was a wonderful respite post-east coast departure, as I was constantly surrounded by stunning nature, the ocean and outdoor activities… so when I contemplated a move back to the US, I needed to move to a location where I would have a similar year-round, outdoor lifestyle. Hence, San Diego was a great choice!
How does the East Coast vs West Coast yoga community differ in the US?
I have been exploring the yoga scene in southern California over the last few months and have found a pretty significant difference between yoga on the East coast vs West coast. East coast focuses more on the studio aesthetic, providing a welcome experience to practitioners, and the teachers focus on proper alignment, detailed cues and warm-up as well as progressive sequencing to prepare the body for a 'peak pose'. West coast yoga provides more outdoor community classes overlooking the ocean, which are great, and which I personally enjoy. The studio classes here are predominantly heated yoga or 'hot yoga', often a bit overkill in terms of the heat. Most of the classes are taught as a set sequence repeated throughout the class with minimal creativity, or progression to more complex poses, and complex poses are rarely, if ever, properly cued or taught; I'm struggling to feel challenged in most classes here. I have found one or two teachers in the San Diego area that are really great, but overall I miss and appreciate my teachers on the East coast.
What is your favourite wellness destination for a vacation, a yoga retreat or just for fun?
Bali, for sure, although that is a bit of a cliche as everyone and their mother goes to Bali for yoga retreats. It is truly a magical place and I hope it remains that way and doesn't suffer the same fate as Tulum did (overrun by tourists). A close second, the Guanacaste Province in Costa Rica with its 'no name' dirt roads, endless stretches of ocean, and the most amazing sunsets I've ever seen in my life.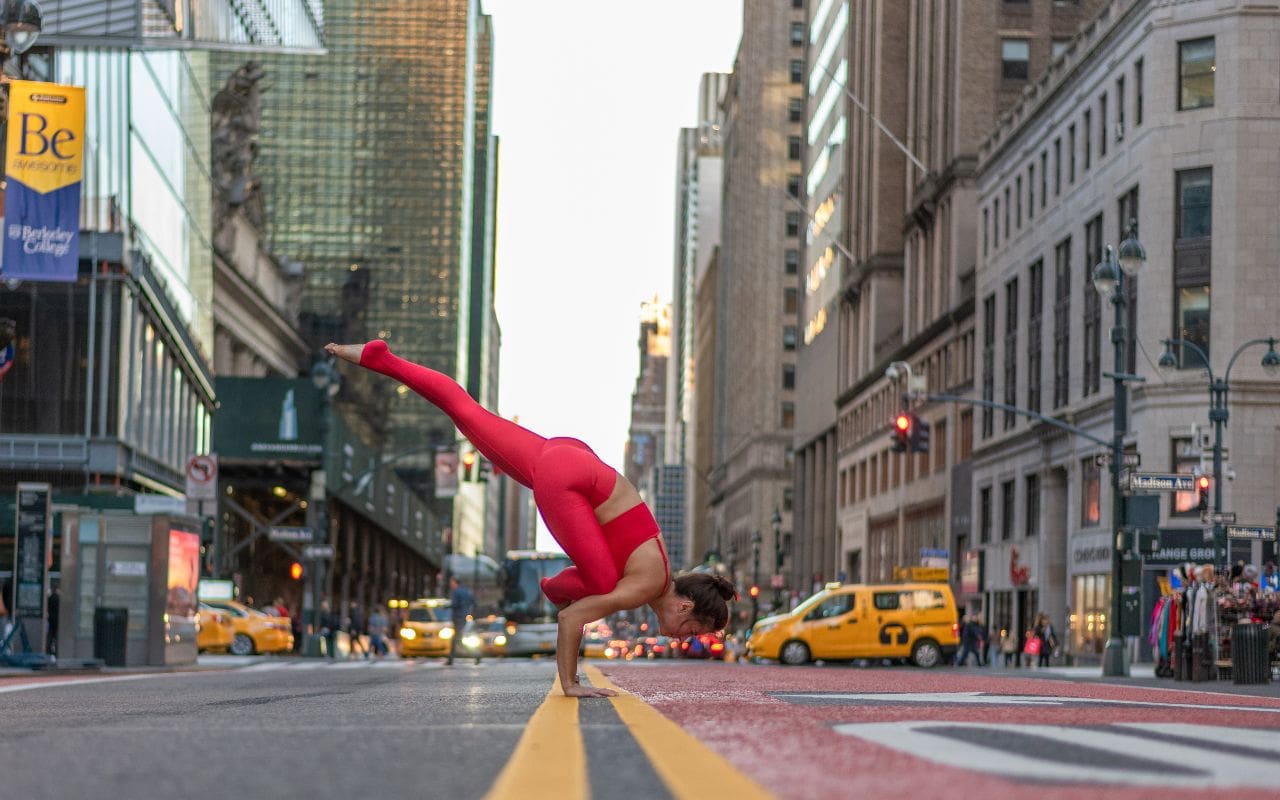 What style of yoga do you practice and teach?
Vinyasa, Power and Yin Yoga.
How would you describe your own teaching style?
A high intensity power flow with creative sequencing and alignment cues. I really love to teach people how to get into difficult poses, challenge my students to help them see that they are capable of more than they even thought possible. Sometimes pushing yourself to that edge gives you greater confidence, not just on your mat, but in life.
Who inspired you during your early yoga days?
My first instructor, Cindy Herr. Her classes were so much fun and she loved to challenge us. I still look up to her so much and my arm balance and forearm stand practice is very much thanks to her. Also, Cathy Madeo, who I had taken my very comprehensive 200-hour yoga teacher training with. She really taught me the importance of cueing, sequencing, and allowing your personality to come through in your teaching style — mastering those three factors can make or break your class.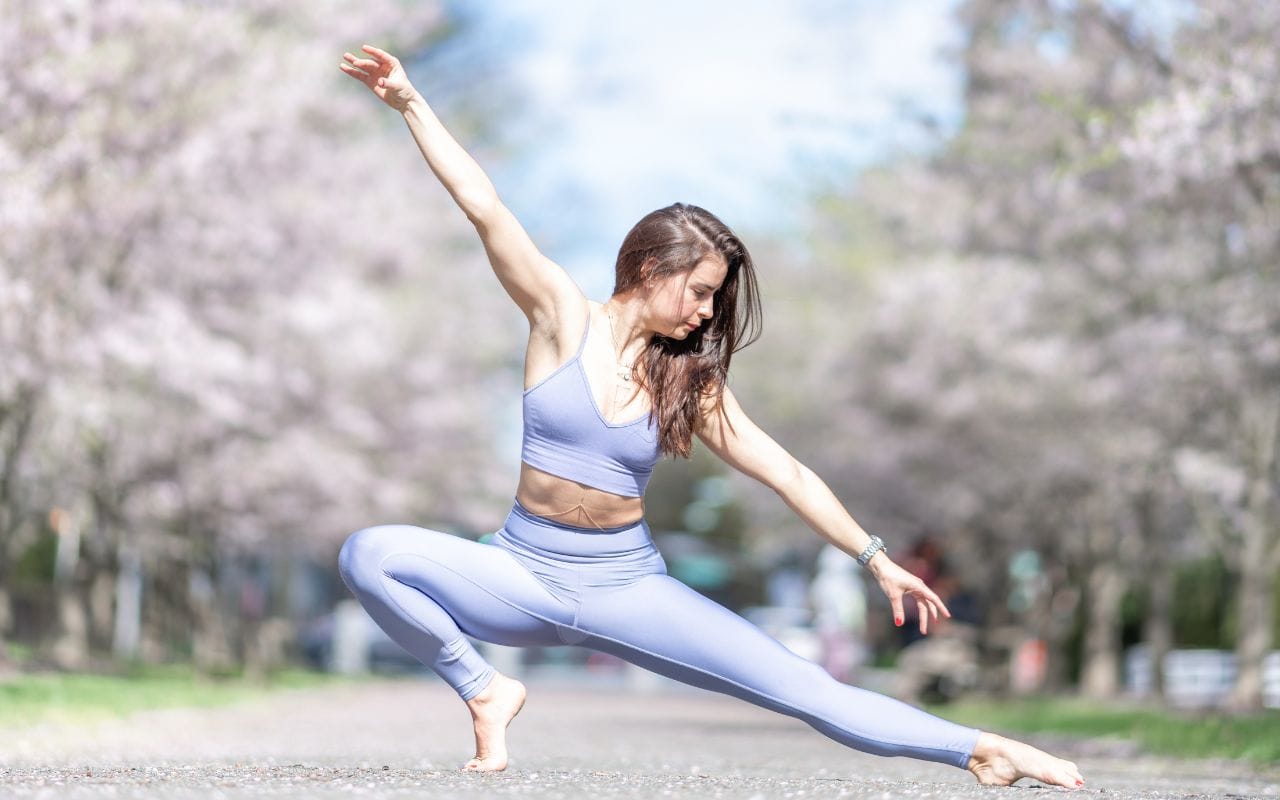 What's the most important thing yoga has taught you?
Don't forget to breathe. The single most important thing that yoga has taught me is to become aware of my breath. I tend to hold my breath in stressful situations, even during strenuous workouts, which in turn only perpetuates the stress instead of mitigating it.
What does wellness mean to you?
Wellness to me doesn't mean the fancy yoga retreats and spa days (although I love those!). True wellness means that you are living your life in the most holistic way possible: eating foods that are in their purest form (not genetically modified), getting plenty of sunshine, being out in nature, laughing with your loved ones, moving your body, and looking after your mental health — which often times means saying no even when you have FOMO (fear of missing out) because your body is telling you that you need to rest. Missing out on temporary fun to build permanent stability is not a loss.
How has yoga helped you see yourself, your body and mind, on and off the mat?
It has created a deeper appreciation for my body and what it is capable of doing. It has kept my mind and body sharp and ageless.
How do you stay motivated?
Practicing yoga truly gives me personal satisfaction. Yoga is 'doing something for myself', a time just for me, it makes me feel good inside and out. It's the truth! After a class, I feel happier, my skin glows, I feel more hopeful, centred, fluid in my body and have a more positive outlook on my life and the world. My students, my mentors, and people who have the guts to go for what they truly want in life are also my motivating factors
Being alive! And handstands!
What are you most grateful for?
So many things. But here are some that instantly come to mind: Good food, fresh air, the smell of the ocean, views from mountain tops, loving friends and family, laughter, croissants, and my dogs.
What do you believe is your true calling in life?
To truly live life and experience it in all its glory. To be uniquely me. To be my own person no matter what the crowd is saying or doing. Having the courage to stand alone from the crowd and be okay with that. It's never easy to be different, but for me, I'd rather stand in my own truth, listen to my own intuitive voice than be a follower and sell out for the sake of fitting in. I've also been told my calling is to be a guide and I feel that…to guide others through difficult and challenging times in their lives.
Is there a person in your life that truly sees you for who you are?
My mother, of course! She gave birth to me, after all, and we have an incredible closeness and bond. Also my close-knit circle of girlfriends and of course my dogs.
What do you do when you're not doing yoga?
I have an innate love for hiking, scuba diving and surfing. I got into hiking as a child, hiking with my parents in the Carpathian Mountains of Slovakia. It was such a great family bonding experience, moments I will never forget — plus, there's nothing like seeing the world from the top of a mountain. Also, I started surfing while living in Portugal in 2021. Surfing is the closest I've come to feeling like I'm flying… other than the time I base jumped off a cliff in Moab, Utah.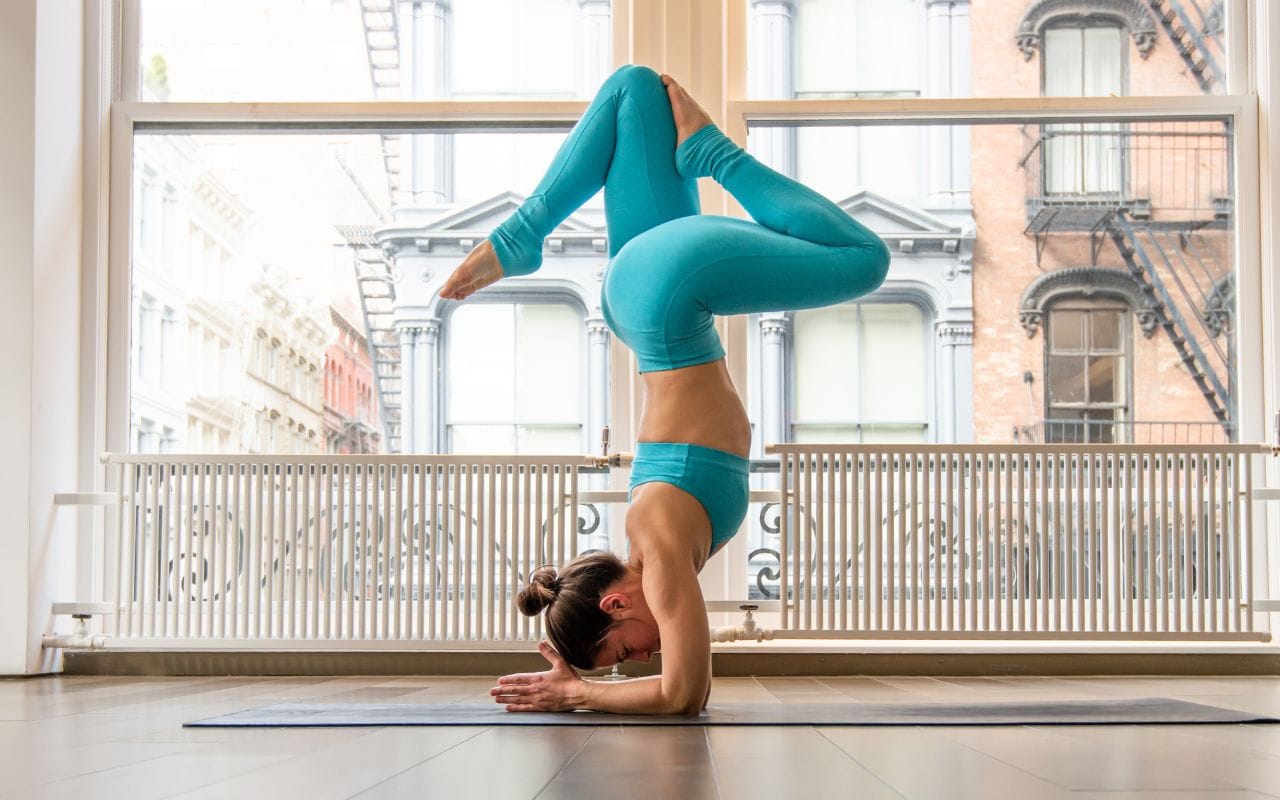 What about self-care? How do you fill up your own cup?
The greatest form of self-care is self-love. Learning how to not betray yourself and cultivating a strong intuition. On a lighter note: travel. I love going back home to Europe and exploring corners of the world I've never seen. Connecting with locals, eating their food, hearing their stories is such a gift. I also love getting facials and massages to help release stored stress in my body. And beach walks with my dogs.
What are your plans going forward?
At the moment, I'm taking a short break from teaching to reconnect to my own practice and become a student again. I've taught over 300 hours in the last three years, in addition to my full-time job, and somewhere along the way I forgot what it was like to just be a student…which is the reason I fell in love with this practice to begin with!
Favourite yoga pose and why?
Forearm scorpion pose. I've been in love with it from the moment I started my yoga practice. Can't explain it. I just fell in love. It's the feeling I get when I'm in it that keeps me coming back for more.
If you could take a class as a student with any teacher from anywhere and from any period of time (now or in the distant past) who would it be with and why?
A back-bending workshop with Janice Liou. Her classes changed my practice and opened doors I didn't realise existed. I miss her classes.
Favourite quote: 
"Changing your external factors won't change your internal struggles. The work must come from within."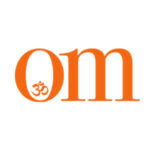 First published in November 2009, OM Yoga magazine has become the most popular yoga title in the UK. Available from all major supermarkets, independents and newsstands across the UK. Also available on all digital platforms.