Beautiful things for beautiful people
Yogi Bare Teddy Tropical Lightweight Travel Yoga Mat
The Yogi Bare Teddy Tropical Lightweight Travel Yoga Mat is the perfect travel and outdoor companion for your practice. At 1.5kg it's lightweight enough to pack away, and as small as a jumper, so you can take it wherever you go (travel restrictions permitting!). The neat microfibre surface also means the sweatier you get, the grippier it becomes…ideal for hot yogaholidays! Machine washable and 100% vegan.
£49.95
cuckooland.com
Yoga Sutras Colouring Books
Unwind your mind and embed the ancient wisdom of Patanjali's Yoga Sutras with these beautiful books from Rebecca Polack, a yoga student and teacher with 35 years of practice behind her. Much like a meditative exercise, colouring can relax the brain, encourage present-moment awareness, as well as soothe the nervous system and ease anxiety. This four-volume series is based on the four chapters of the Sutras: the Samadhi Pada; the Sadhana Pada; the Vibhuti Pada; and the Kaivalya Pada. Although each is a self-contained book capable of standing alone in its own right, each one is designed to be an integral part of the series that covers all four chapters of the Sutras. Available on Amazon.
Sophie Allport Bees Hammam Beach Towel
These hammam towels can be used in multiple ways, including as a soft towel, a scarf, blanket, using for a family picnic, taking to the beach — or even as a yoga mat. This bees design features a range of buzzing bees on a yellow background with a spotted reverse. Part of the Bee Collection. 100% cotton. Dimensions 100cm x 180cm. Machine washable.
An incredibly soft base layer with 360° stretch for comfort and full range of movement. Designed with as few seams as possible for a chafe-free fit and jacquard textured panels to allow air flow and increased breathability. This top has thumb holes and a half stand collar to keep you warm pre-workout and a quarter zip with zip guard so you can drop heat easily.
Self Love Definition Print
Self-Love definition wall art print with black text on a white background. All prints by Pixy Paper are made using state-of-the-art digital giclée printers and are eco-friendly; they contain no plastic, are made using water based inks and sustainably sourced paper. With a vibrant and clean design, these prints will last a lifetime — just like endless self-love!
New, easy yoga pants from BAM, the bamboo clothing specialists. Super soft, super stretchy and very lightweight with a comfortingly deep waistband. Yoga clothing never felt so good…everything you need to enjoy your practice to the full. 
Yin + Yang Aromatherapy Candles
Tyler Aromatherapy, an independent wellbeing company in the Wye Valley, has created a new range of aromatherapy soy candles, inspired by the grounding and light aura that fills you during a yoga session. Find balance with its Yin + Yang essential oil candles: Yin is slow, calm and peaceful, a dreamy blend of lavender, sandalwood, jasmine and cypress essential oils. Yang is the energetic, fast and ambitious, a truly motivating blend of juniper, rosemary, orange and cedarwood essential oils. Namaste.
Bring a mindful moment to your day with this gratitude journal. With Over 160 daily gratitude pages, dedicated space for your positive affirmations, and a mini vision board, this journal is the perfect way to introduce mindfulness into your life. Note down morning thoughts when you wake up, and take time to reflect on the day just before bed. There's also a dedicated space to write down something you're grateful for every day.
£15
aimstudio.co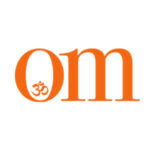 First published in November 2009, OM Yoga magazine has become the most popular yoga title in the UK. Available from all major supermarkets, independents and newsstands across the UK. Also available on all digital platforms.