You Can Flourish: A Wellness Workbook to Help You Thrive and Feel Your Best
£12.99
VIE Books/Summersdale
With practical exercises and journal prompts, this book by positive psychology practitioner Cheryl Rickman, will help readers explore ways to build positive emotions and develop positive thinking whilst allowing, expressing and learning from negative emotions and thinking. With chapters on navigating your thoughts, feelings and actions, plus a handy planner to plot positive daily activities, You Can Flourish will boost your wellbeing and help you make changes that stick so you can thrive and grow.
Finding A Way: Taking The Impossible And Making It Possible
Siri Lindley
$27
Post Hill Press
Siri Lindley's new book is a life-giving guide for people who are feeling stuck between the life they want to live and the life that they're living now. Based on her own experiences conquering anxiety, OCD and depression, she shares strategies that have turned her life around and explains how to find the gift in every struggle. This book shows you how to rewrite the stories in life that you are living and how to re-narrate those stories to bring out the best in you.
Human Design: The Revolutionary System That Shows You Who You Came Here to Be
Jenna Zoe
£14.99
Hay House
Your soul came here with a plan to live a spectacular life. Human Design is the roadmap on how to live yours. In this book, the author reveals your power and potential in simple steps and shows you how to utilise results to create an incredible life. Drawing inspiration from different schools of wisdom, including the chakras, iChing and astrology, this is a system based on our time and date of birth, illustrated as a unique chart that reveals our opportunities, challenges, personality, strengths, and more. Live your best life!
The A-Z of Positivity: How to Feel Happier Every Day
Anna Barnes
£8.99
VIE Books/ Sumersdale
Whether you choose to try laughter therapy, take a digital detox or tap into the power of nature, The A-Z of Positivity will help your inner optimist thrive, and show you how to bring more positivity into every day. Within these pages, you will find an A–Z of simple tips to help you boost positive thinking; a raft of calming affirmations and wise words to inspire you; plus activity ideas and fill-in sections to start you on your journey. With ideas to nourish mind, body and spirit, this book will help you achieve a more balanced attitude to life and be positively you.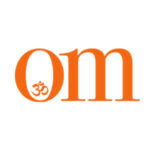 First published in November 2009, OM Yoga magazine has become the most popular yoga title in the UK. Available from all major supermarkets, independents and newsstands across the UK. Also available on all digital platforms.