108 Awesome Yoga Poses For Kids
Lauren and Brian Chaitoff
£16.99
Page Street
In this book, aimed at ages 3 to 14, explore playful yoga positions that will show you how moving your body can be fun! Let your imagination soar as you become a bouncing frog or a magical mermaid with some simple stretches. Plus, learn how to slow your breathing and calm down when you're mad or sad with some easy breathing exercises. Creators Lauren & Brian Chaitoff are the founders of Yogi Beans, a novel yoga curriculum started in 2007 that's taught at various schools, yoga studios and other venues.
Feel-Good Gardening: The Natural Way To Happiness, Health And Healing
Clare Stares
£12.99
Vie Books
A beautiful and practical book that explores the many ways gardening can soothe mind, body and soul. Featuring simple tips, practical advice and inspiring ideas, this book will help you discover how to reap the mental, physical and spiritual benefits to be found in nature. With valuable information, actionable tips, creative project ideas and feel[1]good gardening facts, it will help you discover the all-round health benefits that can come while honing your green fingers.
Enchanted Foraging: Wildcrafting For Herbal Remedies, Rituals And A Magical Life
Ebony Gheorghe
£18.99
Runnning Press
An illustrated guide to discovering nature's practical magic through foraging and wildcrafting. Written by Oxfordshire-based author Ebony Gheorghe, it celebrates the virtues of the natural world and the spiritual awakening that awaits when we open our hearts to the wisdom of the outdoors. Featuring tips on foraging safely and sustainably, recipes for wild-foraged teas, balms, and more, and wildcrafts for seasonal rituals, it's an essential guide to reclaiming our ancestral ties to and embracing the natural magic of the uncultivated world.
My Emotions and Me: A Graphic Novel to Help You Understand Your Feelings
Art-mella
£12.99
VIE Books
A stunning and playful graphic novel exploring emotions and how to cope with them, for everyone from 7 to 107! Drawing on extensive research into how our brains process emotions, My Emotions and Me is an engaging and entertaining introduction to understanding and managing feelings that will help readers to find the messages behind their moods and offer simple tips to feel better in times of need. A brilliant tool for both children and adults alike.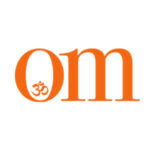 First published in November 2009, OM Yoga magazine has become the most popular yoga title in the UK. Available from all major supermarkets, independents and newsstands across the UK. Also available on all digital platforms.