Adaptive Yoga: Designed For A Variety Of Bodies & Conditions
£31
Human Kinetics
This detailed yet accessibly written book is ideal for yoga teachers, physical therapists, and other qualified healthcare professionals who work with adults with chronic conditions or disabilities. Also a suitable go-to guide and reference for individuals with conditions or disabilities. An excellent new contribution to the field of yoga therapy, this book highlights safe and effective practices to foster healing, health and wellbeing for all.
Yoga for Runners
Christine Felstead
£21.99
Human Kinetics
This book will show you how to incorporate yoga and breathing techniques into your workouts, help you eliminate chronic aches and pains, and keep you running stronger and longer. Each of the featured yoga poses was exclusively selected for runners and is described in detail to ensure correct execution and improve strength, mobility, and flexibility. Also features breathing and mindfulness techniques.
Healing Is The New High: A Guide To Overcoming Emotional Turmoil And Finding Freedom
Vex King
£12.99
Hay House
An experiential guide on unlocking inner healing using yogic principles and unique practices. This soul-soothing book encourages and motivates readers to discover and realise new freedoms and confidence through 13 practices and supporting guidance. You don't need a yoga retreat to find yourself: this book will help you find the most truthful, sustainable high there is — the high of inner healing.
The Stories Behind The Poses: The Indian Mythology That Inspired 50 Yoga Postures
Dr Raj Balkaran
£20
Leaping Hare Press
Discover the traditional stories and wisdom behind your favourite yoga poses in this stunning book of Indian mythology
for yogis of all levels. Join Dr Raj Balkaran and explore the unforgettable tales behind poses such as Virabhadrasana (warrior pose), Garudasana (eagle pose) and many others. Learn more about the roots of this ancient practice and how you can use its teachings to better appreciate and respect yoga's origins.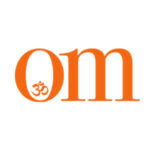 First published in November 2009, OM Yoga magazine has become the most popular yoga title in the UK. Available from all major supermarkets, independents and newsstands across the UK. Also available on all digital platforms.