Supporting Yoga Students With Common Injuries And Conditions: A Handbook For Teachers And Trainees
£19.99
Singing Dragon
Essential reading for all yoga teachers. This handbook guides yoga teachers and trainees in how to approach teaching students with common injuries and health conditions safely, confidently, and in a manner that empowers students. Dr Andrew McGonigle combines his medical background with extensive knowledge of yoga to address common injuries in detail with an in-depth review of anatomy. The book describes the psychology of pain and injury with reference to the latest research on pain and biomechanics. It also provides advice and tips on how to modify yoga techniques to suit the needs of students with injuries. Detailed illustrations throughout the book provide a visual guide to support understanding. This book is part of the series 'Yoga Teaching Guides', which provides expert information on essential topics as well as ideas for creative teaching.
The Naked Yoga Effect: From Cancer Survivor To World Class Naked Yoga Teacher
Doria Gani
Aurora Metro
£15.99
Doria Gani is a naked yoga teacher and body positivity ambassador. She started yoga in 2010 as a form of rehabilitation after fighting cervical cancer — this is her frank and moving story. In this book, Gani offers a pathway for readers to step out of their own comfort zone; to give them the courage to feel safe in their own skin and to be responsible for the health of their own body. The author believes that naked yoga can bring with it a confidence, lightness and energy in the body that will transform all aspects of day-to-day life. With stunning photography, exercises, guidance and advice on all the benefits that naked yoga brings, this book encourages readers to reconnect with their own bodies to discover the freedom that naked yoga offers.
The Seven Types Of Spirit Guides: How To Connect And Communicate With Your Cosmic Helpers
Yamile Yemoonyah
Hay House
£12.99
This book is an exploration of the cosmic helpers who have communicated with everyday people across cultures and throughout human history. Spirit guides take many forms, and in this book, medium Yamile Yemoonyah introduces the reader to each of the seven types: angels, ancestors, nature spirits, star beings, animal spirits, ascended masters and deities. The author explores the specific characteristics, gifts and challenges that each type of guide brings. Starting with an extensive quiz to help you discover which types of spirit guide (or guides) you have, you will then learn how to communicate with them to work through any of life's challenges — be it healing ancestral trauma, growing your business soulfully or living a life with purpose.
Sitting Comfortably: Preparing The Mind For Peaceful Meditation
Swami Saradananda
Watkins
£15.99
Whilst there are many books on meditation, Sitting Comfortably is the first book to actually address the physical aspects of the practice, presenting a range of physical and mental techniques to get you into an optimum meditative state. Swami Saradananda is a renowned and international yoga and meditation teacher with over 40 years of experience. In her classes, she often observes that — despite a desire to meditate — many of her students are deterred by physical or mental impediments. They are frequently distracted, feel that sitting is painful, are caught up in their limitation of time, or simply lack the ability to maintain self-discipline. In Sitting Comfortably, the author shows readers how to overcome these difficulties with postures to alleviate discomfort.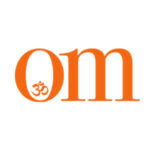 First published in November 2009, OM Yoga magazine has become the most popular yoga title in the UK. Available from all major supermarkets, independents and newsstands across the UK. Also available on all digital platforms.