Dealer To Healer: A Modern Tale Of A F*cked Up Male
£12
Self-Published
Do you want to find the inspiration to make positive changes or overcome obstacles? Are you looking for some quirky inspiration? Then keep reading! Fast-paced, hard-hitting and throughly enlightening, Liam Browne's memoir catapults us to places we never knew existed in a fun and frantic way. You will cry and laugh interchangeably as he bears his soul, opening the box on the trauma and sadness most of us keep hidden deep inside. When the author visits a psychic, he is given a message from his dead grandmother, which propels him towards a meeting with the shamanic plant medicine ayahuasca in the Amazon. Is he ready to heal the scars of his past?
Signposts Of The Spiritual Journey: A Practical Road Map To A Meaningful Life
John Siddique
£12.99
Watkins Publishing
You don't have to journey alone — let this book guide you on your spiritual path. This road map to the spiritual journey will help you keep going from stage to stage, explaining the signposts that show that you're progressing, as well as the blockages and traps that hold you back from a life of presence, meaning and enlightenment. A warm and witty template for exploring consciousness and spirituality for all you soul seekers.
The Greatest Self-Help Book: Is The One Written By You
Vex King and Kaushal
£20
Bluebird
Filled with practical activities, exercises and visual prompts for readers to practice meaningful mindfulness, this is a fully[1]illustrated, interactive journal that will help readers shift negative mindsets and cultivate positive thought patterns as well as carve out time for self-love and gratitude. This journal is the foundation to finding your voice and embarking on your journey towards self-love. No matter the time or place, think of it as a companion to help you build a healthier relationship with yourself and others.
Nourishing Vegan Every Day: Simple Plant-Based Recipes Filled With Colour And Flavour
Amy Lanza
£19.99
Fair Winds Press
This beautiful book embraces the flow of everyday life by providing recipes that range from nutritious to decadent, recognising the important balance between time and taste buds. Whether you're in need of a quick and energising breakfast or a show[1]stopping meal to impress your guests, this book by Amy Lanza of Nourishing Amy will provide inspiration for delectable plant-based meals. Check it out in our recipes section this month.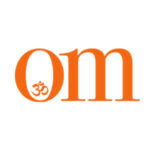 First published in November 2009, OM Yoga magazine has become the most popular yoga title in the UK. Available from all major supermarkets, independents and newsstands across the UK. Also available on all digital platforms.