Yoga Off The Mat
Lucy Makin (illustrated by Lesley Foden)
Book Printing UK
£15
Does exactly what it says on the tin. Perfect for anyone who would like to have a go at yoga, but finds that life's demands often get in the way. No need for an expensive mat, soothing music or candles, this book can be taken everywhere with you and can be used in any everyday situation, by anyone. The author has created a wonderfully-simple guide to incorporate all the important aspects of yoga into ordinary life. Packed with lots of illustrated poses and postures, Yoga Off The Mat is an easy-to-follow reference book that aims to help all of us improve flexibility and health as we go through our daily routines.
Conscious Leadership Reveal Your Potential. Inspire Excellence.
Neil Seligman
}White Lion Publishing
£9.99
Step into your future with clarity and confidence whilst becoming more centred, calm and resilient at work. Includes practical tools to help increase your leadership capacities from one of the UK's leading experts in mindfulness, corporate wellbeing and professional resilience. Explore sections on self-knowledge, self-management, self-maintenance, self-development and self-realisation giving you the tools and tips to help lead yourself and others with purpose and passion. Accessible and user-friendly, offering bite-sized learning segments and illustrated to bring the concepts to life and enliven the reader experience.
Buddha's Office The Ancient Art Of Waking Up While Working Well
Dan Zigmond
Running Press
£12.99
Can enlightenment be found in the workplace? This inspirational book by Zen priest and data scientist Dan Zigmond shows how the wisdom of Buddha can apply to our modern lives, exploring how Buddha's guidance can help us navigate the perils of work life. Simple instructions to apply to your everyday life in the office or on the job, you'll find yourself waking up while working well. It's time to wake up and start working in a more enlightened way. One that is right for you, right for your health, right for your sanity, and right for the world. Easy to read and accessible to all.
Meta Human
Deepak Chopra
Penguin
£12.99
In this book, drawing from the latest on brain research, artificial intelligence and biometrics, renowned author Deepak Chopra unfolds a path that allows all of us to realise our infinite potential. A 31-day guide to help us 'wake up' in order to shed the constraints that underlie anxiety, tension and ego-driven demands, and enable us to live a life filled with love and self-worth. For over 30 years, Chopra has been one of the world's pioneers in personal transformation, writing numerous New York Times bestsellers along the way. Meta Human is a highly readable book that will stimulate readers' curiosity about human existence and the nature of reality.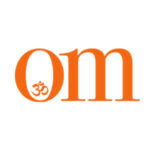 First published in November 2009, OM Yoga magazine has become the most popular yoga title in the UK. Available from all major supermarkets, independents and newsstands across the UK. Also available on all digital platforms.