Tips from the experts to help you grow the yoga business of your dreams
Does a YTT set you up for running your own business?
I never thought I would have my own little business. In fact, I never thought I would achieve my dream of being a yoga teacher due to a lifelong phobia of public speaking. The transition from office job to teaching yoga was a huge challenge! My YTT was brilliant and we did cover a little of the business side, but what it didn't prepare me for was the amount of work that goes on behind the scenes…the admin, marketing, emails, website and social media feels like a never ending to-do list some days!
A friend once said to me: "If a door doesn't open, it's not your door". So I don't follow a business plan, I just flow to wherever the  universe takes me. For instance, I did pregnancy yoga training when my daughter was pregnant so that she could continue to come to my classes and baby yoga training so I could share my love of yoga with my baby granddaughter. This would never have been in a business plan…but they are now my favourite and most popular classes!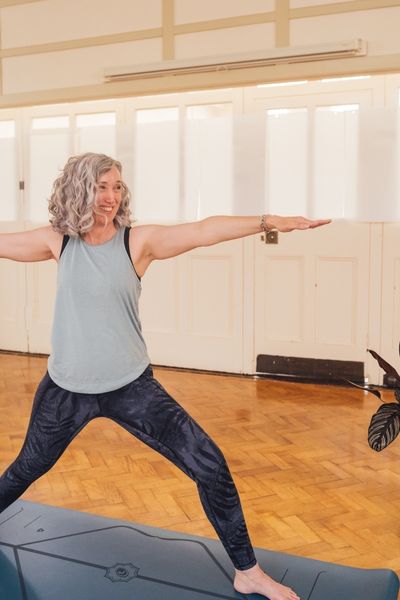 I often ask students what type of classes, workshops or retreats they'd like. I feel uncomfortable 'selling' but it feels easier when it's the result of a conversation and something I know my students would like to do. Canva is great software for making ads. I always use photos I have taken or photos of me, try to write in my own voice and let my humour come through, that way the marketing feels more natural to me and less 'salesy'.
I use Facebook and Instagram but rarely plan content. I just post about things we have talked about or practiced in class. I love interacting with clients and other teachers; sometimes a comment can open a whole conversation. I don't follow trends on social media and some weeks I don't post at all — at times, I'm burying my head in the sand at the thought of making an Instagram reel! My advice would be not to overthink it. Your posts don't have to be perfect, picturesque or eloquent. I suppose that mirrors my classes really!
I teach the type of yoga that I've always loved to do. I'm a great believer in adapting the pose to suit your body. Yoga doesn't have to be perfect, it just needs to feel good. I like to add humour to classes and you will more likely find me quoting Dolly Parton than Patanjali.
I suppose my niche is women's yoga: pregnancy, postnatal and menopause. There is something special about connections made in a women's circle. Some of my pregnancy yoga students have made amazing friendships in class which have continued into baby yoga and beyond, and I'm extremely proud of that.
The hardest lesson was finding out that teaching yoga and practicing yoga are two completely different things. Teaching can be physically and mentally challenging and consequently I find my personal practice is nowhere near as regular as it was. My body receives from some of the physical benefits when I teach a class, but I really miss the spiritual benefits of my own regular practice. Luckily, I have some lovely yoga teacher friends and I know I can join their classes at those times when I need to simply be a yogi enjoying being led in a really great practice.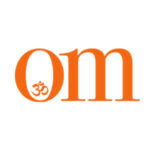 First published in November 2009, OM Yoga magazine has become the most popular yoga title in the UK. Available from all major supermarkets, independents and newsstands across the UK. Also available on all digital platforms.