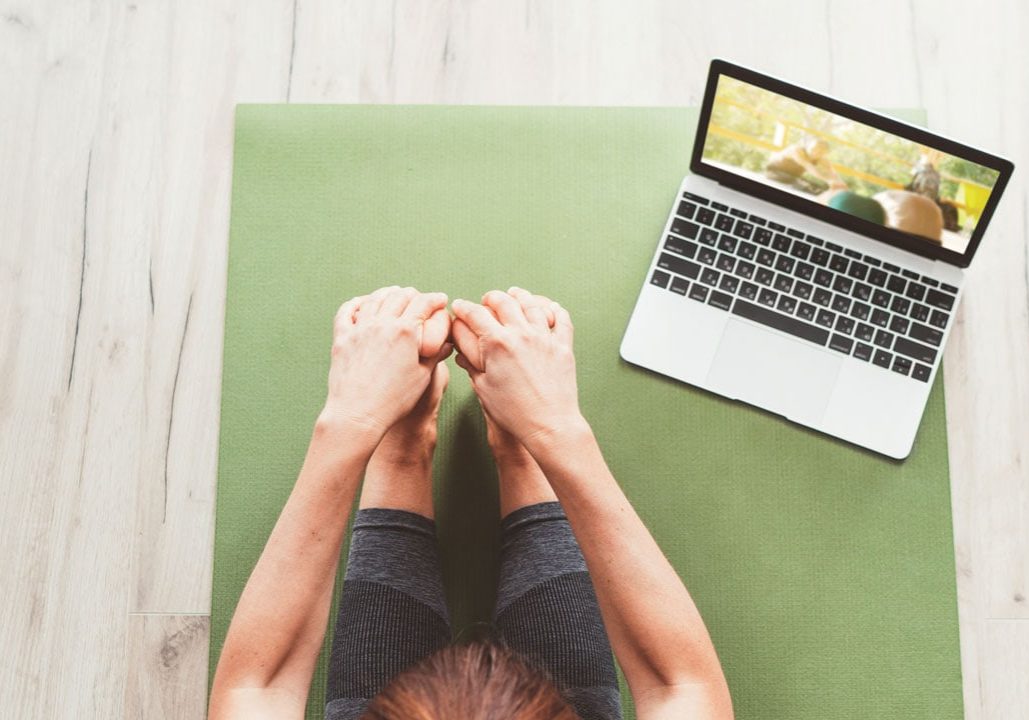 Make money as a yoga instructor online
Pandemic-proof your yoga business online with these essential tips from PJ Taei, founder and president of Uscreen
Practicing yoga is all about the flow, whilst teaching it also requires a cash flow. When you choose to make your living teaching yoga, it's a big leap to take and can be precarious, as we've seen during the Covid-19 era. You'll have seen lots of your favourite yogis running online classes — from their front room or from an exotic beachfront. How are they sustaining their lifestyle? There are lots of ways to make yoga a sustainable business model, and we're going to look at the popular ones like:
Launch an online yoga membership site
Launch your online yoga app
Start a yoga challenge
Sell yoga merchandise
Start a paid newsletter
Is that the sound of a business plan falling into place? Here's how you can start to make it happen.
1, Launch an online yoga membership site
If you know your online yoga market, you'll know how popular membership sites are for yoga teachers. Chances are, you're probably a member of a site or at least a subscriber to some yoga YouTube channels yourself. Don't they feel like you're getting one-on-one private lessons? The online fitness market is set to grow by 33% between 2020 and 2027, with a market value of nearly $60 billion.
People clearly are interested in the online exercise model and there is plenty of room for you in that space.
Yoga is a diverse practice, with so many styles — Bikram, Hatha, Vinyasa, Yin — and plenty more, meaning that you can create your online yoga community that's unique to you, your learning, and your meditations.
There are yoga teachers who are absolutely slaying it out there with their own website with membership access, so let's take a look at an example.
Over at Find What Feels Good, YouTube sensation Adriene Mishler has created a deep and broad collection of yoga classes. You can find curated lists of yoga videos based around your experience level and the types of classes you want to take.
The community has more than 20,000 paying members who can access the content they enjoy from around the world, right from their living room.
Our research at Uscreen says that yoga teachers with their own online studio on our platform have an average income of US$4,200 (roughly £3,000) per month.
When you calculate how many booked-out in-person group classes you'd need to run or private clients you'd need to see to make the same income, it becomes a very appealing business prospect.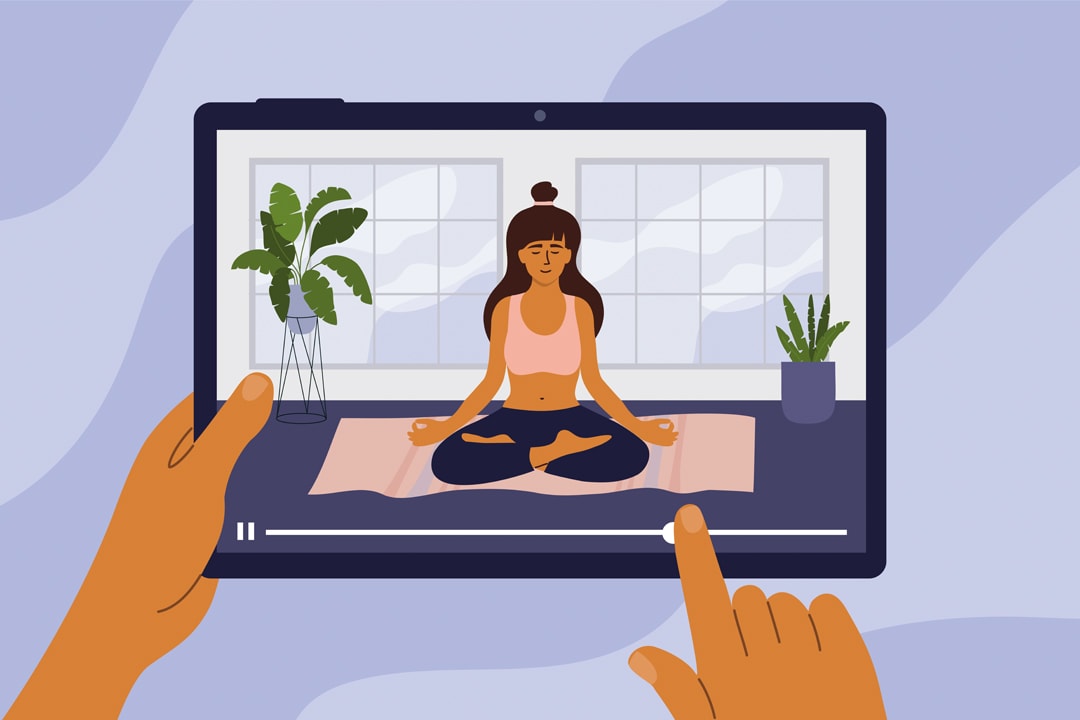 2. Launch your online yoga app
With mobile phones becoming the centre of our lives, it makes sense to move your yoga business there, too. The growth in mobile apps in the last 12 months has been huge, with 37.8 billion downloaded in Q2 of 2020.
What does this mean for your yoga-based app? According to Simform, people spend 27 minutes a week using health and wellness apps, which is 2.2% of their time on their phone.
What's more, the use of home fitness apps grew by 46% in the first months of 2020, with 60% of Americans considering replacing their gym workout with their new at-home routine.
Fitness and wellness mobile apps are clearly booming and have long-term potential to host your yoga studio on one. Along with making money online through their online yoga studio, Bulldog Yoga has an app that will let your clients take their yoga and meditations anywhere. Their classes are made fully accessible, no matter the device you have, whether it's an iPhone, Android phone, Apple TV, Roku, or Fire TV.
Currently, its Android app has more than 1,000 downloads on Play Store, and although you don't see the downloads in Apple's App Store, we can be sure it's popular over there, too.
With their pricing set at $12.99/month, it's easy to see how this can become a solid revenue stream to add to your membership or to do as a standalone project.
3. Start a yoga challenge
Everyone loves a good challenge in the fitness and wellness world, and they're super popular in the yoga industry. On Instagram alone, if you search for the hashtag #yogachallenge, you'll see it's been used nearly 9 million times.
Although it may not be exactly true that it takes 21 days to form a new habit, it's a good starting point when considering doing a month-long yoga challenge of your own. Your challenge can be on any topic, such as mindfulness, meditation, or improving health, as long as it'll engage people and make them want to come back for more.
You can create a free area of your membership site to live stream your yoga challenge class or upload your challenge videos, or host them over on your YouTube channel.
This method won't make money teaching yoga in and of itself; think of it like a loss leader where you create value for people who will want to continue to engage with your classes after the challenge has finished.
Gathering an email list from your challenge participants will give you a solid base to start an email marketing campaign or start a newsletter, which we'll look at in more detail in a moment.
Yoga With Adriene is a thriving online community from Adriene Mishler with nearly 10 million subscribers on YouTube, plus the Find What Feels Good membership site mentioned previously. Her Yoga Camp Challenge orientation video has received over 2 million views, and even the last video in the course has over 380,000 views.
Although we can't be sure how many people signed up for her membership classes following the camp, you can be sure the level of engagement she received would have boosted her online business.
The way she ran her challenge, with a video a day, progressing through concepts and difficulties, is a strong template to follow. To create videos for your yoga challenge, you can use an online video editor.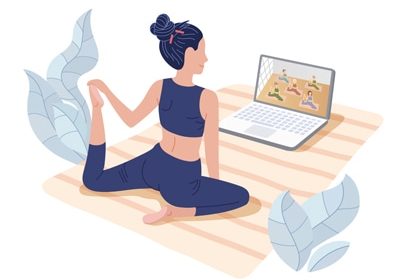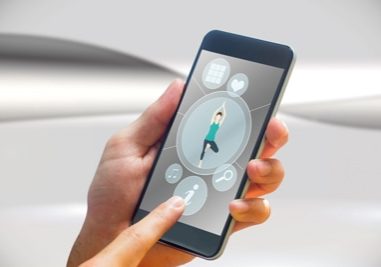 4. Sell yoga merchandise
It's a common business mantra to diversify your income streams, and selling yoga merchandise is a great way to build a passive income.
There are two ways that you can boost your income with merchandise sales: affiliate marketing or dropshipping your own branded merchandise.
Briefly, affiliate marketing lets you harness a social media audience or take advantage of your yoga blogging by recommending your community buy certain products that you receive commission on.
Selling your own branded merchandise means that you can create your own logo and graphics and source a company who will print t-shirts, leggings, headbands, and yoga mats with your designs and ship them to your customers.
Working with your own branding will build a strong sense of community with your members as well as create extra money for your yoga business.
Sarah Beth Yoga is a hugely successful online yogi with a YouTube following of more than 1.3 million, and a popular members' site and app. To capitalise on her huge success in her online yoga practice, she has opted to sell a branded yoga mat.
She's taken care to choose one that's high quality and eco-friendly, to really work with her audience's wants and needs. Using the mat in her videos is a surefire way to get it in front of a huge audience on a regular basis, which is great marketing.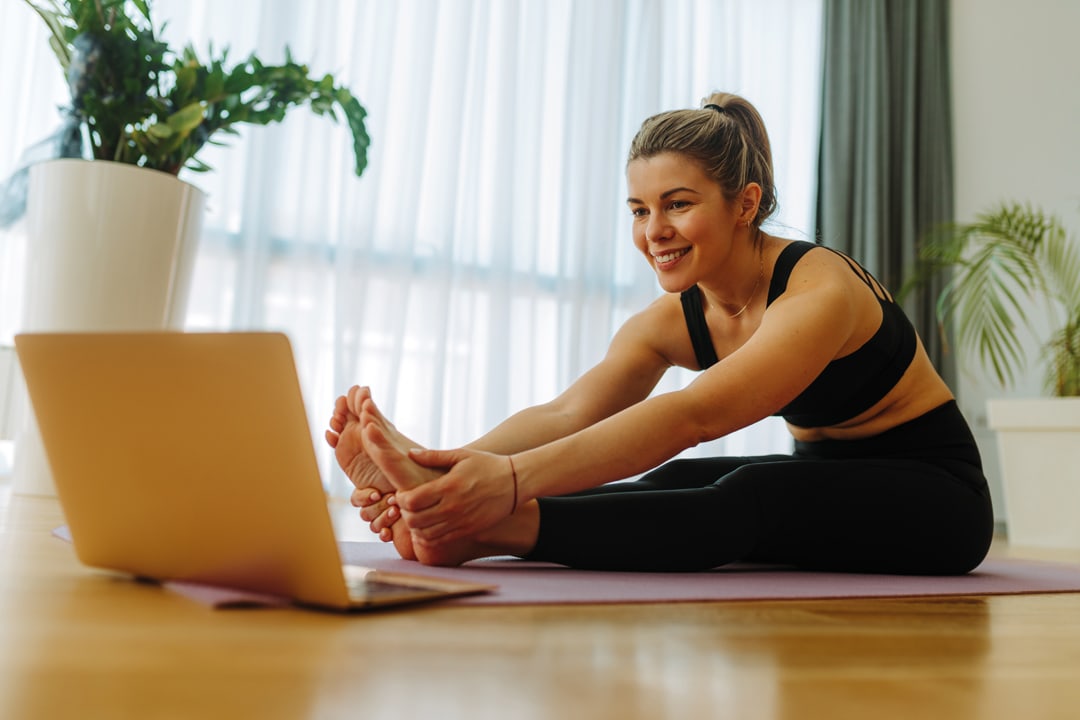 5. Start a paid newsletter
Email marketing has never gone away, and it's a super successful way for companies and brands to communicate with their customers. McKinsey & Company tells us that email is up to 40 times more effective for marketing than using social media, and you probably already understand the power of social media in the yoga community.
How can you make money from email as a full- or part-time yoga instructor? Substack is a tool that'll help you to monetise your email newsletters, allowing your community members to get exclusive news and first access to your yoga blogs and other content.
Take advantage of the community you build with your membership site, app, and social media presence, and encourage them to pay for your insight into yoga practice.
Working a powerful yoga newsletter to build her community and increase her business income is, again, Adriene Mishler. She puts her sign-up form front and centre on the website — it's one of the first things you can do when you head over to her page, Yoga with Adriene.
Her newsletters are a combination of her personal thoughts and include a free yoga video, too.
She also takes the opportunity to promote her events at the bottom, that you could easily replicate with a good presentation slide design tool.
The email offers value to potential members with a free video, along with insight into her ideas about yoga and life. This builds a connection and encourages people to join her site or subscribe to her YouTube channel, increasing her business revenue.
Breathe and go for it
Now breathe. That's our list of five effective ways to make money from home with your yoga practice. Whether you want to take your yoga skills full-time and create an online course for a membership website and app, or are ready to build your social media following and monetise your community, we've given you some solid ideas. Have any of these ideas sparked an interest? Take a deep breath and go for it!
If you're ready to take your yoga business to the next level, you can find support, templates, and a website builder at Uscreen.tv, the leading video monetisation platform enabling creators from all over the world to sell their videos online.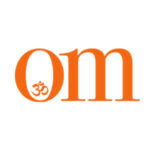 First published in November 2009, OM Yoga magazine has become the most popular yoga title in the UK. Available from all major supermarkets, independents and newsstands across the UK. Also available on all digital platforms.