OM asks Mariya Gancheva, founder of online studio Kundalini Lounge, how she balances a high-stress City job with her passion for yoga teaching
Yoga turned my life around
Like many people these days, I found my life was becoming increasingly demanding. Feeling pressure to perform and achieve, lead a certain lifestyle and look a certain way, I was starting to push away my inner child, my spirit and human creative potential. Even though I was being defined as a 'success' – graduating Valedictorian with two degrees, speaking six languages and becoming one of the youngest executives in the city – I felt lost and empty. My health was spiralling down, my personal life was non-existent, I was feeling ill more than I felt healthy, and I started to get depressed. Having practiced many different types of yoga throughout my life, when I stumbled across Kundalini I found the tools to get back to a happy, fulfilled life. I experienced profound change and feel blessed to have found this powerful quantum technology.
I now teach Kundalini yoga
Kundalini means awareness. When the Kundalini energy is dormant within us, we have limited capacity and perspective. Kundalini yoga is a technology of human consciousness. It teaches us how to be healthy by strengthening our immune and nervous systems. It also calms the mind and develops intuition. It's a yoga that blends movement, breathing, awakening and meditation. It's the fastest way to establish an alignment between mind, body and soul. Historically given only to lines of kings, it has a long lineage for many thousand of years. It's a royal yoga, one that is intended to suit everyday life and does not require us to withdraw from the world.
It's a powerful tool for transformation
This yoga will change your life so profoundly that it's hard to single out any individual benefits. It can shift your entire perception of the world around and within you as well as rebalance your body, giving you the serene glow of vitality. For me, it gives energy, perspective and balance. My job and teaching schedule are very hectic. Practicing this yoga – even when I can only manage short bursts throughout the day – keeps me calm, gives me perspective and centres me as a person. It transformed me. I believe the bottom line is that if you want to change your life and experience your true self, then this is a good journey to go on. Helping people make this connection for themselves is why I started the Kundalini Lounge.
Yoga helps me manage a very busy professional life
Life can get very crowded with schedules, events, social and family affairs and mine is no different. It's easy to get so stressed out that you hardly find time for yourself. Yoga gives me tools to find balance and peace of mind, to take life easy and not take things too deep to my heart. Investment banking can get very aggressive and challenging. Yoga sets my whole body in line, balances my system and boosts my immunity so the day flows naturally peacefully. I feel full of energy. It has also taught me how to remain healthy and vibrant despite frequent travel and numerous meetings and other demands. It is yoga of awareness of your own wellbeing and soul. Yoga has also helped me tremendously with my career, opening up my intuition and creativity, which has manifested in many ways in my life. Success, prosperity and recognition soon follow once your being is aligned with the universe.
Yoga is common in the financial sector
More and more organisations are promoting wellbeing and stress management with yoga and meditation, be it at their own gyms or inviting teachers into the workplace. Busy professionals are actively seeking ways to balance and let off steam. My class is 100% financial professionals who sit all day and have lower back pain and who are stressed with busy schedules or heightened anxiety. Nutrition disorders are also common so there is also a push for more healthy foods and lifestyles.
I wanted to share my experiences
As someone who travels almost every week, works stressful hours in an office and has a busy work-related social life after work, I found it hard to maintain my practice and stay centred and balanced. Yoga is not about going to a class once a week, bending a few times and job done. It is a continuous journey. I could never make it to a studio, or when I could I was so tired that I would seek the solace of my home. I was dreaming of transcending physics and transporting the yoga studio to my living room. While meditating one winter evening six years ago, the idea of a virtual yoga studio came to me. I didn't know where to begin or how to create it, but the desire to share the teachings was so intense that I soon attracted people who helped me build it. Now it is a platform for more than 22,000 people who practice regularly. The website is designed to fit anyone's schedule, no matter how busy you are, with videos ranging from two minutes to two hours. You can also design the pace and focus of your practice, whether you want to get energised or relax, conquer depression or attract prosperity. The majority of the platform is available for free so anyone who has a desire to learn and practice can do so.
I want the site to grow into a complete virtual chill-out lounge
We have recently launched a nutrition and lifestyle section on the site to assist those who want to live a happy, healthy life. It's a vibrant community and I am proud to have seen it grow and change the lives of so many. My hope is that the Kundalini Lounge grows into a virtual chill-out lounge for anyone who wants to relax and let a busy day go. We continue to attract the best teachers and therapists, and I am hoping this will become an all-encompassing Kundalini experience, taking people from yoga to a whole new lifestyle. It will soon include a music room with a variety of playlists to boost your mood, along with our picks for products to enhance your practice, from good books to yoga mats.
My favourite mantra is: travel light, eat light, live light, spread the light, be the light.
I tend to get very intense and overburdened with worries and desire for perfection. This lifetime challenge of mine is learning to let go; to let life flow without controlling it. This mantra reminds me to simply sit back, let go and enjoy the journey. The universe has a plan for every one of us, and we should trust it and be open to receive its message without questioning every single obstacle that is in our way.
Discover the Kundalini Lounge at kunjdalinilounge.com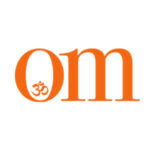 First published in November 2009, OM Yoga magazine has become the most popular yoga title in the UK. Available from all major supermarkets, independents and newsstands across the UK. Also available on all digital platforms.
If You Enjoyed This, Then You May Also Like...