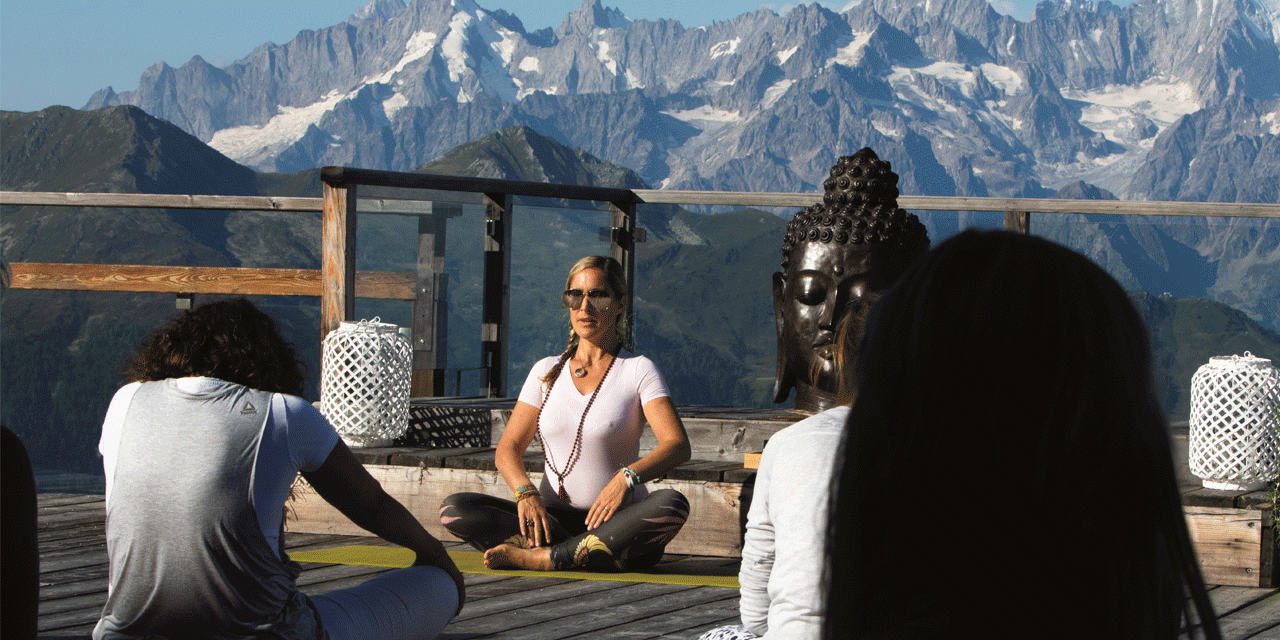 Larah Davis gets inspired at the maiden INSPIRE Yoga Festival held high up in the mountains of Verbier, Switzerland this summer
The Prana is so high up in the mountains around Verbier in Switzerland that you feel you can fly. The air is crystalline. The water rushes cold and clean. And the natural beauty clears stress immediately. And then…. when you dare to believe this is real, the awe-inspiring views take your breath away, before inviting a deepening of the inhalation, as the muscles in the walls of your abdomen relax, your diaphragm expands, and you sense a long, deep exhale naturally working its magic to release the mental and physical tensions from body, heart and mind.
The INSPIRE Yoga Festival launched in August this year. For me, as a yoga teacher, contributing and participating, I experienced an embodiment of yoga as 'oneness' anew. I felt, both teaching and practicing, at one with all of life: with the majestic earth beneath my feet, with the birds flying high and with the rhythm of my own heartbeat that, in the silence, I could hear.
The word 'Inspira' is French for 'Inhale' and just like drinking in the purest, most cleansing water from the tinkling mountain streams, the more sensitive yogis can feel how the pine-fresh alpine air carries the Prana through your nostrils to your Nadis and oxygenates you through your veins, lifting your spirits, nourishing your cells and, literally, invigorating you with a conscious 'alpine high'.
Yet the mountains also ground you, they hold space like ancient grandmothers, enabling your root chakra to release fear and instability and instead, enabling you to feel warmly welcomed into the Verbier spirit, ensure that you feel 'held', safe and able to explore a depth of stillness and presence that can often only be achieved after many days on an immersive retreat.
INSPIRE Yoga Festival was conceived by Verbier locals and owners of Wholeycow Yoga Studio, Kim Taylor and Claire Wardle. Their decades of respective production and international events experience, shared love of the all-year-round mountain lifestyle, plus their heart-felt belief in the power of yoga to uplift and inspire were all key elements motivating them to co-create INSPIRE.
Cleverly created to offer multiple classes over the course of three days, in five different locations throughout the village, the deliciously varied yogic sessions were complemented with carefully considered nutritional options. INSPIRE partnered with select healthy restaurants and cafés to serve especially curated menus so that yogis and guests could feel immediately at home in the Verbier village and gather and connect over hot chai, green juices and, in the evenings on long tables during the communal evening festival feasts, offering haute vegetarian cuisine, using the finest local seasonal produce.
"We wanted INSPIRE to feel like a 'boutique' and personalised experience, but accessible and appealing to yogis of all nationalities and levels," says co-founder Kim Taylor. "We hoped that participants could genuinely experience the joy and empowerment of a true Yoga Kula (community) through getting to know each other personally over the three days, to form meaningful, lasting bonds."
And INSPIRE did just this. It brought the community together in fresh new ways and welcomed international and local festival guests to feel part of this village vibration and to explore the mountain air and experience the natural highs that outdoor mountain yoga enables.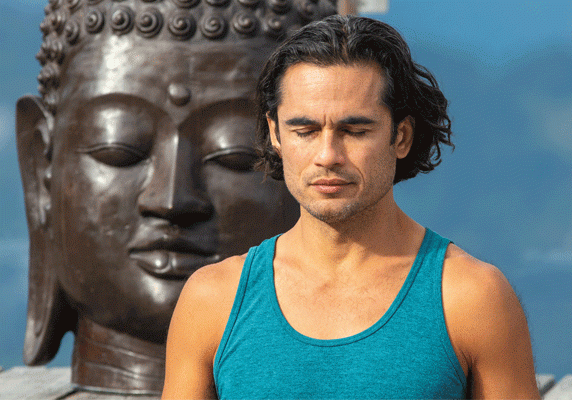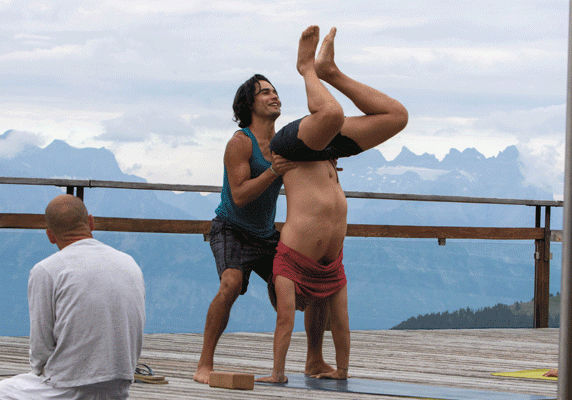 Flawlessly executed, every location had its own Puja, or place of connection and awakening, from the mountaintop 'Le Mouton Noir' deck (one of my favourite places to teach) at 2200 metres, to outdoors on the lawn of the Hotel La Poste, where warrior flows could be done with feet on the grass warmed by the sun. Restorative Yoga, Nidra, meditation and 'internally focused' workshops were in Chalet Orny and the Wholeycow Studio, where the energy of the spaces invited a depth of practice that saw even beginners diving within.
The event was about sowing seeds of consciousness and the potential of yoga to unify, enhance community spirit and to offer opportunities to heal, strengthen and restore.
"Verbier residents and home owners are normally hardcore fitness junkies, hiking and mountain biking in the summer and skiing and snow-boarding in winter," says co-founder Claire Wardle. "We wanted to offer them yoga as a revitalising balance to the adrenalin fuelled sports ethos here, offering both athletes and mountain-loving families the space to explore the many benefits of yoga, physically, emotionally. We also saw in action, yoga's unique ability to cultivate relationships between like-minded souls whose paths may otherwise not cross. It sincerely brought the community together in fresh new ways and welcomed international and national festival guests to feel part of this village vibration."
"What I discovered and quickly realised, is that no matter who you are or whatever sports you enjoy, yoga is a huge benefit both for the mind and the body, regardless of how 'flexible' you are. It offered me the opportunity to reconnect with myself, to calm and rest my mind. And for Verbier itself, it felt like a breath of fresh air: seeing and connecting with festival goers who were wandering around with yoga mats in place of skis brought a smile to my face and a palpable feeling of calm and serenity to the village." Pete Essex, 20, Verbier resident and (no longer virgin) yogi
Whilst hiking, biking and 'Trotinette' (non-motorised scootering) down the flower-flanked mountain paths were also on the cards (alongside massage, spiritual intuitive counselling and other complementary therapies) the diverse gifts and teaching styles of the talented international team offered a thorough journey through all eight limbs of yoga that is rarely encountered elsewhere.
In the gardens of Hotel la Poste (where teas and juices were served throughout) INSPIRE opened with vital joint care techniques to create 'Stability for Mobility' as the opening class, facilitated by international yoga teacher trainer, former World Cup skier and multilevel bodyworker and long-time Verbier resident, Lisa Nicholas. More dynamic and active asana-based options included Sunrise Hatha Yoga, Flow and Glow Mindful Vinyasa classes (which left me glowing as the teacher!). These were balanced with mindfulness techniques, Therapeutic Yoga, Restorative Yoga and Yoga Nidras, Mantras and Kirtans. Workshops on the subtle bodies, including the Koshas and Vayus, were coupled with sound baths and even forest bathing amidst the pines at the tree line.
The ambience was celebratory and enabled yoga to feel accessible to all – with even beginners seeing their feet touch the sky at the Handstand and Inversion Party led by one of the UK's best-loved teachers, Jeff Phenix (also at 2200 metres!). And for the athletes a new 'peak performance paradigm' invited an integral and holistic approach, with NLP- (neuro-linguistic programming) and EFTinfused (emotional freedom technique) mind strategies from physiotherapist, yoga/Pilates teacher and coach Penney Megginson and ex-Verbier freeride world champion, Emilien Badoux, who teaches mindfulness, breathwork and yogic techniques to younger elite freeride professionals.
The festival culminated in a Bhajan where we sang together and set our collective intentions for greater peace, health and happiness for our world. We could feel this Sankalpa radiating from our mandala of teachers, yogis, and support team: looking forward already to the reunion, at the next instalment of INSPIRE in the summer of 2020 – and to some mountain-top workshops and retreats in between!
Larah Davis is a certified yoga therapist, yoga teacher, holistic life coach, NLP master and integrative quantum medicine practitioner (ibizaretreats.com)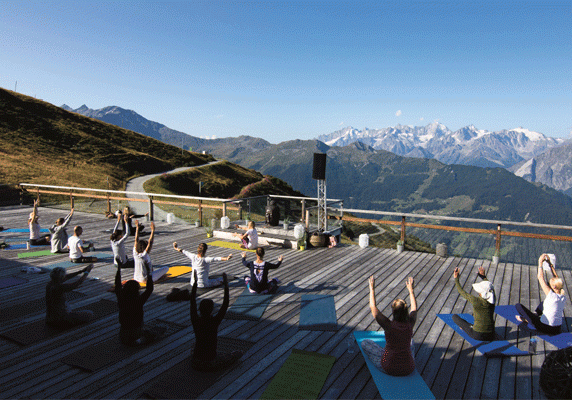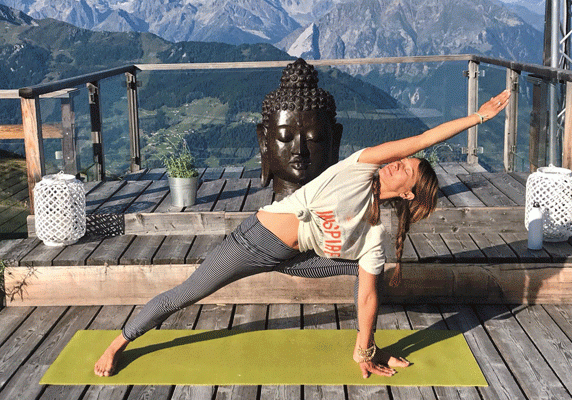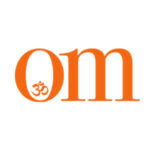 First published in November 2009, OM Yoga magazine has become the most popular yoga title in the UK. Available from all major supermarkets, independents and newsstands across the UK. Also available on all digital platforms.