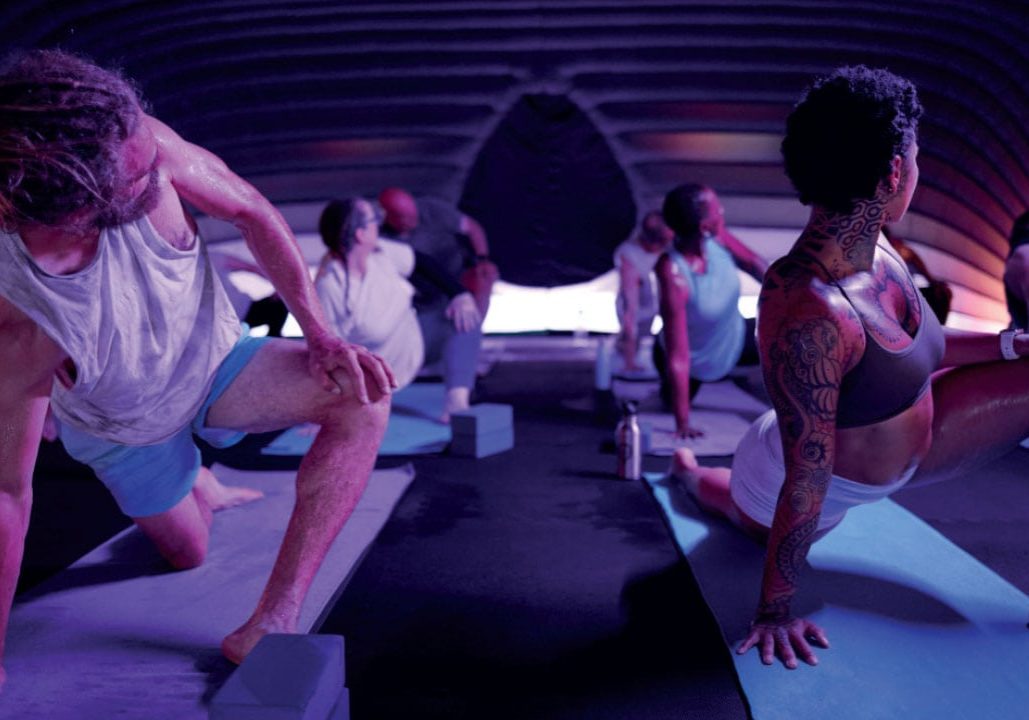 Hotpod Yoga brings benefits of hot yoga to more people than ever before
With over 50 studios scattered across the UK and nearly 20,000 customers practicing each month, Hotpod Yoga is Europe's largest yoga brand – but you wouldn't know it when you first walk into Hotpod Yoga Leicester. The owner of the franchise studio, Natasha Mina Queirós (better known as Tash) knows most of her customers by name; she warmly greets everyone who walks into her light and airy studio. The innovative pod at the centre of the space shows the studio's ties to the well-established hot yoga brand, but at its heart, Hotpod Yoga Leicester is a welcoming local hot yoga studio, and a vibrant part of the surrounding community.
A former kickboxer and lawyer, Tash was never particularly interested in yoga, let alone hot yoga. "I'd heard of the benefits of hot yoga," she recalls, "but never felt attracted to it as a kickboxer. I really had a misconstrued idea about it."
When Hotpod Yoga Leicester opened in 2017 under its original ownership, Tash worked up the courage to try a class, and was immediately hooked. Besides the physical benefits of the practice, which helped to alleviate the many aches, pains and injuries resulting from two decades of kickboxing and years of desk work, she noticed a less tangible effect as well. "I felt so revived," she remembers. "I noticed that the days I didn't practice in the pod just weren't as good as the days that I did have some time in the pod."
By 2018, Tash had qualified as a yoga teacher and started teaching at Hotpod Yoga Leicester, and by the summer of 2020, she'd bought the studio, right in the midst of the Covid-19 pandemic. Since then, she has reopened the studio and made it her mission to bring the benefits of hot yoga to as many people as possible, describing her studio as the "front door to yoga" in the Leicester community. "Hotpod Yoga breaks down the barriers that would usually stop people like me from ever stepping onto the mat," she says. "It was a no-brainer for me to become a franchisee and continue to hold a space like this in my hometown."
Physical benefits of hot yoga
The benefits of hot yoga range from physical, to mental, to emotional. Yoga is a fairly low intensity form of exercise, but the introduction of heat raises the body temperature and provides a cardiovascular challenge, meaning it's a better workout for the heart and lungs, while the many physical postures of yoga build muscles strength throughout the entire body.
Hot yoga also helps to improve flexibility – great news for anyone looking to finally touch their toes – and improves range of motion in the muscles and joints, which can be of particular benefit to athletes looking to prevent injury. Tash has provided hot yoga classes for many sports teams including Leicester's professional basketball team, the Leicester Riders. Following the introduction of Hotpod Yoga as part of their training, the Riders made it through their competitive season with the fewest injuries ever, and went on to win the British Basketball League Championships.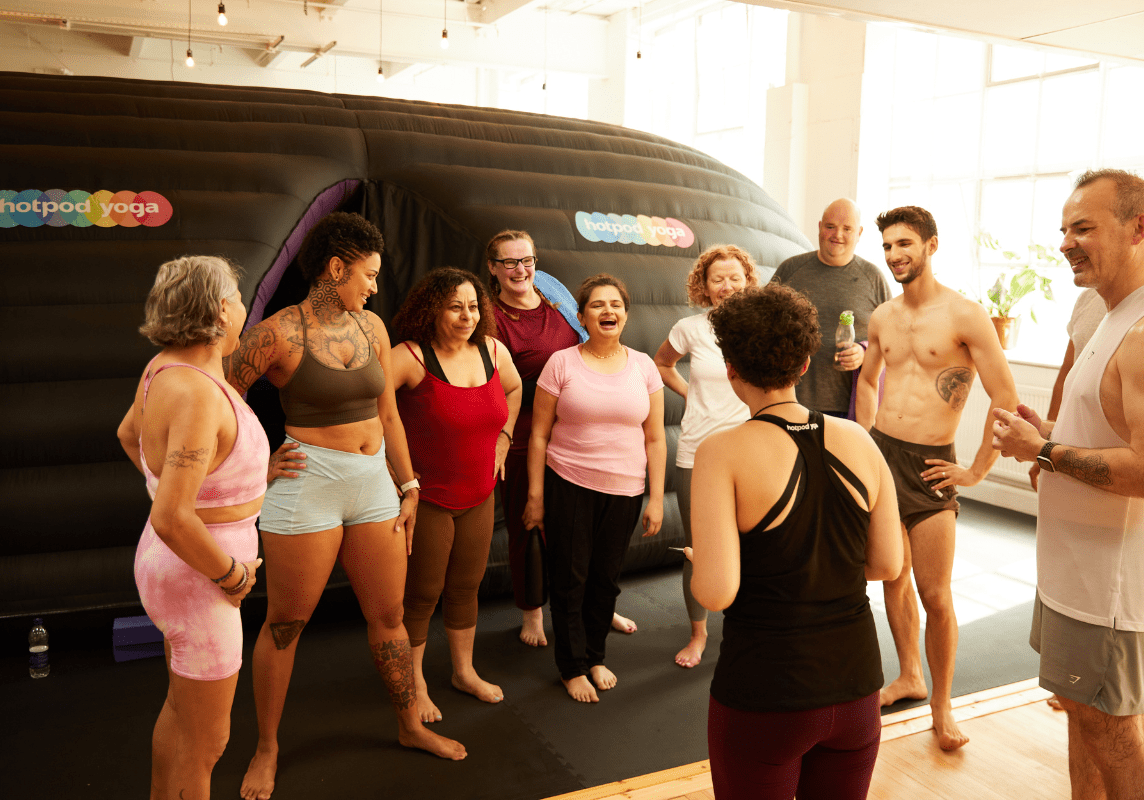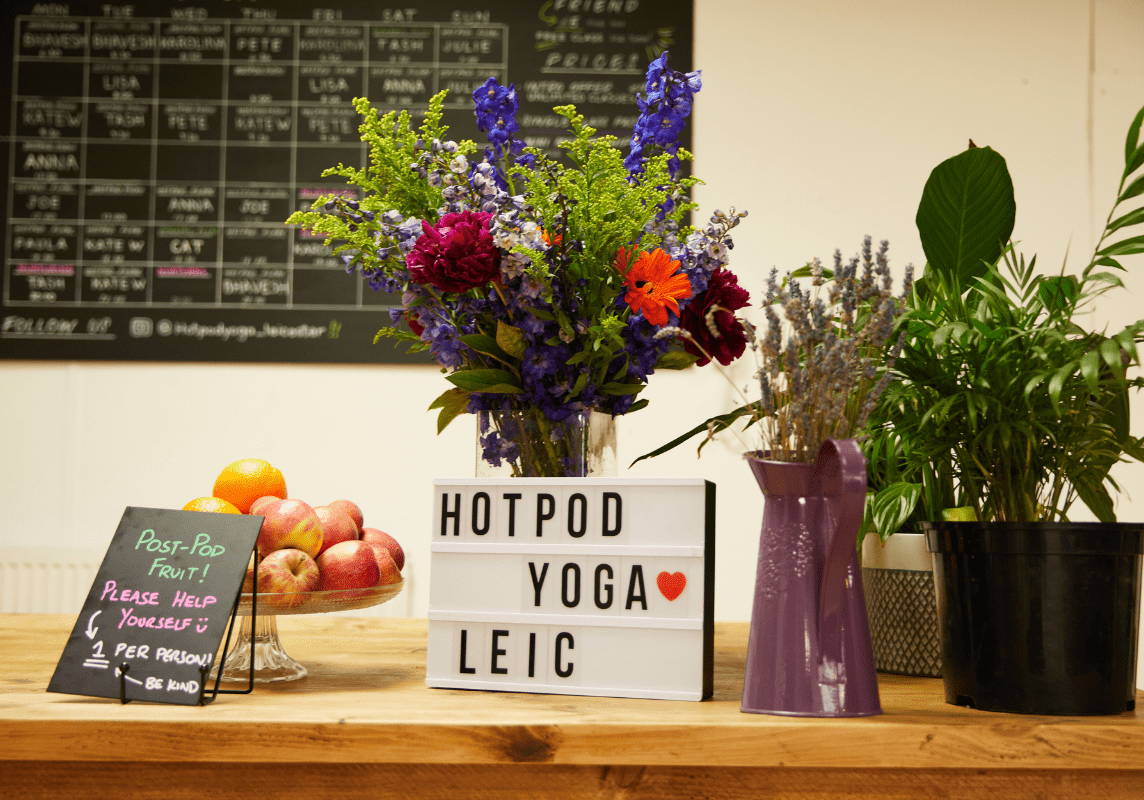 With the help of more and more Hotpod Yoga franchises opening all over the UK, hot yoga is quickly entering the mainstream, reaching a more widespread audience than its previous niche of affluent capital city-dwellers. At Hotpod Yoga Leicester, Tash has built a community of regular customers who attend on a weekly or even daily basis, drawn back to class after class for the many benefits that hot yoga has to offer, as well as the restorative atmosphere of the pod. Some come to class to relax at the end of a long day of work, while others kick-start their morning with a session in the pod, and emerge feeling energised and ready for the day.
The mindfulness element of yoga is widely recognised, so much so that yoga is sometimes confused with meditation. Yet the full range of mental and emotional benefits of hot yoga will still surprise most newcomers to the practice: it can improve focus, reduce stress, boost mood, and even lead to better sleep. Hotpod Yoga has created a way to enhance these benefits even more, with innovative pods combining soft lights, calming aromas and relaxing music to create a fully immersive experience where customers can take a break from the outside world and really tune into their bodies and their yoga.
Tash says that before Hotpod Yoga arrived in Leicester, people would recommend hot yoga as a way to get fit and lose weight. Now, she says, they recommend hot yoga for its more nuanced benefits, talking about the fact that it's a great way to switch off, find a flow, breathe better, feel better, and pass less judgement upon themselves.
"I'm confident that more and more people are becoming aware of the benefits of hot yoga," she says. "We have members bringing their parents, their siblings, and their colleagues. We have young men bringing in their friends who never would have tried it along, and we have young women bringing in their most nervous friends because they know they'll end up loving it. Our average customer, honestly, is your next door neighbour. Our community is so diverse and that's something we're extremely proud of; it's so nice to be able to look around town and know that almost everyone you're looking at could enjoy and benefit from our classes."
OM readers can enjoy a free class at any Hotpod Yoga studio using discount code OMYOGAHPY. Offer valid until 28th February 2023. Find your nearest studio at hotpodyoga.com
Read more of the Hot Yoga Special Report from the February 2023 issue.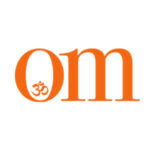 First published in November 2009, OM Yoga magazine has become the most popular yoga title in the UK. Available from all major supermarkets, independents and newsstands across the UK. Also available on all digital platforms.