Howbery Business Park, Wallingford, Oxfordshire OX10 8BA & The Swan at Streatley, Streatley-on-Thames, Berkshire RG8 9HR
High flying yet down to earth, there's something for everyone at Grace & Gravity
When they named their yoga business five years ago, Janine Bowers and Yasmin Strong, co-founders of Grace and Gravity, didn't realise that they had inadvertently named it after themselves.
'Yasmin is most definitely Grace, which leaves me bringing us back down to earth!' jokes Janine. With Yasmin's exciting upbringing as a circus child and her amazing antics on the Aerial hoop, she has truly earnt her title. As has Janine, affectionally nicknamed 'the fun police' by her children and with her background in insurance. A perfect partnership.
Finding the right space for their studios was incredibly important to Grace and Gravity. So much so that the first studio took three years to find. Howbery is an eco-business park in beautiful grounds leading to the river, where bees are kept, and honey is made. Their second studio is set in the grounds of a gorgeous village riverside hotel with its own family of swans. Both studios are contemporary, calm and have magical gardens where classes are taught as often as possible. Amazing Yoga Studios: Special Report
"We want there to be something for everyone at our studios; whether you want to relax, stretch, paddle, sweat, or even fly, there's a class for you."
Yasmin enthuses. Providing a wide range of classes with the best local teachers was always part of the grand plan. Their teachers all share the G&G ethos: to provide a friendly, relaxing environment where you can get away from it all and concentrate on your mind and let the body follow.
Grace and Gravity also understands the importance of community, especially after the past lonely 18 months or so. With this focus, they created a group for members, where they can chat, arrange meet ups, walks, trips to festivals or even exercise challenges, just an extra place for people to reach out when they need or want to be with others.
"We want our studios to be an escape from the noise of life. We want them to be a sanctuary," says Janine. "But we also want to bring back that wild abandon of fun that we felt in our childhood!" And they believe they have done this with the introduction this year of SUP yoga at the Swan and Aerial Yoga and Hoop at Howbery. They are so sure that you will whoop and holler at least once at either of these classes that if you don't, they will jump off their paddleboards in amazement.
Visit the website to find out more about classes, workshops and also Aerial Yoga teacher trainings.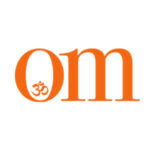 First published in November 2009, OM Yoga magazine has become the most popular yoga title in the UK. Available from all major supermarkets, independents and newsstands across the UK. Also available on all digital platforms.