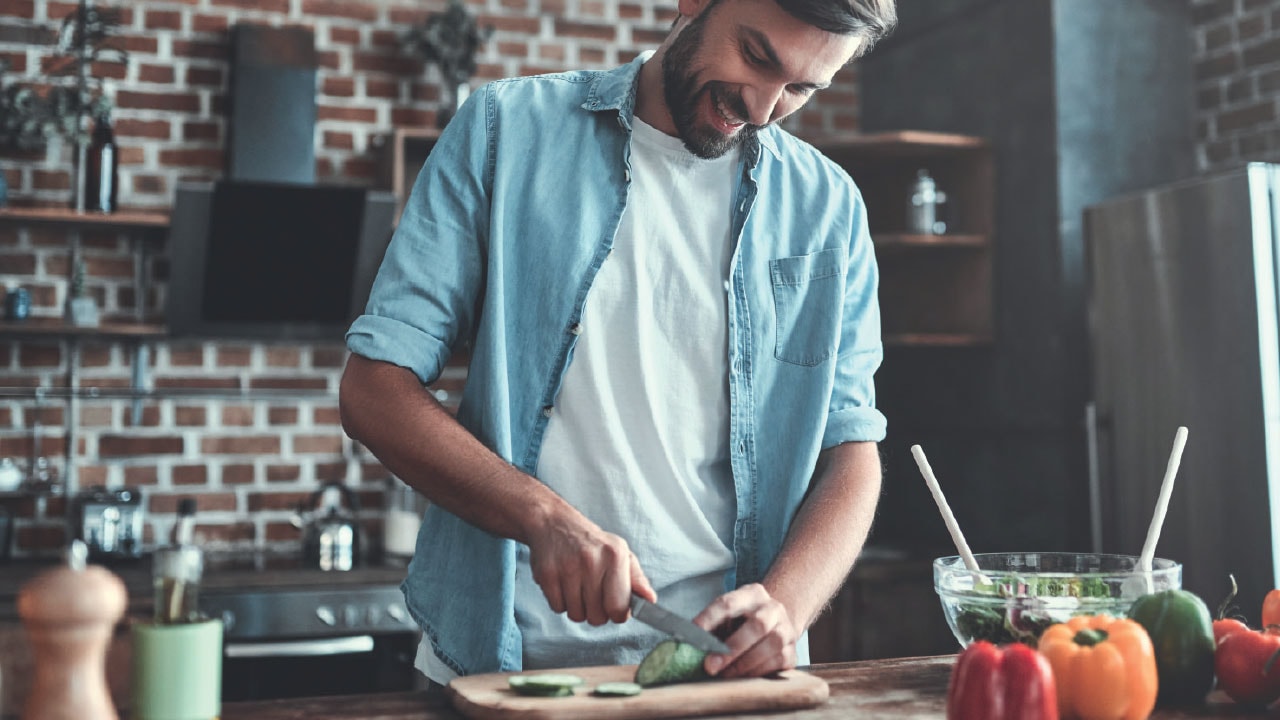 Energy-efficient cooking: save while you eat
Seven ways to cut the cost of meal times in the kitchen
No one is happy about the rise in energy costs, and with the prospect of more of the same to come next winter (or worse!) then it's time to get serious about saving money in the kitchen. The rising price of food in the shops is enough to make anyone shiver these days.
But when you factor in additional costs, including the energy required for heating meals, then it becomes a pretty serious topic,  especially for those of us on a tight budget.
But don't shelve those healthy eating plans just yet!
There are still ways you can eat well, honour your beautiful body from within with wholesome, nourishing foods…and still save a few pounds along the way.
Okay, not strictly 'cooking' as such, but super healthy nonetheless! Nothing beats a delicious, healthy salad during the summer months, so now's the time to get creative in the kitchen with all those freshly-harvested goodies. (Bonus points if you can grow your own!) It's hard to go wrong when it comes to fresh salads, but if you're making the same thing all the time then it could get boring very quickly. Look up some recipes online to mix things up or investigate some new ingredients to throw onto your standard salad plate. If you've never tried kimchi or sauerkraut before, for example, that can add a whole new healthy dimension to your dish that's also great news for your gut.
Perhaps a bit extreme this one for lots of people, but if you've ever wondered what it's like to 'go raw' then this summer might be the perfect time to give it a try. You'll certainly save any energy costs from using the oven! There are countless people who swear by the raw or near-raw diet, which essentially means you are eating foods as Mother Nature prepared them, not transforming them via  cooking over heat in the kitchen. If that sounds a bit dull for those of you with sophisticated tastes, then try visiting a raw food cafe or attend a workshop. It's actually pretty amazing what can be done by clever raw chefs with some simple ingredients.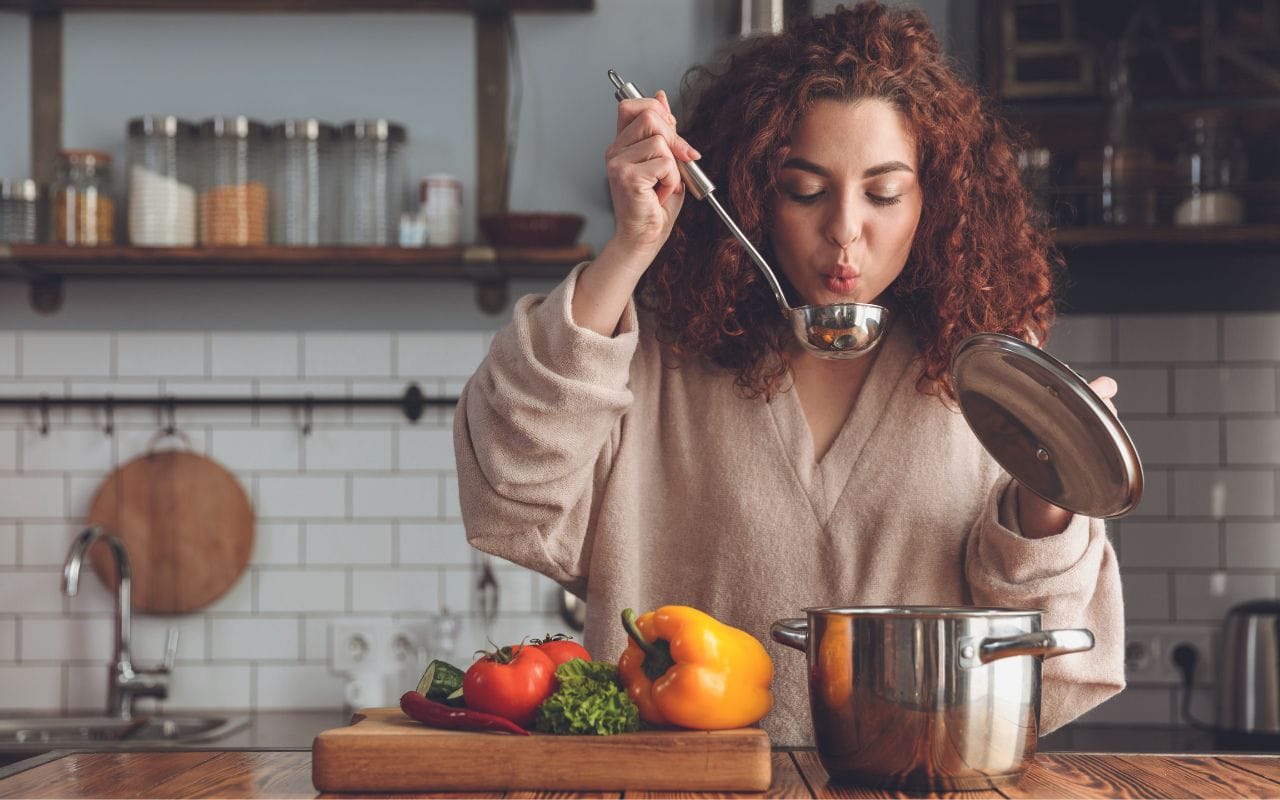 If the raw food diet isn't for you, and you're definitely going to be using that oven, then why not go for it big time and get your cooking done in a day? Batch cooking is a great idea for those who are busy working full-time and want to prepare for the week ahead, or if you're really trying to keep track of what you're putting into your body and want to manage portion sizes carefully. By cooking up multiple meals for the week ahead, whether that's for you or the family, you may be able to save both time and money  further down the line.
The new kid on the block, air fryers have been much-hyped of late. These small cookers essentially bake food at high temperatures using a high-powered fan. Like other devices such as microwaves, air fryers use significantly less energy than conventional ovens, so in theory they could save you money, although there is the initial outlay to consider first, as well as the type and size of machine that you buy. People love them because they're quick and can be great for cooking food that's often deep-fried, providing some crunch without much oil.
Not to everyone's taste, but microwaves deserve a mention as they can heat food very quickly and, it seems, rather economically. They aren't suitable for all types of cooking (and professional chefs might not like the idea at all!) but where they come into their own is in  quickly heating simple things like baked beans or soups. According to research, they might even be useful when it comes to making a cup of tea — boiling a mug of water in a microwave has marginal energy-saving benefits compared to using the kettle.
Boiling water for one cup of tea in microwave (4 minutes) = 0.05kWh
Boiling water for one cup of tea in electric kettle (2 minutes) = 0.07kWh
Boiling water for one cup of tea in kettle or covered pan on induction hob (2 minutes) = 0.14kWh
Boiling water for one cup of tea in pan on standard electric hob (5 minutes) = 0.18kWh
Source: BBC
Cooking up a simple veggie stew or casserole for the whole family is a great idea for those on a budget. It can also be a great way to save time as well; ideal for busy weekdays and family dinners of stews, casseroles, as well as soups and curries. They can also be delicious and just what's needed on a day where the weather wants you to stay inside! Armed with a few root vegetables and pulses, like chickpeas or lentils, the world is your oyster when it comes to cooking up a wonderful
Another option for those one pot wonders, slow cookers prepare food over a longer period at lower temperatures…but are they cheaper to run than an oven? Costs can vary depending on the size of the slow cooker, which can range from a compact 1.5 litres suitable for two people up to 7 litres for big families and batch cooking. The average energy cost of a slow cooker annually is £59, compared to £316 for a conventional oven, according to household energy specialist Utilita. And, according to Direct Energy, a typical
electric oven uses between 2,000 to 5,000 watts of energy, which is over 100 times higher than the energy consumption of a slow cooker. Plus, there's the time it takes to pre-heat an oven too and the heat lost every time you open the oven door when switched on.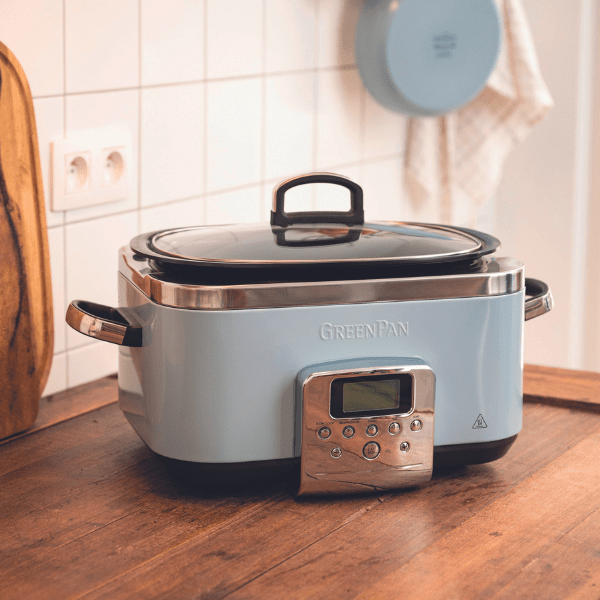 This new GreenPan Slow Cooker benefits from its signature nontoxic, PFAS-free ceramic Thermolon Volt — a diamond-infused ceramic non-stick coating specially designed for the higher heat requirements of electrical appliances. You don't need to add oil to the slow cooker and the ingredients won't stick. Available in Stainless Steel, Glossy Black, Blue Haze and Cloud Cream from John Lewis, Lakeland and selected retailers nationwide.
£199
greenpan.co.uk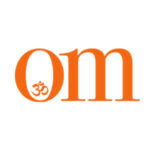 First published in November 2009, OM Yoga magazine has become the most popular yoga title in the UK. Available from all major supermarkets, independents and newsstands across the UK. Also available on all digital platforms.