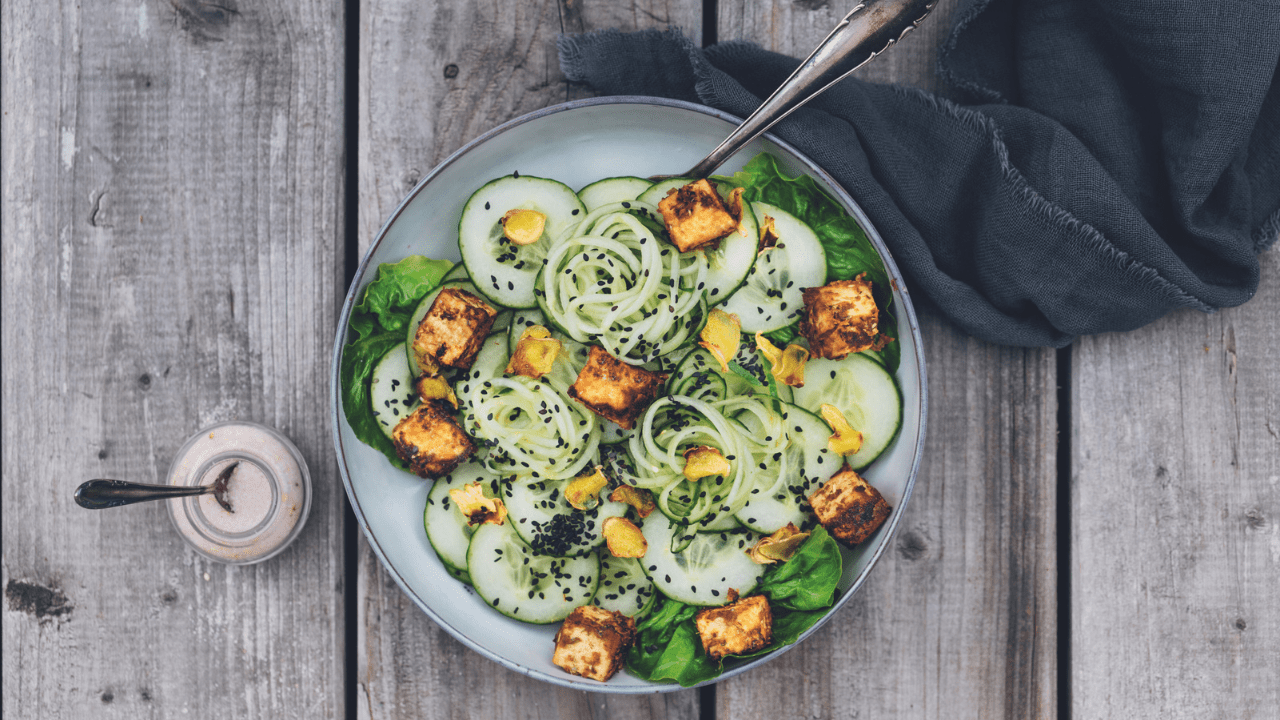 Cucumber Salad Bowl
with Peanut Tofu Cubes and Fried Ginger
For the peanut tofu:
• 100g (3.5 oz) firm tofu
• 1 tsp dried lemongrass
• ½ tsp garlic powder
• 1 pinch chilli flakes
• 1 tsp soy sauce
• 2 tsp peanut butter
• 2 tsp sesame oil, for cooking
For the salad:
• 1 (about 2cm) length fresh ginger
• 2 tbsp olive oil, for cooking
• 2 cucumbers
• 6 large lettuce leaves
For the dressing:
• 2 tbsp rice vinegar
• 1 tsp rice syrup
• 1 tsp sesame oil
• 1 pinch garlic powder
• Salt
Extras:
• 2 tsp black sesame seeds
1. Drain and cut the tofu into cubes. For the marinade, combine the lemongrass, garlic powder, chilli flakes, soy sauce and peanut butter in a bowl. Mix the tofu into the marinade, coating well. Then heat the oil in a frying pan and fry the tofu over medium heat for 2–3 minutes, until crispy.
2. Peel and cut the ginger into thin slices with a knife or mandoline. Heat the olive oil in a small frying pan and fry the ginger slices over a high heat.
3. Trim and wash the cucumbers. For the garnish, cut roughly a third of one cucumber into thin strips with a mandoline or into noodles using a spiraliser. Thinly slice the remaining cucumbers with a knife or mandoline. Wash the parsley, shake dry and coarsely tear.
4. To make the dressing, whisk all ingredients together with a pinch of salt and 2 tablespoons of water.
5. Divide the salad into two shallow bowls and arrange the cucumber slices and fried tofu on top. Twist small bundles of cucumber strips or noodles with a fork and arrange over of the salad along with the fried ginger slices. Finally, sprinkle with black sesame seeds and drizzle with the dressing.
Recipe from Vegan Buddha Bowls by Jessica Lerchenmüller. Grub Street Publishing.
Mauris vitae ultricies leo integer. Mauris pellentesque pulvinar pellentesque habitant. Egestas dui id ornare arcu odio ut sem. Volutpat commodo sed egestas egestas fringilla phasellus faucibus scelerisque.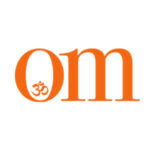 First published in November 2009, OM Yoga magazine has become the most popular yoga title in the UK. Available from all major supermarkets, independents and newsstands across the UK. Also available on all digital platforms.