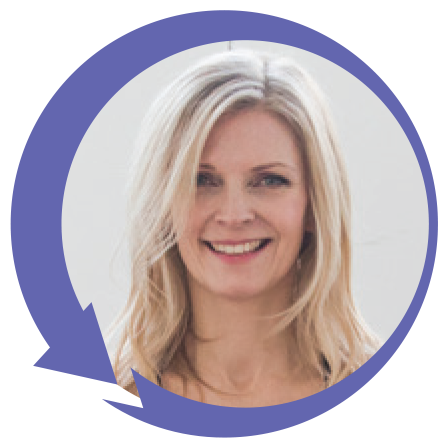 A 360º overview of...
Cow Pose to Cat Pose (Bitilasana to Marjariasana)
Cow Pose and Cat Pose are practiced together to increase the flexibility of your spine. These simple asanas teach you to synchronise your movements with your breath and encourage a meditation through movement. In Cow Pose your spine moves into a convex position. In Cat Pose your spine moves into a concave position.
The benefits of Cow Pose to Cat Pose:
Increases and maintains the flexibility of your spine and back muscles.

Stretches and strengthens your back muscles.

Stretches and strengthens your abdominal muscles.

Strengthens and increases flexibility of your wrists.

Increases bone density due to the weight bearing action on your wrists.
Cautions & modifications:
If you have a wrist issue or injury, try resting your forearms on the ground.

If you have a knee issue or injury, try kneeling on a cushion or folded blanket.

If you have a neck injury, keep your spine in a neutral position as you practice Cow Pose.
Twisted Cat Pose. Slide your right arm to the left with your palm facing up. Rest the right side of your head, your right shoulder, arm and back of hand on the ground. Breathe five times. Return to hand and knees. Repeat on the other side.
Start on your hands and knees with a neutral spine.
Your Dristi (focal point) is at your nose or you can keep your eyes closed, with your eyelids light.
Align your wrist joints below your shoulder joints.

Spread your fingers wide.

Point your middle fingers forwards.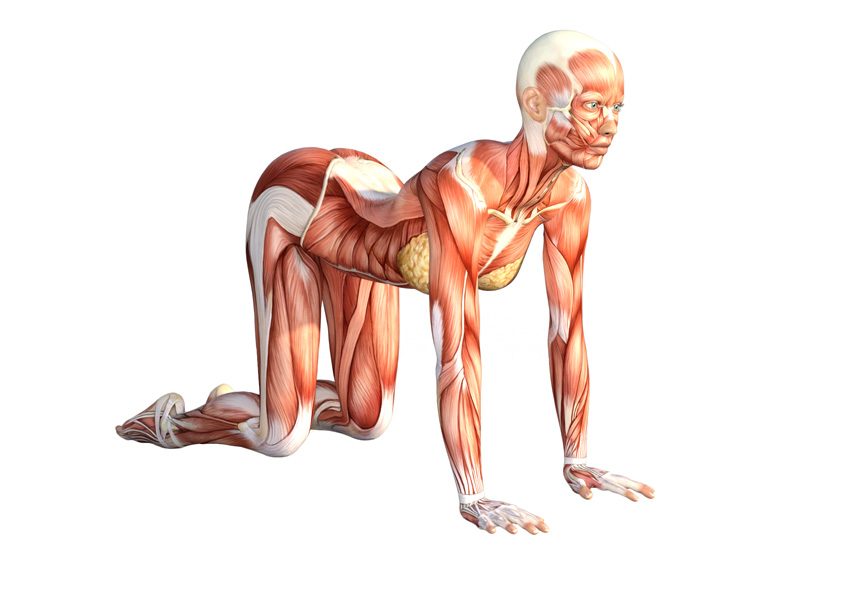 Align your knee joints below your hip joints.
Breathe in, lift your chest, lower your thoracic spine down, lower your belly button down, lift your tailbone and lift your head.
Breathe out, lift your belly button up towards your spine, lower your head, lengthen the back of your neck, tuck your tailbone under.
Continue to move into Cow Pose on each inhalation and into Cat Pose on each exhalation for 10 breaths.

Allow your body to flow seamlessly between the poses.
In Cow Pose, focus on stretching and creating space across the front of your chest.

In Cat Pose, focus on creating space across your middle back and between your shoulder blades.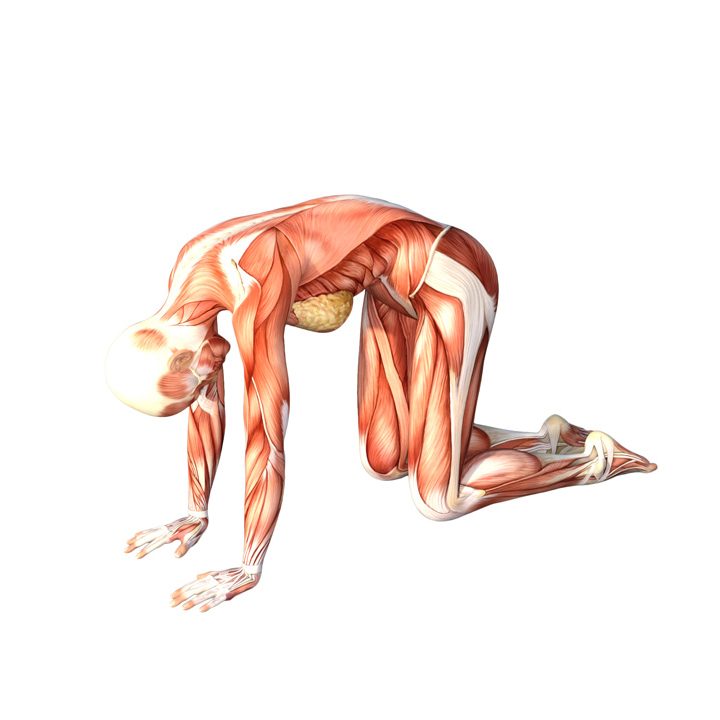 In Cow Pose, soften your shoulders away from your ears.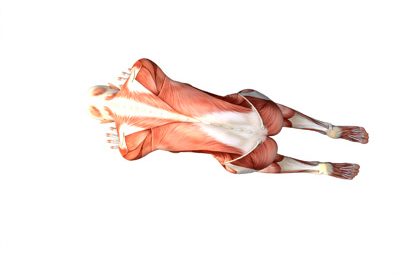 CREATE LENGTH ALONG THE ENTIRE LENGTH OF YOUR SPINE
Avoid overarching your neck and lumbar spine. These are the most flexible parts of your spine and therefore the most vulnerable to injury.

Instead create a sense of length along your spine from the top, where it articulates with your skull, to the bottom, at the tip of your coccyx (tailbone).

Move fluidly with great awareness.
Experience the gentle rocking motion of your pelvis, as you move between cow pose to cat pose.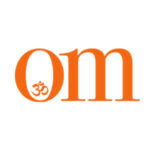 First published in November 2009, OM Yoga magazine has become the most popular yoga title in the UK. Available from all major supermarkets, independents and newsstands across the UK. Also available on all digital platforms.